Studies have shown that low levels of employee wellbeing can reduce productivity at work, but can also have negative effects on employees' overall physical and mental health (Deloitte). In the last few years, public interest in wellbeing has grown significantly – particularly within the workplace. While most organisations have the concept of office wellbeing and mental health on their radar, very few have made active changes. According to a report conducted by CIPD, just two-fifths have a formal strategy in support of their wider organisation strategy; while a similar proportion believe their organisation's approach is more reactive than proactive.
Writing in Forbes, Jim Purcell puts forward that in order to achieve wellbeing, you first have to look at the culture within the workplace. If an organisation has the right culture, it determines whether the wellbeing initiatives will succeed when they are put in place. So what is a workplace culture? "A workplace culture consists of unwritten rules about what it really means to be an employee at the company". This involves encouraging employee socialisation, as well as providing support and management training which helps explain how employee wellbeing can be prioritised.
Other factors that contribute towards employee wellbeing are more environmental: views, daylight, air quality, and temperature. Several research studies report that sunlight helps support healthy circadian rhythms, while "the impact of views highlights a 10-15 percent reduction in absenteeism, improved sleep cycles, and lower markers of stress" (Work Design Magazine).
In a recent article, OnOffice looks at the Danish concept of "Arbejdsglæde", which means "finding joy and balance at work". This can be achieved through designing offices to be spacious, simple and stripped back. However, OnOffice encourages employers: "we can design our offices to promote arbejdsglæde, but we can also go further as organisations and employers, bringing the concept to our work culture". This involves focusing on work-life balance, valuing lunch breaks, and building a culture where employees feel comfortable to seek support.
"Workplace mental health and wellbeing is a significant issue which employers have a moral as well as economic reason to address. Employees who can take proactive measures to manage their mental health and wellbeing, can give their best at work. Poor mental health impacts employees, their families, employers and the state. An acknowledgement of this economic impact is reflected in the increased focus on mental health in policymaking, especially the political commitments to achieve parity in treatment of mental and physical health, and the increasing role of employers to support their employees' mental health." (Deloitte)
According to a recent report from CIPD, "Three-quarters of respondents from organisations with health and well-being activity believe it has resulted in positive organisational outcomes over the last 12 months". From reporting higher morale and engagement, all the way through to reducing the number of sickness absences – employing office wellbeing strategies seems to have a clear impact within organisations.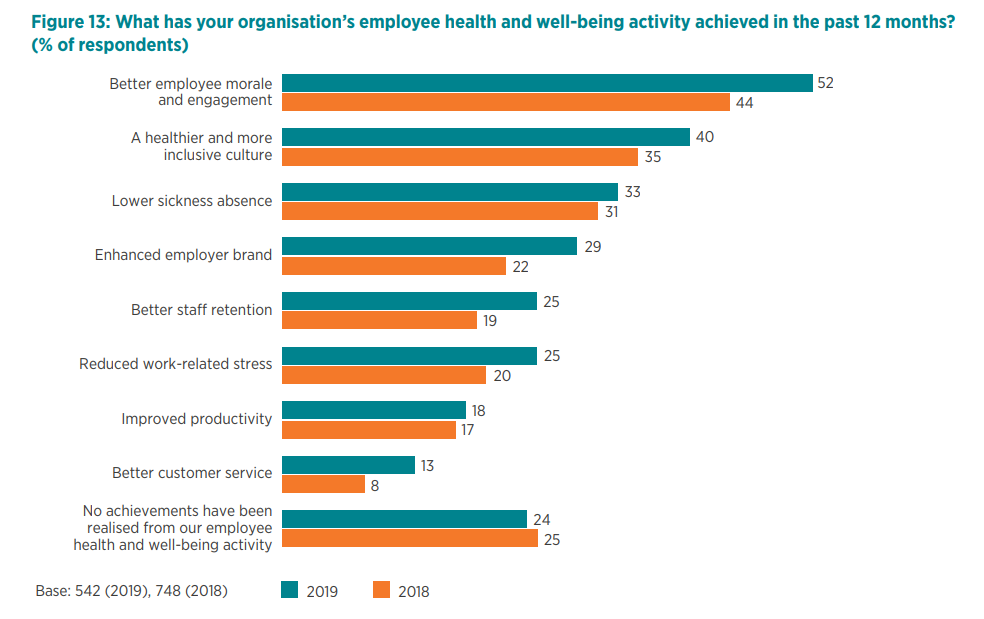 There are several challenges to creating a sense of wellbeing in the workplace, according to Deloitte. These include: employers' failure to see wellbeing as a priority; reactive policies instead of proactive policies; lack of insight around current performance; poor evidence base to measure a return on investment in wellbeing strategies; and a lack of collective knowledge of best practices.
What does this mean for real estate professionals?
There are some workplaces which are taking the lead in incorporating wellbeing into their design. Fora, a UK-based premium coworking provider, designs collaborative spaces that offer a variety of work settings and places for residents to focus, socialise and relax, branded as 'proworking spaces'. The workspaces are specifically designed to create community, while fostering productivity and creativity. Each Fora space is tailored to respond to its local setting; however there are some design factors which are universal across the board. Fora's coworking spaces feature large tables, communal eating spaces, and cafes; encouraging workers to engage and interact with each other. Their buildings are designed to allow plenty of natural light, with large windows which allow city views; and the interiors are contemporary and spacious. With Fora memberships, residents gain access to a curated programme of interesting events, including yoga and wellness activities. Fora stands as an example of workspace which incorporates wellbeing into its design.
22 Bishopsgate, designed by PLP Architecture for AXA IM – Real Assets and Lipton Rogers Developments, is the tallest tower at the heart of the City of London's financial district. In the design, PLP has also kept wellbeing in mind – fitting the tower with higher ceilings, increased daylight control, better fresh air and amenities. With statistics showing that cycling to work increases your life expectancy and reduces carbon footprint, 22 Bishopsgate has installed over 1600 bicycle spaces, bicycle repair stations, and offers safety classes. The tower's top floors host a gym, Pilates and yoga spaces, relaxation and health services, all designed to support the residents' health and wellbeing. Within the gym, users will find a double-height glass climbing wall with views rivalling other iconic skyscrapers in London (above).
It is becoming integral that wellbeing is considered when designing workspaces, and when setting the tone and culture of your office. According to Deloitte, "the total cost of mental ill health to UK employers was estimated at £26 billion, costing £1,035 per employee, per year in 2007" . With around 60% of these costs being due to reduced productivity at work, there is a direct correlation between lack of wellbeing consideration, and the financial implications to employers.
However, the report further suggests that improving the management of mental health in the workplace, including prevention and early identification of problems could enable employers to save 30 per cent or more of these costs (Deloitte).
By designing workplaces which are wellbeing-focused, creating a sociable culture in the office, and being proactive in engaging with your employee's mental health; employers can reduce costs, improve employee longevity, and attract talent.