With Europe's successful cities struggling to provide affordable housing, they are becoming places where only the wealthy can afford to live," says global investment manager PATRIZIA in its report Priced Out: Europe's affordable housing challenge.
"Like Alice in her adventures in Wonderland, vulnerable groups miss out on a seat at the table because there is 'No room! No room!' They are forced to the urban outskirts."
Across the EU, housing prices have risen by an average of 19% between 2010 and 2019, and rents by 13%, says the PATRIZIA report. This hides the "significant leaps" on a yearly basis made in individual cities – very often global capital cities, as global housing advisor Orna Rosenfeld talks about in her podcast interview for MIPIM World.
Meanwhile, salary rises have lagged far behind. The critical question, asks PATRIZIA, is: What is housing affordability? And how do you measure it?
"With irate voters rampant on the hustings, affordability rockets to the top of the agendas of local politicians" – PATRIZIA
Eurocities quotes that over 80 million people living in Europe are "overburdened" with housing costs. The European network of more than 200 cities highlights the Housing First approach of Lyon in tackling homelessness and increasing the availability of housing, including through the private housing market.
In the UK, £12.8bn is needed every year for the next ten years to respond to the chronic shortage of affordable housing, estimates the National Housing Federation.
Like at the Mad Hatter's Tea Part, it is only when voters demand space, through the ballot boxes, that "a seat is found at the table". PATRIZIA continues: "With irate voters rampant on the hustings, affordability rockets to the top of the agendas of local politicians, who have responded with policies aimed at dampening rental and price increases."
The role of private 'impact' investing to create affordable homes
This is where impact investing has a role to play, says PATRIZIA, which aims to become a leading global impact investor in the real assets sector by 2035.
Earlier this year, the global investment manager, with head offices in the Bavarian city of Augsburg, launched its first fund dedicated to impact investment: the PATRIZIA Sustainable Communities I SCSp-RAIF fund. Two Danish seed investors, AP Pension and PKA, have committed a total of €125mn in equity.
The fund, which is targeting some €500mn in capital, aims to provide affordable and sustainable homes in some 25 metropolitan areas in Europe, with the first investment in Ireland.  It is designed to provide investors with a financial risk adjusted return together with measurable positive social and environmental outcomes.
Marleen Bikker-Bekkers, fund manager of PATRIZIA Sustainable Communities, says: "To run cities efficiently and sustainably, people from all ages and across the income spectrum need to be able to find a place to live, work and access leisure, education and health care services within a reasonable time."
Affordable housing in the UK: equity replaces debt
In the UK, MIPIM World spoke with Gemma Bourne, investment director at social impact-led investor Big Society Capital, which is funded by dormant English bank accounts and by the four main UK high street banks – Barclays, HSBC, Lloyds Banking Group and NatWest Group.
The value of the social and affordable funds market in the UK has grown from virtually zero in 2012 to around £2.9bn by the end of 2020. Historically the sector has been funded by debt, says Big Society Capital in Mapping the Market: UK social & affordable housing funds, but now the market is increasingly seeing flows of "equity-like" capital.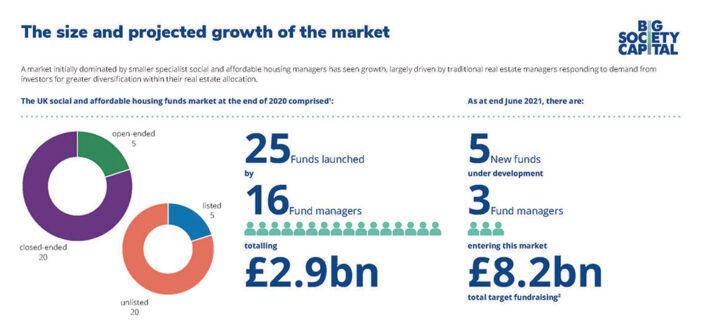 Big Society Capital opened for business in 2012, with £600mn of capital.  As the end of September 2021, it had alongside partners made more than 100 investments worth a total £2.5bn into over 1,500 social enterprises and charities.
"As part of the investment process, we elevate social metrics and outcomes and put them alongside the financial metrics," says Bourne.  "We ask fund managers to clearly articulate their social metrics and outcomes, to document them, to embed them into the management process, and then to track and report on them throughout the fund's lifecycle and, importantly, to build in feedback loops."
"As part of the investment process, we elevate social metrics and outcomes and put them alongside the financial metrics" – Gemma Bourne, Big Society Capital
Such targets can vary from how much rent residents pay benchmarked against local incomes to, for example, a reduction in re-offending rates when it comes to housing for people recently released from prison.
Bourne explains: "Social impact investing seeks outcomes, not just outputs. It's not just about the numbers of people who have been housed, but also the extent to which people have been able to rebuild their lives."
What about financial returns?  From an income perspective, it is very attractive for institutional, rather than opportunistic, investors, says Bourne. Funds launched since 2017 and those actively fundraising have an average return target of 6% net internal rate of return.
"Social impact investing seeks outcomes, not just outputs" – Gemma Bourne, Big Society Capital
"Social property funds offer the prospect of returns that are largely uncorrelated to mainstream financial markets and have historically achieved a high degree of inflation protection," says Big Society Capital.  "This makes it attractive to investors who are seeking returns ahead of inflation – but don't want excessive credit risk or the volatility of equities.
"This is because returns are derived from rental income, which in some cases is underpinned by Government via Local Housing Allowance, a benefit that is set every five years and adjusted annually in line with the consumer price index. Tenancy lengths tend to be longer than the traditional private rented sector and void periods are generally lower."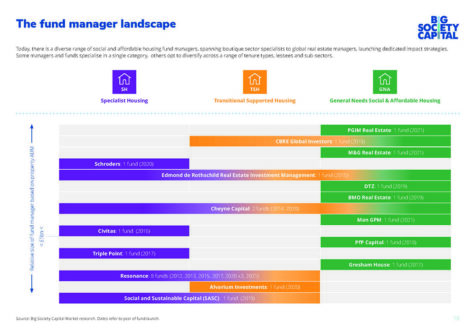 Recent examples of Big Society Capital's involvement as an investor include:
Partnering with social impact investment company Resonance on two funds for homelessness charity St Mungo's and also the Women in Safe Homes (WISH) Fund.
Being an initial investor in the £400m Man GPM RI Community Housing Fund, launched by Man Group in 2021. Other initial investors include the award-winning Schroder BSC Social Impact Trust and Homes England, the non-departmental public body.
UK trends in impact investing in affordable housing
Trends in the UK in affordable housing that Bourne points to include:
More affordable tenures from outside section 106 of the planning process, which specifies the level of social and affordable housing for urban projects. "If we see the market grow in size, we will see more non-section 106 housing stock appear on the market," says Bourne.
The UK Government's Levelling Up White Paper proposes that the Local Government Pension Scheme invests 5% of their assets in "projects which support local areas". This is very significant, given that housing has a "place-based impact", says Bourne.
The need for energy-efficient houses as part of the transition to net zero – an imperative rather than a trend, adds Bourne.
As PATRIZIA explains in its report, affordability cannot be considered without sustainability: "The two are flip sides of the same coin and will determine how we live in and the quality of life we'll enjoy in cities in the future."
Join Dr Orna Rosenfeld and other panel members for the MIPIM 2022 session 'Housing First: The affordability challenge' at 15.45-16.30 on 16 March.
For more on affordable housing, with a UK focus, read the MIPIM World article featuring Adam Challis of JLL, the Hyde Group, PfP Capital and Legal & General Affordable Homes.
Top Image – Getty Images : Nirian