Speak to any omnichannel investor about their preferred sectors and nine times out of ten they will say 'warehousing & logistics'.
Last year saw take-up of warehousing & logistics space (with retailers or retail-linked companies accounting for around two-thirds) reach 25.7m sq m across Europe, 5 per cent up on the five-year average, says real estate services provider Savills.
Forecasts for this year are positive, but with a caution note attached.  As elsewhere in the economy, the 2020 pandemic is accelerating structural shifts already in motion, and underlining the link between consumer spending and warehousing & logistics demand.
Such structural shifts – from the rise in online retailing to 'multishoring' and productivity gains from new technology – are likely to fuel investor interest further, says Savills, as the pandemic highlights the importance of supply chain logistics for economies.
An additional 16.7m sq m of logistics space will be needed across Western Europe by 2024 as online retailing takes hold – Savills
Taking the example of online retailing, sales in Europe are set to account for 17.8 per cent of total retail sales by 2024, according to market research company Forrester, up from 11.8 per cent in 2019.
On the back of this – and assuming that 75,000 sq m of extra logistics space is required for every €1bn spent online – Savills predicts that an additional 16.7m sq m of logistics space will be needed in Western Europe by 2024.
On a regional basis, Central & Eastern Europe are favoured locations, and Poland in particular, where take-up reached 4.1m sq m in 2019 – the third highest take-up in Europe, after Germany and the Netherlands.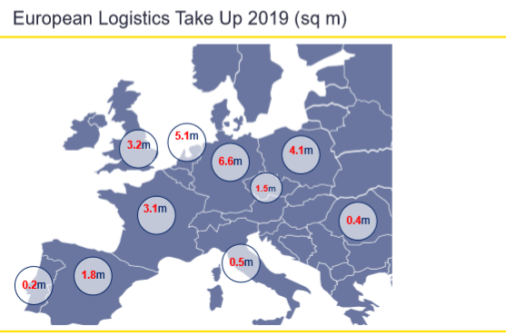 Omnichannel investors need to be aware of the "nuanced" reality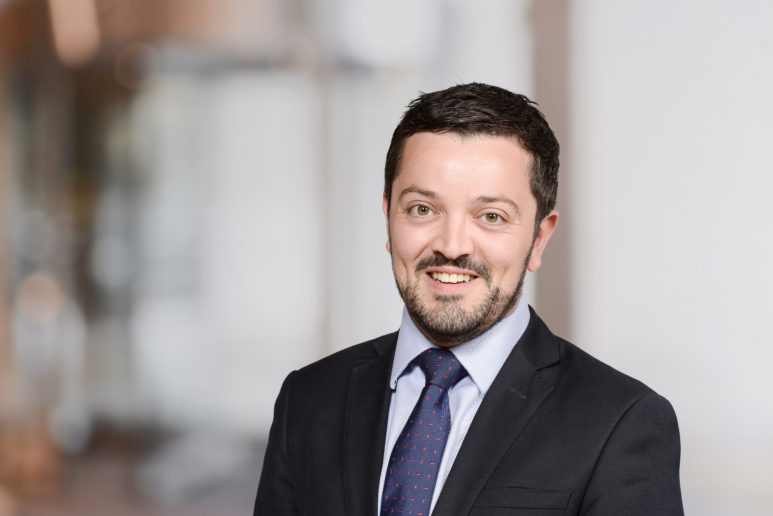 Kevin Mofid, head of industrial research at Savills (above), advises investors to be "very granular" with data and analysis. "At the moment, it is very simple to say that more online sales and more 'nearshoring' will result in the need for more warehouse space," he adds.  "The reality is much more nuanced."
"It is important to understand these nuances, More than ever before, this is an occupier-led market. Understanding your occupiers is crucial."– Kevin Mofid, Savills
Such nuances, for example, are the manufacturer who needs less warehouse space as they start to source components locally, and so need less inventory; or the retailer, such as Primark, with margins too low to allow them to sell online.
Vacancy rates expected to stay relatively low in key markets
Warehousing & logistics vacancy rates across Europe will stay relatively low, believes Mofid, given that there is "little chance of speculative development or tenant defaults that will materially change vacancy levels".
Taking the UK as an example:
"Even in the most pessimistic of scenarios, we see a rise in vacancy rates of only 5 percentage points, going from 6.8 per cent to 11.8 per cent.  Anything below 12 per cent vacancy is when we get rental growth." – Mofid
MIPIMWorld Blog spoke to Mofid a few days before the UK's Office for National Statistics was due to release the latest figures on consumer spending. The falls – over a period when most of Europe has been in lockdown and many people are uncertain about their incomes – are likely to bite hard.  Mofid's eyes will be on whether online retail falls as a total rather than just increases as a percentage of total retail sales.
However, the real impact of consumer spending trends on the warehousing & logistics sector is unlikely to feed through until after the traditionally busy festive period at the end of the year, believes Mofid.  This is when retailers are likely to emerge from crisis mode to reflect on how to improve and change their supply structures.
"Covid is going to put a microscope on the logistics sector" – Marcus de Minckwitz, Director, Savills' Omnichannel Group
Marcus de Minckwitz, director, Savills' Omnichannel Group, says: "Covid is going to put a microscope on the sector: exactly what these buildings do in the supply chain, what the tenants do, and how they are going to behave, how this will impact their strategy, and who are going to be the winners and losers coming out of this crisis."
Rental and investment markets across Europe
Prime logistics rents grew by an average of 6 per cent across the European markets in 2019, with Lisbon, the Warsaw suburbs and Stockholm all experiencing double-digit growth.
"We generally expect logistics leasing demand to remain resilient during 2020, with online retailers and 3PLs [third-party logistics companies] competing for remaining logistics facilities in response to consumer trends," says Savills.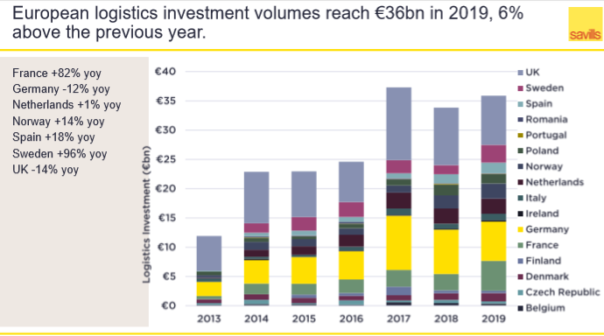 Key transactions in the investment market so far this year – marketing would have begun in 2019 – include:
Blackstone buying a £120m (€130m) portfolio in the UK for its last-mile logistics platform, Mileway, in March.  Blackstone launched Mileway last September and already the platform operates 1,300 assets with over 11m sq m of space in more than 100 cities across ten European countries.
Aperion Capital, in partnership with Midas International and funded by South Korean institutional investors, purchasing a 150,000 sq m logistics portfolio in Germany for around €200m.
More on structural shifts in warehousing & logistics…
On rethinking the supply chain:
Moving from 'just-in-time' to 'just-in-time + just-in-case', says McKinsey. "How can we forge a supply chain that creates the most value?" is the big question says the management consultant.
Onshoring or nearshoring may be the best strategy for companies looking for speed and reliability, but sovereignty has a cost, Geoffroy Roux de Bézieux, President of the French employers' federation Medef, told the Financial Times earlier this month. And don't forget China's Belt & Road Initiative, which has spanned out across Europe to create a web of new logistics hotspots.
"Warehouses will now be viewed as essential national infrastructure, with planning decisions and zoning likely to be influenced by the role they have been playing," Andy Gulliford, COO of UK-headquartered REIT, SEGRO.
"Low-cost production centers such as Mexico, and Central and Eastern Europe are beginning to see increased interest," Prologis, the San Francisco-headquartered REIT, says, however, given the cost and complexity of such changes, they are likely to be "a long-term trend that plays out over years".
On last-mile logistics:
Nearly half (47 per cent) of consumers in Western Europe (UK, Germany, France, Spain & Italy) doing more online grocery shopping since the outbreak of Covid-19 think they will continue to do so once the outbreak is over (Source: Morgan Stanley's Wave 6 AlphaWise Pulse Survey).
H&M announced it is to reposition its 5,000+ stores into click-n-collect 'logistics' hubs.
Ohi is rolling out micro-warehouses in unused retail and office space across the US, giving brands flexible urban fulfilment centres. Out go the cardboard boxes and in come special 'feel-good' packaging, if any packaging at all.
Newcomers in the last-mile market include Starship Technologies – launched in 2014 by two Skype founders – which combines mobile technology, (cute) autonomous robots, and partnerships with stores and restaurants.
In the UK, DPD delivery service has launched an action plan, Delivering a Zero Emission Future, for a joined-up approach for vehicle manufacturers energy providers, national and local government to reduce emissions.
New technologies boosting logistics productivity
The final word goes to new technologies, from 3-D modelling, to the cloud, AI, VR and robotics, all with the potential to boost productivity … and to China, which accounted for 28 per cent of the world's manufacturing output in 2018.
Tech giant Alibaba Group, through Cainiao Network, is looking to achieve 24-hour delivery across China and 72-hour delivery to the rest of the world, reports Jing Daily.  This will knock down logistics costs to less than 5% of China's gross domestic product from around 15% at present.  
"Today, the industry can process 100 million packages a day. In the future, we will need to process one billion packages a day. The logistics industry needs to get prepared for that with a robust infrastructure," said Jack Ma, founder of Alibaba Group, which bought half of the US$1.2bn Axa Tower skyscraper in Singapore earlier this month ­– reported as the biggest commercial deal in the Asian city-state since 2017.
Connectivity, whether relating to technology, logistics or real estate, in today's world is not something, it appears, that can be turned off and on like a tap.
Top Image: Getty Images – alvarez