Travelling home on the London Underground, my eye caught a newspaper headline: "Forget millennials v. baby boomers v. Generation X. We need to be friends across all the age groups."
As Evening Standard columnist Ellen E Jones went on to write: "Any age-defined cohort contains so much variety in experience that its usefulness is limited". Yet, we as humans love to stereotype, and very often we bring those stereotypes to work – as well as into our views about leadership.
"The gap between generations is getting bigger and workplaces are not always ready for that kind of challenge"
Anna Kulik is a 28-year-old Project Director and shareholder at Scott Brownrigg, a BD Global Top 100 architectural practice. At Scott Brownrigg's London office, four generations work side by side. "The gap between generations is getting bigger and workplaces are not always ready for that kind of challenge," says Kulik.
The agile organisation as a "living organism"
The rise of the multigenerational workplace – as the older generation starts to work longer – comes at a time when the digital revolution is in full swing.
As part of this, we are seeing the emergence of a new dominant organisational paradigm, the 'agile organisation', as defined by management consultant McKinsey & Company.
McKinsey defines agile organisations as "living organisms" which "mobilize quickly, are nimble, empowered to act, and make it easy to act".
Source: The Five Trademarks of Agile Organizations, January 2018, McKinsey & Company, www.mckinsey.com. Copyright © 2019 McKinsey & Company. All rights reserved. Reprinted by permission.
Adora Svitak, famous for her TED talk, What Adults Can Learn from Kids, also spoke of the need for the real estate industry to be "living", when she addressed MIPIM 2018 as a keynote speaker at the age of 20.
Svitak called for the real estate industry to be a "living, breathing, changing, responsive place". Those who join the industry "are not there to work up through the structure, but to immediately be part of a living system", she told Estates Gazette.
These 'agile' organisations are tracked by McKinsey as having a 70% chance of being in the top quartile of 'organizational health'. From a 'people' perspective, agile organisations are defined as having a "cohesive community, shared leadership, entrepreneurial drive and role mobility", while the Chief Executive becomes the Chief Enabler.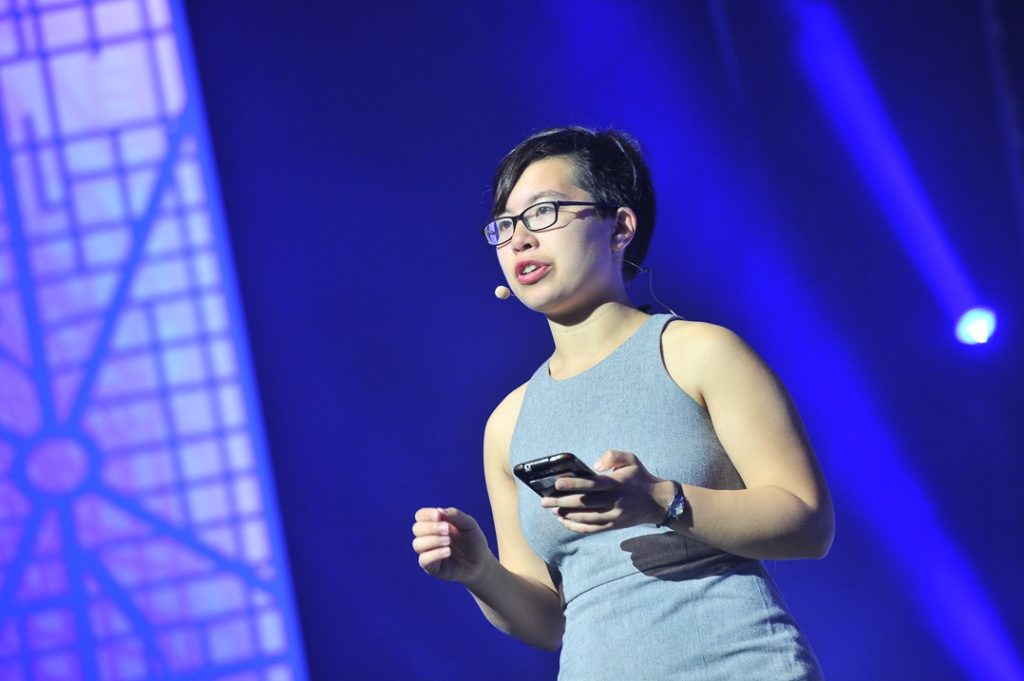 Credit: VDesjardins – Image&Co
Time to act – from the eye of the hurricane
Businesses do not have long to react to the arrival of the agile organisation paradigm. The digital revolution reflects a new 'strategic inflection point', as described by Andrew Grove, author of Only the Paranoid Survive.
A strategic inflection point is a transitional point where changing frameworks and influences require businesses and organisations to reinvent themselves to survive. Gove likened these points to being in the calm of the eye of a hurricane; and when the eye moves, the wind hits you again.
Benefits of cross-generational leadership
"There is a lot of benefit in this cross collaboration between the generations," says Kulik.  "Many young people are tech oriented, have sparkling new ideas and ecological values, while the older generation has the experience and the interpersonal skills. We can learn a lot from each other."
Scott Brownrigg, like many companies, operates a mentorship programme. As part of this, Kulik is mentored by senior management in a variety of formal and informal sessions. She says: "It is a safe, creative space where I can ask myself questions and try to understand and learn the answers." Kulik, in turn, mentors Part 1 and Part 2 architectural students working at Scott Brownrigg. She also teaches a team-building module on the Part 3 course at The Bartlett School of Architecture.
"Every single person has it inside them to be a leader, and leadership can be exercised in very different ways."
For Kulik, there are different types of leadership, and it's not just about leadership from the top or the front: "Every single person has it inside them to be a leader, and leadership can be exercised in very different ways. For me, the most important facet of leadership is authenticity. Some leaders lead from the front and they drive innovation, while the supportive type of leader helps other people develop."
Being open to change
I asked Kulik to future gaze and tell me where she would be in 20 years' time. I quickly brought that down to ten years' time, and then to five. I had to remind myself that she is a want-it-all, want-it-now millennial, but a young leader who is strong on interpersonal skills which she puts down to her early childhood spent playing with siblings and cousins – and not in front of a screen.
Kulik originally comes from Russia but had an opportunity to live and experience different cities and cultures. She lived in Barcelona for a year, where she gained a Master in Robotics & Advanced Architecture, developing tools for additive manufacturing (3-D Printing) at an architectural scale, at the Institute for Advanced Architecture of Catalonia.
She was also involved in the Architectural Expo in Shanghai in 2010 and the Architectural Biennale in Venice, where she co-curated the Russian Pavilion. A Chevening Scholarship (the UK Government's international award scheme) brought her to her current destination, London, where she gained another Master in Emergent Technologies & Design at the Architectural Association in 2012. Now, finishing an Executive MBA at Hult Global Business School this year, it is hard for her to imagine being in a fixed location over the coming years.
"It's about building additional skill sets around the core ones, and then potentially moving in a slightly different direction."
About the direction she is heading, Kulick explains: "It's difficult for me to think far ahead as so much disruption is going on. I don't want to pigeonhole myself into only one scenario – or only one city – but to remain agile with my professional career. I have a clear set of directions and goals, which I set yearly, but for me it's more about building additional skill sets around the core ones, and then potentially moving in a slightly different direction."
Right now, she says, Scott Brownrigg is a great place for her to learn and develop: "There are great opportunities at Scott Brownrigg; I feel that I have impact in creating a sustainable world and bringing more value to large-scale, complex schemes all over the globe.  I value my freedom in how I do things, and the trust that Scott Brownrigg has in me.
"Being able to add value in different facets keeps me empowered, interested and motivated."
"I have the opportunity to keep developing in a multitude of directions, from running projects and teams, to winning new business, and being involved in the development of the company's business plan. Being able to add value in different facets keeps me empowered, interested and motivated. What I also like about being at Scott Brownrigg is the access to a global network. I can see myself moving to their New York office in the future, probably at a more senior level, and contributing to the development of the American market."
A year before joining the practice, Anna started her own architectural business, MOBO Architects, with her partner. She still runs MOBO outside working time. She explains: "There are different challenges in the two businesses. Over the last two years, my partner has spent more time developing MOBO. I contribute to the practice from the co-design perspective, as well as with the strategy and business operations, which is where I can add most value. My partner spends more time designing on the ground, developing teams and winning new business."
The two big challenges
One of the top challenges for business, says Kulik, is education, for companies to help their workforce to have a more inclusive way of working with others.
"The industry needs to make people more aware and conscious, and to explain the benefits of diversity and inclusion, including diversity of age. Everyone has it at the back of their mind, but it is more of an unconscious knowledge; you can only properly exercise your awareness when it is conscious."
"If they don't keep up with the digital revolution, businesses are at risk of losing the talent of the younger generation."
The other challenge for the industry, says Kulik, is to keep up with the digital revolution in terms of software and hardware. "If they don't keep up with the digital revolution, businesses are at risk of losing the talent of the younger generation. Half the younger generation now know how to code, and when they join a company, they have high expectations; if they don't have access to the digital tools they are used to, this young talent is then tempted to shift to the place that will provide those tools."
The "forever" rules for the digital age
Kulik's "forever rules", whatever a person's age, are: "Keep your eyes open. Look out for opportunities. Jump with both feet. Always. Don't be afraid of new things. Get out of your comfort zone. Keep doing what you think is right."
Lead signer Freddie Mercury in the recently released biopic Bohemian Rhapsody is portrayed as living by these same rules of expansion and challenge, while his father lives by, "Good thoughts. Good words. Good deeds." The son learns from the father, and, by the end of the film, the other way around too.
The short answer is whatever your generation, we all like to feel listened to and our needs understood. "Is this the real life? Is this just fantasy?" Yes, it is the real life!
The views in this article are the views of the author and do not necessarily reflect the views of Reed MIDEM.
Anna Kulik is a speaker on the MIPIM panel Young Leaders: Convergence or Divergence, taking place at MIPIM on 13 March 2019.
YOUNG LEADERS SUMMIT NEW, March 13 10.00-12.00, Grand audit + networking cocktail 16.30-18.00, Gare maritime
Join this intergenerational debate to get a glimpse of the city of the future and a focus on Talent/Skills development of the next generation : will they agree on key priorities?
Followed by the Young Leaders summit cocktail, Gare maritime, 16.30-18.00 unveiling the Young Leaders outcome.

Speakers:
Moderator Alexandra Notay, Build to Rent (Multifamily) Fund Director, PfP Capital
Anna Kulik, Project Director, Scott Brownrigg
Connor Ryterski, Managing Director, Prizeotel Hotel Group
Bernardo Asuaje, Managing Director, Grupo Attia
Deborah Cadman, Chief Executive, WMCA
Harri John, Graduate Surveyor – Cushman & Wakefield

March 13 09.45-11.00, Grand Auditorium
YOUNG LEADERS: CONVERGENCE OR DIVERGENCE
Based on a campaign via the MIPIM database and a public consultation campaign by Make.org, get a glimpse of the city of tomorrow with an intergenerational discussion. What are the emerging requirements? Do the different generations agree on the key priorities for the future urban landscape?

March 13 11.00-12.00, Grand Auditorium
YOUNG LEADERS: PROMOTING TALENT & SKILLS
The panel will examine the development of talent and skills of the next generation. How can we leverage employment opportunities? Do they meet the challenges and the key priorities identified by both business and employees?

March 13 15.00 -16.00, Room 3
YOUNG LEADERS DESIGN THINKING
Students will gather for a closed-door brainstorm and produce the Young Leaders Summit outcome

March 13 16.30-18.00, Gare Maritime
YOUNG LEADERS COCKTAIL
Join this networking event unveiling the Young Leaders outcome.