The future of real estate is changing before our eyes, with the global health crisis both impacting performance and changing market dynamics in commercial property, according to Stephen Newbold, national director of US office research for Colliers International.
'The pandemic is altering how the workplace is viewed, with potentially significant consequences for office markets,' Newbold says. 'It's still unclear if and when workers will fully return to company premises in the light of the ongoing health crisis. In some form or other, remote working is here to stay.'
This year's work-from-home trend, introduced as an emergency stop-gap to control contagion rates, seems likely to persist beyond the pandemic, with the percentage of workers that is permanently working from home expected to double in 2021 alone, according to a September survey from US-based Enterprise Technology Research (ETR). After interviewing 1,200 chief information officers from a range of industries, ETR concluded that the percentage of permanent remote workers is likely to rise from 16.4% to 34.4%.
'The productivity metric is proving that remote work is working,' says Erik Bradley, chief engagement strategist at ETR, of the survey's findings.
Office market dynamics
Meanwhile, US office markets are showing signs of extreme stagnancy, with the net absorption rate – the gap between supply and demand – reaching historically weak levels. Newbold notes that US office net absorption fell to negative 36.1 million sq ft in the third quarter of 2020 – 'the lowest total in almost 20 years, surpassing the negative 25.9 million sq ft seen at the height of the global financial crisis (GFC) in Q1 2009,' he says.
A key contributor to office vacancy is the rapidly expanding sublease market – a good barometer of the market's health, as it displays where occupiers on traditional leases are being forced to try and find third parties to occupy their excess space, due to rationalising footprints, cost-cutting drives, or company failure.
'There is now a record 168.8 million sq ft of sublease available across the US office market, significantly higher than the prior peak of 143.3 million sq ft seen over 10 years' ago in Q2 2009,' Newbold adds.
All this shows that occupier dynamics are in significant flux – with the philosophical question of the workplace's role in business culture now centre stage as analysts consider the future of real estate.
Workplace questions
'The longer the absence from offices continues, the more doubts there must be over what future work patterns will be like and what kind of office space companies will want,' suggests John Redwood, chief global strategist for wealth managers Charles Stanley.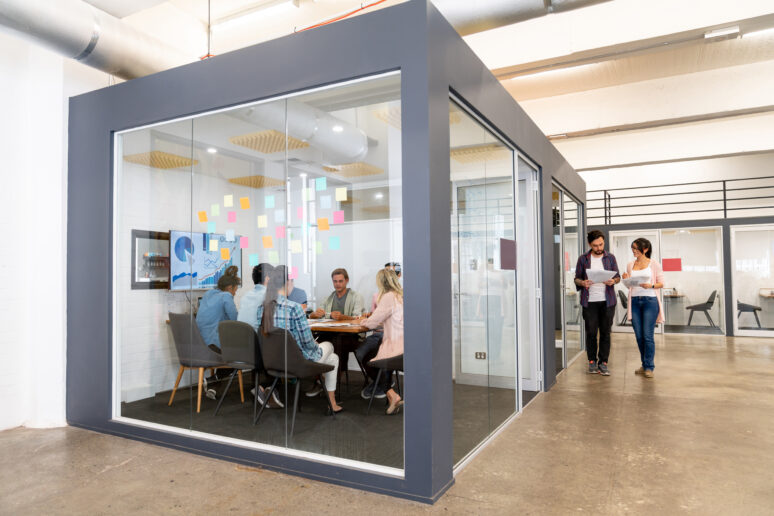 'It is currently fashionable thinking to say the pandemic has given a one-off boost to trends that were growing before the crisis. Employees want more flexibility between working hours, family hours and leisure hours,' Redwood adds. But employers are also considering the upsides of fewer workers onsite, which include potentially huge cost-savings on real estate footprints, and the opportunity to attract a talent pool which is choosier about where and how it works.
This is likely to mean that the office will increasingly be seen as a place for collaboration, meetings with clients and networking opportunities, Redwood suggests. 'If this does emerge as a common model it seems likely firms will want less total office space in city centres and will need better home and office linked technology,' he notes. Building on pandemic requirements, he suggests that 'It may also continue the flowering of the suburbs and more rural areas beyond the cities, as employees buy more property with better surroundings for a lower price than the centre city and as firms put in satellite offices with access to the local river, hotel and restaurants for some of the collaborative working.'
The flexible future of real estate
Flexible office space is also one of the crucibles where this argument is playing out, as corporate office occupiers and individuals consider a 'third way' shaping the future of real estate. Shared office providers were one of the first landlord casualties of the pandemic, with a worldwide survey of more than 600 coworking operators from Coworking Insights finding that 71% suffered a 'significant drop' in users in the first half of the year.
However, WeWork recently reported a 'boom' in the sale of day passes in some of its leading markets from September, suggesting that work-from-home fatigue was driving individuals to seek external office resources. WeWork has also reported that a number of companies, reluctant to commit to long leases in the current environment, have resumed the use of its shared office space.
'It is the behaviour of enterprise clients which will be telling for the flex office market's future,' suggests Newbold. 'Some companies don't want to make big lease commitments right now. And while we can look to the GFC for some clues as to how the markets might evolve, the health crisis has introduced factors which reach far beyond the financial parameters of the last recession.'
'All this implies a big work out to settle new values for office property,' Redwood concludes. 'It also probably means a substantial landlord and tenant investment in new fitting out of office spaces with less emphasis on everyone having their own five days a week workspace and more emphasis on team areas and meeting rooms.' He adds: 'This, of course, can only be the way forward once the virus is tamed, as Covid-19 drills currently militate against hot-desking and shared technology.'
In the meantime, the future of real estate remains unclear, although one thing seems certain: how the workplace is viewed will never be quite the same again.