The use of artificial intelligence in real estate is proving one of the most significant disruptors of the proptech revolution. Thanks to advances in machine learning and the rapid evolution of AI, the real estate industry is discovering how to manage the massive amounts of data that buildings produce, and monitor bespoke KPIs to streamline processes and extrapolate valuable information.
Artificial intelligence is a collective term for software applications which approach problem solving in a way which approximates human intellect. Machine learning typically involves comprehensive data classification and analytics by software systems which allow algorithms to acquire knowledge, often by detecting complex patterns in large data sets.
"There is this famous 'gut feeling' in real estate which has been driving decision making for a long time," notes Titus Albrecht, Co-Founder and CEO of RealxData, an AI and big data-driven real estate analytics platform.
"But with the right data, you can make better decisions, and reach important and sometimes unexpected conclusions, through patterns extrapolated by machine learning and AI."
For real estate professionals, this kind of smart technology is having an impact not only on how day-to-day workflows are managed, but providing genuine real estate intelligence about the urban environment.
"We're trying to make data extremely accessible for real estate professionals. You can know a lot about the property world but not be a data expert – that's where tools like ours come in," Albrecht adds. "Our tech can handle everything from rent rolls to detecting trends such as neighbourhood gentrification, by analysing a vast range of factors, such as the kinds of restaurants which have recently opened. Insights like this are significant for property values in the future."
Research from PwC suggests that artificial intelligence could generate more than $15 trillion for the global economy over the next decade or so. Powering everything from B2C chatbots on property portals, to streamlining asset management processes across multi-billion-dollar real estate portfolios, the impact of artificial intelligence in real estate is set to grow exponentially in the coming decades.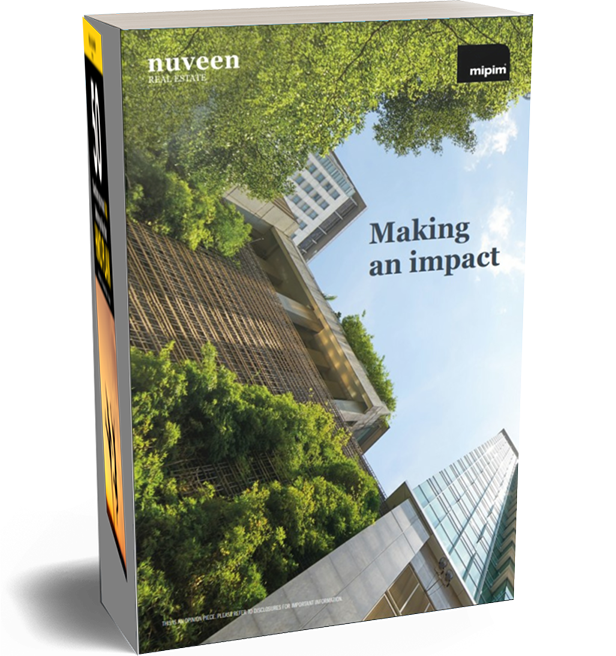 "Making an impact"- White paper
A new report by Nuveen
Discover how real estate can make a difference in society by going beyond the basic principles of ESG
Institutional attention
Major real estate and financial institutions – who have often been framed as slow moving when it comes to adopting tech – are increasingly keen to get in on the act. Global investment giant Patrizia distinguished itself by investing in proptech firms early on, with a particular focus on data and artificial intelligence. Two of these investments, Evana and Cognotekt, were acquired separately but are complementary technologies which together "provide an outstanding solution for document data and process driven management for our partners and the whole real estate industry," confirms Manuel Käsbauer, Head of Technology & Innovation at Patrizia. "We see AI as an important tool to improve our processes, performance and transparency," he stresses.
In asset management, AI's applications include everything from bespoke tenancy agreements and their management, to automating the running of buildings themselves. Its potential use in facility management and valuation strategies are also likely to simplify collaborations and increase the number of peer-to-peer transactions in the industry.
Challenges of adopting artificial intelligence in real estate
Despite the promising outcomes attached to the use of artificial intelligence in real estate, there are still some hurdles to clear.
"An issue we have noted in the German market is that there isn't a great deal of incentive to accelerate processes as the industry works at a traditional pace," suggests Albrecht. "However, in markets such as New York and London, where speed is of the essence due to the culture and fierce competition, AI is seen as an exciting technology for problem solving and detecting trends. The pandemic has also accelerated tech take-up in general."
Skyline AI is one such proptech which has distinguished itself on the New York real estate scene. This Israeli start-up calls itself the artificial intelligence investment manager for commercial real estate, and partners with property firms to create next-generation investment vehicles augmented by AI. Skyline AI, with offices in New York and Tel Aviv, says it has crunched the data of every deal made in the last five decades in its markets – across over 400,000 assets. This enables it to predict trends and changes in value to back the right investments.
Skyline's New York-headquartered peer, VTS, is also focused on what it calls "the data part of the journey". Explains Gijo Mathew, Chief Product Officer at VTS: "Our software is invaluable for businesses addressing their data as we help them to understand and clean it, harnessing the information in a standardised format and making it accessible and useful.
"The transformation of the industry won't be built on data for data's sake, or by jumping on AI because it is the flavor of the month. It will be about identifying the real pain points and determining how best to solve for them."
Impact of artificial intelligence on residential
The potential applications of artificial intelligence in real estate also go beyond CRE. Residential is becoming the next frontier where AI can give property companies the edge over the competition, as evinced by IMMO Capital. With offices in London, Hamburg and Delhi, IMMO Capital uses AI technology to build investment portfolios of single-family residential units (SFR). "Our AI is what allows us to source and underwrite assets at scale, something that hasn't previously been possible with SFR. Without the use of this technology, we wouldn't be in a position to analyse a high volume of assets," explains Lasse Christensen, VP of Strategy at IMMO Capital.
He adds: "We see a huge potential for AI technology. We have started experimenting with automating the acquisition and due diligence process, which could provide our investment team with more time to solve hard challenges rather than read through stacks of documents."
Looking to the future, tools such as AI have all the right parameters to enter the industry mainstream, suggests Charlie Wade, Managing Director VTS EMEA:
"We are at a pivotal point in the real estate industry. Covid-19 has been a forcing function for the tech adoption which was already coming into the sector."
However, Wade suggests that deepening comprehension is still key.
"AI can be an incredibly powerful tool, and not just a buzzword. To achieve efficiencies through automation the industry must look at AI as a solution not an outcome, first identifying the problems that need to be solved," Wade says.

"AI has lots of potential applications, but at the end of the day, getting the real estate industry out of the 1980s and into the 2020s will require a further leap of faith. The ultimate challenge the industry currently faces is trust and the pace of adoption of AI-driven solutions," concludes Albrecht.