When Philip Ross took to the stage at MIPIM in 1995, it was at a time when the real estate industry was obsessed with cabling. His presentation was about the 'cordless office'. "People thought I was crazy," recalls Ross, CEO & founder of management consultancy UnGroup (UnWired and UnWork) and IT & AV consultancy Cordless Group.
Fast forward over 20 years, and occupiers, developers and investors are busy ripping out their cables as they reimagine the workplace as a 'real-time' real estate asset, Ross explains.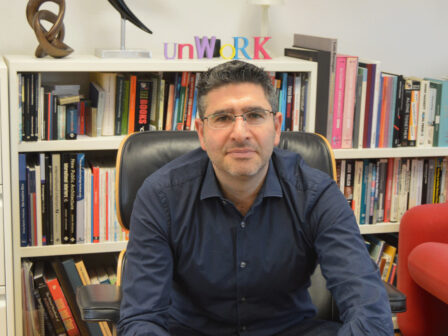 'Unbundling' the workplace
When Ross set up his consultancy 25 years ago, he chose the name 'UnWork' because "you achieve innovation by unbundling, challenging, stepping back, and being introspective, before moving forwards," he describes.
If we 'unbundle' the purpose of the workplace, especially as we enter a new age shaped by digital technology and environmental and social challenges, it is about providing a social, or people-centric, space.
As Sir Stuart Lipton, founder of Lipton Rogers Developments, the developer behind London's new iconic building 22 Bishopsgate, told UK magazine Property Week: "Social is my driving factor. Social in housing. Social in office buildings. Social in public realm."
Suddenly buildings become real-time real estate, rather than just an unintelligent container – Ross, UnWork
The enabler to achieve a people-centric workplace is technology, and in particular the Internet of Things (IOT), which in turn is bringing smart buildings to real estate. Every inanimate object that goes into a building will have its own IP address, says Ross, which enables 'things' to 'talk' with each other and, most importantly, to generate data.
"Suddenly buildings become real-time, connected real estate, rather than just an unintelligent container," explains Ross. "And as part of being connected they can generate data. This gives you incredible insights into not just how they are performing but what's happening inside them."
5 stages of a people-centric workplace
UnWork has identified five stages to creating a people-centric workplace, with each stage increasing the value add of the space. Only the first stage is about the building itself; with the other four focussing on the user's experience:
Stage 1 –  Efficiency … of operations.
Stage 2 –  Personalisation … the way people access the building.
Stage 3 –  Contextualisation … how people experience/interact with specific locations.
Stage 4 –  Sentiency … people's mental, emotional and social wellbeing.
Stage 5 –  Prediction … predicting what people need or want through the use of machine-learning analytics.
The case of 22 Bishopsgate, London
Aiming towards Stage 5 is 22 Bishopsgate, which Lipton Rogers Developments is developing on behalf of AXA IM Alts, and which Ross and UnWork have supported in developing the smart building strategy.
The 62-floor building – which is one of the finalists for the MIPIM Awards 2021 – is the highest in London, after the Shard. It offers 1,275mn sq ft of space, including 100,000 sq ft of shared amenities, which range from a food market to a climbing wall, and a wellbeing retreat to London's largest 'active commuter park'.
When it comes to technology, the building provides:
Two separate and diversely routed points of presence (PoPs) – to provide resilience for networks and communication devices entering the building.
Blown fibre – to minimise disruption of bringing digital services to a new client. (No need for way leaves.)
Remote servers – to free up space in the building.
A full digital twin – to allow the building to be modelled, fine tuned (tweaking levels from air quality to energy usage) and faults found quickly and easily.
Cisco internet infrastructure – to ensure a premium WiFi infrastructure.
The 22 Bishopsgate app – to include features for users such as a contactless entry pass to booking a gym class or keeping ahead of upcoming events.
Regarding the need to build a resilient infrastructure, Ross explains: "22 Bishopsgate is a cloud-ready building, with occupiers having access to the best infrastructure. As more and more people rely on the cloud, you can't afford to have any downtime."
Tenants themselves are adopting the 22 Bishopsgate app, adds Ross, and they're extending sensors into their own tenanted space. This generates "remarkable data and insights" as to how the building operates and how the people experience the building, whether queue times at the restaurant or dwell times on the climbing wall.
Other recent projects in which UnWork has been involved include the new BCG head office at Hudson Yards in New York.  As part of developing the strategy, UnWork surveyed BCG employees. They found that the top five employee requirements for good office space were: high air quality, lots of natural light, good acoustics, great coffee and great food. The building – designed as a "platform" for BCG in New York City – is, like 22 Bishopsgate, about the 'collision' between people, place and technology.
How being smart can help in the return to work
A smart building is particularly relevant in a post-Covid world, says Ross. Firstly, it's about enticing employees back to the office. When UnWork surveyed their clients' employees around the world, they found that only 7% of them wanted to go back to the office full time.
The data generated by a smart building is going to be fundamental for planning the return to the office – Ross, UnWork
Secondly, with the arrival of hybrid work, and people going back to the office for fewer days a week, users will need the data as to which days to pick, depending on who else is in the office or how busy it is going to be. "The data generated by a smart building is going to be fundamental for planning the return to the office," says Ross.
A warning for for the real estate industry
Looking ahead, Ross predicts a possible shake-up of the real estate profession if new technology is not fully embraced. "As more and more buildings become connected, there is the possibility that building management eventually ends up being the domain of the CIO [chief information officer], with the building becoming yet another appliance on a network."
Being ahead of the curve lets you develop and buy the right assets… which is what property is all about – Ross, UnWork
To keep ahead of the game, real estate needs to embrace technology and to embed a data science function in order to 'unbundle' all the data generated, he adds.
The issue of how data insights are shared, and with whom, also arises. "There needs to be a good flow of data [between manager and occupier], with a joined up end-to-end vision," says Ross
And for those in the sector who have not embraced technology over the last few years? "We will see a lot of secondary space viewed as redundant," replies Ross.
The future of the workplace
So, if Ross predicted the cordless office over 20 years ago, what does he predict will be the big disruptors of the workplace over the next 20 years?
Artificial Intelligence will be the next big battleground for real estate, he says. "Buildings which are smart, and which can provide tenants with an enhanced experience will win."
Workplace as a service as the workplace is reimagined as a "smart space", with shared amenities that drive purpose and apps that shape the experience.
Permeability between the public domain and the workplace, as well as between occupiers, borrowing from the co-working concept.
Consumption economics, as real estate moving towards a model similar to that of software … with no big initial capital expenditure outlay and only a small professional services fee upfront, and then paying for usage per month
Regarding consumption economics, Ross adds: "The real estate sector needs to reimagine what life might be like when they charge users per month, as opposed to the covenants and certainty of the cashflow they've had previously."
And the big message for real estate developers and investors? "Technology is not going away. The real estate industry needs to embrace it and understand it, and begin to predict how it will disrupt what they do, so that they are ahead of the curve. Being ahead of the curve lets you develop and buy the right assets… which is what property is all about."
Find out which other projects are among the finalists in the category of Best Office & Business Development at the MIPIM Awards 2021.  The winners will be announced at the MIPIM Awards Ceremony in Cannes on 8 September.