MIPIM 2020 is just around the corner and the theme this year—The Future is Human—promises key insights for real estate investors and professionals looking to realise enhanced returns through human-centric innovations and strategies.
E-commerce, economic cycles and co-working trends have created unique challenges requiring the office and retail sectors to evolve quickly in order to remain competitive. Although multifamily has not been entirely immune to challenges of their own, in the U.S. markets, the sector has "experienced the lowest level of rent decline, the fastest recovery to pre-recession peaks and the longest post-recession period of rent growth," outperforming all of the other major property sectors."
As a result, the overall strength and performance has not created the same degree of urgency to evolve through innovation. Nonetheless, as risk-free rates around the globe continue to hover near record lows and real estate markets feel the subsequent impact of shrinking returns, resident services offer a way to realise enhanced returns in multifamily portfolios.
The Opportunity is Human
The idea that the future, and therefore opportunity, is human is reinforced when looking at the degree that Caruso Affiliated has been thriving amidst volatility. In a 2018 interview with Forbes, retail magnate Rick Caruso offered his thoughts on the threat e-commerce posed to retail, noting that "online retail is going to put bad brick-and-mortar out of business and it should put it out of business." Caruso's strategy to remain competitive can be seen in his remarks that the "real business that we're in is the hospitality business," or more simply, "the business of making people happy."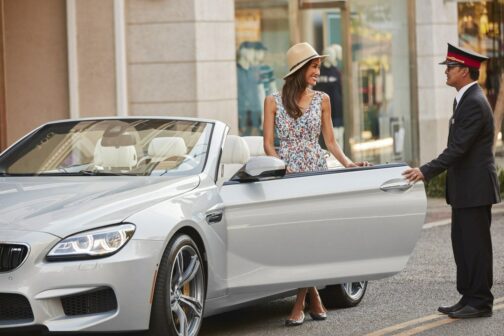 Not only does a human approach sound and feel good, it may also prove to be a key to financial growth. Despite "many recessionary environments, Caruso Affiliated has grown its asset value, revenues and profits every year since their founding in 1987." The company credits their world-class guest services as being integral to their success and notes "time" as being "the one thing you cannot buy;"  by "giving back time to their guests through services," they are essentially able to create and capture enhanced returns. On the contrary, several retail models will continue to fail simply due to them being "disconnected with how people want to live their life," Caruso predicted.  Caruso sees the way things will evolve is by "going back to what always worked." If the future is human, perhaps it is because what has always worked in the past has been human.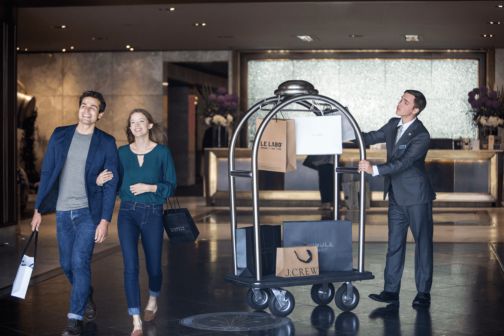 Lessons from the Workplace Sector
As retail adapted to compete with e-commerce, the office sector looked to concierge services to create a competitive advantage within the sector. The 'hotelisation' of the workplace is a result of what Kim Tremblay observes as the growing expectation for concierge services. Echoing a theme emphasized by Caruso Affiliated, Tremblay concluded "a commercial office building that gives time back to people is worth a lot more to tenants and building occupants and may even result in higher rents and long-term building value." Tremblay also echoed the sentiments of hospitality that Caruso advocated in retail by predicting "the new role of the property manager will be hospitality-centric," and will include the "acquisition and delivery of services for building occupants. At first glance, WeWork may appear to be a prime example of the marrying of office space and hospitality. However, their business model also depends heavily on margins to be realized by employing a concept commonly referred to as "buying by the bottle and selling by the shot glass." The convenience of bundled amenities and flexibility are clearly value adds that benefit the WeWork model, but the degree to which value is created through services that give back time is debatable. Nonetheless, a portion of the premiums rents realised can likely be attributed to the human-centric approach of responding to the psychological desires to not only be wowed and inspired by the design of the workplace (a term some at MIPIM suggest is more in vogue that the stodgy term "office"), but by the "real perk" of "having other people around" that enhance networking opportunities.
Harnessing PropTech and Artificial Intelligence
Incorporating PropTech and artificial intelligence (AI) into buildings is definitely important according to Christian Grellier, director of innovation at Bouygues Immobilier, but so is putting services and the customer experience first. With a limited amount of resources to deploy against future opportunities, some are busy debating over whether there is more potential upside in human-centric services or in PropTech. The answer is neither, but rather the seamless integration of the two. In the "age of artificial intelligence, we need to anticipate what local services will be required and provide a human presence for our customers," Grellier explained. "The more artificial intelligence develops, the more people will become important to business." One difficulty with assessing the value contribution of PropTech is the ambiguity of what actually constitutes technology. A few years ago, a property management company operating primarily from an array of iPhone apps including email, cloud-based file storage, digital signature platforms, portfolio management database apps and social media marketing might have been considered a PropTech company. Today, that might merely be considered standard business practice. As technology touches nearly every aspect of our professional and personal lives, the question is not so much whether a company or service can be classified as PropTech. Rather, the question is—do they deploy technology in a manner that is effective and meaningful? When done right, technology allows companies to leverage real time information and patterns revealed by analysing big data to present customised, curated solutions. In 2016, "Uber, AirBNB and Instacart" were a declared a "preview of what's to come." As many were quick to label these as tech companies or anomalies, Gary Vaynerchuk, CEO of VaynerMedia, recognised that Uber "wasn't about transportation," but was a company that "sells back time." He went on to not only claim "time is everyone's number one asset" but also that "people will massively overpay for" time.  James Martin, head of social media for Reed MIDEM, recently profiled Fabiola Barreira of FaciliCiti, who noted that harnessing big data is key to "improving urban environments," but that "real estate management at its heart has to incorporate greater human value." This concept is evident in retail as "good retailers—and by extension good retail developers—cater to the community." In fact, harnessing big data to better serve a local community is why Caruso believes "Amazon has done so well in the [brick-and-mortar] book business…they curate the selection based on the data they have from that neighborhood."
Multifamily Leaders in Resident Services
With regard to multifamily, the question remains—how can this sector best deliver on the concept of giving back time to its residents through human-centric services?" Multifamily companies which appear to be less than content conducting business as usual, provide some excellent examples. These include "increasingly adding an extra level of concierge offerings to help residents reclaim their time—and their lives" and handling everything from "chartering yachts" to helping out with everyday tasks such as "grocery shopping, dry-cleaning pick-up and in-home package delivery." For example, Chicago-based Related Midwest partnered with the on-demand personal concierge service Hello Alfred to "create a white-glove offering that marries technology and human service to create an intuitive home that anticipates a residents' needs." Haley Rafferty, multi-site senior general manager for Related Midwest, notes that what really distinguishes their company is "personal service and understanding who our residents are and what they expect. Training our teams how to anticipate their needs is what we strive to do." Related appears to have been inspired by the credo and "Three Steps of Service" found in the Gold Standards of the Ritz-Carlton Hotel Company. By employing a technique as old as linguistics itself, brands like Related and Ritz Carlton dominate in personalized services. The technique? Simply ask. "We ask them specifically what they would like done and we can deliver upon those requests," Rafferty said. "If they would like their dry cleaning placed in the entry closet, we'll do that. If residents prefer to have dry-cleaned garments placed on their bed or groceries unpacked and put in the refrigerator," Related can deliver on that request instead.
Hello Alfred partners with your building to provide the help you need to get things done and reclaim your time. From stocking your fridge to fixing your favorite pair of shoes, Hello Alfred is a human-powered home-operating system for your life.
­
Industry leaders Trinity Property Consultants and FPA Multifamily recently partnered with Amenify, allowing them to offer amenity services under the community's brand. By being able to collect resident lifestyle buying information on dog walking, apartment cleaning, personal training or in-home massage, enabling multifamily operators are poised to better understand their residents' preferences and ultimately capture more resident wallet share. Everett Lynn, CEO at Amenify, called multifamily the "new retail," highlighting that "apartment owners are sitting on a mountain of unlocked value" largely because "the multifamily housing industry previously lacked the digital infrastructure, integration, and ongoing support to make this a reality." Lynn claims "lack of personalization has been a major problem" in the multifamily industry," and that it is not possible to "deliver a truly personalised experience to our customers unless we know what each one of them wants and when they want it." Of course, this is all the more challenging because "one thing we know for sure is that every resident is different." The key to success will be in how well multifamily operators can collect, collate and store resident information in a way that can retrieved and actioned in real time and in a way that is both meaningful and sensitive to the resident's preferences.
What Has Always Worked
As market factors continue to create volatility and uncertainty, multifamily companies continue to be attracted by a mesmerising array of shiny new objects and innovations promising them a competitive edge to keep vacancies low and rents at a premium. Emerging PropTech does offer powerful opportunities to leverage customer and guest information in real-time and in ways previously unimaginable. However, it has become more important than ever to focus efforts on deploying services that are meaningful and personalized to the consumer with an emphasis on what has always worked—giving back time through services in a way that is complimentary to how they want to live their lives.
The debate on how industry leaders can best keep humans at the centre of solutions and strategies in response to emerging challenges continues March 10-13, 2020 at the world's leading property market, MIPIM, in Cannes, France.
Top image: – Getty Images – Jovanmandic