More people travelled between countries last year than ever before, whether for work or play. Although that figure may take a hit in 2020, the basic human desire to travel, and to socialise, remains a constant, especially in today's connected, mobile world. So with this in mind, here are 10 top hospitality trends set to mark the year.
Hotels are natural nodes for gatherings of people, and hospitality as a real estate sector is attracting increasing amounts of interest, especially for its role in mixed-use projects.
The secret to hospitality is simple, says Sharan Pasricha, founder of Ennismore hotel group (Hoxton, Gleneagles, NoCo, Working From_).  It's about "making people happy".
Here are some of the top trends in hospitality, for the customer, the operations, the experience, the real estate.
1. The rise of the Chinese traveller: especially the middle classes
Chinese tourists spend more than any other nation in the world when they travel abroad ­– or at least until the coronavirus restricted them from travelling.  This figure is only set to grow as China's middle class swells to an estimated 780 million by the mid-2020s, with most still to take their first holiday abroad.
McKinsey's China Consumer Report 2020 identifies that Chinese travellers are moving away from the "predictability and low prices of large group tours in favour of smaller, higher-end tours and self-guided adventures".
"The one per cent top market, who is more after the experience than the shopping, is becoming 2%, and the 2% is becoming 5%," – Noel Merainer, vice president – development, Asia Pacific, Rosewood Hotel Group
In terms of the numbers travelling abroad, "we have seen only the tip of the iceberg," said Tommy Lai, CEO of Singapore-based GHM, whose brands include The Chedi, Ahn Luh in China and Tin Hotels.
Meanwhile, Europe's biggest hotelier, the 'augmented hospitality group' Accor, has partnered with Alibaba Group to build a bridge to the hundreds of millions of Chinese consumers in Alibaba's ecosystem.
2. Welcome Generation Z! Your clients now and for the future
Gen Z is the first 'digital native' generation. That puts them in a different category to the 'digital immigrant' millennials.  However, both look for a mobile lifestyle and financial flexibility.
To put the Gen Zs and millennials in an age bracket, they are born between 1995 and 2010.  Very often, though, it is more about the mindset than the age.
So, what do Gen Z want? Above all:
Individual expression: consuming is about expressing individual identity.
They put their money where their values are – 68% expect brands to contribute to society.
They're smart. "Before buying anything, Gen Z expects to access and evaluate information, reviews, and their own research," says social media management platform Hootsuite.
They have a love-hate relationship with connectivity. At work, 72% prefer face-to-face communication
And for those targeting the China market, a recent survey revealed that Chinese Gen Zs are more likely to prefer domestic brands than older generations.
3. Data opens doors: but personal service still rules
The average traveller spends 53 days looking at 28 different websites before they make one travel purchase. In the US, on average people make five travel purchases a year.
This generates "huge volumes of data about likes, dislikes, travel dates, brand preferences, and shopping habits", says the report Demographics: Data drives the Future of Travel Advertising, produced jointly by Skift and Accenture Interactive.
"You need to understand how technology can help you – in enhancing the service quality – but not to allow it to destroy you – in delivering basic quality service" – Tommy Lai, GHM
However, as Tommy Lai of GHM said at the MIPIM Asia Summit: "If a client has stayed with us ten times, and each time he has asked for English Breakfast tea with milk, on his 11th visit, we will still ask him what he prefers. How you deliver a service is important."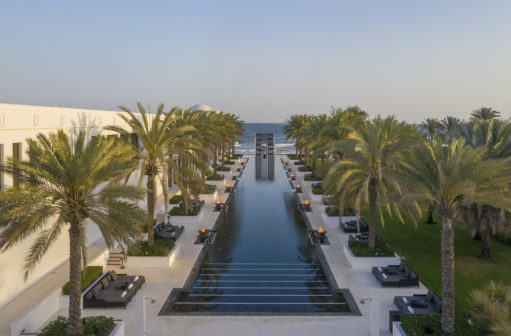 The Chedi Muscat-Pool-The Long Pool
4. Building loyalty: all year-round
'Guests' become 'members' as hotel loyalty programmes look to build lasting, all-year-round connections with their clientele. "If you want to compete, you have to increase your data points, your frequency of interaction with your existing guests," said Sébastien Bazin, CEO & chairman of Accor at MIPIM 2019.
Bazin calls Accor's newly launched ALL (Accor Live Limitless) programme a "new vision of hospitality that goes beyond accommodation".  The programme offers members exclusive deals and new experiences in terms of where they go, what to do and where to stay – in particular experiences linked to food, sport and music.
One such experience for six ALL members from around the world was to fly into Paris for a photoshoot to be the faces of the new shirt of Paris Saint-Germain Football Club, with whom ALL has a partnership. "It's about giving them access to 'ALL of Accor'," said the group.
5. Art & culture create a sense of place
Hotels are looking to offer a sense of place, something unique – uniqueness is the new exclusiveness. Art & culture are playing an increasing role in creating a sense of place.
MGallery, is a chain of nine boutique hotels in the US that calls itself a "multi-venue contemporary art museum", and which since 2018 is part of Accor.
Take these other examples:
Kimpton Hotels & Restaurants, part of IHG, has teamed up with newly opened photography destination Fotografiska New York to curate the Stay Human pop-up installation to tour six Kimpton hotels.
The Savoy of London is reviving its tradition of the Book Butler, as part of the hotel's Writer-in Residence Other residents include an artist, a musician and a photographer.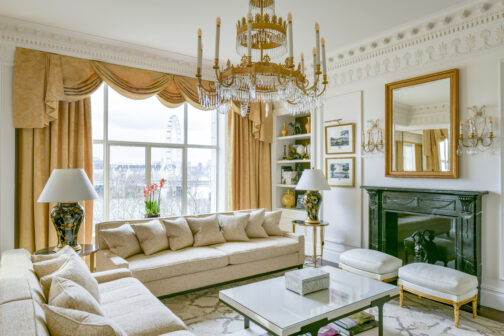 A book butler is on hand to help guests at The Savoy in London choose their books
Each Standard Hotel (five in the US, and in London and the Maldives) has a distinct musical identity through Standard Sounds, and stages live music performances of new and well-known acts.
6. Introspection follows on from optimisation: the new twist to wellness
Forget sweating it out on the running machine, the wellness trend for 2019 was all about 'optimising' the mind and the body.
With the realisation that such high performance can take its toll, mentally and physically, the trendsetters are now moving on to help clients on a journey of 'introspection', to help them reassess what makes for a good life.
Erin MacNeil, director of wellness, Rosewood Hong Kong, summed up nicely Rosewood's approach to wellness when she told Monocle Magazine: "We are invested in your lifestyle, not just the next hour of your life."
Take a look at:
·        Asaya, the urban wellness concept at Rosewood Hong Kong, is about "conscious living" and offers sessions as diverse as 'singing bowl therapy', 'golf biomechanics', a '24k pure gold mask' and an 'anti-vice skin solution'. The Asaya Lodges feature their own private treatment rooms, while some of the ingredients for the therapies are picked in the hotel garden.
·         Elevation Barn offers curated 'micro' retreats  in New York, Utah, Norway and Bali  for leaders to "gain clarity on the next chapter in life and to join a global network of higher purpose individuals". New locations are due to open in 2020 in Patagonia (Argentina), London, Sydney and Singapore.
·          Kapuhala is a 'movement' with a training retreat in Koh Samui and a second retreat due to open in Sicily. The focus is on "living, eating (a wholefood plant-based diet) and training (fitness, yoga, triathlon training)". Stefano Passarello, founder & MD of Kapuhala, talked at the MIPIM Asia Summit about the importance of marketing to a "tribe" – a group of like-minded people.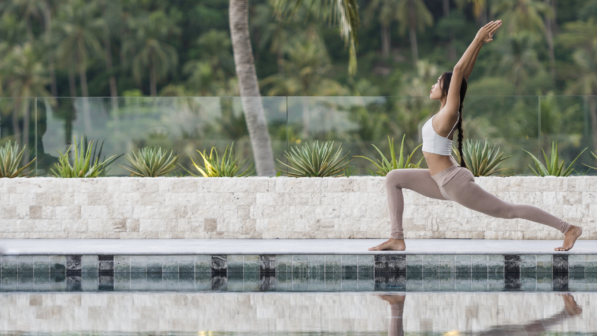 Kapuhala Koh Samui, Credit: Martin Puddy
7. Green & social: being part of the community and the future
Helping your guests alleviate eco-anxiety is part of a trend identified by The Future Laboratory in their Liberation Luxury Report, as 'luxurians' link their life to self-worth and 'luxury' is redefined away from waste.
Los Angeles-based Green Globe offers sustainability certification for the tourism industry worldwide. The Hotel Martinez, part of the Hyatt group, was awarded Green Globe Platinum Status earlier this year.  When it comes to sustainability, the Martinez, a favourite Cannes venue for MIPIM delegates and Cannes film stars alike, focuses on:
Reduction of single-use plastic
Improvement of food waste management
Supporting and engaging local communities
Training out of work-and-school young people under the Hyatt's RiseHy programme.
The hotel has several charity partnerships, including with: Les Determinés (to foster entrepreneurship in suburban and rural areas); Unisoap (to collect used soap for recycling by workers with disabilities and then distributed to disadvantaged people); and Sourire & Partage (to help seriously ill children and their families in the local area).
On receiving the award, Yann Gillet, General Manager, Hotel Martinez, said: "What is particularly inspiring is seeing this commitment to sustainability extending beyond the workplace to influence [the staff's]daily lives as well. For example, even during their free time, many staff members choose to participate in nature-cleaning operations such as 'Nettoyons la nature' [Let's clean nature] where they work in association with Méditerranée 2000."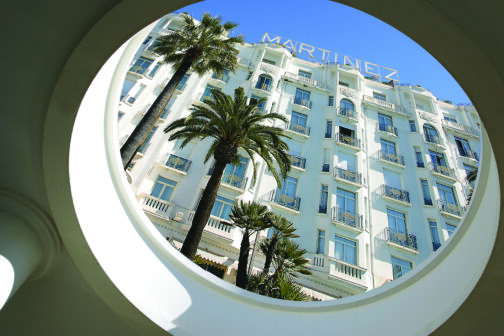 Hotel Martinez in Cannes was awarded Green Globe Platinum Status earlier this year
8. Hospitality hybrids: luxury, retail, restaurants, hotels
 Hotels are the ultimate in experiential branding.  As consumers chase more experiences and less shopping, we have seen the continued blurring between luxury, retail, restaurants and hotels.  Some examples:
With the likes of Accor having 41 brands, Marriot 31 brands and IHG 17, the focus among the hotel groups has clearly shifted from real estate, to service, to lifestyle. It is all about branding.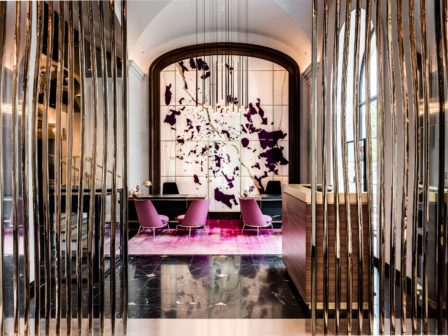 Raffles Hotel Warsaw: Raffles is one of Accor's 41 brands
9. Short-term rentals: a market on the move
The rise of digital technology and the broadening desires and needs of the experience-hungry, mobile consumer of the 21st century has kick-started the short-term rental market.
Established hotel brands are vying with short-term rental companies and tech-oriented start-ups to provide rentals.
Two leaders are Accor, which provides a hotel-like experience in private homes through its brand onefinestay, and Silicon Valley-based Sonder – valued at over US$1bn following the closure of a recent funding round – which leases and manages its own rentals.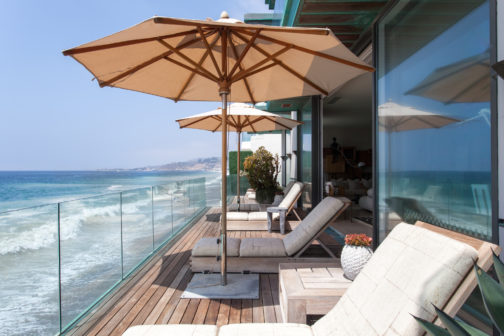 onefinestay by Accor, a leader in short-term rentals: Carbon Beach Terrace, Malibu, Los Angeles
Meanwhile, Marriott International – the world's largest hotel chain according to Forbes – launched Homes & Villas by Marriott International last year, with 2,000 homes in over 100 destinations.
With regards to the booking platforms, the market – whether for rentals or hotels – is dominated by the likes of Airbnb, Booking Holdings, Expedia, Google and TripAdvisor.
The hotel industry is now looking to get in on the action too. For example
Accor announced this January the "first unified technology platform for the global hospitality industry" following the Group's collaboration with software & tech company Sabre Corporation.
The Standard, meanwhile, announced plans to launch its Benny app, the "first social travel agency", which would allow people to recommend rooms to friends and earn commission.
Also expect a shake-up in the way guests make payments, reports Skift.
10. Branded residences: a new market for hotels
A record number of branded residential schemes are due to open in 2020, with hotel brands accounting for 96% of the current pipeline, says Savills' Spotlight.
Spurring the growth is the rise of the "globally mobile, brand-conscious, wealth individual" attracted by "quality design, security and the level of service", says Savills.
When taking into consideration completed and pipeline schemes, the top five players globally are: Marriott, Accor, YOO, Four Seasons and Hyatt.
The top ten cities for branded residences (taking into consideration completed and pipeline schemes) are: Dubai, New York, Miami, Phuket, Bangkok, Istanbul, London, Boston, Bodrum and Kuala Lumpur, according to Savills.
Join the MIPIM 2020 Hospitality Summit on 12 March in Cannes.
Top Image: Greet Beaune – Martel Antoine