Which urban centre will be the leading global city by 2050? There are many global city indices all attempting to point to future urban trends and economic importance.  Whether these measure scale in terms of geographical size, population or GDP, they all – from PWC and McKinsey through to AT Kearney – predict that current US and European leaders will have been effortlessly outpaced by Asian rising stars. New York, London and other established global cities continually compare themselves against immediate competitors but always with an eye to the East.
GDP forecasting is more akin to crystal ball gazing than an accurate scientific activity – but all the relevant indicators suggest that, even if they aren't the winners of the race, fast growing Asian metropoles are certainly today's pacemakers and will make the GDP medal table by 2050.  China entered 2012 with more of its citizens living in cities for the first time in history.  As GDP growth here and elsewhere in the BRIC economies continues to outflank the west, urbanisation will continue as people seek jobs, homes, and a better quality of life.
However, the strengths of global cities are built on qualitative factors, not just scale and pace of growth. Shanghai, Moscow and Mumbai have all set themselves the goal of becoming international financial centres by then, and in comparison with the time it took established centres such as New York and London to develop, this is exceedingly ambitious. Historical precedence will continue to work in favour of established financial centres. London maintains its pre-eminence as a global financial centre based on its openness and its institutional strengths; the strength of the UK economy is incidental.
Not least, truly 'global' cities have international outreach: they act as hubs for trade, capital and ideas. Democracy and the cultures of cities impact on economic strengths. If the most significant driving force of any city is its people, then ensuring an attractive and liveable environment for increasingly mobile international populations is crucial to building a global city. A city needs a workforce that can comfortably interact with the rest of the world and therefore a successful global city has to be able to attract and retain a significant-sized foreign-born workforce.
The demographic boom in India is creating a large working age population; the China trajectory reflects their demographic deficit and new policies might need to be explored to retain and attract working-age populations.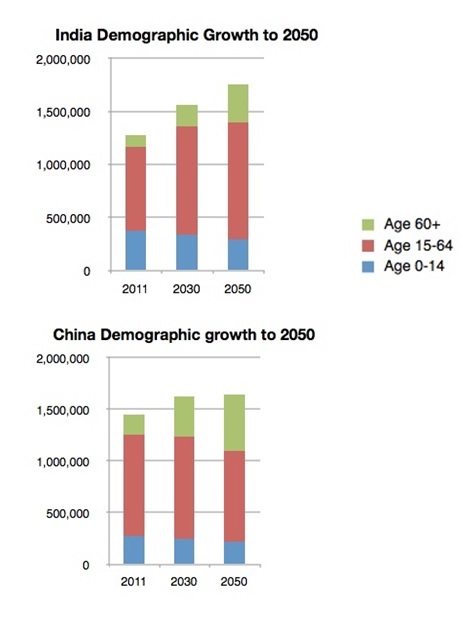 The Global Cities of 2050 may end up being situated in any of these economic regions, however, the successful ones will be those which can harness these trends and create the conditions to attract global citizens. Will China and India successfully urbanise or will they generate new global diasporas? Will Europe build the workforce it needs from Asia and will it cities be open to all?
New York and London are cosmopolitan: they have populations of which more than one third are foreign-born. Despite their astonishing growth-rates, Asian economic powerhouses singularly fail to reach that level of global cosmopolitan culture. Shanghai's non-indigenous population is currently less than 1%. India's national figures for foreign-born workforce are also less than 1% suggesting a similar figure for Mumbai which is also making plans to become an international financial centre.
For that reason, in 2050 we might predict that New York or London will continue to top the indices. However, nothing is given. Sustaining pre-eminence for established world cities means ensuring strong cultural offers remain unmatched and open national immigration policies are maintained. Conversely, Asian cities will continue to grow, and they will compete as global leaders to the extent they secure the openness, transparency and democratic conditions required to attract and retain increasingly global and cosmopolitan workforces.
Why not take a look at Greg Clark's recent article on the state of the world's cities as we enter 2012? And if cities are your thing, have you seen the dedicated programme of Cities, Infrastructure and Sports events at MIPIM 2012?
Image: larryncelia