Dubai Holding's latest offering Jumeirah Central is a mixed-use city district envisaged to become the most accessible, functional and valuable real estate in Dubai. Comprising 278 buildings and 47 million square feet, the district will introduce scores of innovative urban planning and 'quality of life' concepts that are a first in the Middle-East.
JC aims to become Dubai's most valuable real estate now and forever.  This is achieved by combining (1) the best location in the city; (2) the highest levels of accessibility; (3) the economic resiliency of mixed-use, and (4) a human scale, walkable public realm.
The masterplan is premised on the fundamentals of what makes a city great – delivering social equity through multi-modal mobility and an authentic community environment to optimize the collision coefficient.  Planned as a vibrant network of 75 walkable city blocks with convenient, climate-tempered, pedestrian connections at street-level, the block sizes have been designed at a human scale to create a permeable and intuitive urban fabric.
The mix of uses (including office, hospitality, residential and retail) is designed to provide a range of offerings and price points.  Almost every block comprises a combination of synergistic typologies to maximize economic resiliency and human vitality throughout the district, throughout the week, throughout the year.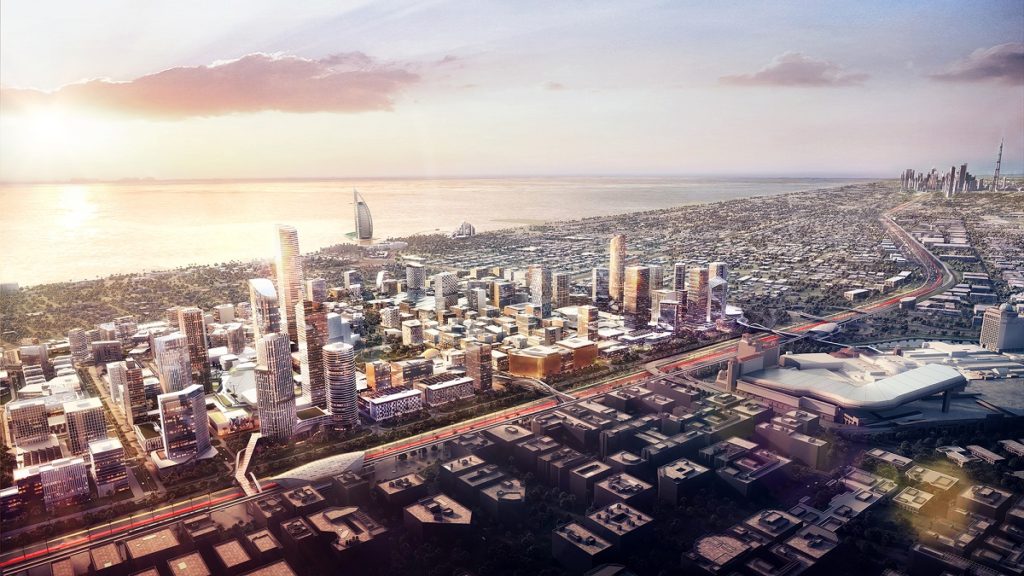 To date, Dubai has struggled to attract international, institutional investment.  The city is synonymous with iconic, glitzy trophy projects with design and engineering that often marvel.  However until Jumeirah Central no master-planned district had ever made the strategic, financial, operational and legal requirements of global institutional investors its primary consideration.  By attracting foreign institutional capital to Dubai for the first time, Jumeirah Central will be a catalyst for growth and professionalization of the real estate investment management industry.
Jumeirah Central is far more than a real estate project, it is a new operating system for the city and a new way of life for people in Dubai.
The USD 20 billion (EUR 21.2 billion) development will be showcased at MIPIM this March at the Dubai Holding Stand C-16A and discussed during the conference session:
HOW CAN RE INVESTMENT STRATEGIES FOSTER A BETTER LIFE FOR PEOPLE?
Dubai Holding is an investment conglomerate shaping and creating a progressive future that ensures the success of Dubai's vision in growing its business, tourism, hospitality, real estate, media, ICT, education, design, trade retail and wellness sectors.