The 2020 MIPIM Awards take place at a gala dinner in Paris, September 15. We'll reveal the winners on MIPIMWorld Blog then; meanwhile, be sure to vote for your favourite projects, here!
The Futura Project award is the MIPIM Award that allows architects to give free rein to their imaginations. Since the award category was launched in 2012 the roster of winners has included some of the most daring and advanced designs for new structures
The Cite Musicale de l'Ile Seguin in the Paris suburb of Boulogne-Billancourt – and venue of the MIPIM Urban Forum, September 16 – won the 2015 Best Futura Project award before it was completed.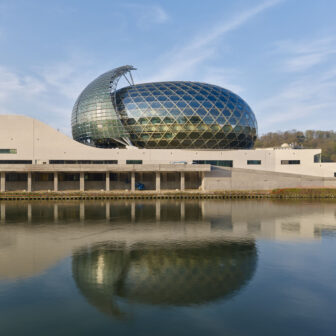 Developed by Bouygues, it was designed by Shigeru Ban Architects Europe and Jean De Gastines Architecte under a Jean Nouvel masterplan for the regeneration of the brownfield site of a former Renault factory in the middle of the Seine. Now rebranded La Seine Musicale, the music venue consists of a great hall that can house 4,000 people seated or 6,000 standing, a 1,150-seat symphony hall, office space, rehearsal and recording facilities, and stores, cafes and restaurants. All are accessed off the building's central spine, the Grand Foyer. A notable feature of La Seine Musicale is the silver sail that protects the interior from direct sunlight. This photovoltaic solar sail is always in motion, orienting itself to follow the course of the sun to allow for optimal energy production.
And Jean Nouvel followed up with a second win in 2018 with a design for the National Museum of Qatar that was inspired by the desert rose that grows around the original palace of Sheikh Abdullah bin Jassim Al Thani.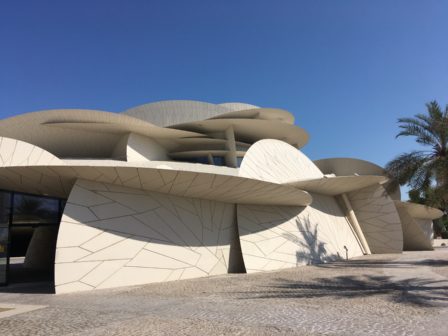 The historic palace was restored by Berlin-based architecture and engineering firm ZRS Architekten Ingenieure and now sits at the heart of the new museum. Located at the south end of Doha's Corniche, the museum building rises from the sea and is connected to the shore by three bridges. The 40,000 sq m museum is made up of interlocking discs that create shade to protect visitors from the desert heat. Voted by Time Magazine named a one of the World's Greatest Places to Visit in 2019, the museum welcomed more than 450,000 visitors in less than a year of its opening.
So what of this year's entries? The four shortlisted entries are:
Changing cities into forests W350 project for a sustainable future
Tokyo, Japan
Developer: Sumitomo Forestry Co
Architect: Sumitomo Forestry Co & Nikken Sekkei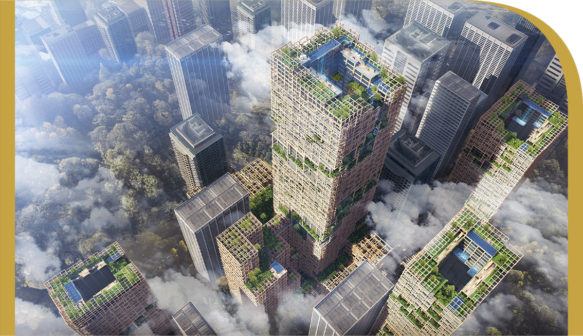 This project aims to build a 350m-tall wooden high-rise building in an urban area. The project strives to bring about innovations that encourage a sustainable cycle for timber utilisation and forestry management by promoting "environmentally-friendly and timber-utilising cities" where people, trees and diverse creatures can coexist. Further research will be conducted that focuses on not only developing construction methods for wooden high-rise buildings, but also demonstrating the effects of wooded and green spaces on humanity. As the foundation of this project, a wooden office building with innovative technologies was completed in 2019.
L1ve
Paris, France
Developer: Gecina
Architect: Baumschlager Eberle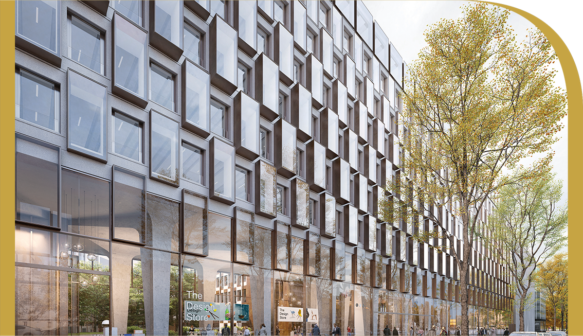 L1ve puts people first, offering vibrant and attractive urban amenities. L1ve is a large redevelopment scheme designed around the circular economy and energy efficiency. Located on Grande Armee Avenue, L1ve will also contribute to the redesign of the historical axis from the Champs-Elysees to La Defense. The new scheme will bring new life to a 33,500 sq m office and services building with a 110-metre facade, built in the Sixties as the avant-garde headquarters of Peugeot. With L1ve,Gecina puts people at the heart of its strategic new brand YouFirst. L1ve is human, the future is L1ve.
Valley
Amsterdam, The Netherlands
Developer: EDGE
Architect: MVRDV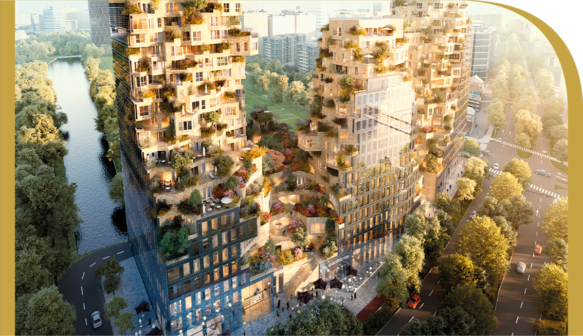 Valley is a place where nature and modern society merge to create a landscaped, sustainable environment. It is a one-of-a-kind place where life, work and leisure meet. Valley combines a corporate character with an intimate green landscape in a nature-based urban design. The building was given its name because of its impressive terraced façade. Tucked amidst the global dynamics of Amsterdam's South Axis, Valley encompasses an eye-catching public garden, fostering a sense of openness with its surroundings. An impressive green valley, majestic staircases and sunny terraces are open and accessible to everyone, offering magnificent views over the city and its surroundings.
Vitae
Milan, Italy
Developer: Covivio
Architect: CRA – Carlo Ratti Associati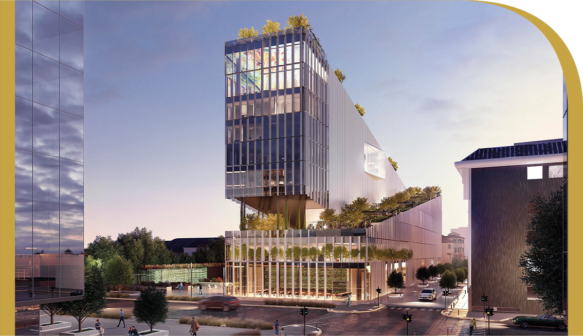 Vitae by Covivio is the redevelopment project winner of the Reinventing Cities international competition promoted by C40 to spur zero emission and resilient urban regeneration. It's located in the Porta Romana railway yard area, one of the most promising and innovative districts under development in Milan. Proposing an architecture totally open to the city, Vitae will create a mixed-use project spanning more than 10,000 sq m: offices, business centres and spaces for public events will be flanked by laboratories dedicated to molecular and oncological research, and guest rooms for IFOM's international researchers — all within an extremely innovative, sustainable, technologically advanced environment.