Truths of the Post Covid-19 Workplace
It is difficult to predict exactly how Covid-19 will affect traditional workplace activities and what the implications will be to the real estate community. A new report from Microsoft explained that the impacts from Covid-19 in 2020 have reshaped the way people work and cemented new office preferences for the future. In their report, they found "66% of leaders say their company is redesigning office space for hybrid work, 73% of employees want flexible work options to stay, and 67% of employees want more in-person work or collaboration." Furthermore, organizations understand that to attract top talent they need to appeal to the changing workplace demands of young professionals (Gen-Z) and people in-between jobs that are making decisions based on what they have experienced so far in a post-pandemic environment.
This shift in work-place trends have placed strain not just on organizations, but also building owners who are trying to navigate the unknown.  As leasing activity and rent collection across the US has decreased – those invested in office buildings are left wondering how they can increase demand for space and sign strong leases for their building.  While this is all true, this narrative leaves out the point that Covid-19 is also accelerating new trends and innovations that could be strengthen the demand for office space in the long-term.
The smart building industry, for example, has only continued to grow and offers new solutions that will be very helpful to building owners and operators who are looking to ensure the health safety of their employees and provide an environment that can boost their productivity. Microsoft is a pioneer in the smart building industry and is currently lending itself to other tech-companies that can benefit from its platform. In a recent interview with Srinivas Khandavilli, Director of Smart Building Solutions at Microsoft, he helped us understand what the major trends in the smart building industry are and how Microsoft plans to contribute.
An Interview with Srinivas Khandavilli (Director Of Smart Building Solutions at Microsoft)
Mr. Khandavilli has worked in the smart building industry for 8 years and is a leader in the proliferation of IoT technology. In our interview he discussed the changing dynamic of the office-market, his favorite use-case of smart buildings, and Microsoft's role in enabling the growth of other companies in the smart building industry.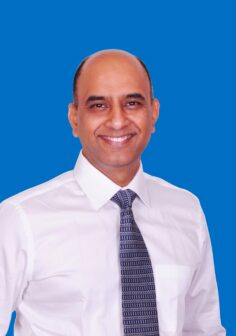 How Technology Can Complement Smaller Footprint Offices
First, Mr. Khandavilli discussed that we will most likely see a comprehensive shift to smaller footprint offices across major markets, but a greater number of those to accommodate the need for businesses that are trying to adopt a new hybrid model of work that includes working from home. He also pointed out that people – post covid-19 — will look for office space that can offer "personalized preferences" and flexibility. Furthermore, he noted that Microsoft has been developing products that may satisfy this demand. On Microsoft's Redmond Campus they have designed an infrastructure that combines IoT technology and occupancy sensors to provide employees with temperature and lighting control, integrated space booking applications, and improved data security. What Mr. Khandavilli explained is that—a core part of Microsoft's smart building strategy is directed at creating buildings that can boost employee performance and offer them an experience they cannot get at home.  This is especially relevant given the fact that "41% of employees are considering leaving their current employer this year and 46% say they're likely to move because they can now work remotely." In contrast, Microsoft's Redmond Campus utilizes smart building technology as a service for its employees, which in-turn will improve productivity, collaboration, and desire to be in a physical office setting.
A Key Focus of the Smart Building Industry: Healthy Buildings
Second, Mr. Khandavilli discussed some of his favorite use cases of smart buildings. Before Microsoft, he worked at Intel and helped develop the SRR4 and SRR3 smart buildings, located in Bangalore, India.  On these projects, as well as the Microsoft's Redmond Campus, Mr. Khandavilli has been exposed to many emerging technologies and has developed a good understanding of how the smart building industry can transform certain aspects of the built world. He talked in-depth about the importance of healthy buildings. New studies shed light on how indoor air quality affects things such as performance, creativity, respiratory health, and disease transmission. Furthermore, it has been found that humidity levels, either too low or too high, can support the spread of viruses, and increased ventilation can significantly lower that amount of time respiratory droplets stay in the air[iv]. Mr. Khandvailli explained that Microsoft's platform has fueled the growth of new technologies that can provide solutions to these concerns. He explained that new companies have built software that can analyze the air quality of a building and outline its health performance in real-time; it can tell operators the probability of virus transmission and can also tell you how healthy your building is. He explained that vendors in this space use sensors to analyze CO2 (carbon dioxide) and PM2.5 (particulate matter) and use this data to outline solutions. He says that this information can lead to improved building design and changes to air purification of a mechanical system–for example.
Mr. Khandavilli noted that Microsoft and its vendors have made improvements to smart building technology, which has greatly increased its value for real estate owners. He discussed implementation stating, "there are three primary ways to implement healthy building technology and it is being offered cheaper than ever before." First is to increase the amount of advanced sensors in a building. These sensors can provide real-time data and data that is specific enough to be actionable. Second is to have access to experts who understand the data and can easily display the information on a dashboard. He said that Microsoft's partnerships with third-party vendors have made it possible to synthesize and bring together previously disparate data. Third, is to do something with the data collected and use automation to fix problems and interact with building management systems. Mr. Khandavilli explained that Microsoft is starting to use AI (artificial intelligence) that can interact with BMS (building management systems) programs and inform better decisions in building design. Mr. Khandavilli also indicated that these three steps are more practical and cost effective than ever before. He qualified this with an anecdote regarding improvements to occupancy sensor hardware. He said, "only a few years ago occupancy sensors running on batteries would need to be changed annually and their benefit did not outweigh the cost. Now occupancy sensors can be run by a POE (power over ethernet) system, which requires less power consumption and enables easier implementation of them." It is his understanding that these improvements in sensor-hardware and low-voltage power will increase the rate at which smart building technology is adopted. Furthermore, as we collect more data, we can expect a proliferation of vendors that offer solutions.
Microsoft's Role in Enabling the Smart Building Industry
Third, Mr. Khandavilli emphasized that Microsoft is accelerating the rate at which smart building technology can be developed. He explained that Microsoft is a horizontal platform that is integrating vertical solutions. He explained that vendors can optimize their capabilities by using Microsoft's products. For example, a software company that manages "hot desks" of an office building portfolio may store their data on Microsoft Azure (cloud), process information using the IoT Edge runtime that typically runs on edge gateways, and consult with Microsoft experts on how to deploy solutions. In addition, Microsoft has created robust partnerships using its platform Azure Digital Twins. Azure Digital Twins is an IoT platform that allows you to create a digital representation of the physical environment. This platform has catalyzed the growth of other companies in a wide-range of industries. Real estate companies have used it to model their portfolios, engineers have used it to closely analyze and improve their building systems, and tech companies have used it optimize data storage and connectivity among different devices across the world.
Microsoft thus plays a vital role in providing technical and operational support to new companies that are providing solutions to current deficiencies we see in office buildings. Ultimately, Mr. Khandavilli believes that "Microsoft is enabling the smart building industry by drastically reducing the amount of time and cost that is required to bring a smart building up and running." These investments that Microsoft is making in the smart building industry are critical for the future of the asset class as a whole. There is a sense that most office buildings as they exist now, do not offer enough capabilities to be considered a necessity. Microsoft, on the other hand, is showing how office buildings can do more and these features will prove advantageous to building owners, operators and occupants. In a time of uncertainty and speculation, Microsoft is providing something the world can be very excited about.
Top Image: Getty Images – Blue Planet Studio