The music has not stopped. Investors are still active. Maybe not as much as before, but they are out there. For long-term players, it's about building resilience at a time when the world is shrouded with uncertainty.
Peter Plaut, executive director of the Wimmer Family Office, wrote about the "super economic & social depression" of 2020 for MIPIM World Blog back in April.  This depression now looks set to slip into 2021… if not beyond.
For the three leading real estate investors taking part in the Investing in Creative Placemaking session at the MIPIM Urban Forum, this liminal time is about staying with what you know… and continuing to make the most of opportunities.
Joining the session moderator, Peter Plaut, were two other investors with a long-term perspective: Daniel Berger, investment director for Europe of AustralianSuper, a profit-for-member organisation and Australia's largest pension fund, managing over A$182bn (around €110bn) and Karim Habra, executive vice-president, head of Europe & Asia Pacific of Ivanhoé Cambridge, a subsidiary of the Caisse de dépôt et placement du Québec (CDPQ).
Real estate has the opportunity to create solutions
"We as real estate leaders have an opportunity and we have the means to create solutions for our industry and the broader social and economic welfare of mankind," said Plaut, in his role as moderator.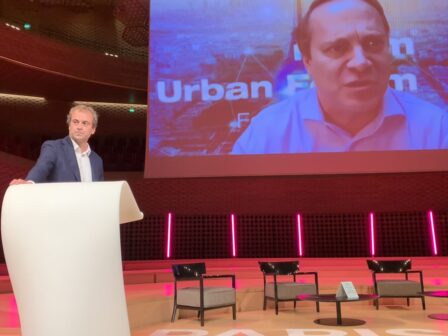 This opportunity for real estate leaders comes in many forms, he added. These include:
Forging new relationships.
Socially responsible investing.
Greener building
Pioneering new technologies, including those that monitor health and wellbeing.
Investing in underdeveloped and underprivileged cities.
Creating new asset classes.
Building better public-private sector collaborations
We as real estate leaders have an opportunity and we have the means to create solutions – Peter Plaut, Wimmer Family Office
As reflected by the session panellists, no longer is real estate just about cashflow; it is also about creating a positive impact on the environment and on communities.
A global phenomenon: refocussed business
The movement for business to focus on communities and the environment, alongside  performance, is a global movement, accelerated by the fallout from Covid-19 and climate change, and in response to the growing uncertainty and complexity of the world in 2020.
"The point of business is not to maximise profits. It is to build a prosperous, free, just, sustainable society. Maximising shareholder valuation at any cost is an historical aberration," said Rebecca Henderson, Harvard Business School professor and author of Reimagining Capitalism in a World on Fire.
Pre-Covid, conversations with CEOs had started with 'what' and 'how'… What is our strategy?  What is our vision?  What impact do we want to make?  How do we make this impact?  How do we increase growth? said Jessica Orkin, CEO of US-based consultant SYPartners, talking about the future of leadership at the Great Wave event of global think-tank the House of Beautiful Business, where Henderson was also a key speaker.
"The conversations today," added Orkin, "are starting with a deeper interrogation of the 'why'. What is my role as a leader? What is the role of my organisation?  Who do we really serve?" she added.
Opportunities open as bank lending pulls back
One of the outcomes of the 2008 crisis was that a lot of assets moved from weak to strong hands, and so flushing out many of the highly leveraged owners, said Berger at MIPIM Urban Forum.
This time round, these "strong hands" are able  to "ride out the troughs in the market", so there have not been the same opportunities to buy, he added.
At AustralianSuper, we are delighted that the banks have pulled back.  We think it is a real longer-term opportunity for a fund like ours that can underwrite real estate and doesn't mind cashflow drawdowns – Daniel Berger, AustralianSuper
It was also noted at the MIPIM Urban Forum session that the banks, even though they had returned to the market after pulling back in the spring, were not as involved as prior to Covid.  This was denting the value-add and opportunistic projects in particular, the MIPIM Urban Forum audience heard.
"At AustralianSuper, we are delighted that the banks have pulled back," said Berger.  "We think it is a real longer-term opportunity for a fund like ours that can underwrite real estate and doesn't mind cashflow drawdowns.  We've already done a couple of transactions, and we are increasingly doing [more transactions]."
Wimmer Family Office – looking for equity returns of +20%
"From, the Wimmer Family Office, we are continuing to ramp up," said Plaut.  "We have not changed our senior debt coupons significantly, but we are demanding a much longer track record in terms of the developers that we are working with.
"And we are pausing when we look at equity, where we are now looking for a much higher return than previously – in the low 20s, in terms of internal rates of return."
Ivanhoé Cambridge: buying during lockdown
Among purchases made during lockdown, Ivanhoé Cambridge bought a complex in the 11th district of Paris in an off-market transaction.
The global real estate arm of CDPQ will work together with developer partner Assembly to create a mixed-use project with residential lofts, multipurpose workspaces and retail overlooking the main street.
While waiting for works to start, Ivanhoé Cambridge has joined forces with the Plateau Urbain cooperative to make the vacant premises available to cultural and community groups – a reflection of how the real estate industry, as we head through the 2020s, is looking to add value not just for a financial return but also for communities.
Other deals signed by Ivanhoé Cambridge in Europe this year include:
The acquisition of a 430,000m2 logistics portfolio in France, prior to lockdown.
The launch of a US$1bn venture for purpose-built student and young professional accommodation in Paris, together with Bouwinvest and Greystar.
The off-market purchase of a 50,000m2 office development in Val de Fontenay, in the eastern suburbs of Paris, currently served by three RER rail lines, with a new line to be added as part of the Grand Paris Express
The view from AustralianSuper
"The crisis has shrunk our investable universe," said Berger. "Retail is really hard to invest in right now. There are question marks over the office sector.  Logistics is very crowded.  And, for a fund our size, a lot of the alternative sectors are very hard to achieve scale."
The crisis has shrunk our investable universe – Berger, AustralianSuper
Berger also sees lower returns – depending on what happens to economies – in sectors currently attracting a "flood of money", such as logistics, data centres and residential, as this investable universe shrinks.
The decision in 2017 by AustralianSuper  to lower its allocation of new funds to real estate lowered the fund's overall exposure from 7.5% to 5.5% . This was driven by a greater focus on infrastructure and debt.  Offices have traditionally been close to 60% of Australian Super's portfolio historically. "We are now starting to question that," said Berger.
We look to secure assets that we feel comfortable with and which can deliver good returns over the next five to ten years –­­ Berger, AustralianSuper
From a location, rather than a sector, perspective nothing has really changed, said Berger.  However, he added: "Over the next year or two, how countries have managed the virus, and therefore what the impact is, may differ, which in turn may create opportunities."
When asked by Plaut whether he would prefer to invest in a distressed value-add project, pay up for current strong performers, or look at retail, offices or hospitality, from a repositioning strategy, Berger answered: "We look to secure assets that we feel comfortable with and which can deliver good returns over the next five to ten years."