Foreign investment in housing
"Luxury real estate is the new global currency", said John Miller, President of New York real estate appraisal firm Miller Samuel Inc. "Foreigners are putting their cash into a hard asset". (Wolfstreet.com)
Despite the burst of the housing bubble not too long ago, foreign investors do not seem to be exercising caution these days. Potential risks such as uncertain economic and political climates, fluctuations in exchange rates and working under the constraints of foreign laws are not discouraging global investments in housing. Cross-border investments are accelerating as domestic investors are taking advantage of high returns abroad and foreign investors are capitalizing on the weakened dollar.
There are observable factors influencing the influx of foreign capital into various housing markets: economic growth or decline, low interest rates, and exchange rates to name a few. For example, while the U.S. dollar is still weaker than some foreign currencies, Americans are taking advantage of depressed housing markets that dropped in value by 40-50% during the financial crisis and have not yet fully recovered. Experts identified France, Spain Italy, Germany and Canada as markets targeted by Americans in recent years. (CNN Money) In direct response to political and economic uncertainty, countries like China and Brazil are choosing to protect their wealth by investing abroad. "Chinese investors want to protect their wealth by diversifying their assets, buying U.S. real estate and moving money out of the country", said William Yu, Economist at the UCLA Anderson Forecast. (RealtyTrac Housing News Report, August 2015) The combination of low interest rates, a weakened dollar and increased home values and rents are attractive not only China, but other foreign investors to housing markets in the U.S.. Similarly, population growth, increased prosperity and limited housing supply is fueling home values in the United Kingdom, Hong Kong and Australia, attracting foreign buyers to those markets.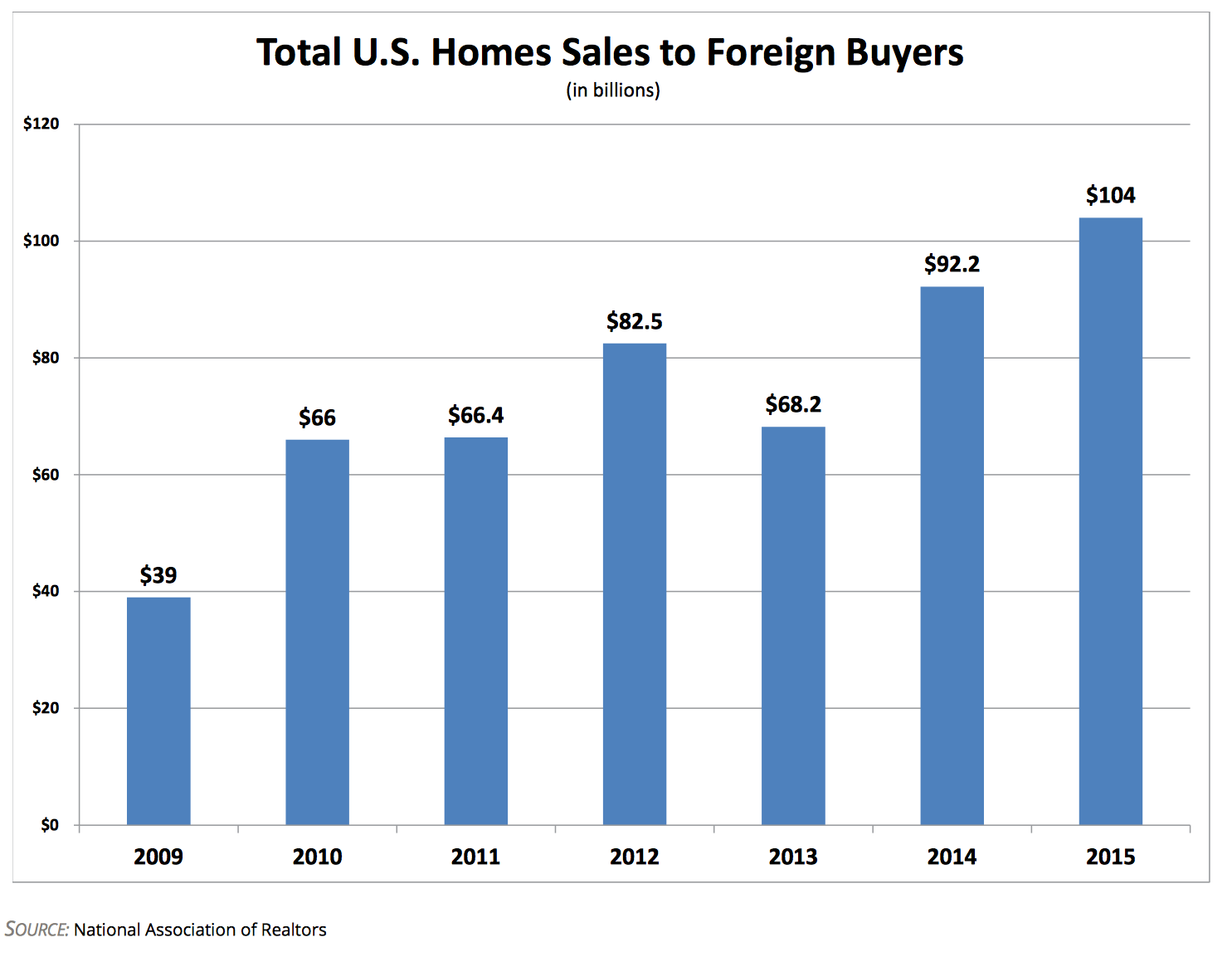 According to real estate advisors Savills, the top 5 housing markets for global investors are the United States, United Arab Emirates, Singapore, United Kingdom and Spain. (CNN Money)
The U.S. housing market is the most sought after in the world by overseas investors. While the U.S. is technically still in its recovery phase after the financial crisis, cities such as San Francisco, New York, Los Angeles and Miami are booming. Top foreign purchasers in the U.S. housing market include China, Canada, Mexico, India and the United Kingdom.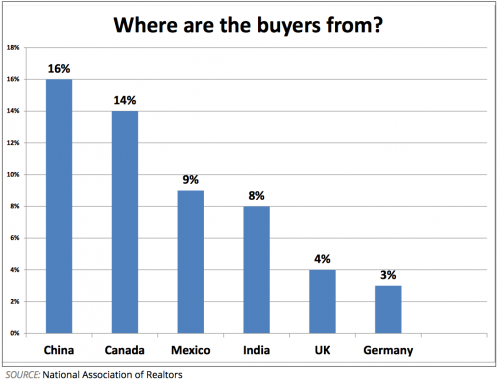 United Arab Emirates ranks second among global investors. Positive demographics and solid returns attract buyers to this market, with Dubai being the region's major real estate center. Singapore's slowing economy and sluggish sales in the residential market have resulted in remarkable discounts irresistible to foreign investors. Meanwhile, the two European countries on the list, United Kingdom and Spain, are desirable for very different reasons. While both countries are benefiting from low interest rates, United Kingdom is experiencing a considerable spike in home values due to limited housing supply. In contrast, Spain is still recovering from the brink of collapse, offering investors values that are 25% below its peak levels in 2008.
Though some feel that foreign investment can help foster growth in the economy, a popular opinion is that foreign investment is negatively impacting housing affordability in many cities. As an example, Chinese investment in U.S. residential real estate has grown from $50 million in 2000 to $28.6 billion as of March 2015, accounting for 4% of total home sales in a one-year period. (Realty Trac Housing News Report, August 2015)  Targeting California cities such as Alhambra, Arcadia, Irvine, Monterey Park, San Francisco and San Marino, prices in these suburbs have catapulted. On average, Chinese buyers spend $831,800 on U.S. home purchases, (paying all cash in most instances) compared to the overall U.S. average home price of $255,600. Local residents simply cannot compete and are being priced out of the housing market. Unfortunately, this growing trend is plaguing many countries. Housing affordability is becoming increasingly problematic to local homebuyers and renters alike.
"What we have seen over three decades is a rise in house prices far beyond what people can afford", says Zoe Williams, a columnist for The Guardian. (The Guardian) She continues to argue, "75% of inner London housing is never shown on the UK market, going straight to mainly Asian investors. The solution could not be easier: we could ban the ownership of housing by foreign non-residents, as they do in Norway and Australia."
Should foreign investment in housing be regulated or should it be free and open? Is the solution black and white or is there a gray area that can strike a balance between economic stimulation and affordability? The answers to these questions may depend on where you live.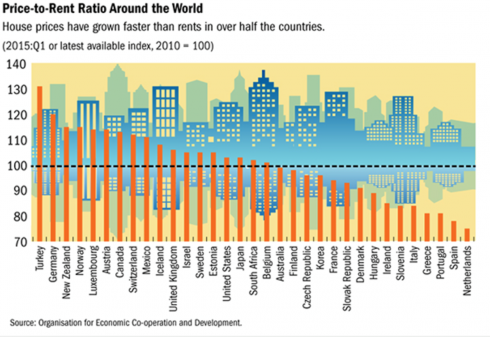 Image: Shutterstock
★You want to find or promote new real estate projects? Don't wait another minute and register for MIPIM now★!