MIPIM has always been a place for delegates to keep abreast of developments in new markets, where they are showing strong and significant growth. The time is ripe for investors to look seriously as new market returns on investment will be good.
Slovenia is one of Europe's fastest growing economies. The country sits at one of Europe's business trade routes, and is benefitting from its central position.
Matej Skocir head of internationalisation division at Slovenia's Ministry of Economic Development and Technology said Slovenia is one of Europe's fastest-growing economies, currently running at an increase of 5% a year. "And we're seeing a 10%-15% rise in direct foreign investment at the same time."
At the same time as benefitting from rapid economic growth, it's also important not to lose sight of tradition and to maintain a respect for the past, Matej Skocir said. Slovenia's capital Ljubljana was European Green Capital in 2016, Skocir said.
Moving to another continent, speakers from Argentina and Paraguay talked about the exciting prospects in the region as South American economies gain rapid take-off from extended periods of stability.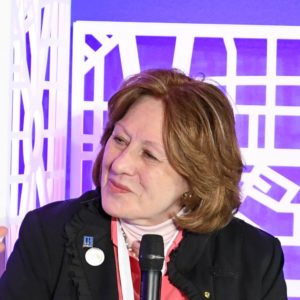 Moderator Aida Turbow from Brazil's Cofici regulatory organisation noted that one of the assets of South America is the high percentage of youth in the age profiles of the countries. One of the characteristics and outcomes of this she said was the emergence of new ways of doing business. Argentina has become stable with a prosperous and stable middle class "after many economic and political incarnations" and its future now looks assured she said. She described Paraguay as the "great secret market of South America that is now emerging as an increasingly attractive investment target."
Ezequiel Rebruj general director of Buenos Aires City Government described his city as the "culture and trend-setting capital of South America, and the most cosmopolitan – a city always open to new ideas."
Oscar Stark, vice minister of commerce and industry in Paraguay, pointed to the new rapid economic growth of his country. He also noted the strength of the Paraguayan currency, the Guarani. "At 70 years old, this is the oldest and stablest currency in South America."
Stark said Paraguay's economy is growing at 4.5% a year. "It's time to come and have a look, he said. "We're no longer dormant."
Brazil's secretary for tourism, Jose Antonio Toto Parente, talked to MIPIM News about the new prospects in Brazil for tourism related development.
"Tourism expansion is one of the keys to growth in Brazil," Parente said. "We have 8,500 km of coastline. Apart from that as a major asset, the World Economic Forum in 2017 listed Brazil as first in the world for natural resources. We are also ranked eighth in the world for cultural resources."
Tourism contributed 8.5% towards Brazil's domestic GDP, and the country plans to take this percentage forward to double figures over the next five years. "For example we now have a rapid electronic visa application system in place for citizens of the USA, Australia, Japan and Canada. Where it used to take 45 days to get a visa, it now takes 72 hours."
One project featured on Brazil's Ministry of Tourism stand was highlighted by Juli Pwreira, director-president of MACAPATUR, the institute of tourism for the city of Macapa at the mouth of the Amazon river. "We are creating a special river boat – boat hotel – that will cross the Amazon between Macapa and Bailique Island, and experience the Pororoca wave phenomenon."
The Pororoca is the world's highest, widest, largest and most forceful tidal wave which sweeps up the Amazon on the tide every day – but especially so on the tide of a full moon.
Back in Europe, The Invest Cyprus organisation was at MIPIM for the first time. Invest Cyprus senior investment promotion officer Lefteris Eleftheriou said "We brought a group of Cypriot companies together to MIPIM for the first time under the Invest Cyprus banner. Our message is now is a good time to take a look at investing in Cyprus."
Invest Cyprus helps potential investors seeking to get into the Cyrpus market. "Businesses and individuals looking to invest in Cyprus have a partner on the ground in our organisation which will help them at all stages of the investment cycle," Eleftherious said.
The mayor of Nicosia Constantinos Yiorkadjis was on the Invest Cyprus stand talking about the advantages of Nicosia as an investment venue in the island.
"We have three advantages," Yiorkadjis said. "Firstly the economy is on an upward curve. Secondly we're investing in infrastructure. Specifically cultural infrastructure. World-renowned architects Jean Nouvel and the late Zaha Habib have designed cultural buildings in Nicosia. And thirdly we're youth orientated."