MIPIM UK day 2 got underway with a focus on finance. "From development to investment: where is the money flowing?" saw Ashley Goldblatt of Legal & General Property (centre) and Eoin Bastible, of UBS Global Asset Management's Global Real Estate (right) discuss investment and lending trends with David Parsley of Property Week.
Both agreed the lending sector has gone through considerable changes in recent years, to the extent where "there's plenty of opportunity in the market right now," said Bastible, adding that "the lending community has become very large and colourful. We operate at the senior level, but there is plenty of space for people to join the market. Even for half a million peer to peer loans."
One upshot of this ebullience is potential oversupply: Goldblatt said his teams had established that today, "there's two pounds of debt finance for every one pound of need." As such, he said, "current lending rates are almost charitable. So we tend to focus on value rather than volume. If we need PR, there are ways to get it."
Perhaps the biggest change in the sector has been the influx of foreign capital. As Bastible pointed out, whereas UK lenders provided over three quarters of the country's capital in 2008, they now account for only 38%. This is, however, a positive trend, he stressed: "I think it's good, as more liquidity in market is better for borrowers." One word of caution, however, for these foreign investors, notably from China: "We've seen a lot of new players, especially in equity, but they're not gearing up their investments," said Bastible.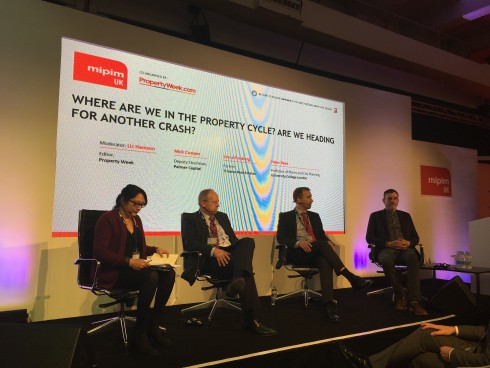 Next as a panel enticingly entitled: "Where are we in the property cycle? Are we heading for another crash?" (top photo). It began with moderator Property Week's Liz Hamson's "back of envelope" estimation that £6 billion in City office property is currently on the market right now; then a panel of experts gave their outlooks on where we're headed.
For University College London's Peter Rees, the outlook for London's residential market is bleak. "This market is all about investment and not about use, and that worries me," he said. "If we don't get back to the private rented sector, we have no future. Residential is over-valued as something to live in, not as an investment opportunity. If this continues, the residential market will be overpriced to the point where people can't afford to live here anymore."
For Nick Cooper, of Palmer Capital, the future of real estate "looks OK. Not cheap, but OK."
Linus Forsberg, of Trinova Real Estates, for his part, is "more sceptical. We haven't overbuilt in this cycle. But I do see external threats to the real estate sector, for example low interest rates."
Rees then questioned the very notion of cycles: "I wonder if cycles still exist? If we're still in the same world. It's no problem that there's hundreds of billions (of foreign investment) going into property; the problem is its going in the wrong way, i.e. into empty properties. That money could be used to build homes, schools rather than piling up in empty boxes. It needs to be active, not passive investment."
"If there is a cycle – and I think there is – it won't be as violent as last time," countered Forsberg.
So what, indeed, is next? "We've got another good 3-4 years," predicted Cooper; but even after that, "we're not going to hell in a handcart."
Something Rees countered by calling likening real estate's near future to "a rollercoaster." More fun than a handcart?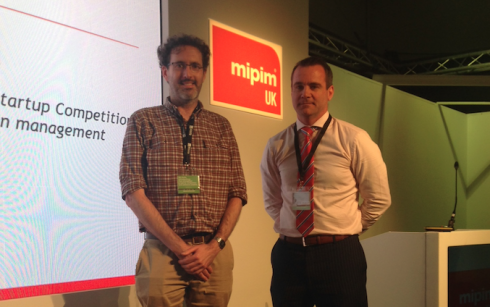 The focus then shifted to the future, with the first round of the MIPIM Startup Competition. Five real estate-related startups — chosen from 180 initial applications — pitched for 2 slots in the grand finale, due to take place at MIPIM 2016 next March. They had to impress an expert jury consisting of Clelia Warburg Peters, of Warburg Realty; Henry Mason, of TrendWatching; and Taylor Westcoatt, of Seedcamp. The startups were:
– OpenSensors.io (UK), a real-time data exchange for internet of things objects, or, as WIRED magazine put it, "like Twitter for sensors", or the language connected objects speak to each other. "It's not a product, it's the opportunity for you to make your own, said founder Simon Troup, across domains such as wellness, energy/sustainability, health & safety.
– Standard Access (Ireland), a smartphone-based technology which uses encrypted audio to open doors; founder Damien Browne, who is already trialling the system in New Jersey, is seeking £400,000 in investment to further his project.
– Jooxter (France), a connected sensor for offices, allows workers to automatically find colleagues, book meeting rooms & more. It "increases collaboration, reduces stress and empowers colleagues," claimed founder Fabien Girerd. The system is installed in 10 offices to date, and the company is currently signing a deal where 4000 new users will come onboard.
– Doozer (Germany) is a platform for commissioning trade services — such as painters or builders — in just 30 minutes compared with the usual 4-6 weeks. Currently, market works like "old travel agents", said founder Jan Dörlitz; Doozer clearly wants to be the Expedia of this sector.
– Purrmetrix (UK) maps buildings' temperature to optimise buildings' heating systems. Founder Hermione Crease pitched.
And the winners of the London stage of the MIPIM startup competition were… OpenSensors.io and Standard Access (respectively left and right above)! Congratulations! And thanks to all our pitching startups 🙂