MIPIM World: According to Knight Frank's Africa Report 2015, the population of Africa will quadruple to over 4 billion by 2100.  Do you see more international investment coming in due to attractiveness of the continent's economic and demographic growth?
Ruth: We all know the famous phrase "the world is your oyster". They also say that Africa is an oyster. Every challenge here poses a great opportunity. Look at the digital disruption that is creating a huge market for industrial real estate sub sector. Recognising major drivers as being demographics and rapid urbanisation , yes we see an influx of foreign investors. Most of my daily activities include conference calls or travelling to meet with investors who are at an inquiry stage. The growth of the African economy in the last 10 years has been unprecedented and from the projected rise in population, it is a no-brainer that businesses will start to make in-roads into the African market. The rise in population represent amongst other things, a large market for trade and cheaper workforce. Add to this, the availability of natural resources for export and the manufacturing of certain goods and commodities, it's not hard to imagine Africa becoming an industrial giant in the foreseeable future.
MIPIM World: A few years ago you created the advocacy platform 3invest Intelligence and the first syndicate real estate radio talk show, "3invest ON AIR" dedicated to real estate professionals. Can you tell us more about this? How did you come up with this idea?
Between 2009 and 2012, the Sub Saharan Africa real estate market became extremely low on consumer trust, lacking the vital data needed to make informed investment decisions. 3Invest took cognisance of this gap and created a real estate advocacy centre to fill the gap, empower the consumer, remould perception, encourage excellence, and globalise local brands.
The idea was conceived out of the zeal to provide solutions to prevalent problems in a sector I was a player in. Upon establishing 3invest in 2007 there were a myriad of challenges hounding the sector –  ranging from policy formulation and accessibility of information to best practices. We made a conscious effort to tackle these problems but it wasn't until way into the task of trying to fix these problems that it occurred to us that our activities were tending more towards advocacy than the actual brokerage that we set out to engage in. It was this realisation that led to the restructuring of the company and its business model. The result of this sacrifice on our part, includes the mulitple awards acheived by myself and the company as a whole, as well as the various milestones we've been able to attain thus far. Milestones such as owning Nigeria's only syndicated real estate radio program and Nigeria's premiere online information portal dedicated to the real estate sector.
MIPIM World: Was it difficult to create and promote an online platform in West Africa? What are the main learnings you've encountered?
To be honest it started out of curiosity to learn about the sector. Prior to 3invest, I had no background in real estate. I am a lawyer turned real estate entrepreneur and the opportunity came in 2009 when I realised that few companies had a digital platform. Let me state that having a company website is not enough. What we have been able to achieve is to ignite interest for players to contribute their quota to the real estate digital ecosystem. A couple of years ago we were credited for promoting digitalisation in the real estate industry in Nigeria – now that was huge for us. As with a lot of things in Africa, infrastructure both hard and soft have been a major challenge. At 3invest, a big challenge is working in an unskilled sector, which makes it difficult to achieve goals within a set time frame. So we are advocating for education and investing in Human Capital to enable us to deliver the most accurate data needed to drive the sector forward and provide our readers with the right content. In addition to this, we've had issues with cyber espionage and internet security. Asides these challenges, with the right content, I'd say it's been an interesting journey and we are proud to say that we have inspired a lot of these platforms that have emerged since 3invest went LIVE in 2010.
MIPIM World: For a couple of years, we have been talking a lot about digital disruption in real estate. In your opinion, how are these trends affecting West Africa, notably your business?
To a large extent, what has been termed digital disruption is a welcome development in the real estate sector and more importantly, Africa in general. I'll start with real estate first and our business activities at 3Invest. For us, the digital age has brought with it much needed credibility within the sector and globalisation through which 3invest an indigenous brand, gained global audience. A digital region is a transparent region. We believe digitising the industry has and will make it more accessible – especially the much needed data and information required to make investment decision.
We have also seen a drastic reduction in touting and other unprofessional activities as transactions and listings can be verified doubly. In addition to these, information that was hard to come by is now readily available with a single click.  This availability of information has sparked conversations on everything from government policies to best practices.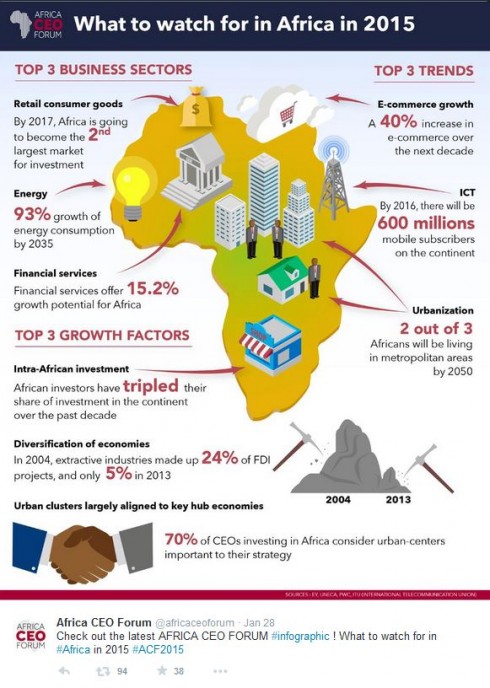 Image from Africa CEO Forum
MIPIM World: In 2012, you were featured by Forbes Africa and honored as the most aspiring business person of the year. In 2015, you were listed as one of the most influential women in Nigeria. How has this impacted your work within the real estate industry in Nigeria?
I am quite humbled by these recognitions however I embrace them carefully. I see my work as the driver – not the other way round – because of the platform that gave rise to the recognition.
This has also given the entire team the confidence to take on more challenges in the quest to bringing the much-needed development in the real estate sector. This is evident in the direction we have taken the business in the last 2 years, the agenda of our periodic events platform, and the content of our media platforms. Last year we launched the African Women in Real Estate for women inclusivity in the sector. This year, we have decided to not only to drive the housing deficit conversation but more importantly, to roll up our sleeves and get in the mix in finding a solution. That's why we will be launching the 3invest Charity initiative through an annual Marathon to accompany the Real Estate Unite Summit yearly. The idea of the initiative is not only to put a spotlight on the housing gap but to use our platforms to pull resources that will be given back to the society. This will be done by way of cash grants to projects that are focused on affordable/ social housing solutions and this will continue in subsequent editions of the annual Real Estate Unite conferences where we will partner with a different project every year.
________________________________________________________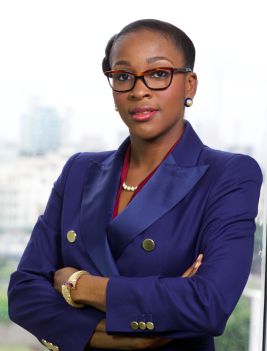 Widely acclaimed passionate real estate entrepreneur, Ruth is a Lawyer and Founder at 3Invest an organization with a collective goal to develop platforms designed to change the way investors approach real estate in the future. She spoke at MIPIM 2015.
Follow her on LinkedIn and Twitter.
Top image credit: Bill Kret