How will the real estate world be different in two or three years' time?  Structural shifts are rippling through economies, as the pandemic plays the role of accelerator, disrupting standard European investment patterns.
In the world of real estate, the consensus is that market fundamentals are in relatively good shape; despite Twitter headlines of employees being granted the possibility of working from home forever, with no need to go into the office.
On the MIPIM Connect webinar, "Embracing the Change", Neil Slater, global head of real estate & deputy head of private markets, Aberdeen Standard Investments, said that it was about getting back to basics.
"It is going to be a very difficult business environment," he told the audience.  "This will impact income from real estate and, over a 12-18 month period, most probably the valuations.
"Investors, pension funds, insurance companies … will be looking to put more into the built environment" ­– Neil Slater, Aberdeen Standard Investments
In a more positive note, Slater reminded the audience of the significant monetary easing in the marketplace and the amount of private capital currently looking to be invested in assets such as real estate.
"The built environment is so critical for the economy. It is then just a case of what does that look like, and how does that evolve over the next three to five years."
The flow of private capital globally directed towards real estate
The amount of private capital 'dry powder' (committed but unallocated capital) in the global market reached US$2,592bn in May 2020, more than double the 2009 level, says Preqin, the global provider of financial data & information on the alternative assets markets.
Of this private capital dry powder, US$326.4bn is allocated to real estate (all sectors).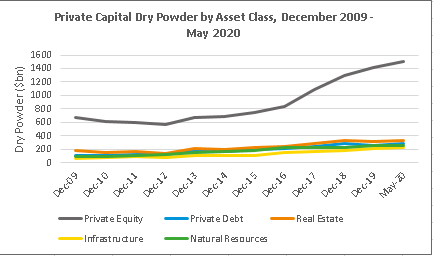 Source: Preqin
The total capital raised by funds amounted to a record high of US$164.5bn (387 funds closed) in 2019, and US$45.4bn (84 funds closed) in the year to date, estimates Preqin.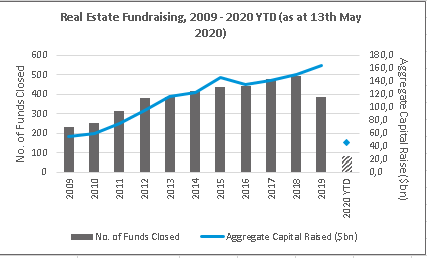 Source: Preqin
Meanwhile, the number of real estate deals reached a total value of US$456.3bn in 2019, about 3.5 per cent below the 2018 peak, with the total value in the year to date being US$124.2bn.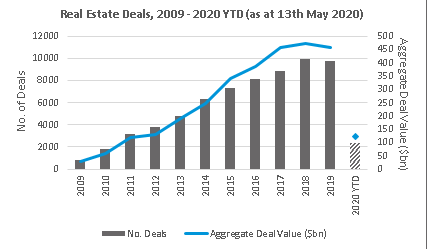 Source: Preqin
Allianz Real Estate focuses on diversification and expansion
What is clear is that the future lies with good-quality, well-located property that meets the needs of the occupier, including from a health perspective, as David Hutchings, head of European investment strategy at Cushman & Wakefield, says in the blogpost How to Build Resilience into Real Estate.
Evidence of the demand for prime real estate came earlier this month as UK trade publication Property Week reported news of Allianz Real Estate embarking on a £1bn-plus spending spree in the UK – a figure unconfirmed by Allianz Real Estate. The announcement was not only a sign of confidence during these Covid times but also for post-Brexit London.
Also this May, Allianz Real Estate announced the provision of financing to an investment vehicle managed by Munich-headquartered GLL Real Estate Partners for its acquisition of an office scheme in Bishop's Square, in Dublin's CBD.
"The focus of our prime pan-European lending strategy on high-quality sponsors, assets, locations and tenants means our investments will deliver value to our clients even in the volatile situation we find ourselves in today" – Roland Fuchs, Allianz Real Estate
Roland Fuchs, head of European real estate finance for Allianz Real Estate, commented regarding the Dublin announcement: "This investment … underlines the strength of our prime pan-European lending strategy: the focus on high-quality sponsors, assets, locations and tenants means our investments will deliver value to our clients even in the volatile situation we find ourselves in today."
"Diversification remains fundamental to our success" – Francois Trausch, Allianz Real Estate
As Francois Trausch, CEO & CIO of Allianz Real Estate, said this March, commenting about 2019 performance: "Diversification remains fundamental to our success, and this has been evidenced by our growth in Asia, the strength of our US and European debt business and our logistics portfolio, which increased 36% to €7.5bn in assets under management."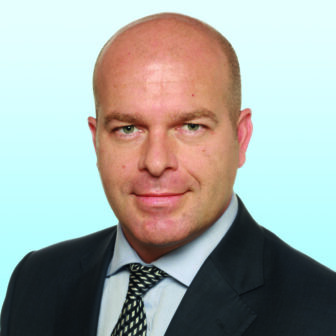 REITs and listed property companies offer insight into sector performance
The consensus on the overall performance of the European investment market is that the impact of Covid-19 will not be seen until Q2.
A glance at the performance of REITs/listed property companies, put together by Colliers International, offers a clear view as to how Covid-19 is affecting different real estate sectors.
"Logistics, residential, social housing and data centres are underpinning their defensive status with the most positive movement in share prices in 2020 – and in some cases a bigger rebound to share prices above those at January 1st 2020," says Damian Harrington, head of EMEA research at Colliers International (above).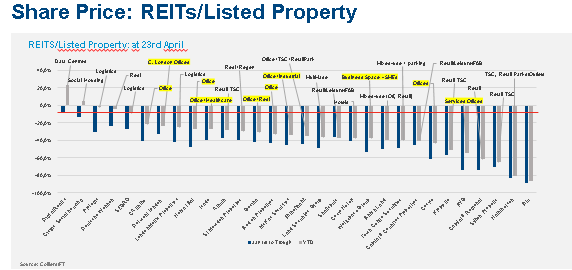 The city office european markets "look steady"
"Listed REITs and property companies operating in the office sector have also seen a rebound," says Harrington of Colliers International, "with many now close to the movement recorded across major global equity indices."
"Headline [office]rents are expected to remain unchanged or fall by only up to 5 per cent this year, which should support a further rebound in the share prices of office-focused REITs" – Damian Harrington, Colliers International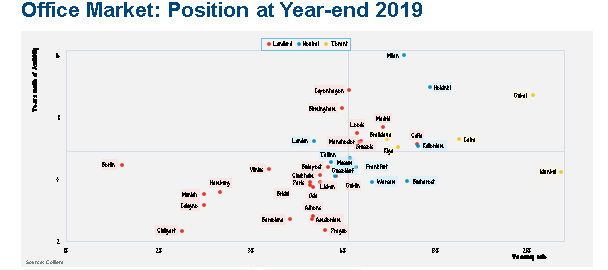 "The office sector looks steady across the majority of city markets in Europe, and we're predicting limited increases in vacancy of up to 3 per cent for year-end 2020 across the majority of markets," says Harrington.
Colliers International puts the DACHs markets (Germany, Austria and Switzerland) at the top of the core investor list for 2020, together with the Nordics and the global cities of London and Paris.
"What makes the DACH countries stand out from the crowd is that they are the first to exit the pandemic and have health care support structures that will help mitigate against a second wave of infection," adds Harrington.  "In addition, their economies and households are supported by a combination of deep government pockets and guarantees.  Much like the Nordics, the DACH countries have established systems to support businesses and salaries which should enable their economies to get back on track sooner. "
The story of redefining, reconnecting & reinventing …  from luxury to real estate
"There is no alternative to excellence when times get tough," comments Daniel Langer, CEO of brand strategy firm Équité, in answer to Is this the end of luxury? in Jing Daily.  It is an opportunity, even an obligation, to redefine, reconnect and reinvent, he adds. "The time for luxury is now."
The same holds true for the real estate sector. The time for real estate is now – real estate that provides what investors, users and communities need.
As Neil Slater of Aberdeen Standard Investments told the MIPIM Connect audience: "This is a fascinating time for real estate."
Top image – Getty Images/Pascale Gueret