Day 2 in Cannes culminated in the 2017 MIPIM Startup Competition, which honoured three proptech companies pushing the boundaries of real estate today. Property development search engine Envelope won the City category, for its focus on high-potential projects; Storefront, an interactive platform for pop-up stores, won the Transactions category; and Ravti, which innovates HVAC for REITs owners and property management companies, won the Building category. MetaProp's Aaron Block and BNP Paribas Real Estate's Laurent Pavillon were on hand to give out the awards. Hearty congratulations to all: be sure to check out these new property startups online! And find out more about the MIPIM 2017 Startup Competition here.
Earlier in the day, an expert panel tackled what has emerged as one of MIPIM's hottest tech topics: blockchain. But what exactly does it mean, for starters? Ragnar Lifthrasir, of velox.RE (& founder of the International Blockchain Real Estate Association, centre), offered a simple explanation:
For @ragnarly, #Blockchain is:
1. Peer to peer transactions, without 3rd parties
2. Security of an immutable ledger of transactions#MIPIM pic.twitter.com/eNR3CAWW8P

— MIPIMWorld (@MIPIMWorld) March 15, 2017
Digital currency bitcoin is the most commonly-used example of blockchain technology today. The panel discussed whether its principles could also be applied to deeds and ownership.
Lifthrasir explained how his company is currently testing the use of blockchain in Chicago, with a "deed system without usual paperwork. The idea is to transfer property on a bitcoin blockchain without state intervention. It shows that Blockchain is legal, that it's not scary", he insisted. But will it catch on? "Blockchain will get traction by getting the biggest companies you can to use it. Then a lot of people will follow in line." Especially, he added, if real estate executives can be convinced of the potential savings to be made with such a system.
One usage case in point could be the current strong trend towards local currencies, observed Olivier Selles, of Bouygues Immobilier. "Printing money is expensive and not efficient. RE developers create future neighbourhoods. If we find the currency (like blockchain-based bitcoin) to make these neighbourhoods more efficient, we'll have a competitive advantage," he said.
"Let's not forget that transactions are much quicker on blockchain: they take minutes, versus the weeks they can take in a country like Germany," said Achim Jedelsky, of Daimler Real Estate.
The technology is definitely catching on in more progressive countries, as moderator Paul Wessels of PropertyNL pointed out: the Land Registry in Sweden is now experimenting with blockchain.
Yet for now, as a crowd question pointed out, registering property via blockchain has no legal value. Lifthrasir remains confident that "governments will ultimately put their final stamp on there. In some developing countries, even a blockchain deed is better than what they had before", (i.e. not much).
As is often the case with new solutions, the panel agreed it's about time the industry took the plunge. "There's a huge innovation gap in the real estate industry," said Jedelsky. "We need to stop being afraid to take risks, and change mindsets in order to shape the future."
This mindset change could take 3-5 years, by Selles' estimation, by which time blockchain could be widely adopted by the real estate sector. Or sooner, if Lifthrasir is anything to go by. "Paper-based fraud is a big problem in real estate," he concluded. "How can you counterfeit a Blockchain deed? You can't."
For those looking for a creative challenge, delegates were encouraged to rethink the real estate agency in the latest in a series of a new hands-on workshops, organised by Paris-based innovation consultancy Soon Soon Soon:
How can you think differently about real estate? Participants at today's creative workshop brainstormed w innovation agency @soon_x3 #MIPIM pic.twitter.com/scoBYIwgAm

— MIPIMWorld (@MIPIMWorld) March 15, 2017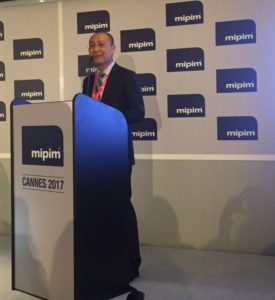 Meanwhile, in the Market Trends Room, Keynote Speaker Alex Gong, CEO of Fosun Properties, shared the evolutional patterns and motivations of Chinese investments. He explained why the Chinese real estate market is facing challenges: high capital costs, high land costs, high selling prices and and high policy risk. "In 2015, the cost of Chinese tier I and II cities was far higher than the asset value of overseas peers." The key factors driving Chinese into global markets are performance, structural oppoprtunities, diversification & balance, market and cycle. With a tightened regulatory environment, Chinese outbound investors will probably look for new markets and agile investment vehicles.
Later in the day, another panel took a look at big data, but this time from a smart buildings point of view. For example, as Dr Claire Penny, IBM's Global Industry Leader in IoT for Buildings put it, "if big data can tell you when's the best time to go to lunch in your office's cantine and save ten minutes here and there, all those ten minutes add up to lots of saved money."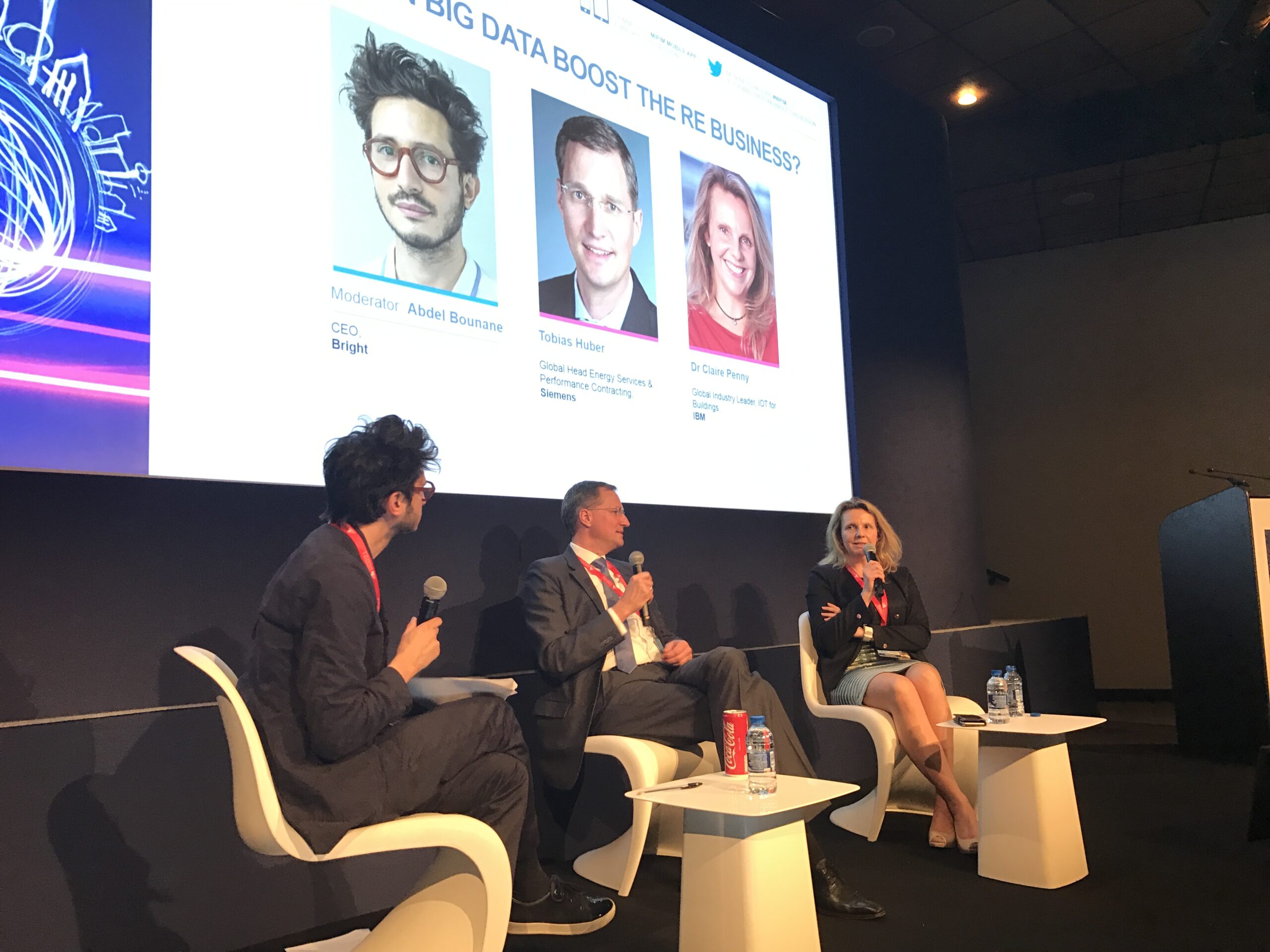 Smart buildings can also save money with their smart components, said Siemens' Tobias Huber, Global Head of Energy Services and Performance Contracting: "In a few years, we'll have a building's assets talking to us and telling us what they need," he predicted. "Not just predictively, but even prescriptively, so that a lower-skilled person would be able to optimise its performance."
Penny agreed this is a key subject IBM is looking into, with Watson, its artificial intelligence offering. "We're able to feed data through machine learning models," she said, "to predict what should be happening in the future and working out what to do when it doesn't." The data can also tell owners how their buildings are being used, she added: "if you don't know if a tenant is under-using space, they may be looking to move out. It's really about understanding the space."
"An intelligent building gets more intelligent the older it gets," via machine learning, insisted Penny. And this brings all sorts of value moving forwards. "As an architect, you tend to deliver a building and move on. Data will allow us to know if the building's still performing as it should, 10-20 years later."