Hundreds of movers and shakers from Asia's fast-paced real estate industry assembled for the region's premier property summit, MIPIM Asia.
More than 900+ industry leaders, representing 570 firms from 36 countries, descended on the Grand Hyatt Hong Kong, on November 27-28, for the must-attend event – an annual calendar fixture for top property professionals since 2006.
Technology and trade tensions were among the recurring themes at the packed programme of presentations, panel talks and keynotes, which saw more than 90 speakers appearing across six stages. Standing room was frequently the only option.
Take your seats please…#MIPIMAsia 2018 is about to commence! pic.twitter.com/T9rPlI1XAy

— MIPIMWorld (@MIPIMWorld) 27 novembre 2018
Best attended among the myriad of headline attractions was the thrilling round of celebrity speakers serving frank keynote talks in the Grand Ballroom.
Opening the programme, MIPIM's global director Ronan Vaspart laid out the conference theme Invest in a Better Tomorrow. He hinted at what was to come, telling delegates that MIPIM Asia would "invite you to imagine the world in 2030", addressing "hot topics including smart cities, sustainability and the blooming proptech boom", and explore "the ever-growing investment opportunities presented across the world's most populous continent."
Key themes for #MIPIMAsia are laid out by #MIPIM director @rvaspart's opening keynote pic.twitter.com/Dj9ArXM8gd

— MIPIMWorld (@MIPIMWorld) 27 novembre 2018
Next came a touch of star power, as TV host Desmond So popped up to introduce the first keynote, delivered by celebrated writer, thinker and China expert, Dr Jonathan Woetzel, a director at McKinsey & Company who outlined those promised "cities of the future" in a fascinating keynote entitled Smart Cities: For a More Liveable Future.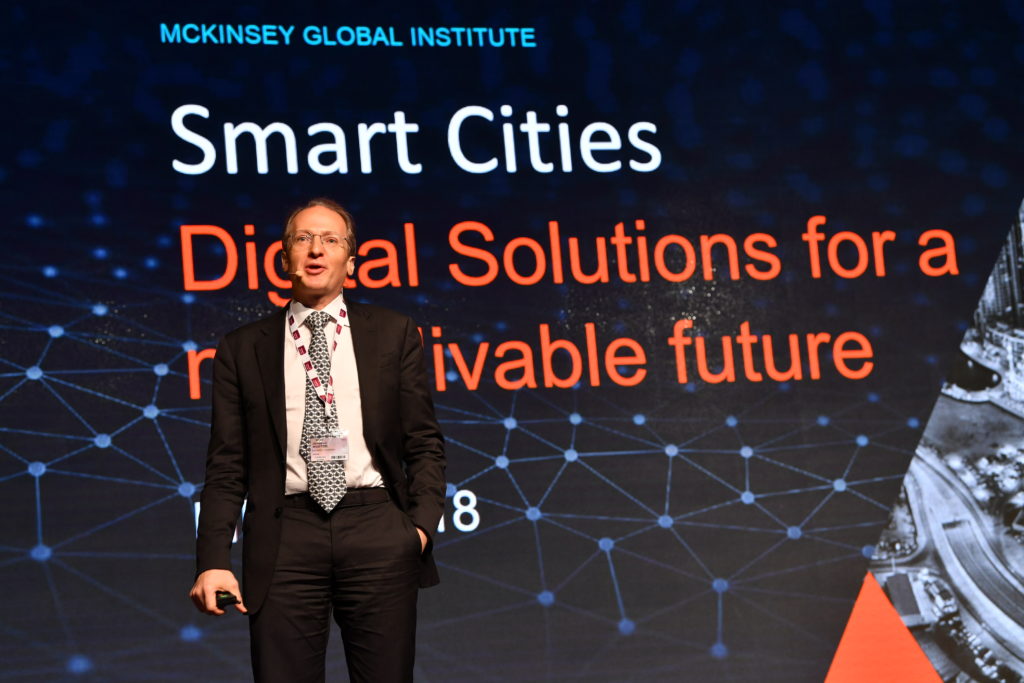 "I can already see that people have different reactions to that [subject]," he quipped, taking to the stage. "There's so much noise around smart cities, so much hype – but it's important to get the facts. That's what this is about: The facts."
#MIPIMAsia kicks off in earnest with @JonathanWoetzel's opening presentation: "Asian opportunities to invest in a better tomorrow – #SmartCities: For a more liveable future", introduced by @DesmondSoTweets#realestate #property #RealEstateAsia pic.twitter.com/kifvxl4F8S

— MIPIMWorld (@MIPIMWorld) 27 novembre 2018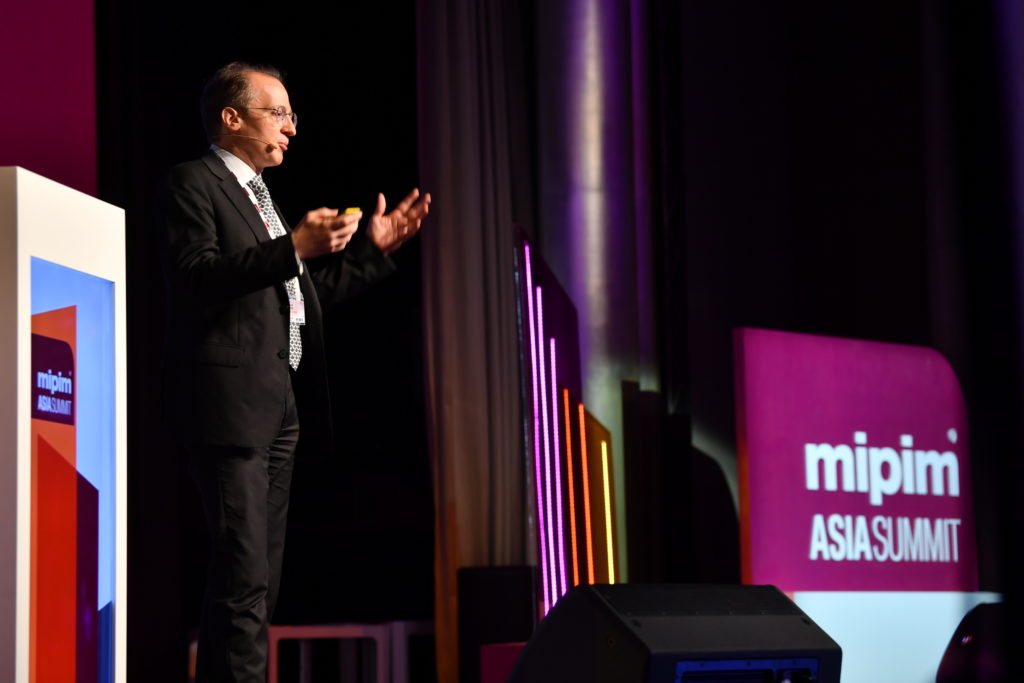 Dangling a proverbial carrot, Woetzel asked the audience to guess the world's smartest city – before revealing it was a trick question. McKinsey's research assessed how "smart" 50 key global cities are, and concluded that while some are around 70 per cent there, most have a long way to go – highlighting on a map a "red ring of fire circling the Pacific".
@McKinsey ranked 50 cities around the world – some are at around 70% "smart", but there's a red "ring of fire" circling the Pacific, continues @JonathanWoetzel pic.twitter.com/7mrhOTjt1r

— MIPIMWorld (@MIPIMWorld) 27 novembre 2018
Hard questions were asked regarding the prospect for investment in post-Brexit Britain at the UK: Still Great Tomorrow? session – but a robust and convincing argument was put forward by the heavyweight panel, which included British representation from Birmingham City Council Leader Ian Ward and Department for International Trade Senior Advisor Sir Edward Lister, as well as Timothy Tsui of Apastron Investment Ltd, with Cushman and Wakefield's Francis Li as moderator.
The day closed with a keynote address from Google's travelling tech guru Ed Parson, who expounded on many of the ideas he presented to a smaller audience at the opening of MIPIM Proptech earlier the same day (more on which later).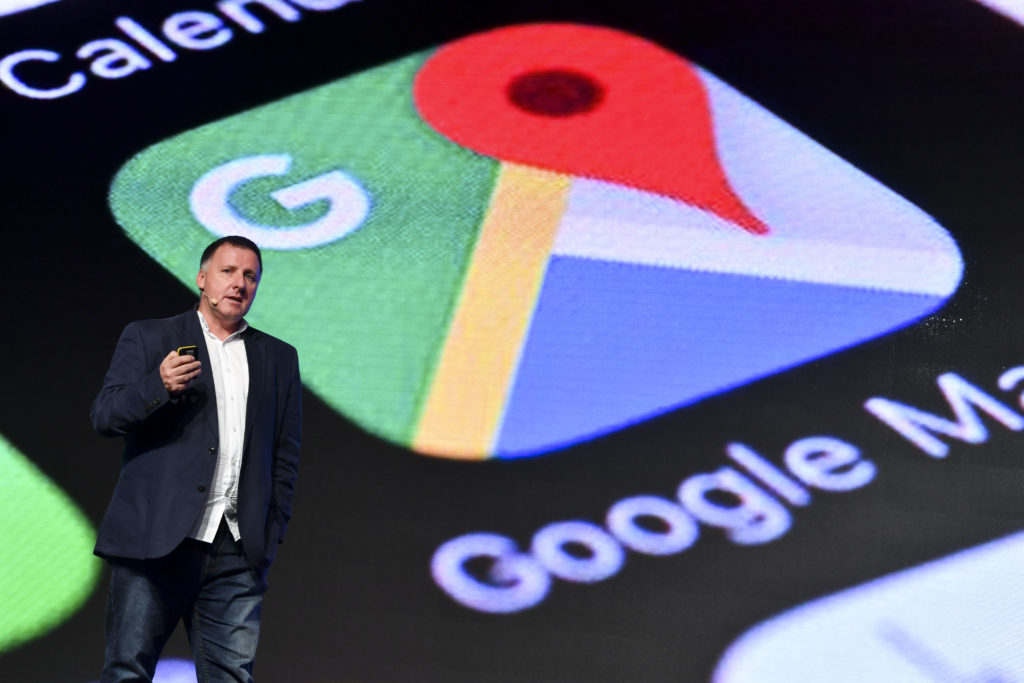 Preceding him onstage was MIPIM favourite Ronnie C Chan, who proved a top draw once more making a decisive case that the true loser of the ongoing trade war would be the USA, at a fiery keynote entitled The China Growth Story: How Will it be Impacted by the US-China Trade War?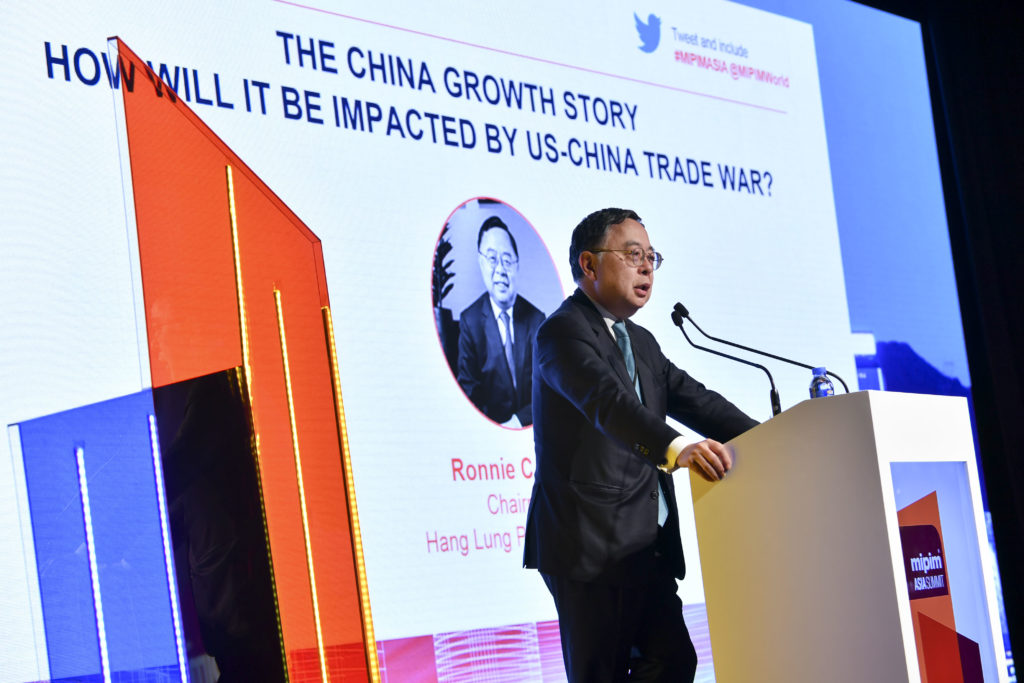 "Trade is not a big deal – everybody will lose, but as far as China is concerned, it won't hurt that much," began Chan, the chairman of Hang Lung Properties Limited. "I can convince you of that in ten minutes."
He did a fine job. Chan's blunt rhetoric lambasted an obstinate US and made an impassioned speech for leaders to resolve their differences.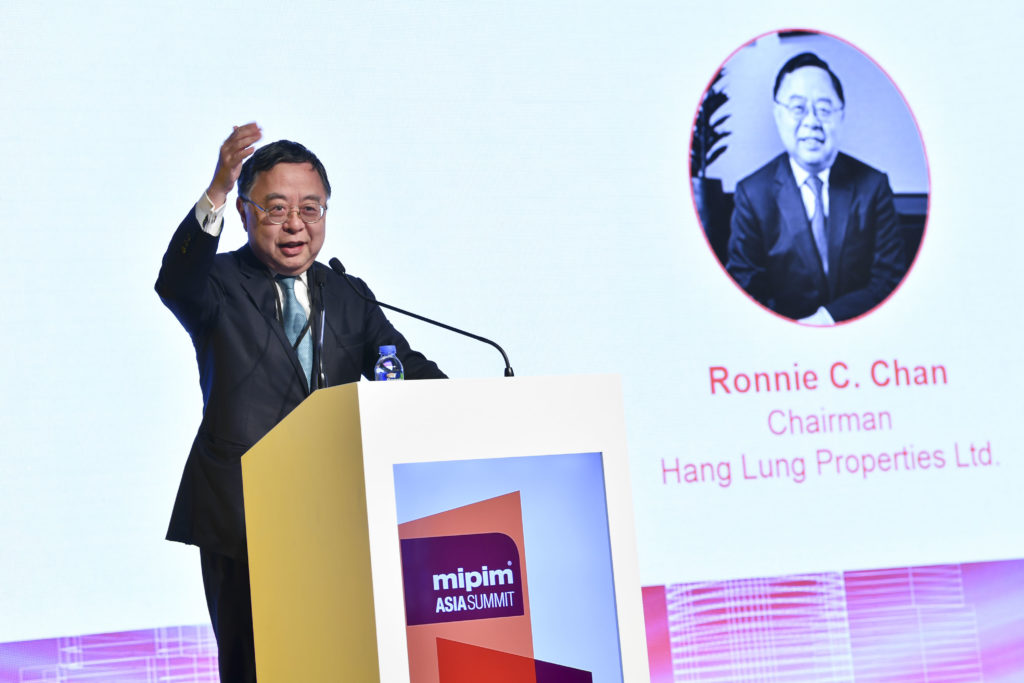 "Like it or not we live in a 'G2' world," he said. "But it does not have to be a bipolar world.
"Many, many issues cannot be resolved unless we work together – [countries]can compete in tech and trade, and be friends too. That is the world we're looking for."
The China Growth Story: How will it be impacted by the US-China Trade War? asks keynote speaker Ronnie C Chan of Hang Lung Properties#MIPIMAsia pic.twitter.com/sO1k0Wd2QL

— MIPIMWorld (@MIPIMWorld) 27 novembre 2018
A rather different perspective was put forward on the same stage some 15 hours later, at day two's opening Meet the Chairman session, where KPMG's Andrew Weir presented a more sobering scenario.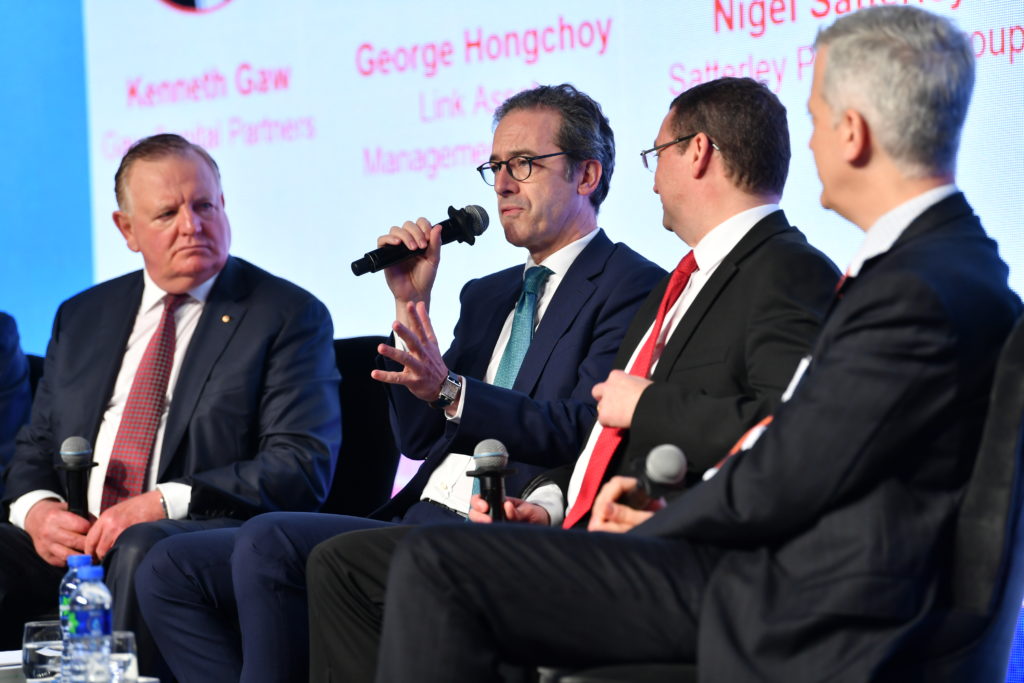 "Three, four months ago, the trade war was seen as sabre-rattling," said Weir, KMPG's Global Chair of Real Estate and Construction, "but it's grown into a major, major issue – and when you open Pandora's box, things come out.
"The worrying trend now is people are saying even with a new president, this issue is there now, and it's not going away."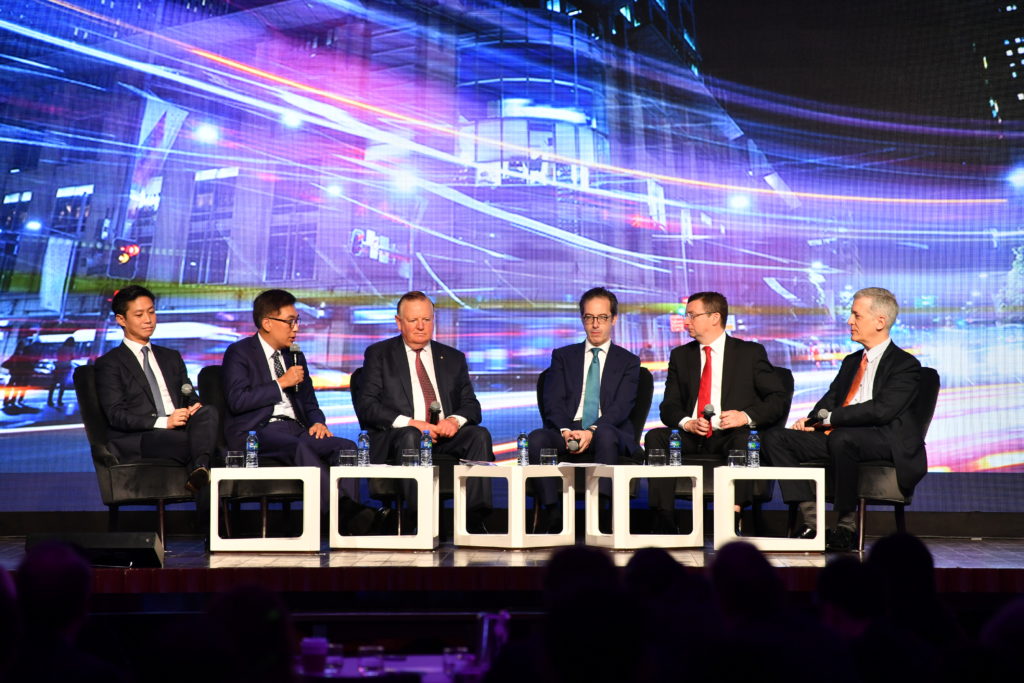 Also sitting on this elite panel was Kenneth Gaw, president and managing principle of Gaw Capital, George Hongchoy, CEO of Link Asset Management Ltd, Nigel Slattery, founder and CEO of the Slattery Property Group and François Trausch, Global CEO of Allianz Real Estate, all artfully moderated by Mingtiandi founder Michael Cole.
When the conversation turned from global to local concerns, Hongchoy blasted the lack of supply in Hong Kong's property market.
"Commercial real estate holdings are so low, most are held by developers for so long," he said. "There's not a discipline of offloading assets from the balance sheet. So there's no trading [comparable to]other sectors."
The China Growth Story: How will it be impacted by the US-China Trade War? asks keynote speaker Ronnie C Chan of Hang Lung Properties#MIPIMAsia pic.twitter.com/sO1k0Wd2QL

— MIPIMWorld (@MIPIMWorld) 27 novembre 2018
The trade war again took centre stage at the Measuring the Impact of US-China Relationships, from the Investment tract, starring Michael Zeng, Neal Beatty, Ivan Ko and Thomas Malayil.
Heavy topic ahead with measuring the impact of US-China relationships (including the trade war), featuring Michael Zeng, Neal Beatty, Ivan Ko and Thomas Malayil #MIPIMAsia pic.twitter.com/Ua4dpnc4rN

— MIPIMWorld (@MIPIMWorld) 28 novembre 2018
[INVESTMENT]
Dealmakers had plenty to chew on at a series of compelling talks as part of the dedicated Investment tract, which opened on November 27 with the forthright panel talk Key Investment Trends in Asia Pacific, featuring  top dogs from Colliers International, SC Capital Partners and ARCH Capital Management.
Lively discussion on key investment trends in the Asia Pacific to start the day @Cushwake #MIPIMAsia #realestate pic.twitter.com/M7yrwTUwTy

— MIPIMWorld (@MIPIMWorld) 27 novembre 2018
Soon after there was more meat on the bone at the Investment Strategies in Top Markets in Asia Pacific panel talk, which shifted the action to the Grand Ballroom to hear the combined insights of Johnny Adji, Senior Investment Director at Cambridge Associates, George Agethen, Senior Vice President for Asia Pacific at Ivanhoe Cambridge, Clara Chan, Chief Investment Officer (Private Markets) at Hong Kong Monetary Authority and Chris Chow, Managing Director, LaSalle Investment Management.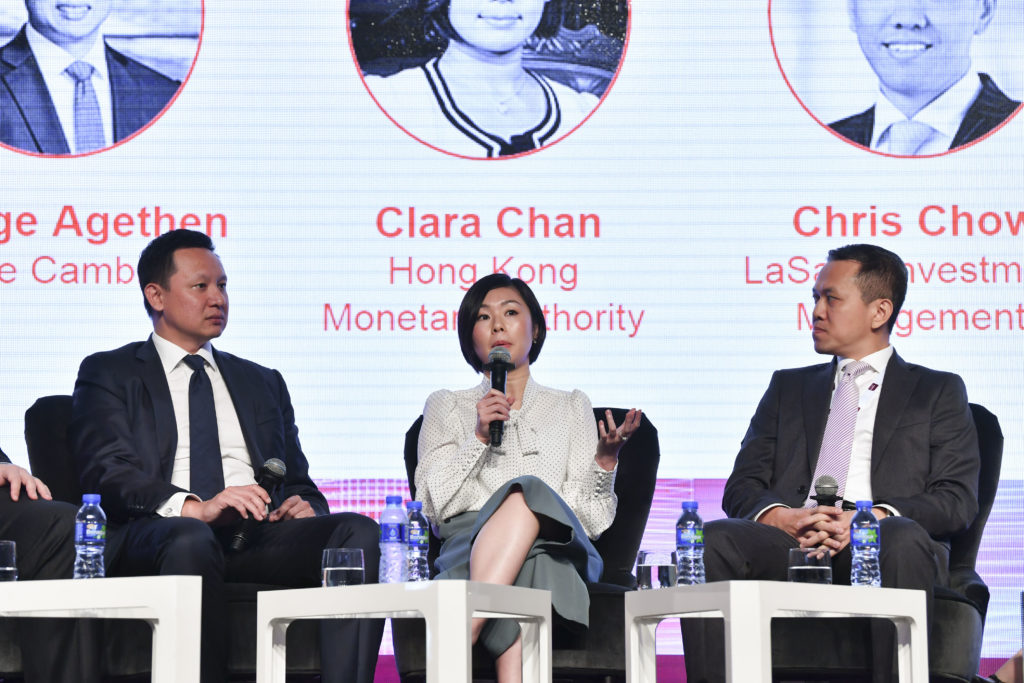 "I've always believed global investors are under-allocated in Asia," lamented Adji to an appreciative audience.
The panel participants revealed their respective positions on the current Asia Pacific investment market, key factors that influence their decisions, and the impact of the US-China trade war – but they also generally considered real estate a worthwhile investment in the region going forward.
Moderator Patrice Derrington, Dean of Real Estate Development Program at Columbia University, summarised the panel's views at the close: "We have continued enthusiasm for investing in real estate in the Asia Pacific."
Investment strategies in top markets in Asia Pacific with Johnny Adji, George Agethen, Clara Chan, Chris Chow and Patrice Derrington #MIPIMAsia pic.twitter.com/5BQajnRCFQ

— MIPIMWorld (@MIPIMWorld) 27 novembre 2018
Next came more good news, shared with investors at the frank panel talk Asian Cities: Investment & Opportunities Outlook, featuring Stanley Ching of CITIC Capital Holdings Ltd, Nicholas Loup of Chelsfield Asia and Farook Mahmood of FIABCI-India, and moderated by Real Capital Analytics' Petra Blazkova.
The stage is set for insightful panel talk Asian cities: Investment & opportunities outlook.

Featuring Stanley Ching of CITIC Capital Holdings Ltd, Nicholas Loup of Chelsfield Asia and Farook Mahmood of #FIABCI-India, moderated by @realcapitals' Petra Blazkova. pic.twitter.com/sbH0mIaOsX

— MIPIMWorld (@MIPIMWorld) 27 novembre 2018
The following day, Europe was declared very much open for business at the BRI: European Opportunities panel, which hosted representatives from four key European cities to talk about the prospects for investment in light of China's ongoing Belt and Road Initiative (BRI), which concentrates on infrastructure development in Asia and Africa.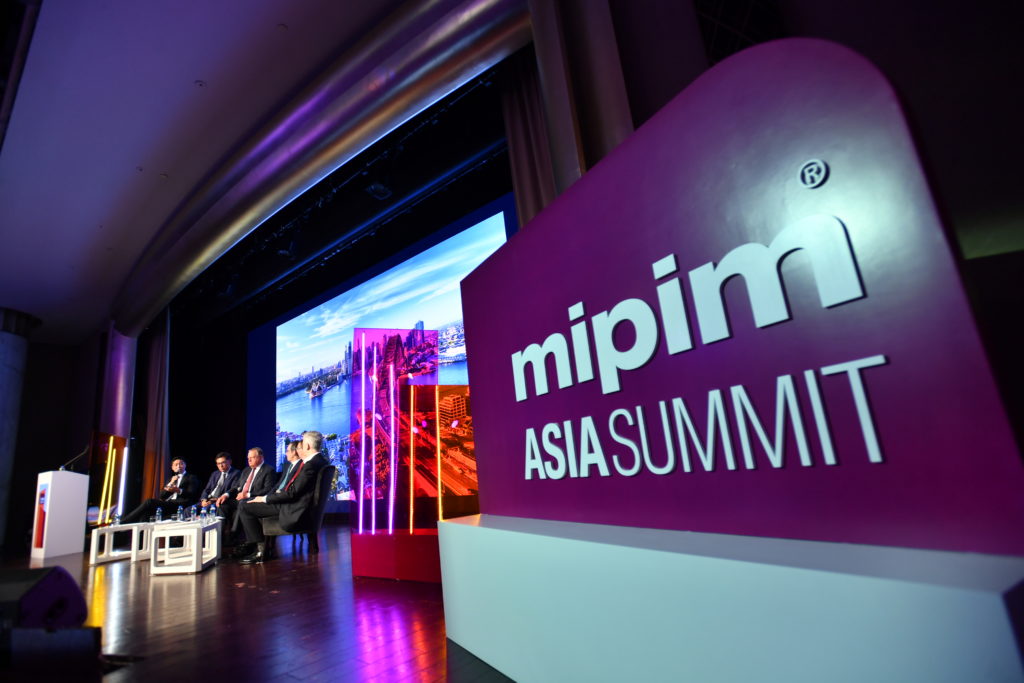 London was represented by Bruce Dear from Eversheds Sutherland, while Capital Value MD Marijn Snijders gave the view from Amsterdam, Alexandre Missoffe came from the Greater Paris Investment Agency and The Government of Moscow sent Evgeny Dridze. Moderating the mic was Aries Poon of S&P Global Market Intelligence.
Despite not being covered by China's BRI investment, Missoffe said the landmark "21st Century Silk Road" scheme presented "a spirit" of collaboration the whole world could enjoy. "BRI is not just an agreement between countries," he said, "it's a spirit – it's about how you can multiply connections between countries in the world – it's about infrastructure."
Dear went further, dismissing Brexit as a "silly little squabble" which will cause "temporary volatility" that can be enjoyed by investors – "Brexit is a problem for us, but an opportunity for you," he said – and called on Prime Minister Theresa May to use the break from the EU to open the door to Chinese BRI investment.
Snijders meanwhile said Europe stood to benefit from the US-China trade war, which will lead to a "deeper relationship" between China and the Old World.
"I've met so many investors these past two days excited about Europe," he added. "We are connected and can offer a wonderful opportunity. Europe is the place to be – it's showtime."
To kick off the afternoon at #MIPIMAsia, we're looking at #BRI:European Opportunities with a panel of Bruce Dear of @ESgloballaw, Evgeny Dridze from @moscowgov, Alexandre Missoffe @GreaterParis and MarijnSnijders of Capital Value.
Moderating the mic is @SPGlobal's @ariespoon pic.twitter.com/b4aYuFbuZB

— MIPIMWorld (@MIPIMWorld) 28 novembre 2018
At a concurrent talk, investment opportunities were discussed at Housing Trends for the Future, another panel session with Lankry Architectes' Ouafia Djebar Brookes, Wing Tai Properties MD Kenneth Ng, Chinacham Group CEO Wun Hing Donald Choi and Livestate founder Eric Au.
Co-living spaces should not be overlooked for the ascendant market, said Ng. "I don't think it's a trend you can ignore. It's not really a trend, it's how [millennials]were brought up and see the world, aided by technology," he said.
#Housing trends for the future with Ken Ng, Ouafia Djebar Brookes, Kenneth Ng, and Eric Au. An especially important topic amid ever-growing urbanisation and global movement. #MIPIMAsia pic.twitter.com/qQheIF8dtt

— MIPIMWorld (@MIPIMWorld) 28 novembre 2018
Co-working meanwhile was the subject of enthusiastic exploration at the closing Flexible Workspaces: Revolution of the Office Market panel talk.
"Life is short, work somewhere awesome," quipped Ferdinand Cheung of LWK & Partners.
Co-working opportunities are on the big screen at the Flexible Workspaces: Revolution of the office market panel talk at #MIPIMAsia this afternoon pic.twitter.com/fwwVTRNYbO

— MIPIMWorld (@MIPIMWorld) 28 novembre 2018
[PROPTECH]
Taking place concurrently to MIPIM Asia was the first edition of MIPIM Proptech Asia – a regional spin on the thriving property technology summit, following in the slipstream of successful editions of flagship MIPIM Proptech NYC and this year's debut MIPIM Proptech Europe.
#MIPIMPropTech has arrived in #HongKong #MIPIMAsia pic.twitter.com/xqnaBNg2Cd

— MIPIMWorld (@MIPIMWorld) 26 novembre 2018
Proptech got a headstart on property, with an informal launch party on the evening of November 26 – the night before MIPIM Asia – which attracted delegates from Europe, Australia and the Middle East for drinks and networking opportunities. The night was capped with a lively talk from Carrie Law, CEO of China's largest international property portal, Juwai.
Delegates from Poland to Japan, and Australia to Dubai, gathered for tonight's official cocktail launch of the first #MIPIMproptech Asia – featuring a enlivening keynote from Carrie Law, CEO of leading Chinese real estate website @JuwaiLimited.#MIPIMAsia kicks off tomorrow! pic.twitter.com/DJgKGNDEXH

— MIPIMWorld (@MIPIMWorld) 26 novembre 2018
Early next morning the show shifted up a gear with an incisive one-day programme spread across two rooms. Opening up was charismatic Google geospatial technologist Ed Parsons, who spelled out how the location technology on smartphones could be applied far beyond the basics of navigation and localised search engines, introducing instead the idea of "ambient place".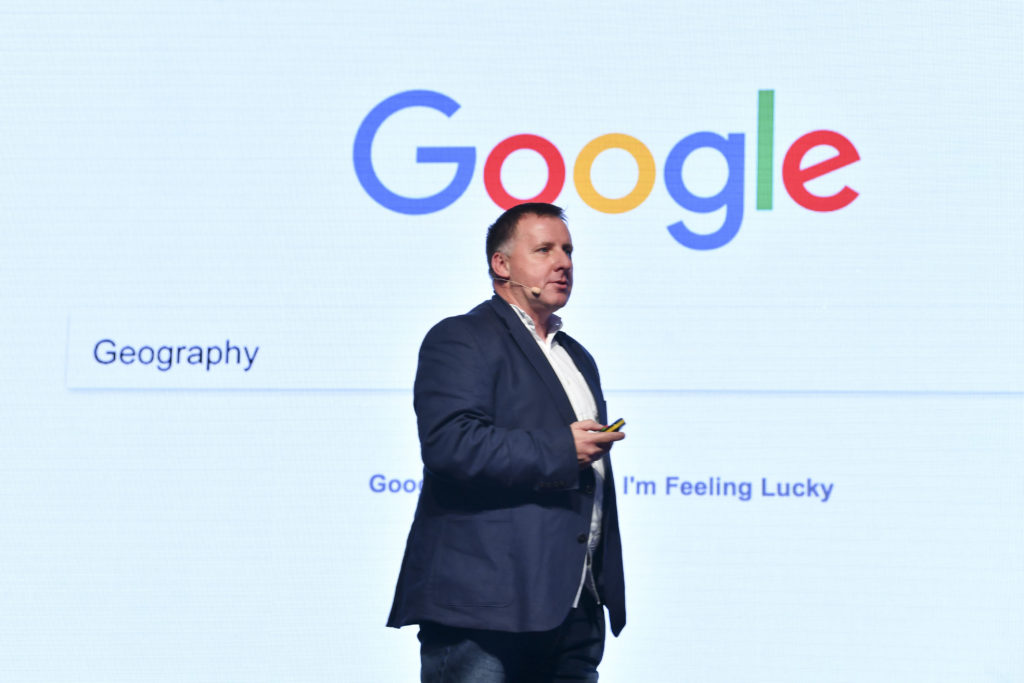 Smartphones communicating with one another in real-time have allowed us to develop "situational superpowers" to predict the future – such as traffic, live bus times, or even the footfall at your pub or restaurant.
Naturally privacy concerns came up at the Q&A.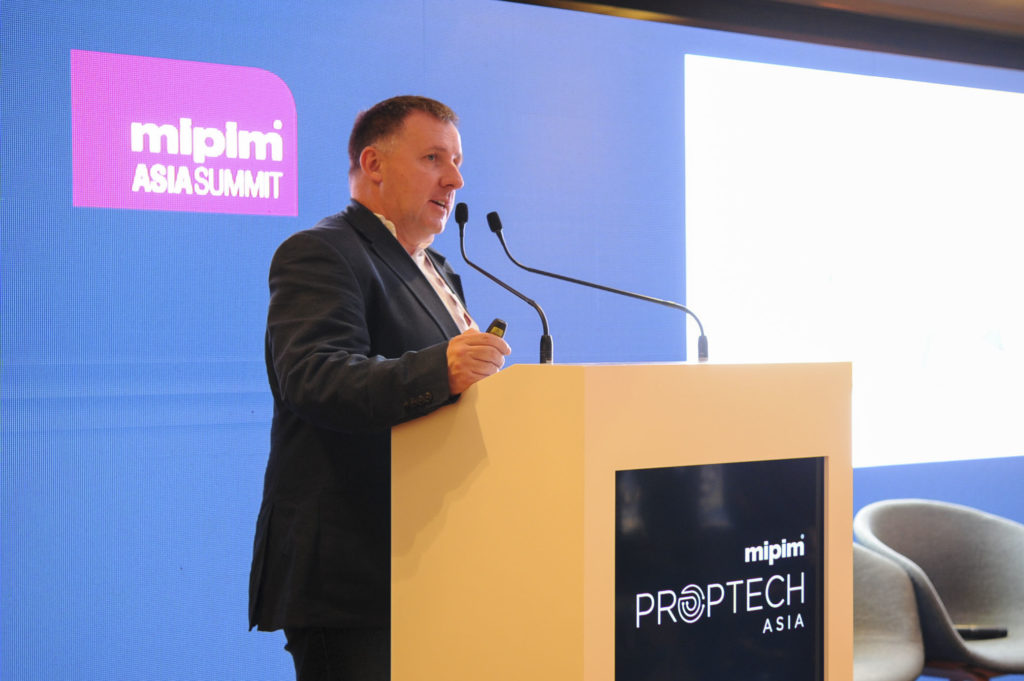 "Transparency is really important," said Parsons. "People are more welcoming to share if they understand the direct benefit they gain. People are naturally and quite rightly concerned how their information is used."
#PropTech is declared "On the road for a bright future" at today's opening session of #MIPIMPropTech Asia, begining with the thoughts of @Google geospatial technologist @edparsons pic.twitter.com/dy1bjAWopO

— MIPIMWorld (@MIPIMWorld) 27 novembre 2018
Next Proptech was declared On the Road to a Bright Future at a lively opening panel talk, which kicked off with moderator Paul Chen, Head of Asia at RealFoundations, demanding out-the-blue that the entire panel pitch, in two minutes, their experience to comment on the topic.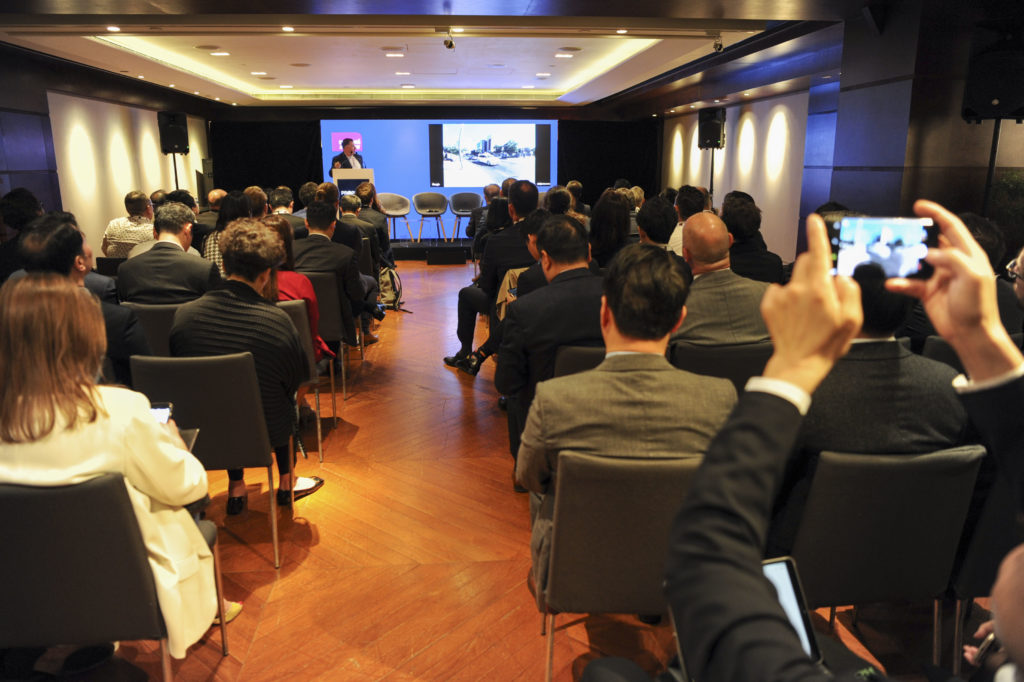 Congratulations to all the panellists – Microsoft's Wincy Chan, Anuj Nangpal of JLL Spark, Knotel's Ed Shenderovitch and Andrew Young of Sino Land Company – for their fast thinking.
Later, Young advised HK-based startups to look beyond the local market.
"We have seven million people in Hong Kong, but ten times that in the Greater Bay Area – and the median income is rising rapidly," he said. "Don't just take the easy option."
We're straight into the #MIPIMProptech panel talk with @Microsoft's Wincy Chan, Anuj Nangpal @JLL, @knotel's Ed Shenderovitch and Andrew Young of Sino Land Company.

And moderator Paul Chen of @RealFoundations kicks things off by asking the whole panel to pitch their expertise! pic.twitter.com/xXC2LvkawF

— MIPIMWorld (@MIPIMWorld) 27 novembre 2018
The Asia stage of the MIPIM 2019 Startup Competition saw six fledging firms pitch. for backing, in front an expert judging panel made up of Hong Kong King Wai Group's Antonio Chan, Jayne Chan of InvestHK's StartmeupHK, Real Estech cofounder Vincdent Pavanello and Christopher Tay of the competition's global sponsors Union Investment Real Estate.
Big thanks to #MIPIMProptech Asia Startup Competition MC @aaronnblock, from partners @MetaPropNYC, and all our judges:
Hong Kong King Wai Group's Antonio Chan@StartmeupHK/@InvestHK's Jayne Chan @RealEstech's @V_Pavanello
And global sponsor @unioninvestment's Christopher Tay pic.twitter.com/2f54PUpmQK

— MIPIM PropTech (@MIPIMPropTech) 27 novembre 2018
Master of Ceremonies for the two fast-paced, reality TV-esque presentation sessions was the upbeat personality of Aaron Block, co-founder and MD of MIPIM Proptech global partners Metaprop NYC. The winner, to be revealed at the closing night's MIPIM Asia Awards, will go on the compete in the competition's global finals .
The one and only @aaronnblock welcoming everyone to the start up competition #MIPIMAsia #MIPIMPropTech @Symbiot_tech @fchabaudie @MetaPropNYC @unioninvestment pic.twitter.com/JWevfNMP23

— MIPIMWorld (@MIPIMWorld) 27 novembre 2018
[RETAIL]
Day two hosted the Retail Forum offshoot, powered by MIPIM sister show MAPIC, which opened with the Retail Property Outlook panel talk featuring Nicholas Bradstreet of Savills, Michael Ross, VC of CP Group and Chris Wu, MD of Chongbang Group.
Future retail trends were at the forefront of everyone's minds, after moderator Theo Knipfing, from Plus Curiosity Limited, opened with the pointed inquiry: Is the mall dead? (Spoiler: Nope).
Wu talked about malls as "life hubs", which can outstrip the internet by providing more than shopping – and instead curating entertainment and lifestyle content, and "programming the heck" out it.
Meanwhile straight retail environments are evolving as minimalist aesthetics take hold, said Breadstreet, adding that the ideal is conjuring a feeling of culture and community, an inviting space.
"It's about trying to create an experience," he adds, "and the selling comes a little bit down the line."
Lastly, if you really want a glimpse of the future of retail, go to the movies, said Ross. "Hollywood gives us a glimpse of the world 15 years ahead," he claimed, quoting the touch screens of Tom Cruise vehicle Minority Report. "Today we have all this technology straight out of Star Trek – it's already here".
All set for action at this morning's Retail #Property Outlook at #MIPIMAsia pic.twitter.com/6ABT7cbGQx

— MIPIMWorld (@MIPIMWorld) 28 novembre 2018
The MAPIC-powered forum closed later the same day with the wittily named Bricks & Clicks panel, featuring heavy hitters Jennifer Liu, Carson McKelvey, Al Hong and Diego Dultzin Lacoste, as well as moderator Anson Bailey.
Online/offline #retail in focus as Bricks & Clicks begins with Anson Bailey, Jennifer Liu, Carson McKelvey, Al Hong, Diego Dultzin Lacoste #MIPIMAsia #MAPIC pic.twitter.com/ycYYsjSDCX

— MIPIMWorld (@MIPIMWorld) 28 novembre 2018
A day earlier, retailers flocked to hear the thoughts of Dr William Lo, Vice Chairman of China's largest toy retailer, Kidsland, presenting a keynote in the Grand Ballroom.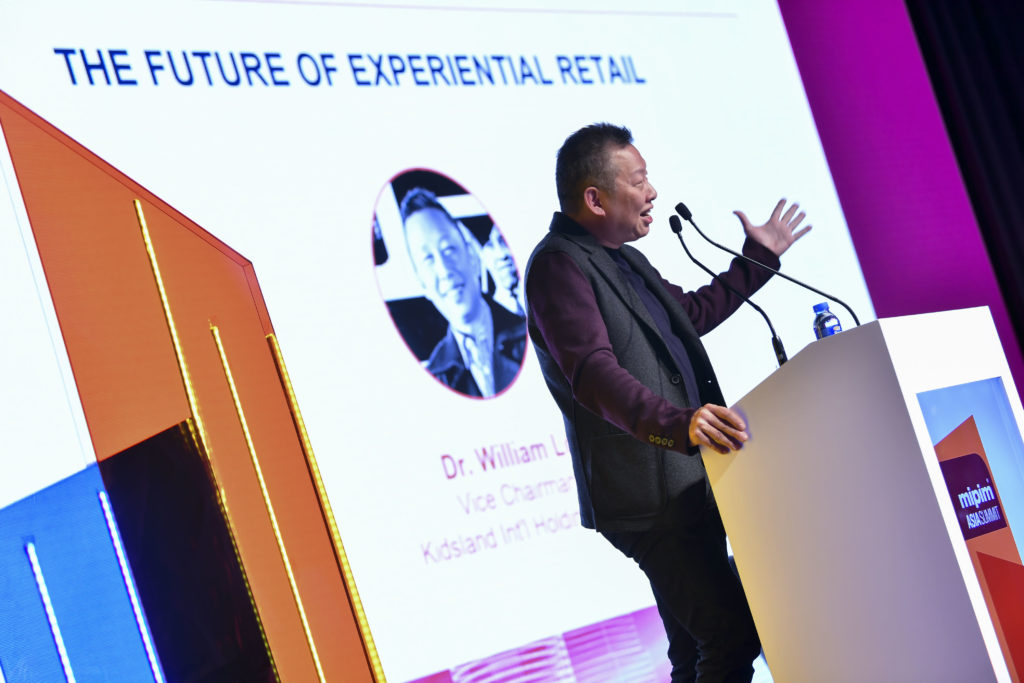 Entitled The Future of Experimental Retail, Lo's brisk talk explored the idea of "O-to-O" integration – posing that rather than being in competition, offline and online retail environments can actually complement one another. Embracing tech such as smart panels and AR (augmented reality) could be especially pertinent for the property sector – allowing investors to experience a simulation of an off-plan development, or an opportunity in another territory.
Addressing an audience question, Lo battered back the idea physical retail will ever be phased out completely.
"I don't believe physical retail will die, especially in Asia – in the US I have a different feeling, but in Asia we love to go out shopping," said Lo. "In Hong Kong we live in very small spaces, we need to go out, so the shopping mall is very important."
The afternoon swings into gear with a keynote from @kidsland VC William Low, exploring The future of experimental #retail#MIPIMAsia #retech pic.twitter.com/LA0KrEZuSC

— MIPIMWorld (@MIPIMWorld) 27 novembre 2018
Hoteliers and retail moguls also had plenty to learn at the keynote session from TripAdvisor's Head of Destination Marketing APAC, Sarah Mathews, who shared numerous facts and stats breaking down traveller habits at the day one keynote Inbound Travel Trends in Asia Pacific.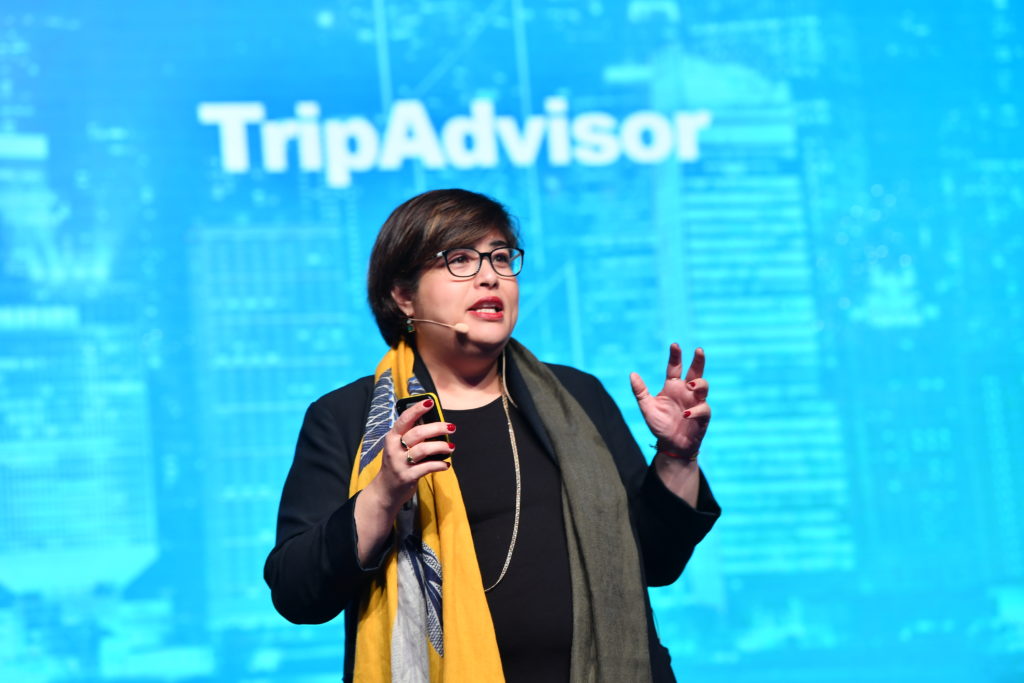 A one-size-fits-all approach is definitely not the answer for regional markets, with the European ideal of "fly and flop" holidays chiming a discordant note with experience-hungry Asian travellers, who prefer the high activity and immersion of city breaks – but ideally stringing multiple stops together.
"Asian travellers don't want to fly when they can flop on a beach 15 minutes away in Stanley," laughed Mathews, referencing a popular beach on the south of Hong Kong Island. "They're looking for excitement and fun over relaxation. They like cities – but they want more bang for their buck."
Another thing they notoriously enjoy, is selfies – so the key for hoteliers and retailers is making their destination appealing and original another to attract scene-seekers – and pick up some free publicity from their resulting social media posts in the process.
Back in the Grand Ballroom, Sarah Mathews from @TripAdvisor is presenting the keynote "Inbound travel trends to #AsiaPacific" – looking at how to lure tourists where you want them#MIPIMAsia pic.twitter.com/S333QhdM64

— MIPIMWorld (@MIPIMWorld) 27 novembre 2018