An inspiring keynote from Steve Wozniak, co-founder of Apple, headlined another powerful round of proptech talks on the second and final day of Propel by MIPIM in Paris. Wozniak's message, that innovation is created by humans, for humans, reinforced the user- and talent-centric theme of the conference.
"People who had entrepreneurial sense inspired me. Young innovators are often locked out of major success today because you need a big, powerful company to get your product out into the world," he noted.
When asked if remote work would become the new normal, he said: "A lot of programmers work from home. But firms – and those with power – get to make the rules. They will probably want to have more control over their staff, and bring them back on site."
On the topic of automation, Wozniak added: "I've never feared humans not having jobs. For a while I really believed that machines would get true smartness and be able to think, have feelings and emotions, and care for you… One problem is – we have AI but we don't know how the brain is structured, otherwise we could make a brain."
He quipped: "I was only in one company where they figured out how to make a brain – it takes nine months!"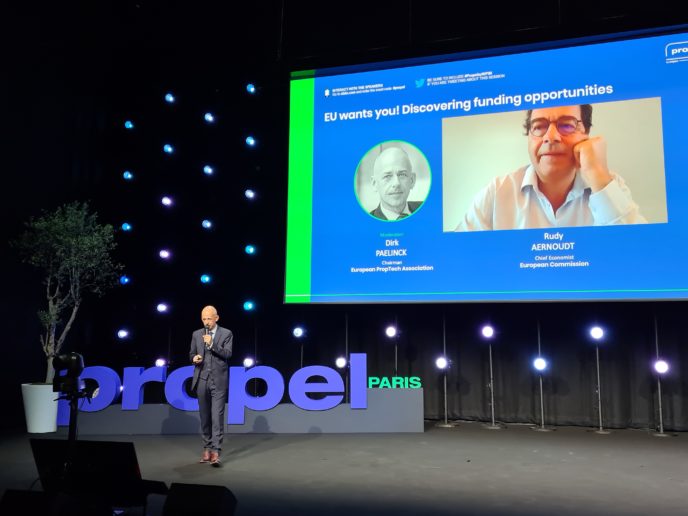 The day had kicked off with a practical session about funding opportunities driving the industry, with insight from the EU's Rudy Aernoudt, Chief Economist, European Commission, in conversation with Dirk Paelinck, Chairman, European PropTech Association. Discussing the theme "EU wants you! Discovering funding opportunities", Aernoudt lamented the fact that there were no proptech unicorns in Europe.
"In the US, there is 34x more funding available. It's easy to source friends, family and founder money, or business angels, but hard to win big backers. 44% of EU-financed scale-ups leave the EU," he said.
However, Paelinck was positive about the outlook. "Despite liquidity challenges, firms which have already invested in start-ups will not let them fail; and Covid accelerates the need for digital solutions."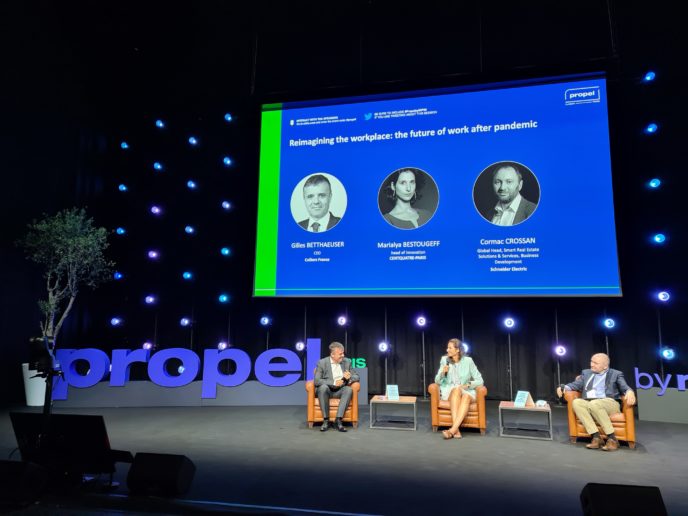 Covid-19's effects were further charted in "Reimagining the workplace: the future of work after pandemic" with Marialya Bestougeff Head of Innovation, le Centquatre-Paris; Cormac Crossan, Global Head, Smart Real Estate Solutions & Services, Business Development Schneider Electric; and Gilles Betthaeuser, CEO of Colliers France.
Crossan suggested that remote working was here to stay: "It will become a permanent part of corporate policy," he noted. "But we will see hybrid systems, underlined by choice, to best motivate talent."
Betthaeuser cautioned: "Remote working has enabled people to remain connected, but it has also shown its limitations. Around 10% of the workforces we surveyed felt isolated when required to work from home."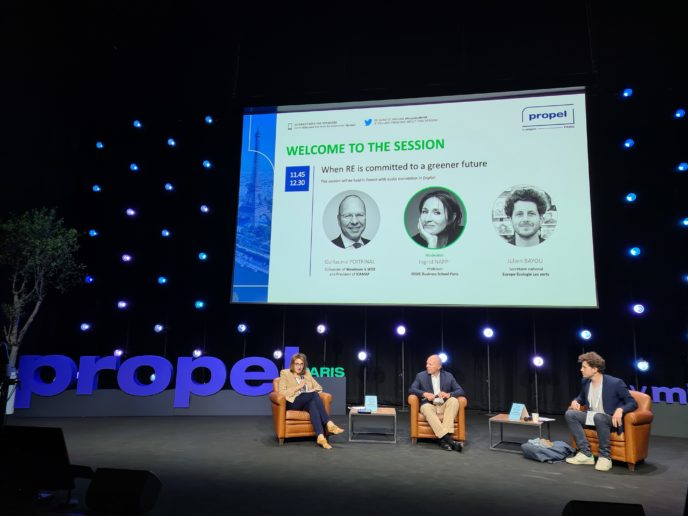 Guillaume Poitrinal, Cofounder of Woodeum & WO2 and President of ICAMAP,  in conversation with Julien Bayou, Secretary General, EELV, tackled real estate's commitment to "a greener future". Bayou said: "I'd like to debunk this idea of ecology vs. economy. We want to have a say through regulation, but we want to support virtuous activities that generate jobs and in turn sustain cities."
Added Poitrinal: "The environmental crisis will claim a lot more lives than Covid-19. I want to build projects with as low a carbon footprint as possible throughout the lifecycle of the building. Wood is a renewable material and traps carbon."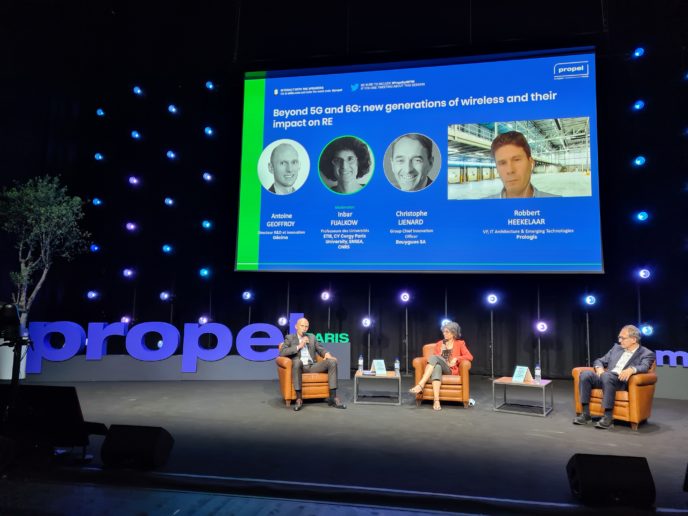 Afternoon sessions plugged into tech themes, with Inbar Fijalkow moderating a forward-looking panel addressing the theme of "Beyond 5G and 6G: new generations of wireless and their impact on RE". This featured Antoine Geoffroy, Directeur R&D at Gecina; Christophe Liénard, Chief Innovation Officer, Bouygues Group; and Robbert Heekelaar, VP, IT Architecture & Emerging Technologies, Prologis.
Heekelaar said: "We have been testing 5G in Prologis warehouses with robots. Lag is very important to avoid collisions – 5G is great on this. Covid is making people automate more and more so it's a key step up."
Noted Geoffroy: "5G works on higher frequencies, but there are disadvantages. It doesn't go through obstacles very well, so you will need indoor coverage systems in buildings. This should be built in like other utilities."
The following panel tackled data analytics and AI, with Natasha Terinova of Reach moderating. Sébastien de Lafond, Co-founder & CEO of Meilleurs Agents and Dan Hughes, Director, Alpha Property Insight went head to head on the importance not only of collecting data but successfully extracting value.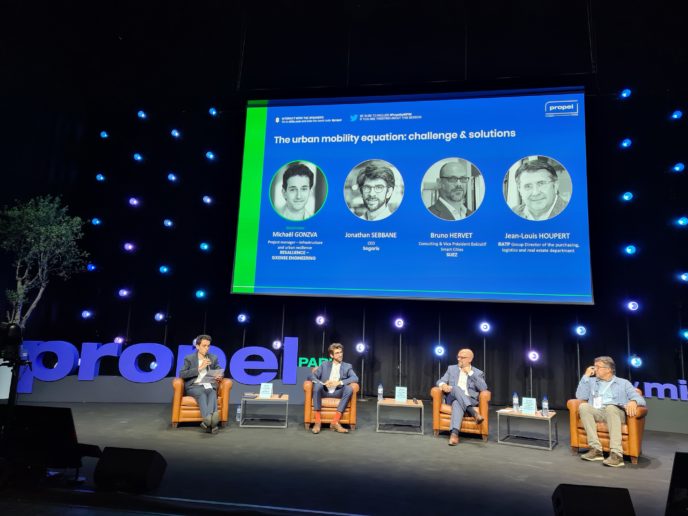 A session on mobility explored the ways that our cities are changing. This featured Jonathan Sebbane, CEO of Sogaris; Bruno Hervet, VPE Smart Cities, at Suez; and Jean-Louis Houpert, Directeur Real Estate Valuation, RATP Group.
Said Houpert: "Covid has had a damaging effect on public transport use and it remains slow to restart. People are preferring bikes and even cars – the latter represents an environmental disaster waiting to happen. So we need to reassure travelers, and fast."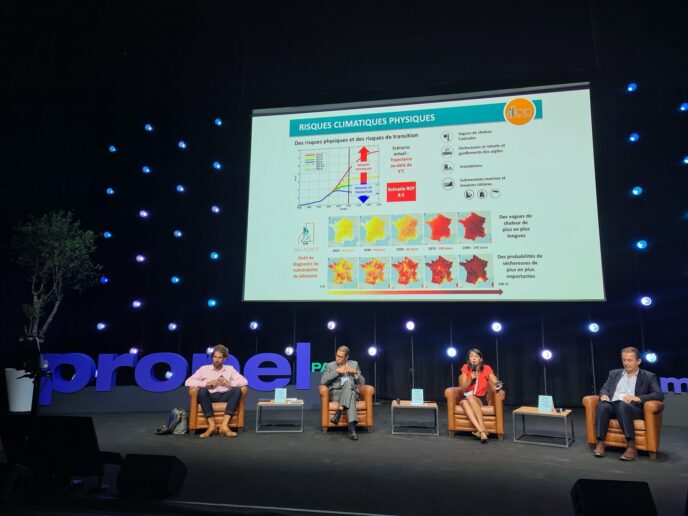 The day continued with an impassioned debate on the effects of climate change, with experts Lois Moulas, CEO, OID; Thierry Laquitaine, Head of SRI, AEW; Sakina Pen Point, Head of Climate Change Adaptation, Observatoire de l'immobilier; and Regis Meyer, Deputy delegate to GlobalABC, Ministry of Ecological Transition (DAEI).
Said Pen Point: "We face some very real physical risks from climate change. By 2040, the number of heatwaves we have annually in France will double to 60. By 2090, this will be 140 days per year."
Added Laquitaine: "Property is the most exposed of all assets to climate change. It has a long lifecycle – some of our buildings are centuries old. Unlike plants and animals, which can migrate, property is immobile."
Concluded Meyer: "Real estate has to accept its climate change responsibilities. We created a road map for public and private property owners which includes a pledge to change the rules of construction."