Delegates converged on Le Centquatre in Paris for Day One of Propel by MIPIM, where innovation was placed at the service of the property industry by a raft of sector experts. 
The morning kicked off with "Countryside: the future?" a timely talk from Samir Bantal, Director AMO, OMA, which tackled the urbanization trend from the other side. Bantal examined the increasing levels of disconnect between the countryside and its traditions. "The countryside is increasingly inorganic, a place where workers now take pride in technology and efficiency. The switch from organic to inorganic forms the basis of our study," he explained. 
Bantal noted that only 2% of the world's surface is made up of cities, although they consume 70% of the world's energy and are responsible for 80% of the world's CO2 emissions. Moving forward, a more sustainable vision will be necessary for a harmonious future. 
The transforming power of innovation continued as the theme of the next session, dubbed "Innovation by Talent".  Moderated by Thomas Le Diouron, CEO, Impulse Partners, this panel included Clara Getzel, Managing Director of Saint Gobain start-up Kandu; Georges-Etienne Faure, Head of innovation at Nexity; Sandra Fives, CEO of EDF spin-off Urbanomy, and Guillaume Bazouin, Head of Startup and Intrapreneurship Programs, Leonard, backed by Vinci Group. 
The panel discussed how their respective incubator projects had brought start-up culture to the parent companies, enabling them to benefit from disruptive business models and quick-learning mechanisms. In parallel, they were able to enjoy corporate assets and support. Getzel quipped: "We're a corp-up!"
"The impact of the health crisis on proptech investment" moderated by Natasha Terinova, Program Director, Reach, offered a comprehensive look at the VC culture creating the proptechs of tomorrow. The panel combined the insight of Mathias Flattin, Partner, Axeleo VC; Roxanne Varza, Director, STATION F;  and Faisal Butt, Founder & CEO, Pi Labs.
Mathias Flattin confirmed that Axeleo VC successfully raised its Proptech 1 fund during lockdown in France. "We called our LPs and they all still wanted to invest – they needed to transform their workflows and become closer to start-ups."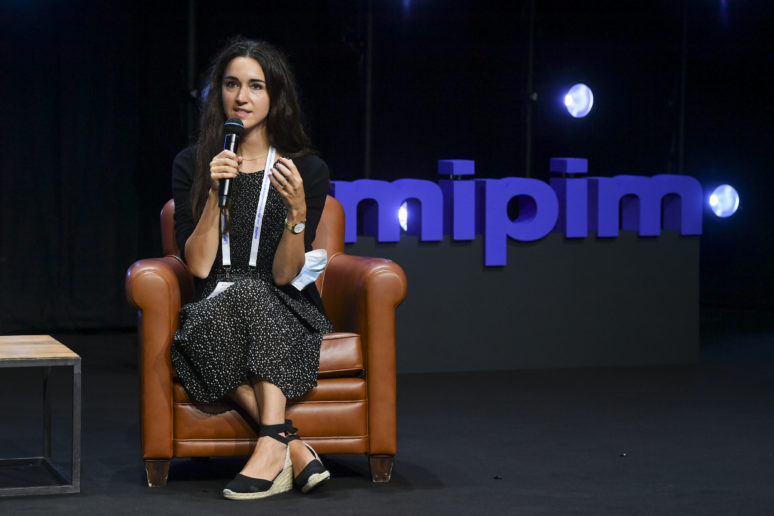 Added Roxanne Varza (above): "It's an exciting time to be in Proptech. People are radically changing their mindset as to how they work, how they see space. There's also a really big movement in values, as the crisis touched peoples' health."
Faisal Butt said: "The pandemic doesn't change what we do, but provides a tailwind. A lot of our companies are beneficiaries of the crisis… the fact that a lot of change will come out of this shouldn't surprise!"
For the last session of the morning, Gaël Thomas, managing editor, Business Immo, interviewed Philippe Journo (below), President, Compagnie de Phalsbourg about "Change management: a human approach".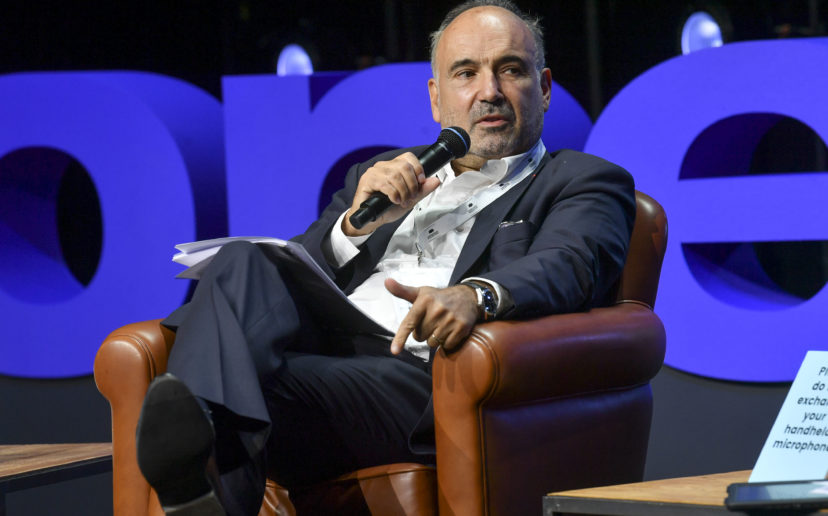 For Journo, the crisis has been an exercise in agility. "Our 3 year business plan has become a 5 year plan. But the profitability rate we require for future projects is going to have to be higher, as banks have told us we will need to come up with our own funds." 
Thomas asked if Journo has a succession strategy. "Of course there will be an after-Journo. Right now, we have to deliver all the projects we've started. I also want to come back to the pioneer spirit which characterized the early days of the company."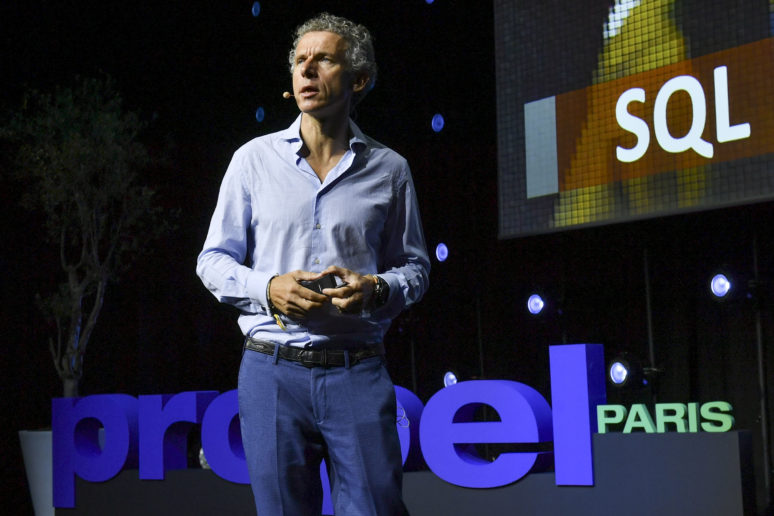 The afternoon kicked off in Room 400 with an inspirational keynote from digital entrepreneur Gilles Babinet, CEO, LAITAO (above), tackling the theme of "learning from digitalization".
Babinet described the disruptive power of AI, which can adapt to environments which are highly unpredictable, such as driving a car. "It wasn't understood how to apply that to services, but that is rapidly expanding now," he noted. 
He added: "If a firm wants to achieve digital transformation, the whole board has to back the CEO. Pension funds have to be patient. It does take time, growth may slow, but at least the company will be safe and secure for the 21st century."
The keynote was followed by a scintillating fireside chat tracking the acceleration of a client-centric approach with Méka Brunel, CEO of Gecina, and Brendan Wallace, Co-founder and Managing Partner, Fifth Wall,  moderated by Babinet (top photo).
For Brunel, the pandemic has been accelerating three key trends, namely "urbanization, digitalization and sustainability". She added: "They are affecting us personally, but we have to make them work collectively."
Said Wallace: "These trends are having a profound effect on real estate. You now have to think like a sociologist. Landlords that take a forward-looking view – such as building brands – are going to be well-positioned going into the future."
Brunel also described a radical shift in the use of space. "Office size, even signage used to be defined by the ego of the CEO. That's not the case any more. On the other hand, our homes have now been transformed into offices, schools, malls. Thats a big change." 
Wallace suggested: "Real estate as an industry has a huge role in sustainability. There's a significant high-impact footprint in the hands of the few. When we empower our buildings, their contribution will improve. Materials tech is an exciting frontier."
Next onstage, "Cities of tomorrow: new approaches to urban design", saw moderator Ariane Dienstag, Architect, bring together Boris Gentine, Creative Director, of Saguez Partners; Lionel Grotto, CEO, Choose Paris Region; and Juergen Bruns-Berentelg, CEO, HafenCity Hamburg GmbH.
Each expert took a few minutes to describe how their cities were meeting modern planning and design challenges.
The last session in Room 400, "Assessing value creation from building high", was moderated by Madeleine Houbart, Secretary General, AFEX. The panel featured Pablo Nakhlé Cerruti, CEO, of Viparis; Roueïda Ayache, Architect at Architecte-Studio; and Robin Rivaton, Investment Director, Idinvest Partners. 
Said Ayache: "I want to contrast the concepts, densify and intensify. The Covid pandemic has brought quality into focus; horizontal and vertical aren't alternatives, we have to work with both." 
Nakhlé Cerruti  described the evolution of the Porte de Versailles project, which represents a fresh look at "combining multiple uses in a single space, forging an ecosystem where everyone can create value." 
Rivaton concluded: "The act of building upwards has been connected to the spread of the virus. But being close together and density are not the same thing."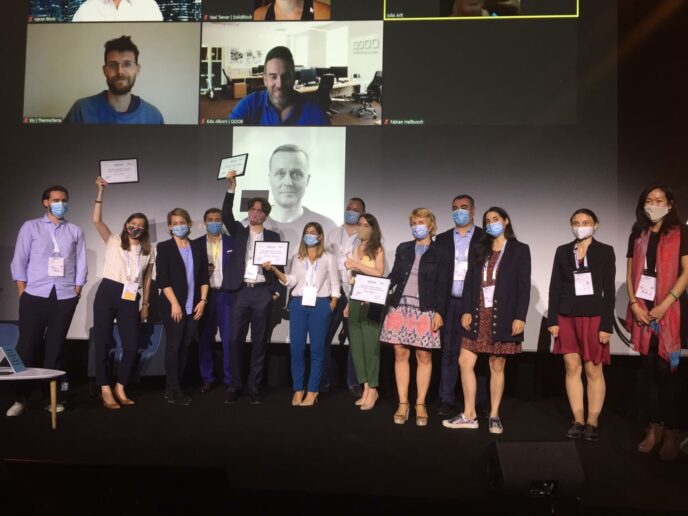 To close the day, the first European stop of the Propel by MIPIM Startup Competition was held. The most innovative start-ups presented their pitches in our four categories: Sustainability, Data, Investment and User Experience. The finalists that will continue to MIPIM in Cannes in March 2021 include Inviertis Properties in the Investment category, SpaceOS in the User Experience Category, CubiCasa in the Data Category, and ThermoTerra in the Sustainability category.
Join us tomorrow for Day 2 of Propel by MIPIM Paris 2020, follow us live here!