Day 2 of MIPIM September Edition began bright and early with our Gend'her Networking Event in partnership with Business Immo and KPMG. Other highlights of the day included the UK: Back to Business session with key speakers Lord Gerry Grimstone and Mark Dixon, followed by the MIPIM Awards ceremony in the afternoon. 
Gend'her breakfast 
First up, the Gend'her breakfast, asking how gender balance in the real estate industry can boost creativity and economic growth. This networking event, in partnership with Business Immo and KPMG, featured Agnès Roquefort of Accor and Clotilde Armand, Mayor at City Hall Sector 1 Bucharest as speakers. 
On driving and improving gender balance in the industry Agnès Roquefort said that we must:
– Establish a diversity network inside the company to enable initiatives and provoke key ideas
– Have female representation at every level- this is key to attracting and retaining talent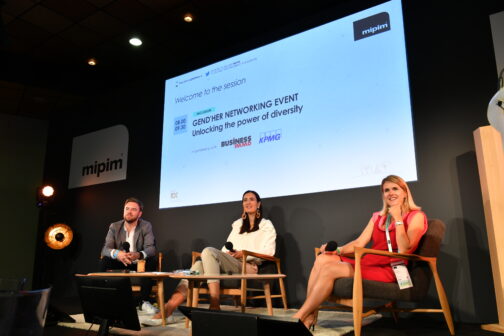 Occupier Summit 
One of MIPIM's most anticipated closed-door events, The Occupiers' Summit breakfast, addressed the growing involvement of the occupier in the real estate process. A participatory workshop followed a panel discussion where Leila Zreik of WeWork and Miguel Nigorra of Fifth Wall envisioned a more bespoke approach to the office where tech serves a business purpose. 
Performance: NEW WORLD NEW ERA – Why ESG matters today
Earlier this morning Courtney Fingar, Investment Monitor interviewed key experts and authority figures on the challenges and opportunities for ESG in real estate.
Brune Poirson, Chief Sustainability Officer at Accor stressed "Collaboration is so important- we need to work with our competitors. For example, on biodiversity; land use is a key problem for the real estate world… We can go to authorities together and ask to change the regulation because we are ready."
In response to a question on what can be anticipated for the future, Valérie de Robillard, Head of ESG Real Assets at Swiss Life Asset Managers said;
For real estate specifically- we already work a lot on refurbishments but this will be key 5 years from now… What will be completely critical is our ability to manage this climate risk – Valérie de Robillard
After a short break, Courtney Fingar interviewed four more speakers. Peter Freeman CBE of Homes England provided the UK-based insight that "as we [Homes England] try to deliver more homes, we need to have more government intervention on bringing forward brownfield sites… they are often too difficult for the market to bring forward alone."
The 'impact piece' is still in nappies. There isn't common ground on understanding and measurement across different geographies added Aleksandra Njagulj, DWS Group.
Karin Barthelmes-Wehr from the ICG Institute stressed that she believes "larger companies are leading on ESG but smaller companies are yet to come on board. We have a long way to go. Smaller companies often think it is too expensive or too complicated. Our job is to help them simplify the process." 
To conclude this interview session, Stephane Villemain of Ivanhoé Cambridge said "we need to be adaptive to each situation… there are a lot of challenges and intent is key, we need to share as collaboration is essential," summing up a key message on collaboration highlighted across all the interviews today. 
UK: Back to Business
A highlight of Day 2 included the UK: Back to Business session, opened by Lord Grimstone, who stated "as we emerge from the storm shelter we have to assess the new normal… We are strengthening our international competitiveness and the UK is reclaiming its title as the leader in attracting investment."
"The EY UKI survey showed the UK to be the most attractive destination for foreign investment… while 60% of investors see strong sustainability policies as important when chasing opportunities. The 10 point plan launched by the Prime Minister supports our path to net zero," stressed Lord Grimstone. 
We expect £50-55bn in real estate to exchange hands. The build to rent, senior living & life sciences sectors are all very buoyant and a strong focus is on inward investment and levelling up. The UK is open for business and we expect real estate to play a huge part – Lord Grimstone
Mark Dixon, IWG then took centre stage to discuss how the trend towards new ways of working has been accelerated by the pandemic; "The huge interest in new ways of working in the UK is all about how people are using real estate, and how tech and digital is changing the landscape – as software becomes better, the way we work in a decentralised way becomes more convenient", said Mark Dixon.
He added The ONS found that 80% of people want a hybrid work format from now on. There are 3 powerful drivers behind the shift to hybrid – people, planet and profit.
Green and thriving neighbourhood: A pathway to net zero featuring the 15 minute city
Wrapping up pre-lunch, Hélène Chartier of C40 held a hybrid session on the 15 minute city concept, its implications and its necessary connection to 'thriving' neighbourhoods. She was joined by Carlos Moreno, Scientific director, ETI Chair at University Sorbonne-IAE Paris, Barbara Pons of Barcelona Catalonia and Alice Charles by livestream from the World Economic Forum. The event was held in partnership with C40. 
Kicking off the discussion, Alice Charles of the World Economic Forum highlighted that "investors are now investing in ESG and occupiers are demanding buildings that respond to their physical and mental health… things are accelerating." 
Barbara Pons of Barcelona Catalonia followed this up with a presentation on 'superblocks' and their use in Barcelona.
Superblocks have a long history and we are finally implementing and analysing that impact… We are bringing together existing urban blocks and liberating the space in between for use as public and green space – Barbara Pons
Linking these discussions together, Moreno summarised that there are 6 essential functions of the 15 minute city;
Good conditions
Access to jobs
Supply chains
Mental & physical care
Education/culture/entertainment
Environment & nature
He concluded by saying that with these we can change the rhythm of the city. 
MIPIM Awards Ceremony
The MIPIM Awards honours the most outstanding and accomplished projects, completed or yet to be built – the very best of the real estate industry. This hybrid edition celebrated projects from around the world with shortlisted entrants attending both in-person and via livestream. 
Hosted by AshaSumputh the ceremony began with the announcement of the winner in the Best Cultural & Sports Infrastructure category as Cyprus International University Masterplan in Nicosia, Northern Cyprus. 
All other category winners were then announced as follows:
Best Healthcare Development: MontLégia general hospital in Liège, Belgium
Best Hotel & Tourism Resort: Club Med La Rosière, La Rosière, France
Best Industrial & Logistics Development: P4 – Pole Paris Pantin Pré-Saint-Gervais, Paris, France
Best Mixed-Use Development: Elektrownia Powiśle, Warsaw, Poland
Best Office and Business Development: 22 Bishopsgate, London, United Kingdom
Best Refurbished Building: 7 Madrid, Paris, France
Best Residential Development: BaseCamp Lyngby, Kogens Lyngby, Denmark
Best Shopping Centre: Adana Town Center, Adana, Turkey
Best Urban Project: Changi Airport Connector, Singapore, Singapore
Best Futura Project: Svart Hotel, Moloy Comune, Norway
Best Futura Mega Project: Bermondsey Masterplan, London, United Kingdom
Special Jury Award: Gare Maritime, Brussels, Belgium
 The Awards Ceremony concluded with a special surprise award for Méka Brunel, President of the Awards jury for the past 4 years. Given by Filippo Rean, Managing Director, Real Estate Division, RX France, the award recognises her high standards and commitment to the #MIPIM Awards over 5 years of involvement. 
The MIPIM Awards brings a bustling and energetic few days to a close. MIPIM September Edition has seen the long awaited return of face-to-face networking and we're looking forward to seeing everyone again in March 2022.