Top photo: getting to grips with proptech at the Montreal French Flair cocktail at MIPIM 2018
At the MIPIM Wrap-up Innovation panel today, featuring Jack Sibley, Innovation and Technology Strategy at TH Real Estate (right below), Filippo Rean, Director of the Real Estate Division at Reed MIDEM (centre) and moderator Courtney Fingar, Editor-in-chief, fDi Magazine, it was clear that technology is currently front of mind for many real estate people. Whereas the term "proptech" was practically unheard of a few years ago, "today, there is a wider acceptance of innovation in RE, and more customer-centricity," said Rean. "Everything is built around the consumer, and that's a positive trend."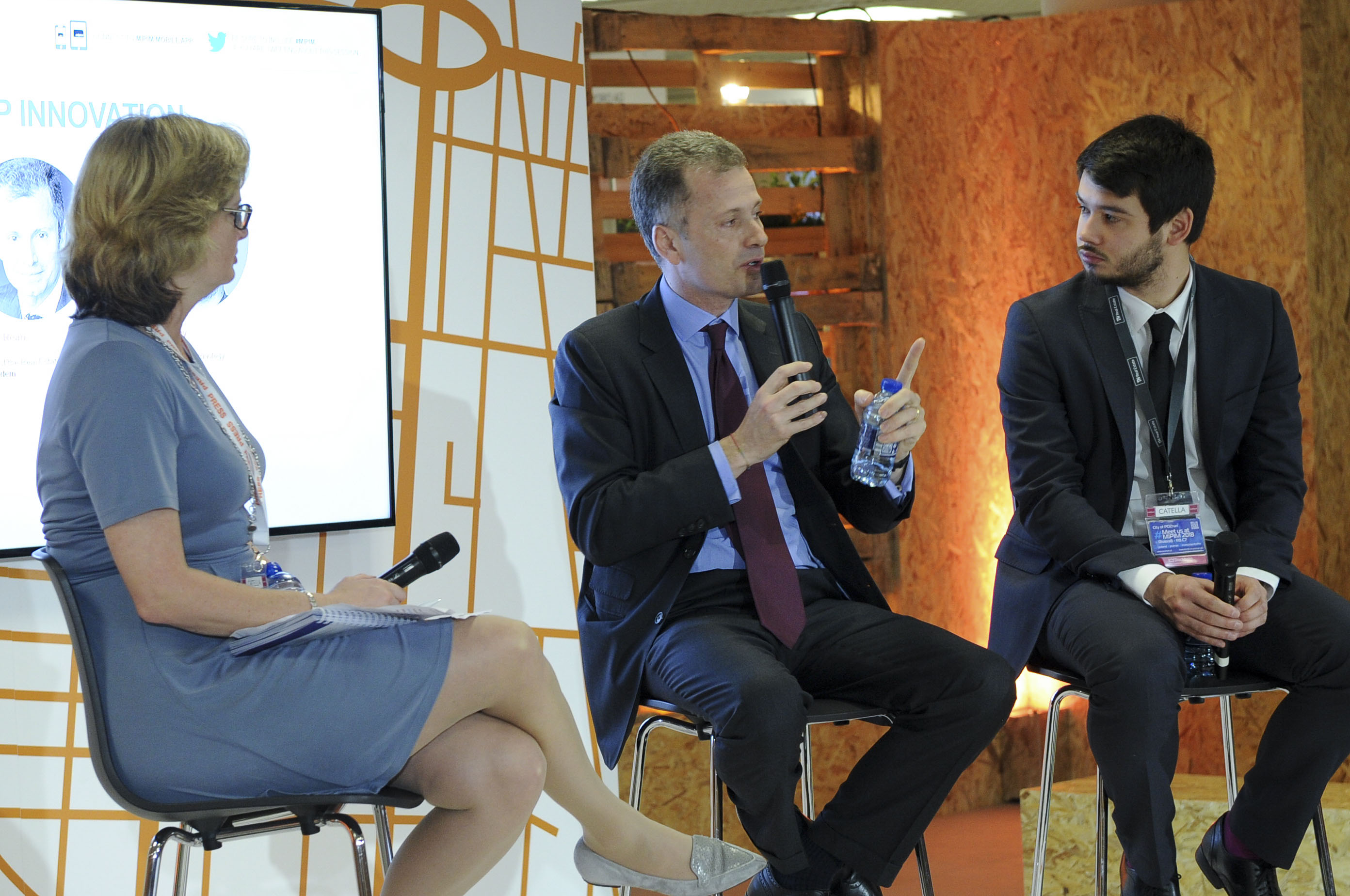 Agreeing, Sibley went on to spell out the three key areas that he sees dominating the industry in coming years:
– End user focus: how are projects benefitting citizens and consumers?
– Data: on asset level, in terms of understanding occupancy better
– Sustainability: which is now being invested in not just for environmental and social governance (ESG), but for better user focus, comfort & even ROI. "It's almost an easy win now to make sure you're energy efficient."
Reacting to the data point, Fingar raised the delicate issue of privacy. "Europe applies regulations (GDPR), so there is a framework which tells players what they can or can't do," Rean commented. "There are already a lot of other uncertainties in the industry, so it's good that this isn't one of them. I predict that we'll see significant progress in areas like data. The main challenge is to analyse it well, and do meaningful things with it, for example for holistic city management, including offices, shopping, transport, and security. All those separate streams of data will have to be joined up."
Sibley agreed that there will be major consolidation in the next 2 or 3 years. "Do we really need ten different types of office apps?" he asked, referring to an already-crowded proptech domain. That said, he added, "it is significant that this time last year there were only a few real-estate-facing venture capital funds here at MIPIM. This week alone, I've discovered that there several more being set up.
Rean gave another indicator of real estate's growing interest for technology: MIPIM's own Startup Competition. "At the first final, three years ago, it was almost embarrassing. There were about 30 people in the crowd: the finalists and my team! This year, in the Grand Auditorium, there were at least 400 people. So it's growing exponentially," said Rean, adding that MIPIM has over a thousand startups in its database; an "incomparable" figure versus last year.
Finally, another of the buzz topics of this market — self-driving cars — confirmed the point made earlier by Rean of the need for a holistic approach to smart cities. "To make something like driverless cars will really work, any bottom up approach will have to be guided by a top-down strategy," said Sibley.
The panel concluded a particularly inspiring week at MIPIM 2018. Want more? We've picked out the 20 quotes that made this edition thoroughly memorable…

On innovation…
"Only 10% of CEOs in real estate believe that the industry will be seriously disrupted by technology, compared to 38% in other sectors."
Lisette van Doorn, Chief Executive, ULI Europe
"Advanced sectors of the RE industry are hiring data scientists who really zero in on communities, so you can see in advance how a project might work in a particular neighbourhood."
Robert Courteau, Chief Executive Officer, Altus Group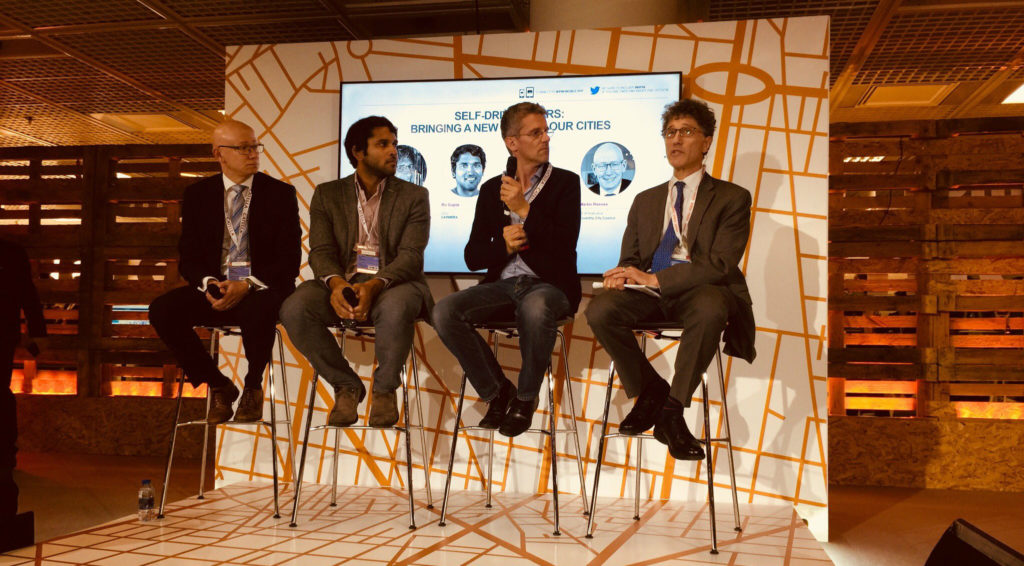 "Driverless cars will totally reframe the way people think about cities, and they will require massive regulatory changes."
Martin Reeves, Chief Executive, Coventry City Council (left in the above photo, with Ro Gupta, Carlo Ratti and moderator Peter Grant of the WSJ)
"Should you pass a law to stop people harassing driverless cars by jumping in front of them? I think we might need to."
Carlo Ratti of Carlo Ratti Associati
"30% of jobs that will be needed in coming years don't exist yet."
Chloe Clair, Engineering Director, Vinci

On cities…
"The market is perfect as a servant, but not as a master."
Raymond Johansen, Mayor of Oslo
"We would like to be able to transition the considerable skills that gang leaders have. They are amazing entrepreneurs and to be able to use that talent to do something legal and for the community would be a great asset to any city."
Marvin Rees, Mayor of Bristol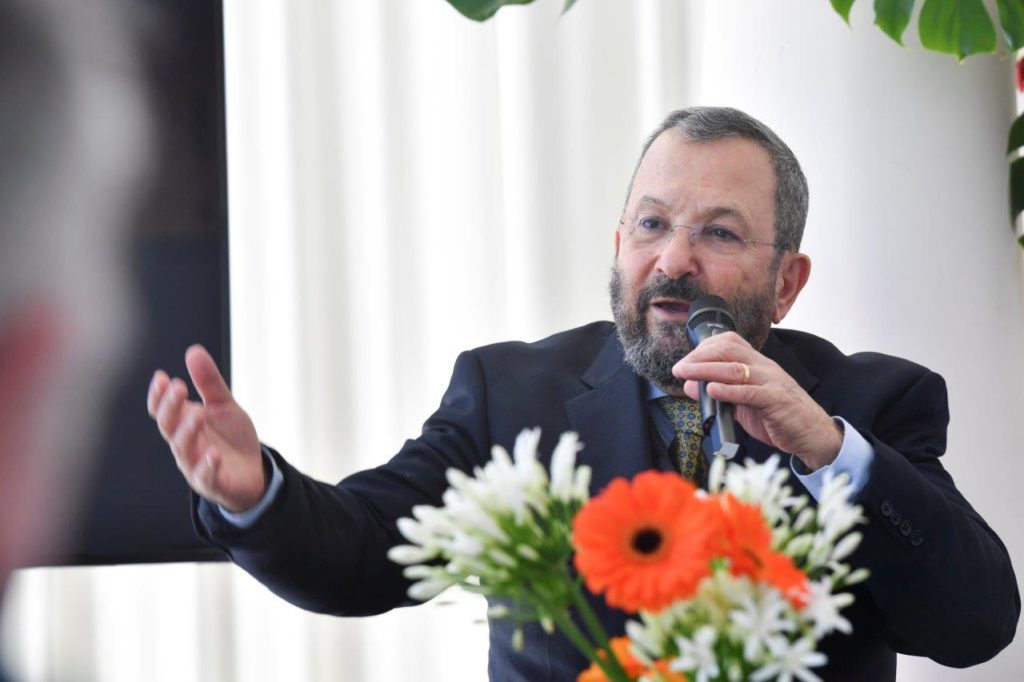 "Real estate people have to understand the interactions and challenges of making life flow in cities. Security is an important part of that."
Ehud Barak, Former Prime Minister of Israel & Chairman, Carbyne (above)
"The era of cities borrowing while putting off the day of reckoning are over, especially after the Carillion meltdown."
Louise Brooke-Smith, Partner, Arcadis
"Cities hold up a mirror to our soul."
Youth Advocate Adora Svitak
"A lot of cities will go under the sea in the not too distant future, so there's huge potential for deplacement of populations. l'm much more worried about that than trade."
Rudiger Ahrend, Head of the Urban Programme, OECD
"We need to make space as efficient as possible, and compensate for less space per person by having whatever I need on demand, for example more warmth."
Rajdeep Gahir, Founder & Managing Partner, CoCreations

On demographics…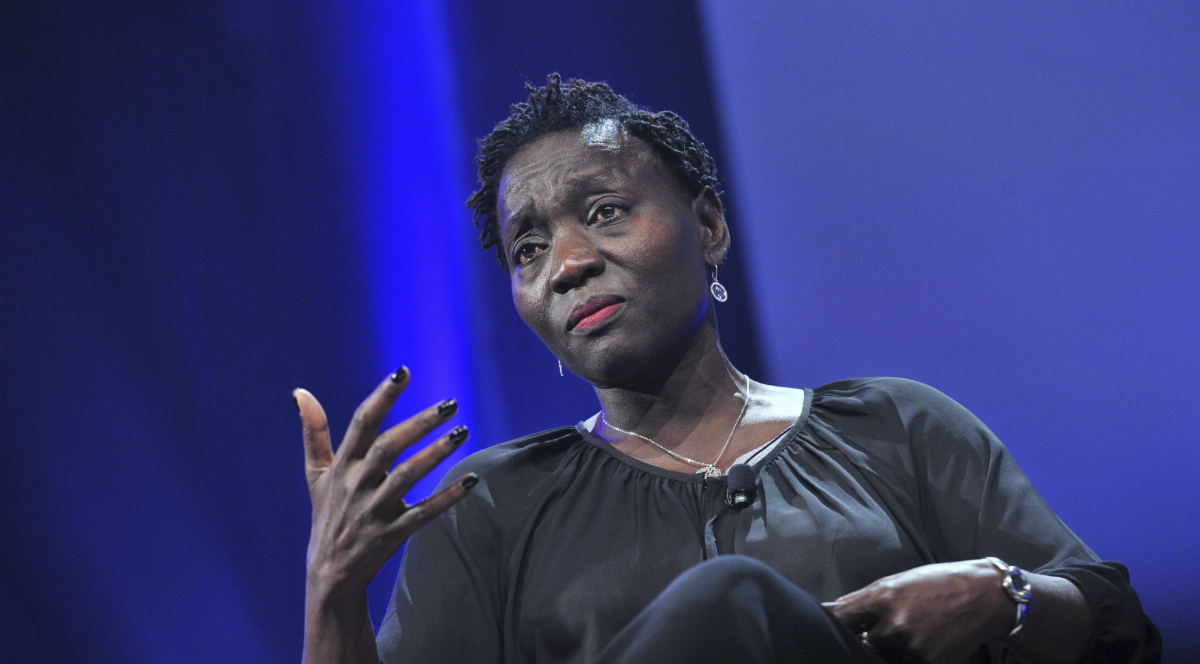 "We don't really listen to children, but they're going to take over from us. So I'm want them to know I'm listening."
Auma Obama, Founder, Sauti Kuu Foundation (above)
"The population is ageing and workforces are shrinking. Japan's workforce has shrunk by 12% since the 90s, so young workforces are at a premium."
Yolande Barnes, Head of World Research, Savills
"The ageing demographic has need, and that is very different to want. Investing in a building is a very different proposition to investing in a people business."
AXA Investment Manager Andrew Ovey
On hospitality…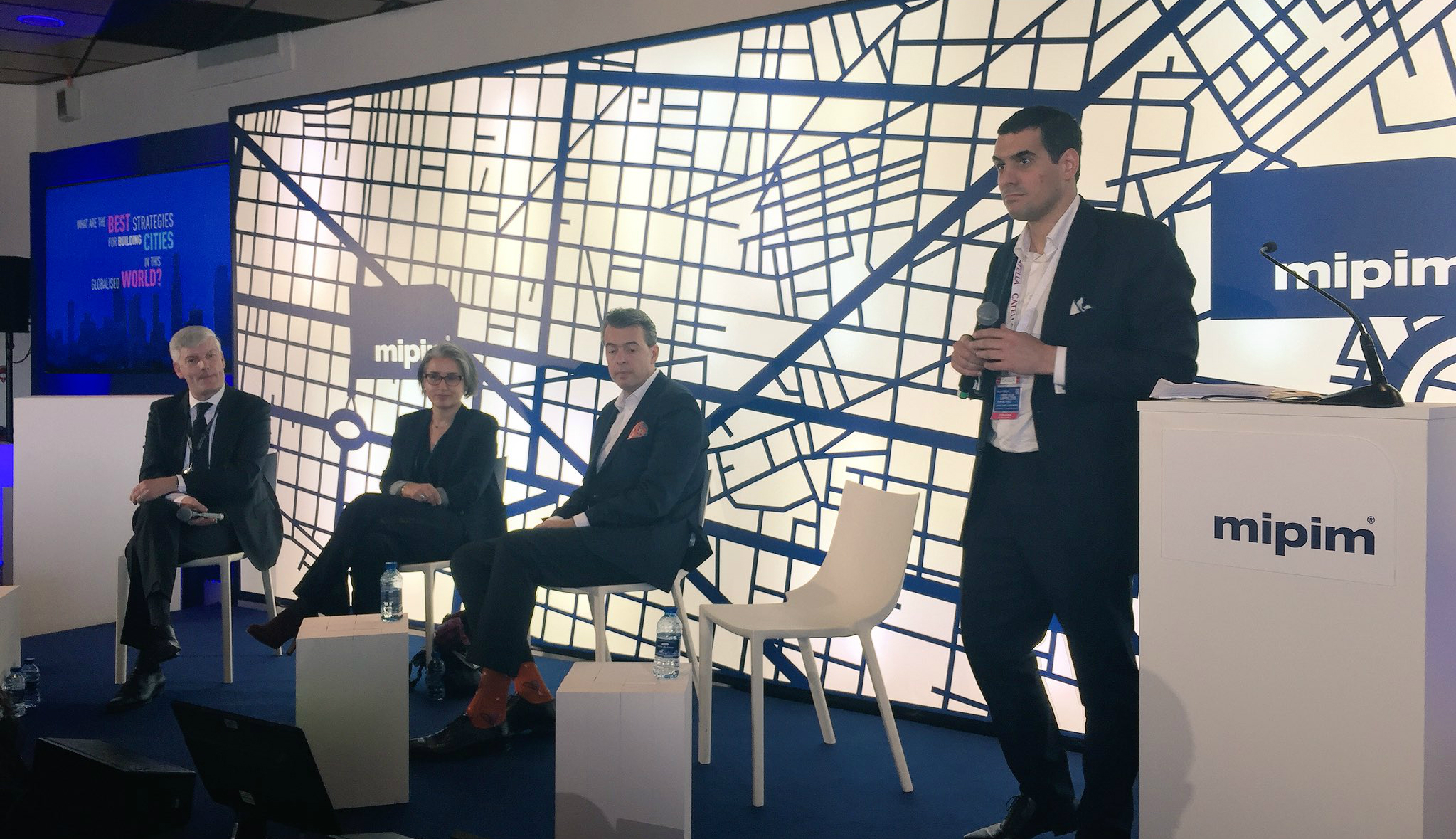 "There's a vast difference between what Hilton Hotels and AirBnB offer. They're a lodging company, and we're a hospitality company."
Jochem-Jan Sleiffer, Senior Vice-President of Operations, Full-Service Hotels, Continental Europe, Hilton Hotels (centre above)
"The future is in big cities for (hotel) companies like Mama Shelter. And everyone understands that quality of staff and great food at reasonable prices are also very important."
Serge Trigano, President, Mama Shelter

On our green future…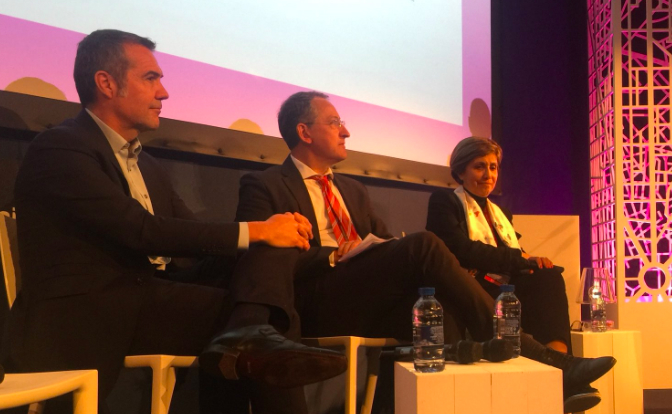 "We don't even talk about waste any more. Everything is recyclable, it's about finding for whom it can be a resource."
Philippe Maillard, Senior Executive VP Recycling & Recovery for Europe, Suez (centre, with Prologis' Francois Rispe and Gecina's Meka Brunel at the Circular Economy panel
"Creating vertical forests on tall buildings is like acupuncture for the environment."
Stefano Boeri of Stefano Boeri Architecti
"For me, luxury is being able to spend a whole day with my kid, or having a whole hour just to listen to the wind. This should be the spirit of new cities, where the biggest luxury is quality of life."
Architect Simone Micheli
And that was most definitely a wrap! Catch up on all the key insights from MIPIM in our daily wrap reports. And see you at MIPIM 2019!
Additional reporting by Gary Smith