Boundless food for thought was on offer at MIPIM's third day. At the inclusion-focused Future of Work panel, for example (top photo), Vinci's Chloe Clair asserted that 30% of jobs that will be needed in coming years don't exist yet. So how can companies best adapt to a diverse future? "You need to oblige your HR and headhunters to have a diverse pool for recruitment," said Clair. "If they always go to the same sources, nothing will change."
This diversity should, of course, include women. 14% of chartered surveyors are female; but it's only 6% in construction," said CBRE's Amanda Clack. But 25% of graduates coming through are female, so there is hope. I think senior directors get the message now. Where it gets lost is in middle management. So we need training, and to listen hard to what really works."
The London Festival of Architecture's Tamsie Thomson, however, warned against some downsides of open space office culture, when everyone can see what everyone else is doing: "Some corporates want to get people to stay in the office longer," she said. "Noone wants to be the first person to leave!"
Earlier in the day, Altus Group's Robert Courteau, Siemens' Tobias Huber and NavVis' Ignacio Perez Hallerbach joined moderator Mike Phillips, of Bisnow, to discuss whether Data is the new RE business driver. It could well be: but how?
For Perez Hallerbach, whose company 'scans' buildings to monitor key data points, there are three kinds of data: "usage: how are things used, movement, where do people sit; maintenance, like pipe temperature; and spatial, so you know what's happening where. There's a lot of noise in data, as you can pretty much capture anything today. The question is how you analyse it."
Huber added that "there also a lot of data from the outside world – like weather – that is underused by the RE sector. There's also tenant data. And of course you have to be careful with privacy issues."
Courteau agreed that when it comes to data, great caution has to be applied with privacy: ​"You get data at all levels, right down to personal use, and that can intrude in privacy, which creates new nuances moving forwards." So whilst data may intrude on our lives, it can also save them, said Huber: "before an earthquake, our systems detected people moving faster than usual on the building's 50th floor, and so alerted us to a critical incident."
In that case, what should real estate players be doing about data today? "Advanced sectors of the RE industry are hiring data scientists," said Courteau, "who really zero in on communities, so you can see in advance how a project might work in a particular neighbourhood."
How can the Internet of Things (IoT) bring a human connection in every building? CoCreations' @LadyGahir, @siemens' @schroederxxx and Schindler's Christian Schulz discussing now, with Silk Road Mktng @JM_Fenner #MIPIM pic.twitter.com/xNAsZ2yAOg

— MIPIMWorld (@MIPIMWorld) March 15, 2018
Similar topics were addressed at the IoT (internet of things) panel later in the day, with panelists notably addressing how connected buildings can help with urban densification. The coming population explosion means "we need to optimise whatever space we do have. So your building becomes a product, as you can measure to what extent your building is used they way you intended it to be used", said Siemens' Daniel Schroeder.
CoCreations' Rajdeep Gahir agreed, saying "you need to make space as efficient as possible, and compensate for less space per person. Less space is okay if I have whatever I need on demand, e.g. more warmth."
Speaking of urban space optimisation, another panel looked into the future of hotels in city settings, with the success story of France's Mama Shelter represented by co-founder Serge Trigano:
Serge Trigano, President, MAMA SHELTER: "The Future is in big cities for companies like ours. There is huge future in urban development. And everyone understands that quality of staff and the food is also very important." #MIPIM pic.twitter.com/tle6Qfp1kL

— MIPIMWorld (@MIPIMWorld) March 15, 2018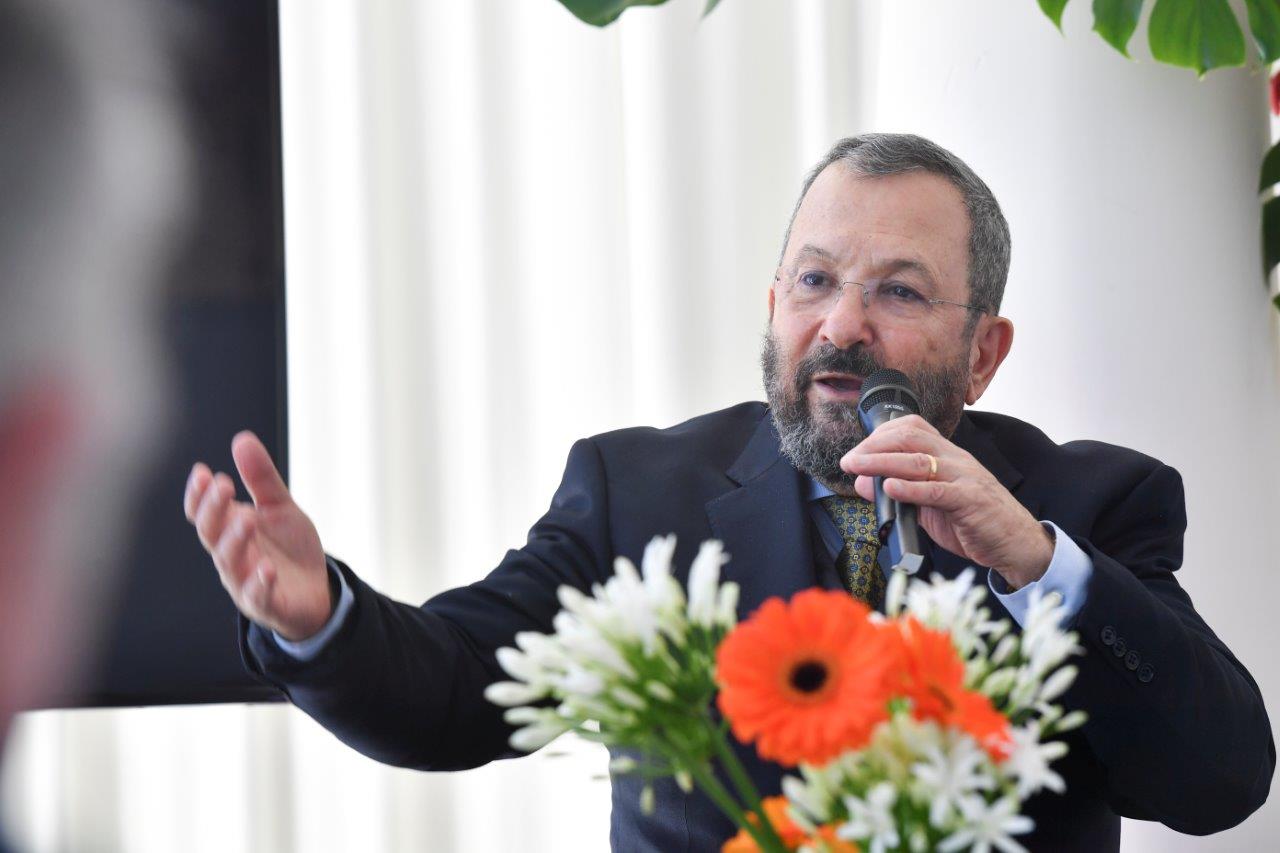 Former Prime Minister of Israel Ehud Barak was also in Cannes as chairman of Carbyne, the company behind a digital platform that assists emergency services in locating callers using modern geo-positioning smartphone functions. He participated in a panel held by Metropole Nice Cote D'Azur, which examined the cities of the future and the evolving needs of consumers. Speaking after the session, he urged city planners and local authorities to pay closer attention to the technological innovations that are improving the way emergency services can be delivered. "Real estate people who develop urban areas have to take [security]into account," he said. "They have to build relationships with local authorities. They have to understand the interactions and challenges of making life flow in cities. Security is an important part of that."
And now for the round table discussions. Happy networking at #MIPIM #PropTech Lab! #MIPIMPropTech pic.twitter.com/x2m67Y3vS9

— MIPIMWorld (@MIPIMWorld) March 15, 2018
According to Brian Kilkelly, Development Lead at EIT Climate-KIC and panel moderator for the Circular Economy: the long-term benefits discussion, a circular economy genuinely creates new jobs and services. "But we still need a significant change in mind set to make it effective," he said.
For Gecina CEO, Meka Brunel, it's not about standing out as a company, it's about the planet: "We only have one planet earth, so we have to look after it. Reducing emissions is a big part of Gecina's strategy, and already our offices are carbon neutral, but there's much more to be done."
Reflecting Brunel's commitment, Philippe Maillard, Suez's Senior Executive VP Recycling & Recovery for Europe, added: "We don't even talk about waste any more. Everything is recyclable, it's about finding for whom it can be a resource. We've all seen all the plastic in the ocean and we've got to that point simply because we don't collect and sort it enough. That said, I'm amazed by how fast things are becoming more positive now."
Prologis is one of the world's Top 100 most sustainable companies, and it is, says MD Francois Rispe, a source of pride. "But there's so much more to do when you consider that 80% of the planet's population will be living in cities by 2050 and all that it entails." The panellists were unanimous that the era of throwing materials away is over, and now we need to see more auditing of buildings and infrastructure before it is knocked down or dismantled.
The quickfire PechaKucha sessions in the Auditorium highlighted some revolutionary ideas around the concept of Future Urbanity, with seven architects showing 20 slides for 20 seconds each, giving each speaker six minutes and 40 seconds to make their case. The reccurring themes were the greening urban spaces, and up-cycling existing city centre buildings instead of demolishing them or building new facilities elsewhere. As Stefano Boeri of Stefano Boeri Architecti pointed out, in a country like China, where 40 million people per year are abandoning the countryside for the city, greening is crucial: "Creating vertical forests on tall buildings is like acupuncture for the environment. It cleans the air and enhances quality of life."
Urban Forestry is Stefano Boeri of Milan's passion pic.twitter.com/eKAjNErAfp

— MIPIMWorld (@MIPIMWorld) March 15, 2018
Another Italian visionary, architect Simone Micheli, admitted that he dreams of a future characterised by spaces: "My idea of perfection is turning complexity into simplicity, and I believe that architecture needs to rediscover its authenticity. I think of it as a form of redefining luxury. For me, luxury is being able to spend a whole day with my kid, or having a whole hour just to listen to the wind. This should be the spirit of new cities, where the biggest luxury is quality of life."
Ron Bakker of PLP Architects wants us to fly up the outside of buildings. "We don't need to organise the world like we did." #MIPIM pic.twitter.com/A9Nt8gqhLM

— MIPIMWorld (@MIPIMWorld) March 15, 2018

Ron Bakker, of PLP Architects, wants us to fly up the outside of buildings. "We don't need to organise the world like we did," he said. "Concrete and steel and aluminium are terrible for the environment; they have to go. Instead we should be using natural materials, and putting all traffic underground, then greening the roads that are currently in gridlock by planting trees."
Further presentations also looked at up-cycling from various points of view, but the overall impression is that our cities are in good hands with visionary architects such as these, pushing the envelope to make all of our lives better and more fulfilling.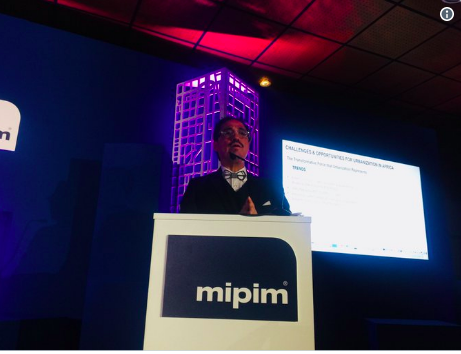 Speaking at the Africa: The Urbanisation Effect seminar, Eduardo Lopez Moreno, Director of research and capacity building at the United Nations (above), affirmed that Africa's rapid expansion needs managing: "It is creating societal issues," he said. "Public spaces, and that includes roads and streets, are not being created. That negatively affects productivity and economic development. Over 40% of new homes are built without planning or permits, so it's clear we need to find ways to balance the growth of cities with infrastructure and in-field development, because African cities are failing to create value capture mechanisms." However, alongside the negative aspects of the African continent's hothouse economies, there are also success stories: "50 million people have been lifted out of poverty in the last few years," Lopez Moreno added. "And this can go much further if we get the underlying structures right. Africa has vast potential."
Africa's Urban Future revealed and discussed by Yomi Ademola, Rendeavour, Eduardo Lopez Moreno, United Nations, Nicolas Willemin, PROPARCO, Frederic Maury, Jeune Afrique. A ground breaking panel for #MIPIM pic.twitter.com/BPIGqF7rlD

— MIPIMWorld (@MIPIMWorld) March 15, 2018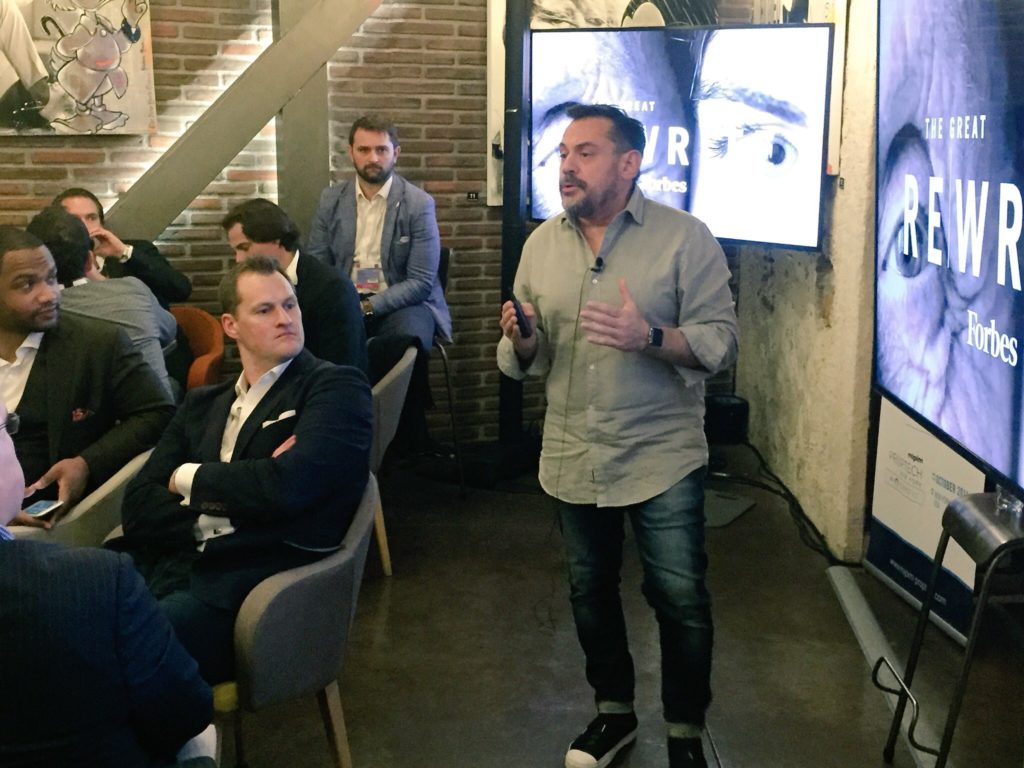 Then it was off to Cannes restaurant The Tube, for PropTech Lab, a networking event around MIPIM's PropTech events. Leonard Brody of CAA/Bosa Properties kicked off with an inspiring keynote.
He began by stating that innovation as a concept doesn't mean anything today. "Terms like disruption are not helpful. They tend to focus on tech and biz models. Whereas it's really about the story of human adaptation," he said. "The big question is, did we create a better civilisation today?"
One of the main issues facing society today is housing affordability, said Brody. "Every urban area is facing critical affordability issues, and cities will have to force affordability controls on luxury developments. Yet the fact remains that we're taking a major shift back from ownership to usage," he said. "Technology alone will not solve these situations; financial engineering that always wins. The invention of the mortgage is one example of that. But in a more general sense, the companies who succeed do so with the things that are about to eat their lunch. The proper model is to be out there with the lions who are surrounding you. In a recession, the innovation groups are the first ones to get fired."
After which, master of ceremonies and proptech consultant James Dearsley handed the floor to a group of fellow RE tech influencers, who animated a series of round table discussions. The future taking shape at MIPIM!
And now for the round table discussions. Happy networking at #MIPIM #PropTech Lab! #MIPIMPropTech pic.twitter.com/x2m67Y3vS9

— MIPIMWorld (@MIPIMWorld) March 15, 2018
And that, as they say, was a wrap… save for the 2018 MIPIM Awards, whose winners you'll discover right here, very soon!