MIPIM's 2018 edition got underway this afternoon with a mind-broadening keynote from 20 year-old youth advocate Adora Svitak, followed by a high-level panel featuring Auma Obama (Barack Obama's half sister) alongside leading private and public real estate figureheads. Their common theme: Urbanity, and establishing new rules for new cities. Why? Because 50% of people now live in cities; some of which are now worth more than certain countries.
For Adora Svitak, "Urban design is not just a logistical one but a moral one, as cities hold up a mirror to our soul. My peers are among the most socially conscious people I know," she said, giving the example of recent youth protests against the NRA in the US, following the Florida school shootings.
"The #vanlife hashtag, for people who have chosen to live in camper vans, gets nearly 3 million mentions on Instagram," said Svitak: proof, for her, of how young people want to live alternative lives. "Affordability is also key to appealing to millennials," she added. "Housing needs to be accessible to the quintessential 'starving artist'."
So where does Svitak find hope for cites? In what she calls public goods. For example, groups of fans of trends like scraper bikes, "an alternative to gang participation" in some US cities; or maker spaces, where tinkerers gather to work on projects with shared equipment, for example in Sao Paolo. "These are public goods that bring new value for cities. And we all want to see a world that's getting better, not a city we're scared to walk into," said Svitak.
"The loneliness associated with urban development can be catastrophic," she added, noting that the UK has just appointed a minister for loneliness. "Young people are just as affected by this as older people are," she insists. The solution? "Build accessible spaces for people from the cradle to the grave. And involve youth as global stakeholders in city development," she insisted, "as they have the most to gain, and the most to lose."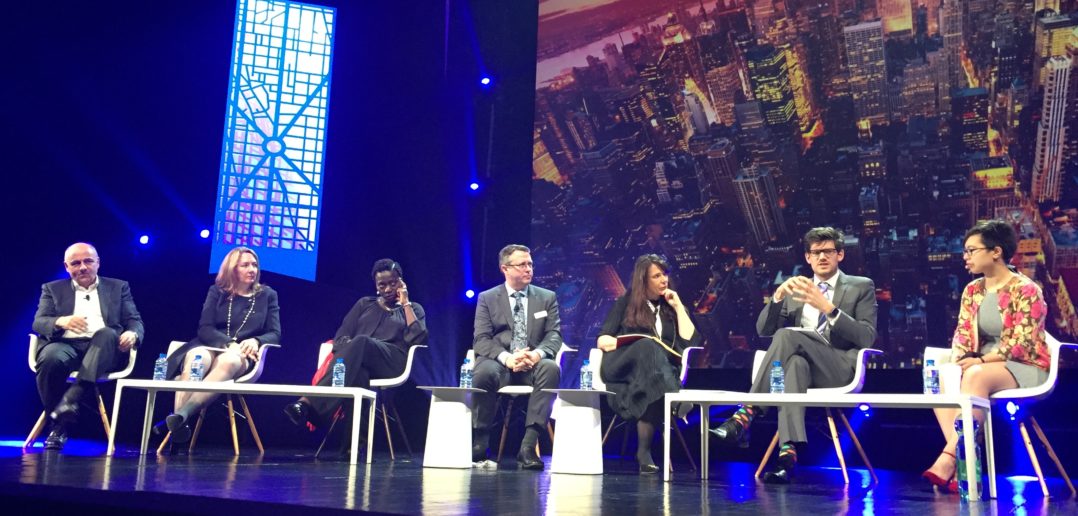 The following Thinkers and Leaders panel (above) featured Auma Obama, of the Sauti Kuu Foundation (and Barack Obama's half-sister); C40's James Alexander; CBRE's Amanda Clack, Lennar's Chris Marlin; the OECD's Debra Mountford; and Paris' Deputy Mayor Jean-Louis Missika, who joined Adora Svitak to come up with new urban rules.
"One of the biggest challenges facing cities is climate change, says James Alexander. "As buildings are the biggest contributors to global warming, all buildings should be zero emissions by 2030. This is a challenge, but also an opportunity." Clearly business as usual is absolutely not the solution. "It can't just be up to mayors to build the cities of the future," he added. "We need leadership on this to come from multiple angles."
According to the OECD's Mountford, a successful city is one that is capable of being collective. "The poor have always lived in the worst parts of town. So we have to think about who the city is really working for? How are we going to make cities more affordable?" Lennar's Marlin agreed: "Affordability of housing in the US is a challenge we face on a daily basis," he said. "You can sometimes feel like the bad guy as the private sector," added Marlin. "But we're all in this together. We have to be innovative and focused; if not, we'll become a horse and buggy company."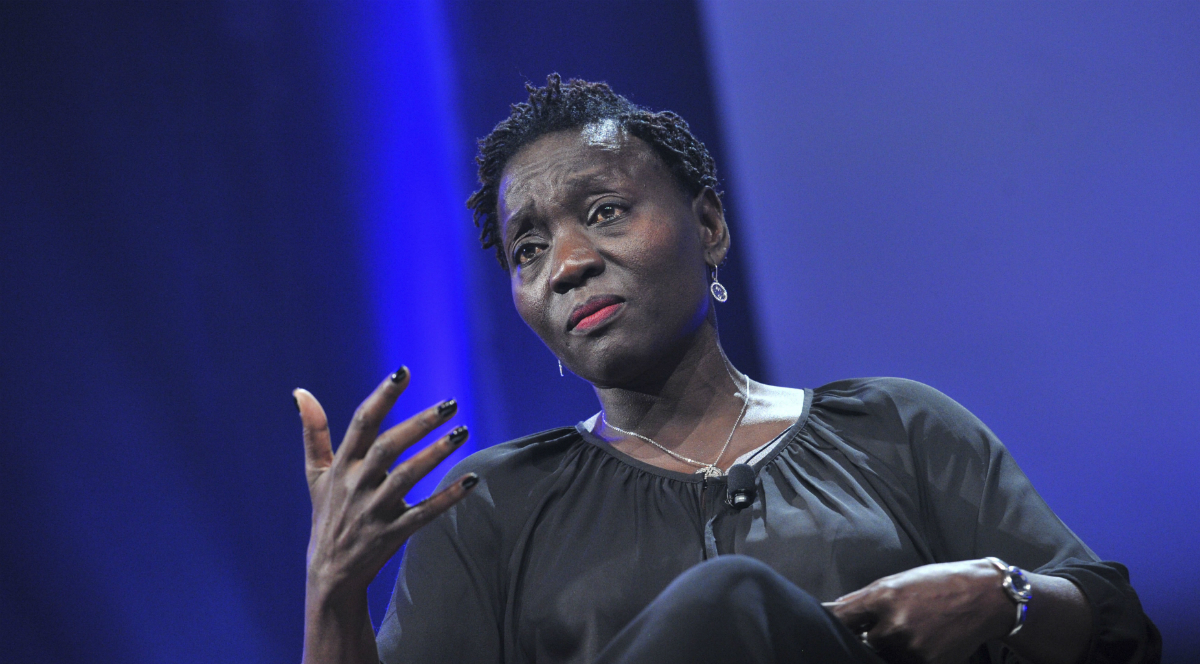 Obama (above) also spoke powerfully on behalf of the many disenfranchised whose voices are not heard. "I remember the frustration I felt at not being called to the table as a kid. As adults, we don't really listen to children. But they're going to take over from us, and so I'm want them to know I'm listening. If we listen carefully, the answers are there."
One set of needs to listen to is that of rural communites, urged Obama. "Yes, let's build those buidings that win us awards," she said. "But let's also allow rural people to live as well as urban ones; then you'll solve the problem of slums. People should not be living in slums. They should be ensured jobs that allow them to buy the houses you make."
Then, tasked by Svitak to complete the phrase "Great cities are…" in 1-2 words, the panelists gave the following responses:
Amanda Clack: people-centric
Debra Mountford: fair (as in shared wealth)
Jean-Louis Missika: inclusive & relevant
Auma Obama: affordable & (with accessible) ownership
James Alexander: sustainable (socially, economically and financially).
Chris Marlin: energetic.
Food for thought indeed!
Next, the Self Driving Cars: bringing a new face to our cities panel featured Carlo Ratti of Carlo Ratti Associati, CARMERA's Gupta Ro, and Martin Reeves of Coventry City Council. The proceedings started with Ratti riffing on how you mess with the 'mind' of a driverless car. "Should you pass a law to stop people harassing driverless cars by jumping in front of them? I think we might need to," he said. "So we will need intelligent legislation about many aspects of these cars. But the big point here is that they will change our cities massively by changing the entire structure of how we work, how cities raise revenue as they will lose most of their parking levies, and even how insurance companies work."
Self-driving cars are widely predicted to change our cities in profound ways. Conference featuring @ro_gupta, @SenseableCity @martinrreeves and @PeterGrantwsj
In the Creative Trends room starting now #MIPIM pic.twitter.com/bgEh8IR9l0

— MIPIMWorld (@MIPIMWorld) 13 mars 2018
Reeves agreed: "Driverless cars will totally reframe the way people think about cities, and they will require massive regulatory changes. For example, the appalling way that electric cars were ignored and the lack of forward planning around them is a great example of what not to do. So we do have an opportunity to rebuild our cities in a way that helps driverless cars and takes into account the lifestyle changes they will create."
Gupta, whose company makes the highly detailed maps used by driverless cars, sees opportunity in the changes local authorities are facing: "First, you have to be prepared to provide access to the data you collect, so there is real benefit for the authorities, then they will be much more willing to help with the development. But looking further down the road, we will be thinking much more about the convertibility of the buildings we build, as driverless cars change the ways in which city centres function."
Senior citizens constitute a growing percentage of the global population. Where are the emerging l#opportunities for our industry? Find out with @whitearkitekter, Alessandro Sparaco, Joe Nahar, @Aedifica starting in the Market Trends room now #MIPIM pic.twitter.com/XMIrGCClLc

— MIPIMWorld (@MIPIMWorld) 13 mars 2018
In Seniors: the new age in urban space, panelists discussed how vastly better healthcare has created a new breed of older person. "93% of the over 75s in Sweden are in good health", said Susanne Clase of White Arkitekter, "and that has led us to create a new category, called the 3rd age, where people are old but independent. Then the 4th age is where their dependance on others is growing. But it's very important to respect the fact that everyone who works in the senior sector needs to have empathy and be able to understand how it is to be older," she said.
The question of renovating, rather than building new, bespoke housing for seniors also came up: "Senior housing is not just one kind of space any more," Alessandro Sparaco of Threestones Capital Management, said. "And we are seeing considerably more investment in the sector now compared with a few years ago, but converting old properties is very complex. As are regulations which can vary from region to region in the same country."
Now on in the Main Room: "World Economy: creating a new ecosystem", with @OECD's Rudiger Ahrend, @Savills' @Yolande_Barnes & Control Risk's @Charles_Hecker. Barnes Media Int'ls Richard Barnes moderates #MIPIM pic.twitter.com/iCqck1Snqz

— MIPIMWorld (@MIPIMWorld) 13 mars 2018
A specialist panel, entitled "World Economy: creating a new ecosystem", then dug into the macroeconomic trends set to shape the real estate industry moving forwards. For Savills' Yolande Barnes, demographics should not be ignored: "The population is ageing and workforces are shrinking," she said, adding that Japan's workforce has shrunk by 12% since the 90s. "So young workforces are at a premium, and that's putting a new value in human beings."
For Control Risk's Charles Hecker, "Globalisation isn't over: it's on hold. For the economics to work, the politics have to be right too. We're entering a period of uncertainty. Think about populism, China, the Middle East… If there's one thing business doesn't like, it's uncertainty."
Whilst the OECD's Rudiger Ahrend cited the growth of digital tools as a major economic productivity booster, his key concern is "global warming; or how a lot of cities will go under (the sea)" in the not-too distant future. "There's huge potential for deplacement of populations; l'm much more worried about that than trade," he said.
At the panel covering the PwC and ULI report into New Market Realities, there were some surprising and contradictory revelations. On the one hand, risk management is front of mind for many in the real estate business; on the other hand, only 10% of CEOs believe that the industry will be seriously disrupted, compared to 38% in other sectors. The ULI's Lisette van Doorn said: "People are not expecting a major slowdown, but risk management is an every day consideration, and acquiring assets that won't cause too much damage if it all goes wrong is important."
It was also revealed that second-tier cities such as Copenhagen are attracting significantly more investment due to high prices in the top-tier.Referring to changes in his native Germany, Ralf Buch of Vonovia said: "There is a structural imbalance in supply and demand caused by behavioural changes in German cities. Ownership ratios are going down because everyone wants to live in cities."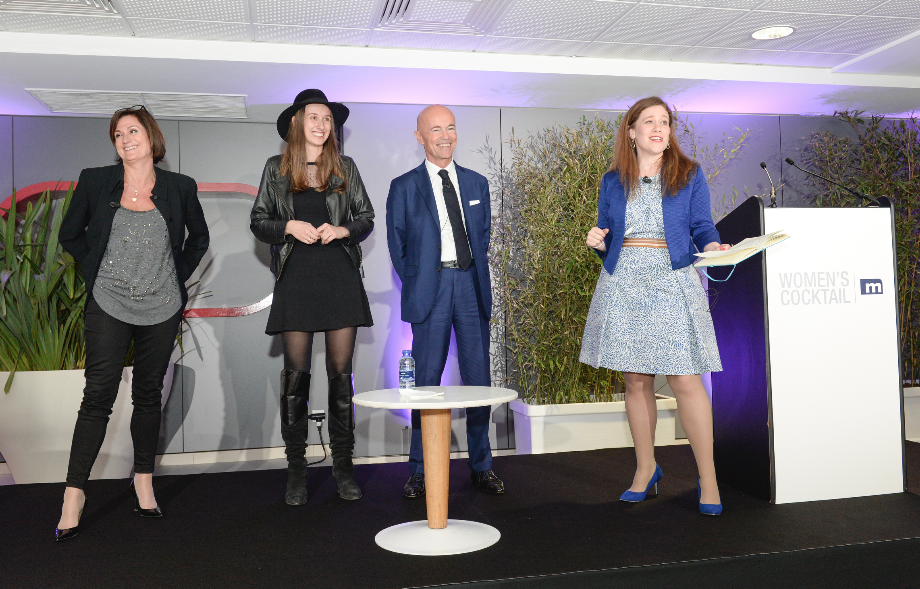 Finally, MIPIM's third annual Women's Cocktail honoured female real estate professionals, with a panel featuring Workwell's Marie Schneegans, BNP Paribas Real Estate's Thierry Laroue-Pont, and Ivanhoé Cambridge's Nathalie Paraditcheff, who affirmed: "I'm a Mother and professional, in that order! Men choose all the time, and I think women should too. When there is a will there is a way." The Places for People Group's Alexandra Notay expertly moderated. More photos on Twitter, right here!