Legendary architect Jean Nouvel gave MIPIM's closing keynote today, discussing new Brazilian project Cidade Matarazzo, with project founder Alexandre Allard. This multi-faceted, 135,000 sqm  regenration project in Sao Paolo includes 2 hotels – 1 designed by Philippe Starck, who calls it a "dream place" – offices, a chapel, a "creativity boulevard"… and a tree-infested tower, by Nouvel. It is due for completion late 2019.
Nouvel called the site an "urban oasis", so like a "reappropriation of space. The first option was to create a building of similar density to this around it. Contextualism isn't copying what's around you, but rather bringing value to it. That's where we got the idea to give the project extra life, by incorporating nature. We saw that vegetation could be a logical way to show belonging to nature. Nothing like this French tradition of sticking parsley up your nose!"
As such, Nouvel's 93 metre high tower is accompanied by local trees up to 19 metres tall each, selected and flown in especially. And though it is a luxury development, it has a decidedly egalitarian guiding principle, said Allard: "The entire project experience will be controlled by an app in which prices vary depending on your income, so if you're rich, you pay more and vice versa. The original hospital we're building upon worked with the same principle." More details in our livetweet of the session, here.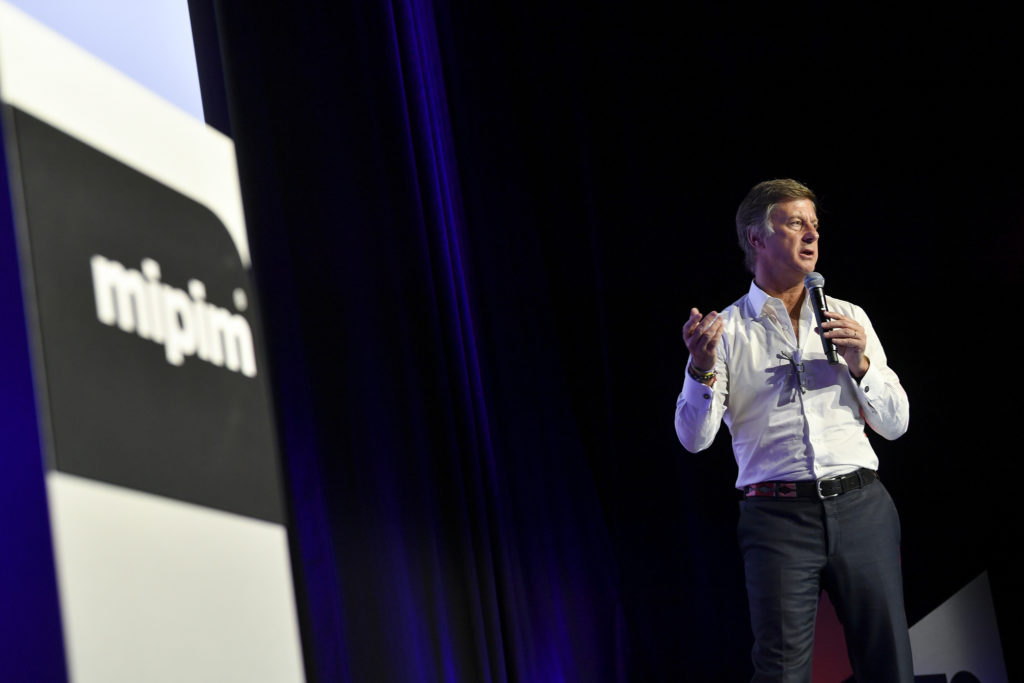 Sebastien Bazin of Accor kicked off How Hospitality Engages the Future with a fantastic keynote speech about innovation and the divergence of sectors:
On how to increase better insight into the industry he said: "You have to increase data points in order to monitor interaction with your guests. This knowledge will help you succeed within the industry. I call this 'augmented hospitality'. Companies like Airbnb, Expedia, and Kayak. Although, at the moment there is three things that customers want and that is: 1. Culinary, 2. Entertainment, and 3. Sports. That's a sneak peak!"
" I'm concerned about Amazon. Amazon is the only sizeable company totally independent from Google Search. Amazon's Alexa device is recording everything! Soon enough it will interfere with your life without you asking it to. It will wait for you to be in the kitchen with your wife and kids advising you where to go and what to do!" advises Sebastien Bazin.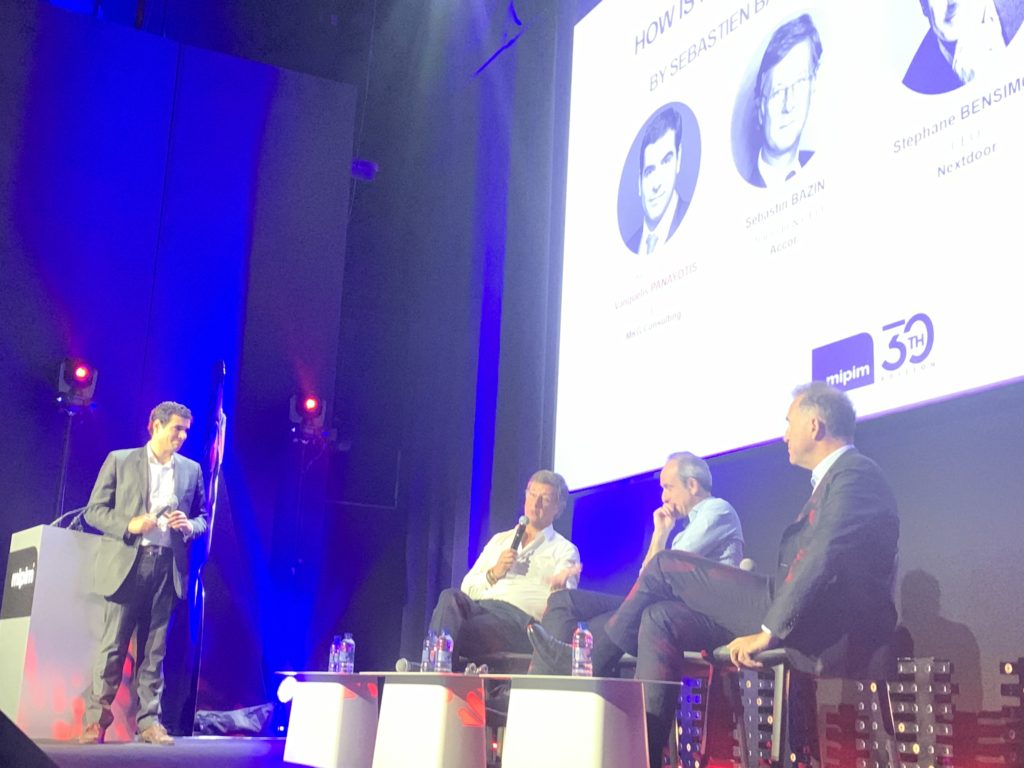 Sebastien Bazin introduced the panel with experts Vanguelis Panayotis, Stephane Bensimon, and Pascal Minault.
On the convergence between the office market and hospitality Pascal Minault said "With regard to what's happening in the commercial office market: 10 years ago we refurbished for energy efficiency. Now we see a new wave of refurbishment because the office environment is no longer attractive to talent. People want a service, and flexibility – this is the new transformation"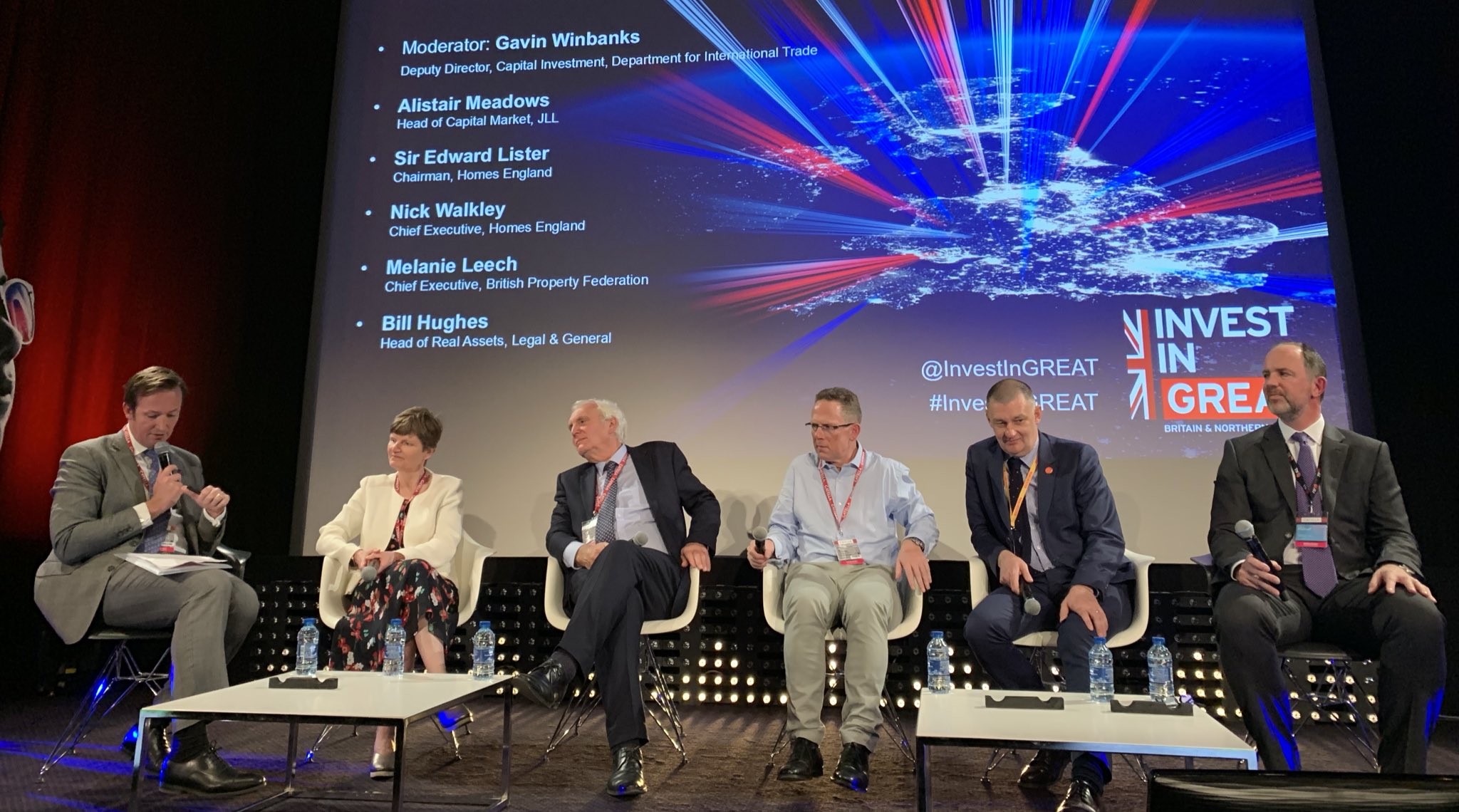 Then a high-level panel, Investing into the UK – A Long Term View, looked at the UK's post-Brexit investment potential, with resolutely optimistic conclusions. "It's worrying to read headlines like today's 'Brexit Meltdown'", said JLL's Head of Capital Market, UK, Alistair Meadows; but despite this, China, South Korea and Middle East all set to be major investors in UK in 2019.
"Short term uncertainty is there, but the long term outlook is more positive than before. The UK will continue to be an attractive place to invest in the long term," said the BPF's Melanie Leech, citing a recent member survey.
Sir Edward Lister, Chairman of Homes of England, was resolutely bullish: "You can see the massive demand (for homes) that's out there. So ignore Brexit, the demand is there. And where there is demand, there is "opportunity for investment", concurred colleague & Chief Executive Nick Walkley; "right across the UK."
"The capital potential is twice what it was a few years ago", said Legal & General's Bill Hughes. "And that is only growing as pension funds look to de-risk."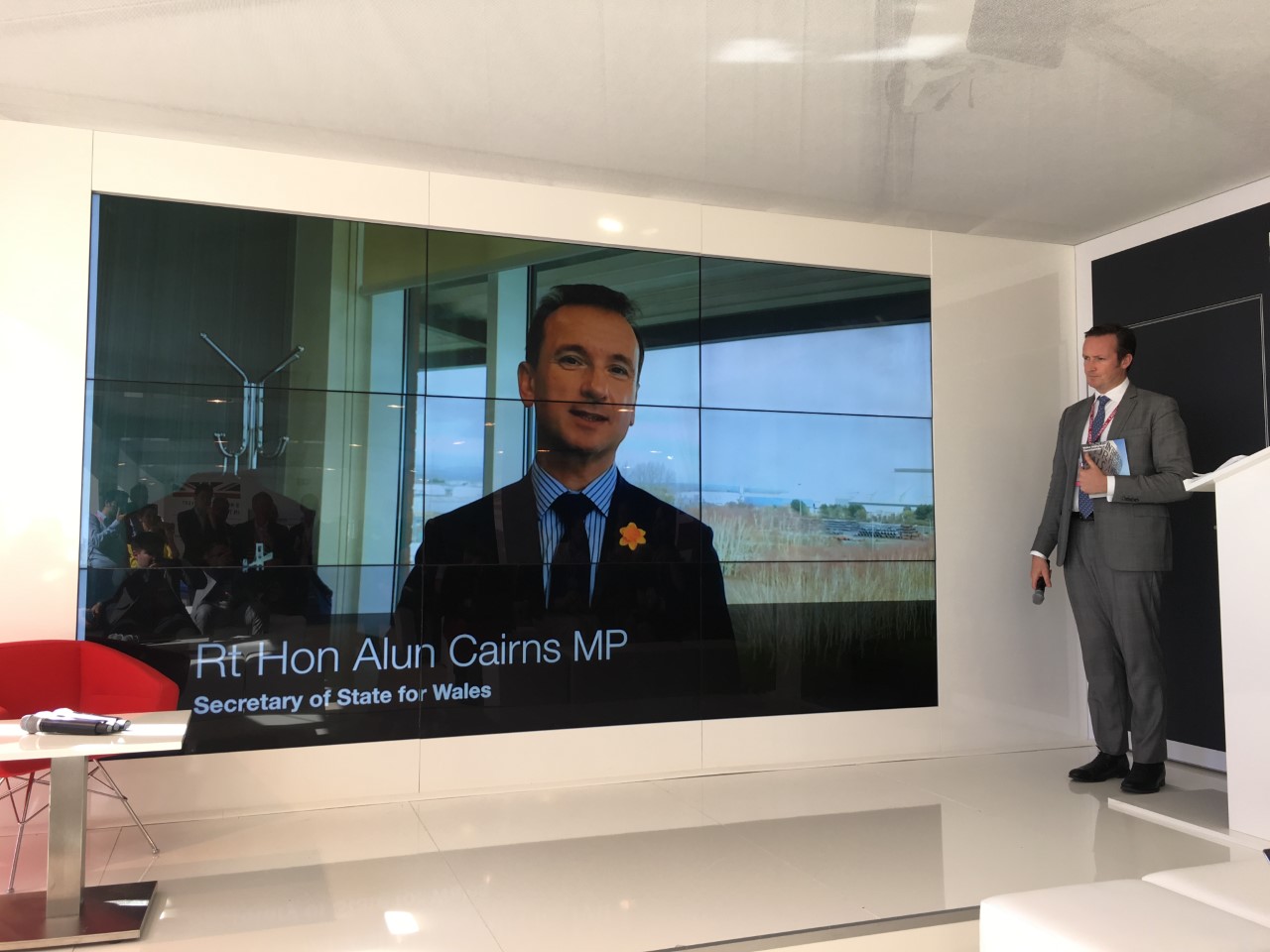 Speaking via video at the launch of the Wales investment portfolio at the UK Pavilion today, the Rt Hon Alun Cairns MP, Secretary of State for Wales, said "Wales is one of the most dynamic economies in the United Kingdom and this year we've developed a portfolio of capital projects deliberately to highlight the great opportunities there are to invest in Wales."
Graham Stuart, Minister for Investment at the Department for International Trade also addressed the audience via video. "As the top destination for foreign investment in Europe, our message at MIPIM 2019 is loud and clear. The UK is open for business. I'm delighted today formally to launch the Wales Capital Investment Portfolio, the Department for International Trade's first bespoke investment portfolio for Wales."
"The projects outlined in this new portfolio demonstrate the diversity of investment opportunities Wales has – spanning a variety of sectors including office space, retail, PRS, leisure, residential and student housing. Wales is a brilliant destination for investment and has a strong offer for international investors.  It boasts a highly skilled workforce, world class universities, an international airport with strong links to global markets, strategic access to major ports along its coast and a strong record of successful capital investment."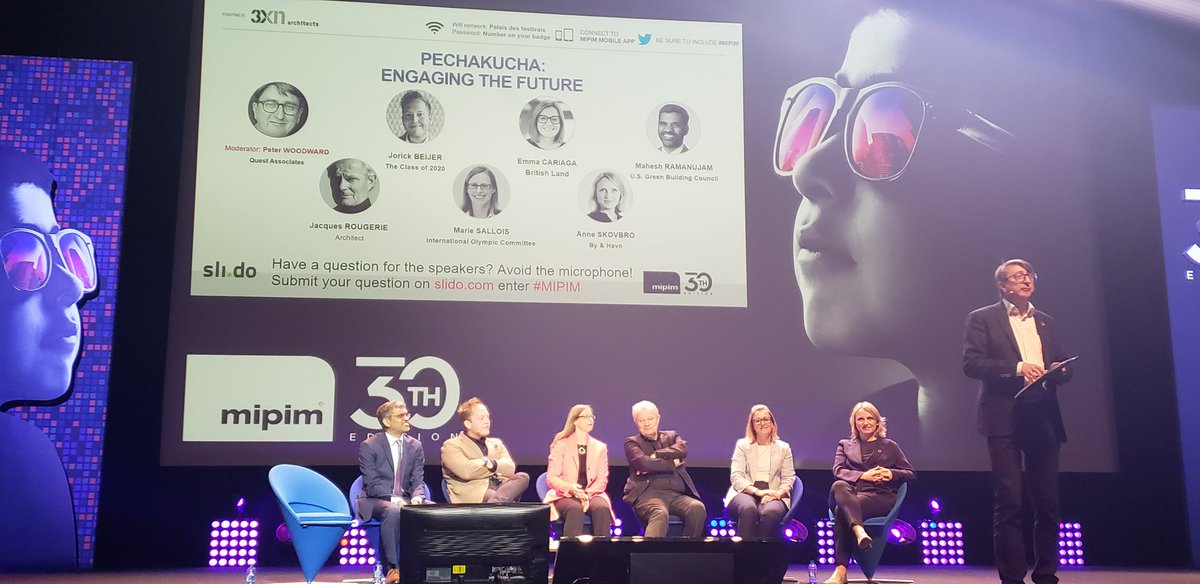 One major highlight of MIPIM's third day was the now-traditional PechaKucha session, in which six presenters had 20 slides, and 20 seconds per slide, to give their vision of this year's theme, Engaging the Future. Crowd voting afterwards elected architect Jacques Rougerie's as the best presentation. You can check out an extract here, and click below for full livetweets of the session:
Our fourth #pechakucha session from architect @JacquesRougerie is about creating new ways to live and engage with the ocean. #MIPIM pic.twitter.com/42evGWLSna

— MIPIMWorld (@MIPIMWorld) March 14, 2019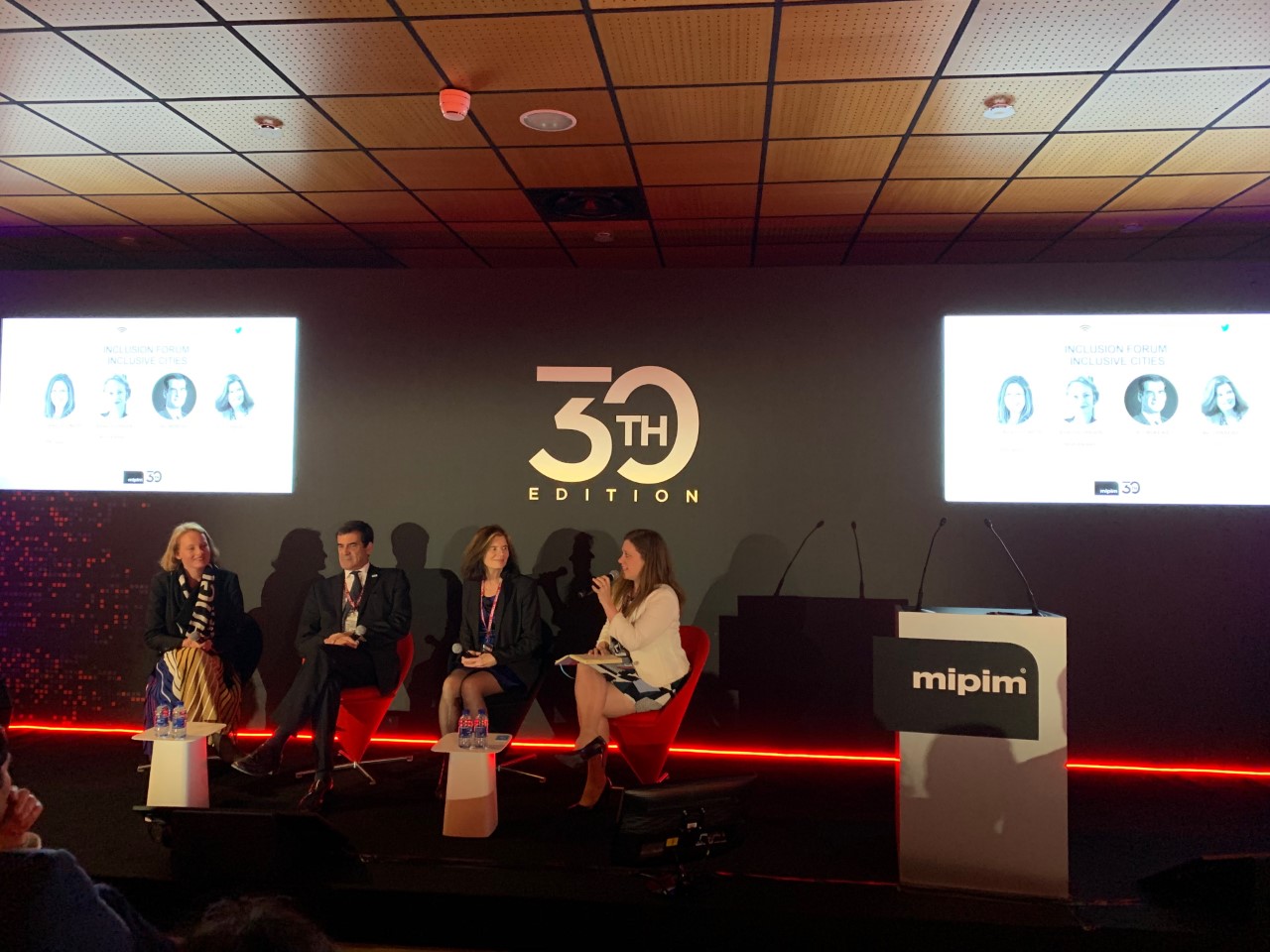 "Inclusion Forum: Inclusive Cities" was moderated by Alexandra Notay of PfP Capital, with panelists Bea Sennewald of Article 25, Rui Moreira as Mayor of Porto Spain, and Alexandra Hagen of White Arkitekter. 
Notay opened the discussion by pointing out that "There is a lot of evidence that black and minority communities have very different needs." Alexandra Hagen named the 4 keys to an inclusive city: 
1. "Be a city that provides housing for all levels of income." 
2. "Inclusive cities need to have attractions throughout the city to connect people, not just in city centers." 
3. " Connection on a local scale for transportation is important, not just the large scale transportation that is focused on." 
4. "Invest in beauty and in architect. It is important to build a brand for your city and make the citizens proud to live there."
Rui Moreira agreed that "Rebranding the city and making the citizens proud is very important." He says the main words he hears when asking what people want to see in their inclusive cities are "Comfortable" and "Interesting". People should feel like they are owners of the entire city, not just their neighbourhood. One solution that Porto is exploring to increase affordable housing for the middle class is leasing city land for long terms to private investors with tax benefits if a percentage of the land is used for affordable housing. "The city is a fruit salad: It's better if everything is mixed."
Bea Sennewald is focused more on building cities in much poorer areas, where shanty towns pop up and spread rapidly. She said the investment focus in these areas should not be to build homes or supply power, as these will evolve over time on their own, but "the biggest needs are transportation, water, and sanitation infrastructure."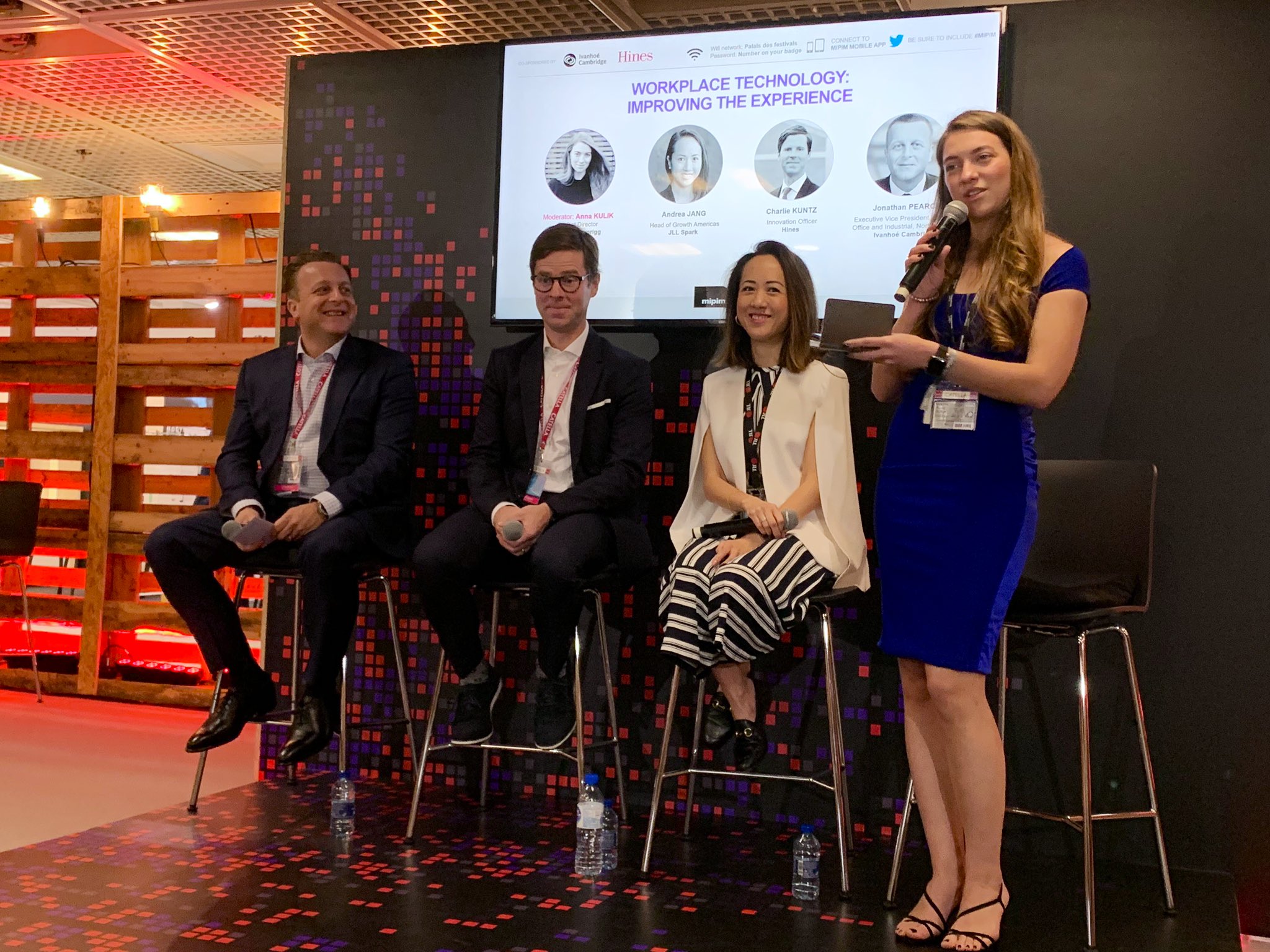 Two future-focused sessions lit up the Innovation Forum at MIPIM this morning, looking respectively at workplace technology and millennials' expectations with regards to spaces and property. Scott Brownrigg's Anna Kulik, one of MIPIM 2019's 'Young Leaders', moderated both panels.
"Live-work-play is really being embraced now," began JLLSpark's Andrea Jang on the former. "An office is no longer a cubicle and a computer. People want to communicate. Everything should be available and easy to use, like at home, for example with Alexa."
"There's a lot we don't know about how spaces influence people," said Hines' Charlie Kuntz. "A study (of one of our properties) found the more you reduce natural light, more sense of air quality and overall comfort decreases. So there are areas that we're just discovering now that sensor tech is more accessible."
Landlords operating workspaces, like Hines and Ivanhoé Cambridge, are "more like five star hotel owners now, offering services like concierges," said the latter's Jonathan Pearce. "Personal and work life lines have become blurred. Anything we can do to remove friction and return time to employees is imperative." Such innovations are also, he added, "key for attracting tenants. You've got to do it, or you'll be left behind."
"New Multigenerational Expectations: Rethinking Spaces" followed soon after, with Kulik, Pearce and Kuntz joined by millennial specialists Savannah de Savary from Built ID, and Bastien Dolla from Habx. "Millennials are buying properties (not just renting)," said Dolla, explaining research led by his firm. "Value for money is their first priority; second is their parents, whom they're still very influenced by, and dependent on for down-payments; third is being listened to; and finally, they want seamless experiences."
Dolla also said that his company's first source of marketing today is Facebook, but that isn't unique to millennials. What is, is how to communicate with them. "Gen Z & millennials don't feel the difference between face to face and written interactions (whereas Gen Y does)," said Dolla. "For them, interacting through a messaging app is real interaction."
De Savary agreed that when it comes to the workspace, "it's not just about millennials. We can work from home, so you have to want to go into the office. It needs to be an engaging environment where people feel more productive."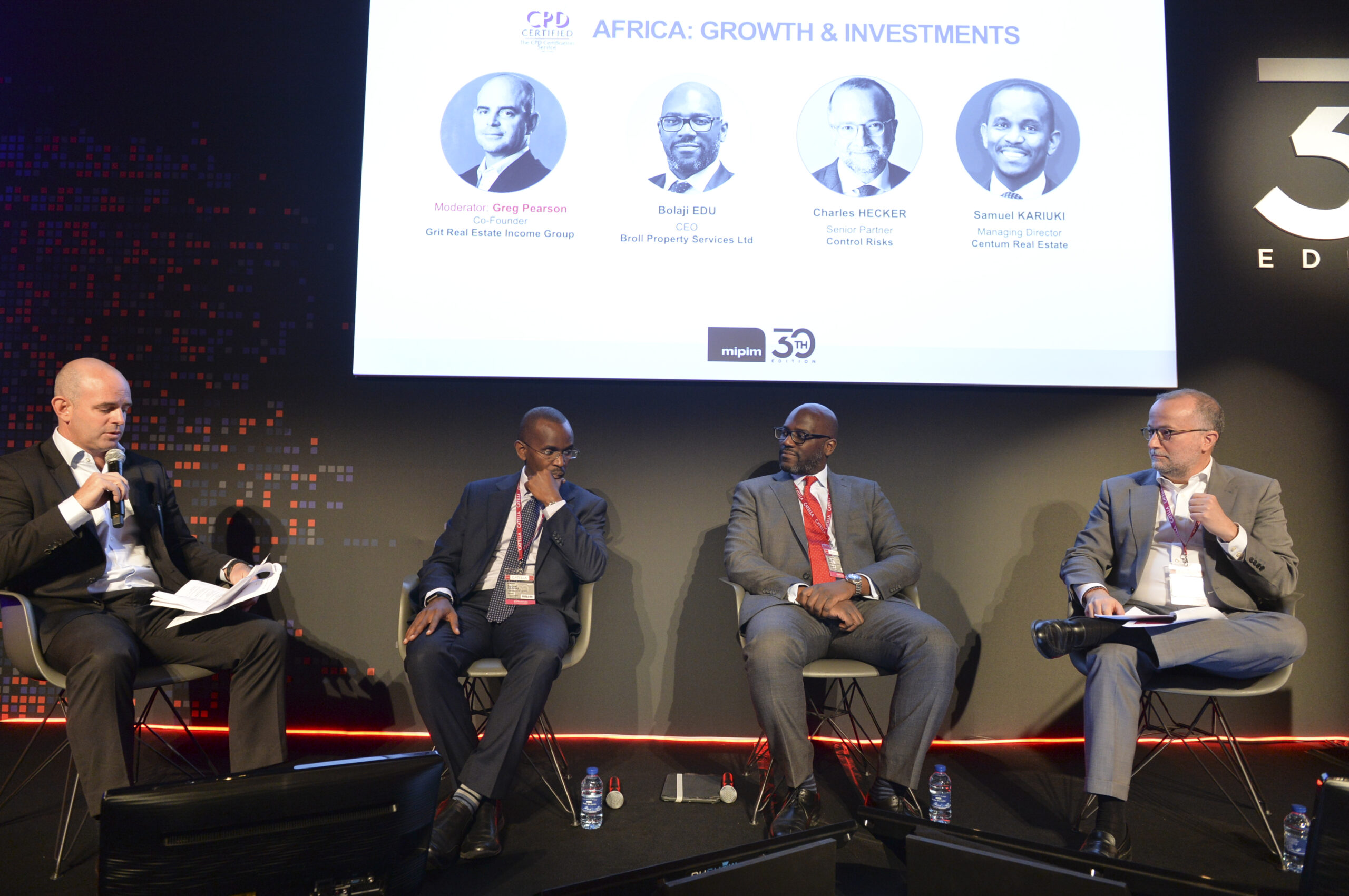 Control Risks' Charles Hecker (right above) kicked off today's Africa: Growth and Investments panel by saying that nowhere in the investment world is the cliché "high risk/high reward" more appropriate than Africa. Africa is the youngest and faster growing continent with over one billion inhabitants. This number is expected to double by 2050. "In continent with poor infrastructure, economic and political volatility and a perception of widespread corruption, investors must carefully calculate the risk of investment and mitigate the risk through very thorough due-diligence and proper partnering."
"The African countries cannot rely on China to develop its infrastructure", said Greg Pearson of Grit Real Estate Income (left above). "Each country must take responsibility for the effort to develop their infrastructure. Taking on partners to assist in this effort is fine, but each county must initiate the process and not wait for outside entities to initiate the process."
"In Nigeria, the private sector is actively involved in taking the initiative for infrastructure development and not waiting for the government," said Bolaji Edu of Broll Property Services (centre right above). In the eastern African countries, "the government is very active in their infrastructure development", said Samuel Kariuki of Centum Real Estate.
"Africa is the last frontier", concluded Pearson. "Investors need to work with the right partners at all levels and make sure interests are aligned for all of the partners. Due diligence of each person and each entity with whom you will work is essential."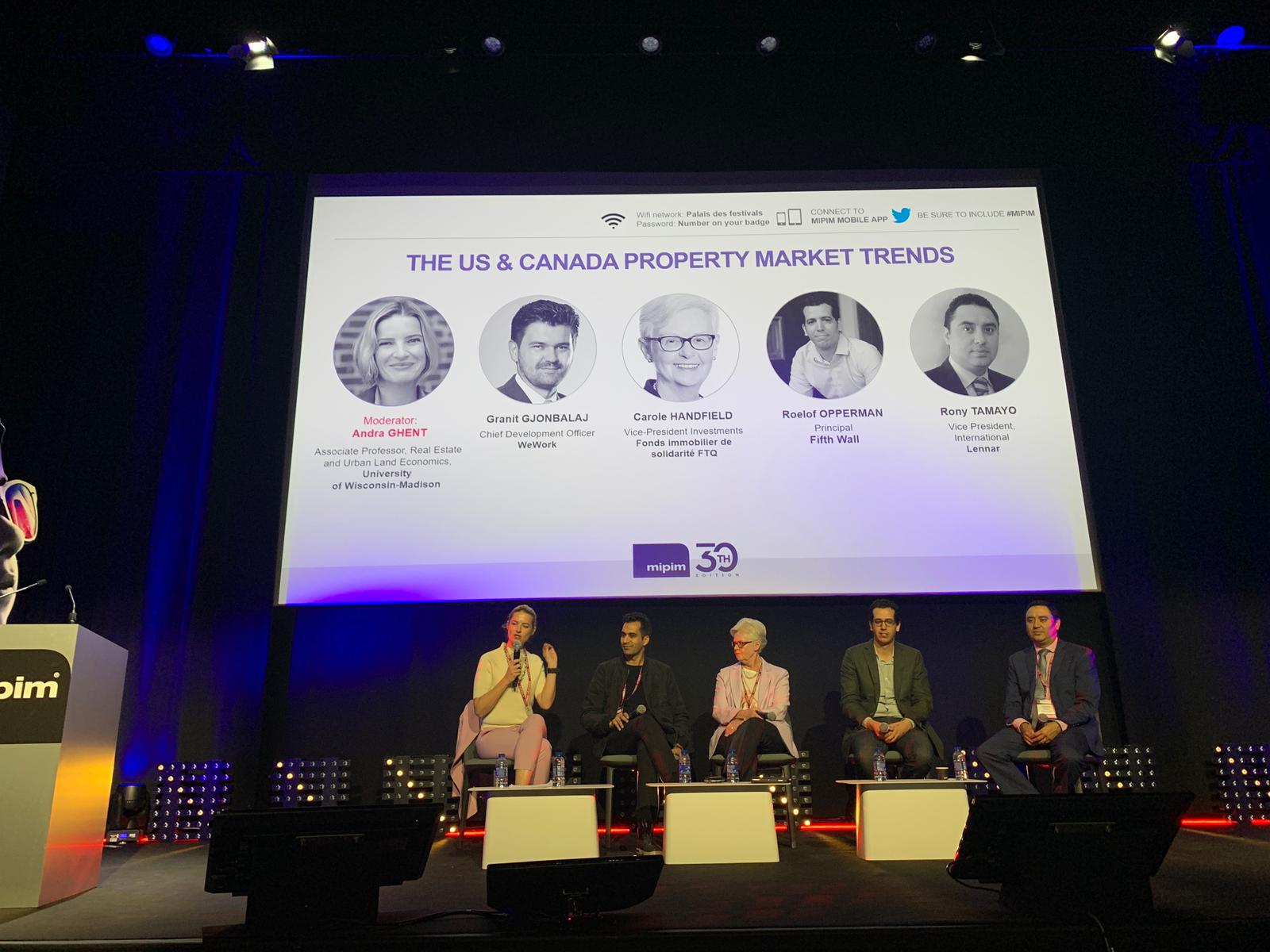 The "US & Canada Property Market Trends" panel was moderated by Andra Ghent from the University of Wisconsin-Madison and featured panelists Arif Shah from WeWork, Carole Handfield from Fonds Immobilier de Solidarité FTQ, Roelof Opperman from Fifth Wall and Rony Tamayo from Lennar.
When asked about the impact of international investment taxes recently applied in Canada, specifically in Vancouver and Toronto, Carole Handfield said that "the capital flow, especially from Asia, has now significantly shifted elsewhere, such as cities like Montreal, Seattle and other cities in the US south of the Canadian border."
Building up on this point, Roelof Opperman commented that "capital controls within China have had capital implications in the US. Brexit and other international issues like the one in Venezuela are also affecting global capital flows." Giving a specific example, he stated that "Private equity funds like Blackstone have raised massive amounts of money. The tremendous amount of capital on these funds has surpassed the quality of assets available out there, and this might be the reason why we are seeing cap rates go up."
Other topics addressed by the panel are related to competition among cities to retain talent. As Arif Shah pointed, "people like to live and work in the same area and this has an impact on retail as well. Today, the decisions of one company to choose a city over another also impact the decision of other companies to join the same space." Rony Tamayo from Lennar added that "many people that are in Silicon Valley are seeing opportunities in cities like Austin and Denver because new companies are coming and therefore, new job opportunities."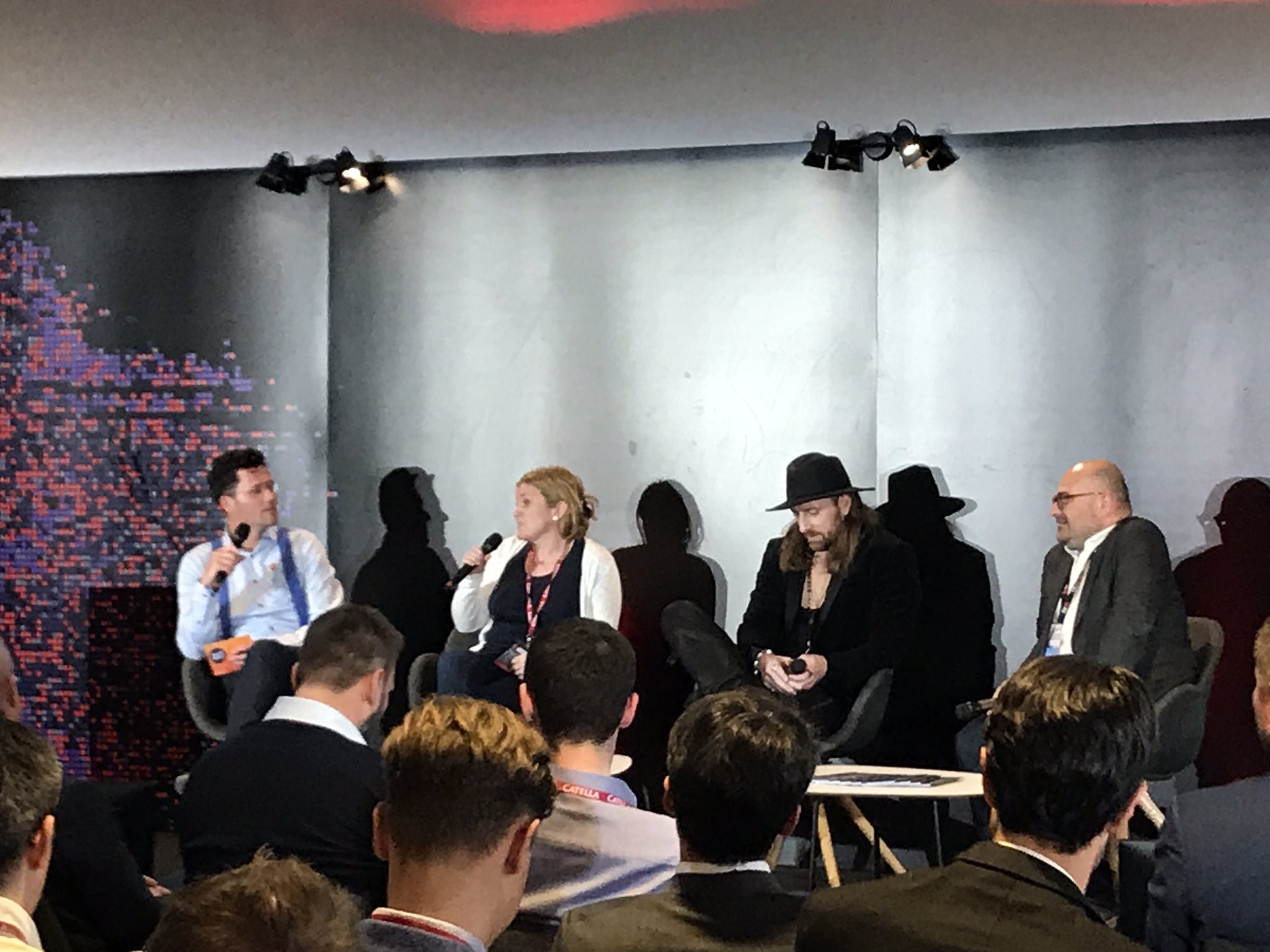 Then a packed day concluded with PropTechLAB, a special inspiration session around real estate and tech. 'Business philosopher' Anders Inset began, by inciting the audience to think outside the box: "Find the needs of your clients by talking to other people and disciplines." Then WeWork's Mary Finnigan insisted on the importance of open collaboration: "70% of our members collaborate between themselves. And that's our mission: make people collaborate, and how to improve that." This was followed by a panel discussion featuring JLLSpark's Tanguy Quero (right), moderated by Holland Contech's Wouter Trouffino (left). Boundless inspiration to end an incredible MIPIM!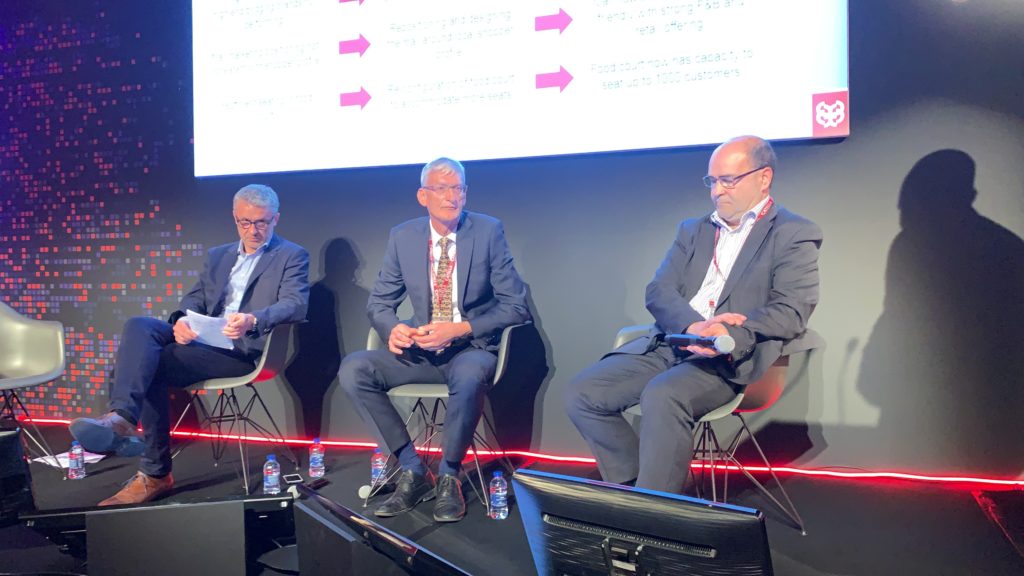 There was an interesting series of investment panels throughout the day focusing on MENA and Europe, bringing together experts internationally to discuss investment opportunities. Speakers included Jerome Berenz from Allianz Real Estate, Jim Costello from Real Capital, Andrew Wrobel from Emerging Europe, Simon Hughes from Liquid REI, Iri Amirav from Skyline AI, Guillaume Fiastre fro, Altus Group, Steve Silam for Leaseum Partners, Anthony Gahan from IPSX Property, and Chinwe Ajene Sagna form Rendevour.
"When you gather so much data you have so much information on the market meaning you can get very granular. We are now moving away from just technology in the industry to a whole new industry of technology to make best use of this data." Said Iri Amirav from SKYLINE AI.
"Everyone thinks blockchain brings more transparency, which isn't necessarily the case,"  said Steve Sillam from Leaseum Partners. It brings more efficiency. You need to find the right application for blockchain & it will take a few years of education for people to understand this."
Talking about Northern Africa, Chinwe Ajene Sagna said: "When you take a look at Africa, intrinsically we have the youngest population and massive urbanisation. With the young population there comes emerging technologies, and different ways of thinking. It would be silly not to invest in these countries."
On tech driving investment, Jerome Berenz said: "Tech is going to impact the ways that cities are shaped. We observe that the will of people to live in urban cities is great. Mobility is one more functionality that helps people be in cities. My advice is to invest in '24-hour' cities'
"The biggest impact a on investment will be communication between cities, and how goods are distributed", said Nicholas De Mestre on self-driving cars and investment. "This will throw hundreds of thousands of people out of work, which will trigger social repercussions regarding investment."
Additional reporting by Nathalie Ashford & the ING Media team, plus Stath Karras and the University of San Diego team