Digital technology first disrupted retail. Accelerated by Covid-19, it is now the turn of the office. In the same way that we no longer have to go to a physical store to shop, we no longer have to go to the office to work – or so runs the perception.
Covid lockdowns have shown that we have the technology to work from anywhere at any time. Séverine Chapus, head of development major mixed-use projects at BNP Paribas Real Estate, sees the rise of a "network of offices".
This network is made up of office "points", which include not only corporate head offices, but also co-working spaces close to where employees live as well as working from home.
"Our belief is that offices still have a future, but that we need to reinvent them," she said, speaking at the MIPIM Urban Forum in September. "To make the office and our neighbourhoods more resilient, we need a more mixed-use approach towards space."
The approach by BNP Paribas Real Estate towards developing the future of the workplace reflects the concept of the 15-minute city, conceived by smart city expert Professor Carlos Moreno and a central part of Paris' urban strategy.
Current BNP Paribas Real Estate projects include Arboretum, a 125,000 m2 timber office campus developed in partnership with WO2, and set in nine hectares of parkland in Nanterre, west of Paris, on the river Seine.
For further resilience, this "network" of offices is flexible. "It is about anticipating the life cycle of what you build. Maybe today the space is an office, but tomorrow it could be something else," said Chapus.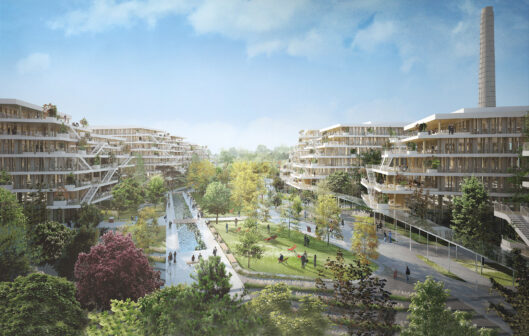 Arboretum: the new, 125,000 m2 timber office campus being developed in western Paris. ©Architects François Leclercq & Laisné Roussel/BNP Paribas Real Estate/WO2
The tech giants look to NYC for office space
éNews headlines about the workplace have made interesting reading over the past few months. To pick a few:
British department store John Lewis is turning half its Oxford Street flagship store into offices, and nearby Debenhams has a similar project.
AccorHotels announced that it would open 1,200 Wojo co-working spaces by 2022, with the mission of "everyone, over time, being able to work within ten minutes of where they are".
Flexible workspace specialist IWG opened 104 new properties around the world between February and September 2020 through its franchise model. "In order to achieve the goal of national coverage – every town, city and suburb – it has to be done with partners," said IWG CEO Mark Dixon.
Also in the headlines was the expansion of Apple, Amazon, Facebook and Google in New York City. Tech companies thrive on talent, and most digital talent is young.
"Young talent is drawn to places which offer a combination of abundant job opportunities, deep professional networks, and lots of other young people to make friends with (and date)," renowned urbanist Richard Florida writes in the Harvard Business Review.
Location decisions require more strategic thought
After the 2008 financial crisis, location strategy focussed on "fewer and bigger [offices]", writes CBRE in their report Evolving Location Strategies in the Era of Covid-19.
As the digital age progresses, and Covid accelerates existing trends, the decision of what constitutes a workplace and where it is located requires greater strategic thought and planning than ever.
CBRE foresees more focus on "business continuity and operational risks", with occupiers now being prompted to consider strategies that diversify risk through a "hub-and-spoke" approach – echoing Chapus' "network of offices".
The "spokes", or satellite offices, will in turn act as magnets, "attracting employees and promoting culture collaboration and innovation", says the report.
A round-table on location strategies held by CBRE this October touched on the migration trends to lower-cost, secondary cities, such as Phoenix, Sacramento and Las Vegas. These secondary cities were especially favoured by employees with more than ten years' working experience.
However, the "hub-and-spoke approach" is not always about locating the 'spoke' in a secondary city; it can also be about the suburbs or the edge of city centre neighbourhoods.
Fresh funds flow into 'emerging' neighbourhoods
The demand for out-of-city centre locations is seeing the arrival of fresh funds. For example, in London, Brunswick Property Partners is targeting a portfolio size of at least £1bn for its new, Akoya brand to provide "sustainable workplaces for creative businesses".
Akoya launched this September with four properties in Zone 2 neighbourhoods: NW Works and Lonsdale Road in Queen's Park, Power Road Studios in Chiswick and One Westgate Street near London Fields, with a further two acquisitions targeted before the end of the year.
We have seen many businesses in expensive locations realising that they simply don't need to be spending so much money on rent and so much time commuting – Will Amies, Brunswick Property Partners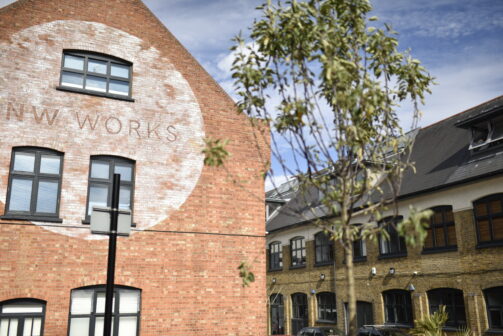 Akoya NW Works in Queen's Park, London NW6
Will Amies, founding partner of Brunswick Property Partners, explains where he sees the disruption in the workplace: "We see many local businesses who have addressed their work-life balance: they cycle to work, take their dog into the office and look to have their own front door.
"At the same time, many of London's creative companies are looking to challenge the status quo of working in expensive, traditional locations with little unique local flavour. We have also seen many businesses in expensive locations realising that they simply don't need to be spending so much money on rent and so much time commuting."
We seek to capture that disruption in the London workplace by providing healthy and thoughtfully designed workspaces in flourishing but affordable neighbourhoods – Amies, Brunswick Property Partners
"Well-working" is at the heart of the Akoya concept. At their Lonsdale Road location, they are  working with Carbon Intelligence to establish Lonsdale Road as London's first net zero carbon street by 2030.
"We seek to capture that disruption in the workplace by providing healthy and thoughtfully designed workspaces in flourishing but affordable neighbourhoods," says Amies.
Akoya creates places that "do good for the people in them and for the communities that surround them", reflecting the idea that work is no longer just about what we do, but who we are.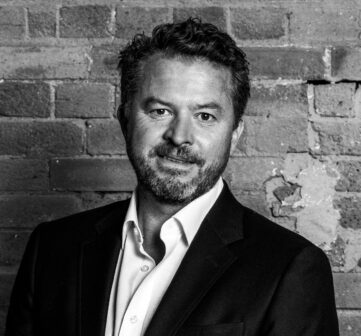 Will Amies, Brunswick Property Partners: disrupting the London workplace
Work is about personal identity, said Gianpiero Petriglieri, associate professor of organisational behaviour at INSEAD Business School at the Vitra Summit in October on the future of work and home. The workplace is the place where you "inhabit" your working identity.
"Work is about who I am, it's about developing myself, about belonging, connecting, meaning, continuity, community.  People turn to work like they used to turn to love or to the church."
Work adapts to the digital age – with more change to come
Even before Covid, perceptions about the workplace and the workspace were changing, with greater emphasis on user flexibility, 'agile' working and mental health. Such changes reflect in turn how the business world – and societies in general – are evolving from a hierarchical approach towards the fluidity of the digital age.
In this new, digital world, the virtual is merging with the physical. Questions are being asked, such as: How can the office space best connect the physical and the virtual? How do we build a corporate culture when hierarchical silos are being replaced by a more mobile, integrated and globalised project approach to work? How can we build more sustainable offices, connected to the circular economy?
Real estate is about flows of people, flows of energy and flows of goods – Gilles Babinet, LAITAO
 Much more technological change is expected.  Gilles Babinet, CEO, LAITAO, speaking at Propel by MIPIM this September, pointed out that we have reached only 10% of the potential of the digital revolution. Those who don't adapt will disappear, warned Babinet.
Real estate should no longer be seen as a stock, added Babinet. "Real estate is about flows of people, flows of energy and flows of goods." And to work with flows – including with  regards to workplace strategy – require flexibility, innovation and creativity … as well as resilience.
The case of On Running
The workspace of On Running is all about flows. The sports footwear company founded in the Swiss mountains opened their first office in Zurich in 2010; they now have a further ten offices around the world – and their staff doubles every two years.
"It's the same team, sitting at different locations," said David Allemann, co-founder of On Running. "Some of our offices are small, and some of them are large," he explained at the Vitra Summit, talking about why he did not see the Zurich office as the "head" office.
In 2018, On Running moved to a workplace in Zurich with a 100-metre central aisle and no partitions or attributed workspaces. The focus is on interconnection. Employees clock up around two to three kilometres a day. The space functions like a running shoe: "ergonomic, valuable and fun," says Allemann.
Interconnection is also a focus for the On Running virtual space. Employees dial into video conferences individually, from 'garages' – to create unity (and to make meetings punctual). There is no huddling together in meeting-room groups, while others dial in.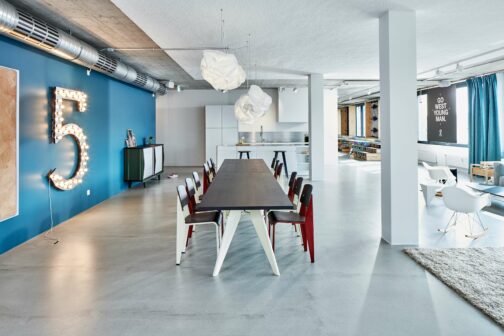 On Running office in Zurich: "Some of our offices are small and some of our offices are large"
The workplace as part of a community
 Now On Running is planning a move to a new 16-floor office in Zurich, Allemann told the Vitra audience. The company is also developing InnHub La Punt, a 6,000m2 centre of innovation designed by Norman Foster, at an altitude of 1,700 metres, near St Moritz.
InnHub La Punt  is about creating a third space, away from the office and home, to "offer locals, tourists, tech companies, start-ups and universities a place to exchange ideas". It is also about "increasing prosperity, creating new jobs, and revitalising local crafts and produce".
A workplace can no longer be seen in isolation, as a dot on the map, but as part of a community where, as Florida writes, "people live, raise their families, and form deep emotional attachments".
Main picture: On Running office in Zurich