Once the doors of Expo 2020 close in April 2022, Dubai will unveil District 2020, a new mixed-use innovation district designed to be smart, sustainable and human-centric.
With oil now accounting for a mere 2% of the emirate's GDP, Dubai's Expo legacy is about creating a blueprint for urban areas. It also links into Dubai 10X, a government initiative to propel the city 10 years ahead of its global rivals.
District 2020 is about 'connection' through 'sustainability, mobility and opportunity' — a reflection of the main Expo 2020 theme and encapsulating what the event organisers have flagged as the biggest challenges faced by humanity today. Built on a circular grid, District 2020 will feature low-rise buildings and pedestrian-friendly streets, and is designed to reflect the local feel and social connection of the suk, the region's traditional local market.
At the heart of District 2020 — and Expo 2020 — is Al Wasl Plaza, a reference to the historical name for Dubai, which translates as 'connection'. The plaza, which was inaugurated this January, in good time for the Expo opening on October 20, was designed by Chicago-based Adrian Smith + Gordon Gill. It is an open, domed space, providing shade by day and transforming into a 360-degree projection screen by night, visible from inside and outside. It is the world's biggest projection screen.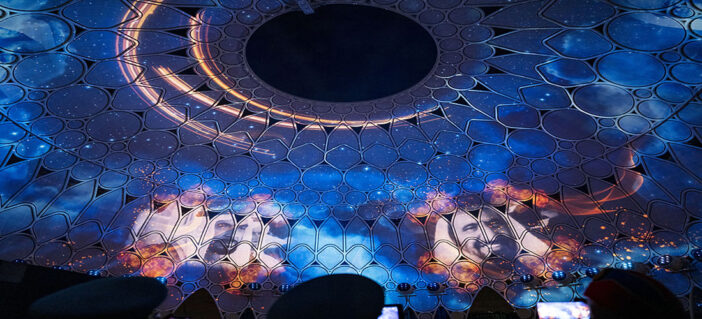 When Expo 2020 ends in April 2022, District 2020 will repurpose 80% of the Expo structures, including more than 260,000 sq m of LEED Gold-certified buildings, which will be turned into residential, commercial and cultural neighbourhoods. The new district will also inherit the Expo 5G network and the Siemens MindSphere IoT operating system.
The total gross floor area of District 2020 is more than 2.5 million sq m, split 44% residential, 38% offices, 6% hotels, 4% education, 4% retail and 3% community facilities. Its facilities will also include the Dubai Exhibition Centre and Terra, a children's and science centre.
On the business side, District 2020 will provide a platform to connect, create and innovate, building bridges between start-ups, small and medium-sized enterprises (SMEs) and global corporates. The focus will be on the key industries of logistics and transport, education, construction, travel and tourism, and technology. "The world is better when we act together," goes the Expo 2020 Dubai ad campaign, which is fronted by world-famous football player Lionel Messi.
 "District 2020 will evolve into a dynamic ecosystem that supports the UAE's vision for sustainable economic development, focused on driving growth in key industries and advancing technologies that will be so influential to the nation's future and to global progress," say the event's organisers.
Among the global corporate tenants already signed for District 2020 are Siemens, which will set up a global logistics HQ; Accenture, which will open a digital hub to help clients develop digital solutions; Atlas Capital Holding, which will build a 15,000 sq m blockchain campus and R&D centre; and Merck, which will establish a sustainability centre.
District 2020 has also launched Scale2Dubai, a global entrepreneur programme to support start-ups and SMEs looking to scale up their business to serve the Dubai market.
In terms of creating a blueprint for urban sustainability, District 2020 will be the first community in the Middle East to be registered under the WELL Community Standard pilot.
In addition to IoT sensors, photovoltaic fabric will cover the main walkways, acting as solar-powered sunshades while generating around half of the development's energy requirements. It will also feature 45,000 sq m of parks and green spaces, 10 km of cycle paths, 5 km of jogging tracks, fully connected pedestrian walkways and a 4 km autonomous-vehicle public-transport loop for eco-friendly mass transit. All the buildings will meet or exceed LEED Gold certification.
Importantly, the micro-city will grow in phases, evolving to meet the changing needs of the market and the urban user, and to keep pace with fast-evolving technology. It is envisaged that it will eventually be home to some 145,000 residents and employees.
A new transport network is seen as key to opening up the District 2020 site. Located in Dubai South, within an hour's drive of both Dubai and Abu Dhabi, District 2020 is linked to the centre of Dubai by the new 15 km Route 2020 metro line which, once open, will be only one metro stop away from the new Al Maktoum International Airport.
When fully operational, Al Maktoum is set to be the biggest airport in the world, welcoming 160 million passengers and 12 million tonnes of freight annually. Two-thirds of the world's population live within an eight-hour flight of Dubai — the airport already handles 89 million passengers and nearly one million tonnes of freight a year (2018 figures).
District 2020 is also close to the UAE's deep-sea ports, including Jebel Ali, the largest cargo port in the Middle East.
Clearly, Dubai has come a long way. When oil was discovered in the emirate back in 1966, Dubai was home to 60,000 people, who made their money from pearling and trading. Today, it has three million residents, representing 200 nationalities, and close to 150 skyscrapers, including the world's tallest building, the Burj Khalifa.
The development of District 2020 is the latest phase in Dubai's spectacular urban transformation. As the Expo 2020 global marketing campaign, Welcome The Future, puts it, humans have "come a long way to get where we are today" — and so has Dubai.
EXPO EXPLAINED
EXPO 2020 Dubai, which runs from October 2021 until April 2022, will showcase the power of collaboration under the theme 'Connecting Minds, Creating The Future'. The event aims to highlight real-life solutions to the world's most pressing challenges in the areas of sustainability, mobility and opportunity. The 200-plus participants of Expo 2020 include multilateral organisations, businesses and educational institutions from 192 nations.
The World Expo is held every five years. The first one took place in London in 1851. Expo 2020 Dubai is the first World Expo to be held in the MENA region.