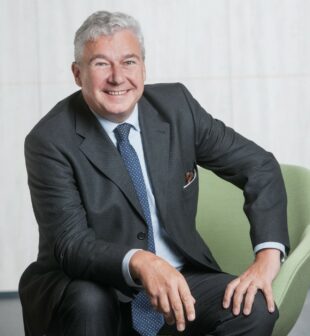 Serge Fautre, CEO of AG Real Estate, joined the company in 2012, after ten years as CEO and managing director of Cofinimmo. He currently serves as the chairman of Interparking, administrator of the French insurer AG2R La Mondiale, president of Union Professionelle du Secteur Immobilier, vice-chairman of Ascencio and president of the Executive Masters in Real Estate. From 2005 to 2009 he also served as chairman of the European Public Real Estate Association. He holds a Masters in Economics from the Universite Catholique de Louvain and an MBA from Chicago Booth.
MIPIM Connect: What property types do you think will emerge the strongest after the pandemic?
Serge Fautre: Across the AG portfolio we're finding that logistics is holding up well, although healthcare and co-living are also resilient. We have a significant residential development business and demand is still strong. Basically, it's anything where the underlying economics are untouched: real estate is worth nothing unless you have an underlying cashflow and that depends totally on the tenant.
MIPIM Connect: How will the workplace have to adapt?
That's an open question. I think views on teleworking vary depending on whether you're an employer or an employee but if you're on a bike and you're freewheeling eventually the bike falls over unless you start pedalling again. So for many businesses full teleworking is not viable long-term. There are functions that can be done from home so I'm sure teleworking is here to stay but it won't apply to the majority of functions.
And we mustn't assume that everyone has enough space to work from home: that opens up another question about the design of residential properties. In the future people will be looking for a place to work where they can concentrate without distractions, whether that's at home or in the office.
MIPIM Connect: How can cities be redesigned to adapt post-pandemic?
We need to have serious conversations with municipalities about how we can deliver cheaper housing – we've pushed people outside cities by letting residential prices spike to unaffordable levels. At the end of the day it's a function of supply and demand and politicians have a big responsibility if they don't grant enough building permits. It's a social issue as much as a property issue – as an insurer we have the interests of society at heart – and I believe one of the issues that drove social unrest like the gilets jaunes was that people resent having to pay London prices in places like Bordeaux.
MIPIM Awards category focus  – Best Industrial and Logistics Development
Each week MIPIM Connect will focus on one of the 11 awards categories. This week we focus on the industrial and logistics sector which has thrown up a diverse set of winners since it was launched in 2012.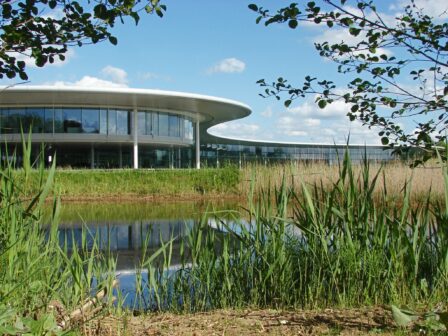 The inaugural winner was the Mclaren Production Centre at the car manufacturer's HQ in Woking, south of London. It is home to the construction of McLaren's Formula One cars as well as it's street-legal McLaren F1 and McLaren Senna. In 2011, the size of the centre was doubled after a second building, the McLaren Production Centre, was built.
So what's on offer this year? The four shortlisted entries are:
Campus Simons – Quebec, Canada
Developer: La Maison Simons
Architect: GKC Architectes
Designed by GKC Architectes, the project involves the creation and construction of a distribution centre for Maison Simons, a large chain of retail clothing and home decoration stores. The building, with a total area of 53,420 sq m, is located on a 195,360 sq m plot of land in the northern section of Quebec City, in the Espace d'innovation Chauveau. The new distribution centre and adjoining office space facility, named Campus Simons, offers an inspiring and architecturally modern design.
Hong Kong-Zhuhai-Macao Bridge Hong Kong Port Passenger Clearance Building – Hong Kong SAR, China
Developer: Highways Department of the Hong Kong Special Administration Region
Architect: Aedas and Rogers Stirk Harbour + Partners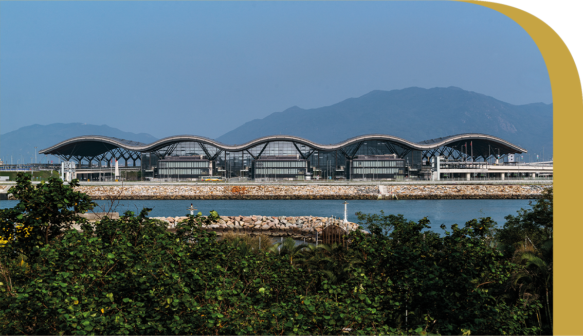 The Passenger Clearance Building (PCB) is among the boundary-crossing facilities at the Hong Kong-Zhuhai-Macao Bridge Hong Kong Port, which provides a new entry point into Hong Kong. The PCB is built on a new 150-ha artificial island located to the northeast of Hong Kong International Airport. It is the new crossing point between Hong Kong, Zhuhai and Macao and serves as a gateway for all those passing through it. It provides a unique opportunity to give Hong Kong an architectural 'front door' which celebrates travel, surrounded by water with views to a natural skyline of evergreen mountains and hills.
Koge Nord Station – Koge, Denmark
Developer: Banedanmark, Koge Municipality and Danish State Railways
Architect: Cobe and Dissing+Weitling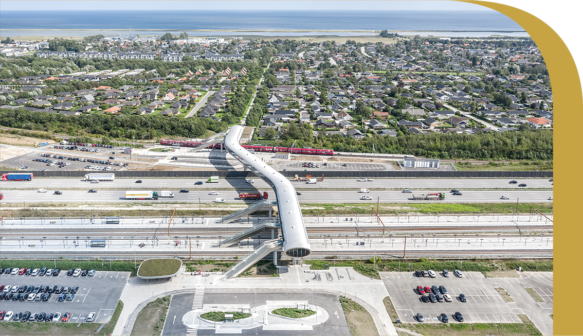 Koge Nord Station is a strategic urban infrastructure project to help kickstart a new sustainable urban development in the city of Koge, part of greater Copenhagen. It is also a starting point for a new and greatly improved public transport connection between the Danish capital and the rest of the Oresund region. The project is a new distinctive landmark for green mobility and serves as a visual invitation to thousands of commuters passing in cars to choose the more sustainable option to park the car at the station and take the train, saving both time, money and CO2.
MIN de Nantes (New national wholesale market) – Nantes, France
Developer: Nantes Metropole / Loire Ocean Metropole Amenagement
Architect: EGA Erik Giudice Architecture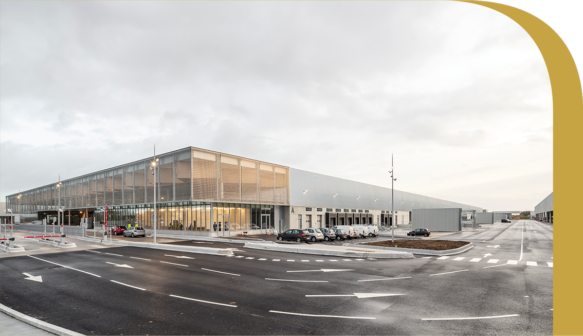 The MIN de Nantes market distributes food to 2m people in western France. As a wholesale market for fresh food It is second only to one in Paris. The project is located on the border of the city of Nantes and the countryside, forming an active interface between the consumers and the producers. A great focus has been laid on providing the best working conditions for both employees and clients in terms of temperature, light and air quality. Three cafes and restaurants are located at strategic positions and provide places for meeting and socialising.