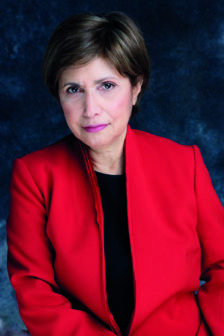 Meka Brunel is a business leader in the real estate industry. She is an ETP engineer and fellow of the Royal Institute of Chartered Surveyors and has an Executive MBA from HEC. From 1996, she held a range of management positions at Simco, which later merged with Gecina. In 2006, she became chief executive officer of Eurosic, before joining Ivanhoe Cambridge in 2009 as executive president Europe. She has been a director at Gecina since 2014 and was appointed as its chief executive officer in January 2017. Meka Brunel was appointed as a non-executive director of Hammerson in November 2019.
In addition, she is fully involved in both community life and industry associations, particularly as honorary president of the HQE-France GBC association, vice-chairwoman of the Palladio Foundation and director of FSIF and EPRA. She has also been president of the Greater Paris Metropolitan Authority's Development Board since October 2017. Meka Brunel has been honoured with the title of Chevalier de la Légion d'Honneur. Lastly, she was named Professional of the Year in the 2013 and 2018 Pierres d'Or awards.
MIPIMWorld Blog: How will the workplace have to adapt in the post-pandemic world?
Meka Brunel: There is no doubt about it: our workspaces must adapt. Tomorrow, employees will choose the companies they want to work with based on the experience they will have in the workplace. Our offices will have to be ecologically virtuous and healthier. They will have to be technologically efficient. The customer experience at the office must be better than the customer experience at home if companies want their employees to prefer physical premises rather than virtual connections. Finally, office space will have to encourage the human interaction that we've sorely lacked during the Zoom reign.
Is home working here to stay or has it just been a temporary measure? If it is, what does that imply for the type of homes we need to build?
The challenge is not to know whether remote working is about to become the new standard, but to meet more quickly end users' needs in terms of centrality, mixed use, flexibility and respect for the environment. The crisis has strengthened our customers' role as prescribers by accelerating and amplifying the impact of major trends that are already underway: metropolisation, the technological revolution and the climate emergency.
With a global recession looking likely, will this slow the pace of sustainable development?
On the contrary, commercial real estate has a historic opportunity to accelerate its environmental transformation. The crisis we are experiencing is global, as is the environmental challenge. It sounds like a warning in the face of the coming climate crisis. The recovery must be sustainable. Employees, who are also consumers, are becoming uncompromising on climate issues. Soon, it will be very difficult to lease an office building which is not virtuous and continuously improving on these issues.
MIPIM Awards Category focus: Best Hotel & Tourism Resort
Each week MIPIMWorld Blog will focus on one of the 11 awards categories. This week we focus on the hospitality sector. A fixture in the MIPIM Awards programme for nearly two decades, this category has consistently highlighted innovation in one of real estate's fastest-moving sectors.
The first winner in 2003 was the Sofitel Magnicent Mile in Chicago. Designed by Jean-Paul Viguier Architecture for Accor North America and Constructa, Sofitel Magnificent Mile is located near Michigan Avenue, Chicago's main artery, and provides 412 bedrooms across 34,000 sq m. The brief was to create an emblematic building in this legendary architectural city. It succeeded: in 2004, Sofitel Chicago was voted the Best New Building in the Last 10 Years In Chicago by the American Institute of Architects.
The hotel tower takes the form of a triangular prism sitting on a base plate. The prow leans out over the street, affording spectacular views from the rooms and drawing guests into the restaurant terrace and the entrance canopy.
So what of this year's entries? The four shortlisted projects are:
Jo&Joe Paris Gentilly – Street Art Inside, Gentilly, France
Developer: AccorInvest
Architect: Viguier architecture urbanisme paysage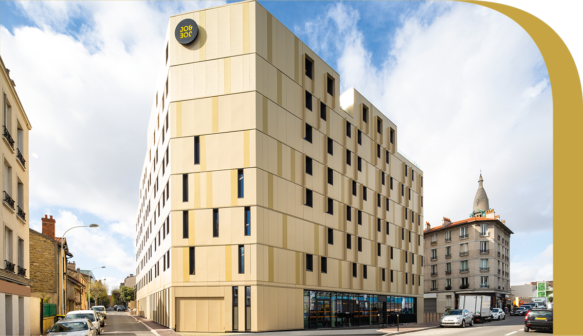 With Jo&Joe Paris Gentilly, AccorInvest is aiming to shake up its hospitality concepts. This hotel combines an innovative, environment-friendly technical achievement with unheard-of facilities and services and a unique, imaginative design. Its leading-edge architecture, based on a seven-storey wooden structure imagined by Jean-Paul Viguier, has made it the very first BBCA-labelled hotel, fully compliant with challenging sustainability criteria. Located within reach of central Paris and Orly airport, the hotel's layout and offer focus on the wellbeing of both guests and locals. And its striking street-art decoration curated by interior architect Lee Penson showcases inventiveness with a touch of trendy beauty.
Radisson Collection Hotel, Tsinandali Estate Georgia, Tsinandali, Georgia
Developer: Silk Road Group
Architect: Septiembre Arquitectura, John Fotiadis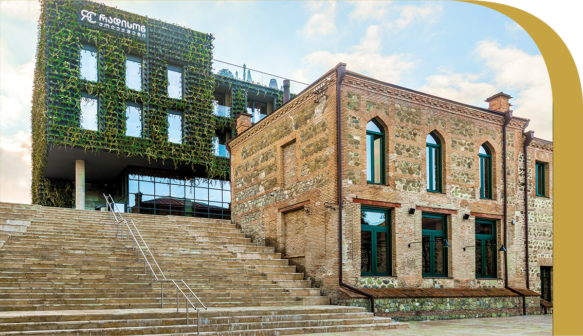 The hotel is set in the heart of the country's wine-growing region and offers a unique Georgian hospitality experience. It features 126 stylish guest rooms in a newly constructed building, which is connected via a modern glass bridge to 150-year-old wine cellars that have been meticulously restored after years of neglect. The top floor spa and swimming pool offer splendid views of the adjacent park and the Caucasus mountain range, while large meeting and banqueting facilities offer great possibilities for large-capacity events, including concerts and festivals. In 2019 the venue hosted the inaugural Tsinandali Classical Music Festival.
Red Cross Care Hotel , Zuienkerke, Belgium
Developer: Red Cross Flanders
Architect: Polo Architects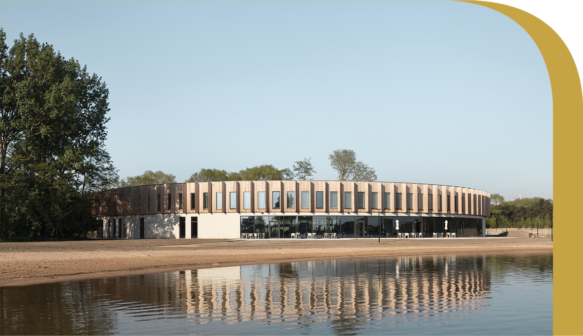 This Red Cross-Flanders hotel provides an opportunity to unwind for people who, due to illness, age, social circumstances or special needs, are unable to go on holiday. The domain is located by a large lake in the rugged landscape of the West Flemish polders. The circular volume offers a 360-degree view of the wide surroundings. The low-rise building with wooden facades is a modest presence in the landscape. In the inner patio, visitors find shelter from the sea breeze. The transparent ground floor houses communal functions and emphasises the social experience of a vacation. The upper floor houses the guest rooms.
TWA Hotel, New York, USA
Developer: MCR/Morse Development
Architect: Beyer Blinder Belle Architects and Planners, Lubrano Ciavarra Architects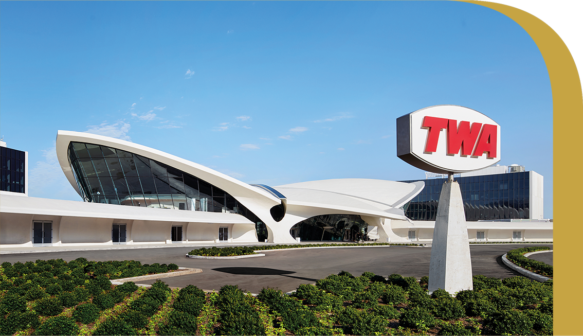 Architect Eero Saarinen's landmark 1962 Trans World Airlines terminal is the heart of the only on-airport hotel at JFK International Airport in New York City. Offering 512 mid-century modern rooms with views of JFK's runways, the property embodies the style of the Sixties. Guests enjoy immersive museum exhibits, restaurants and bars, a rooftop pool and observation deck, the world's biggest hotel gym, shops and event space. On the tarmac, a 1958 Lockheed Constellation 'Connie' plane, turned into a cocktail lounge, welcomes visitors amid seasonal activations like an ice skating rink. The off-grid hotel generates its own energy with a first-of-its-kind power plant.