Dolina Setun
Presented by CJSC Don-Stroy Invest (Russian Federation)
Premium class residential estate "Dolina Setun" is a stylish and fashionable housing project in a district in the West of Moscow, near the nature reserve of the Setun River. The 110,000m² project, developed by Donstroy, includes two modern, high-rise buildings (36 and 39 storey) with the luxurious façade and interior decoration. This project should be completed in 2014.
Learn more about Russia's participation at MIPIM 2013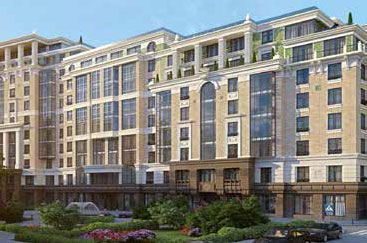 Grand Deluxe on Plyushchikha
Presented by CJSC Don-Stroy Invest (Russian Federation)
Developed by Donstroy, GRAND DELUXE on Plyushchikha – new De Luxe class property, is situated in the historical centre of Moscow, surrounded by the public gardens next to Novodevichy Convent and Cathedral of Saint Michael the Archangel. The architecture of the building reproduces the recognisable characters of the 19th century respectable mansions: colonnades and porticos, natural stone, mosaic panels and decorative smithery.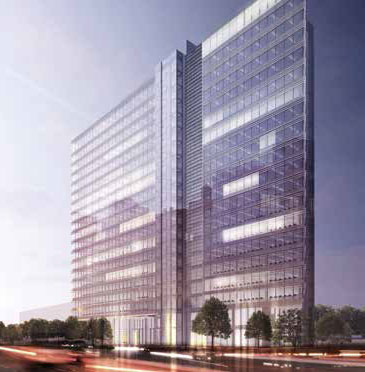 Mebe One Khimki Plaza
Presented by Mebe Group (Russian Federation)
Mebe One Khimki Plaza is a new 19-storey business centre located in the city of Khimki, with accessibility to both Sheremetyevo International Airport (7 km) and central Moscow (20 km). Designed by award-winning UK architects John McAslan + Partners, the angular 84 meters high building sits along the Leningradskoye Highway. The project will provide 31,000 m² of Class A office accommodation over 18 levels. A cafe and an exhibition gallery occupy the remainder of the ground level and a 926 m² restaurant is located on the first floor. The LEED 'Gold' certified building is designed to international commercial specifications and will be a leading energy efficient building in Russia. Mebe One Khimki Plaza is due to be fully completed in 2014.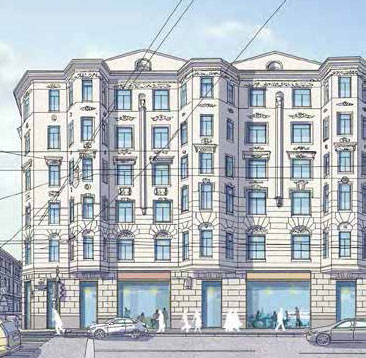 Polyanka Residential Complex
Presented by PSN Group (Russian Federation)
The Polyanka Site, developed by PSN Group, is located approximately two kilometers from the Kremlin, in Yakimanka, one of Moscow's oldest and most characterful districts. John McAslan + Partners' proposals create 32,000m² of residential and retail accommodation in a mixture of retained and new buildings across the 1,58 hectares site. About 200 high-value apartments, of mixed sizes and orientations, are arranged around a 0,85 hectares of private landscape gardens. The buildings have been conceived as a series of seven-storey villas. The facades are finished in regularly coursed limestone with bronzed aluminium framing and metalwork. The buildings offer views via large bay windows over the internal landscaped gardens.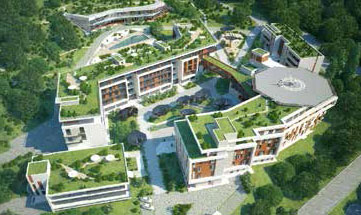 Sports Medecine Center (SMC)
Presented by SKM Group (Russian Federation)
The complex is situated in the middle part of south-western hillside of Maliy Ahtun Moutain, in a pristine area of protected national nature park. The sea is two kilometers away and the highway Sochi-Adler is 1,5 km away. Sports Medicine Center is a single group of buildings and installations, designed to provide highquality healthcare services. It will ensure rehabilitation of athletes and recovery after completion of treatment based on a clinic with modern diagnostics. SKM Engineering is the executive in charge of realisation of Olympic venue SMC. Built on a total area of 31 685 m², the centre consists of five buildings: a diagnostic and treatment building; a bedroom building with 141 rooms and two in-patient units (orthopedic and neurologic) for 50 beds; a food unit; a SPA centre – Hydropathic establishment; and an administration building. Engineering solutions for the buildings are based on resource-saving technologies. The project will be completed in February 2014.