Ecole Centrale Paris à Paris-Saclay
Presented by Paris Région (France)
Paris Region is presenting the proposed transfer of the Ecole Centrale Paris to the Plateau de Saclay (Essonne). This involves designing and building the infrastructure to accommodate the entire range of the engineering school's activities. The overall development scheme for the Plateau de Saclay includes a science and technology project on an unprecedented scale for France and Europe, featuring the Campus Operation supported by the Paris-Saclay Foundation for Scientific Cooperation. The first Ecole Centrale Paris building will be delivered in 2016 with a surface area of 36,000 m² followed by a second with an area of 34,000 m².
Learn more about France's participation at MIPIM 2013
Hikari
Presented by Bouygues Immobilier (France)
Bouygues Immobilier is presenting the Hikari development. Designed by Japanese architect Kengo Kuma, Hikari is a 12,800 m² unit consisting of three buildings of offices, shops and housing, located on the Lyon-Confluence peninsula. These buildings are interlinked to pool their energy production and consumption and make the island energy-independent. Hikari symbolises the Lyon Smart Community demonstrator, acknowledged as "the first sustainable neighborhood" by WWF in 2010. The development is due for delivery in early 2015.
Oz Montpellier Nature Urbain
Presented by Montpellier Agglomeration (France)
Montpellier Agglomeration is presenting this Montpellier plan for an urban development around the city's new TGV station to be launched in 2017. The Kees Christiaanse Agency (KCAP) design includes family housing, parks and gardens as well as a European scale business hub with more than 350,000 m² of office space. OZ Montpellier Nature Urbaine is underpinned by a forward-looking vision of a sustainable environment. This emblematic Montpellier Agglomeration operation will be built over the next 30 years.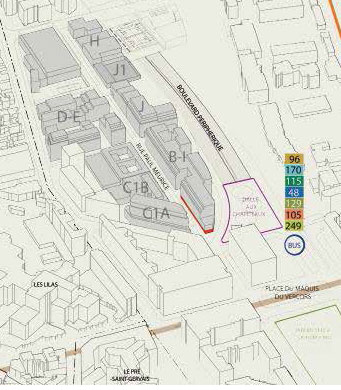 Paul Meurice
Presented by SEMAVIP (France)
Designed by BRS architecture architects and coordinators, the two future buildings in the Paul Meurice sector form part of a direct extension of an initial 50,000 m² tertiary and commercial centre already in place at Porte des Lilas. The first lot consists of approximately 24,000 m² of office space and 1,000 m² of retail space on the ground floor to enhance the retail focus. This will open onto a new street planted with trees and plants to form a greenway, where more than 18,000 m² of housing will be built in due course. The second lot will consist of 7,000 m² of business hotels, offices and activities linked to 6,000 m² for technical services (e.g. premises for the Paris Environmental Services and Water Agency) all under SEMAVIP's project management. One of the challenges of this project is to minimise the nuisance from the nearby Paris beltway. It falls within the scope of the operational monitoring procedures of SEMAVIP's Quality Management and Environment System, ISO9001- and ISO14001-certified. Work will begin in 2014 and be completed in 2016.
The Dock's Creative area in Strasbourg (France)
Driver of urban dynamic and easily accessible by tram, bicycle or on foot, The Dock's Creative area in Strasbourg introduces a new cultural and creative centre of Strasbourg dedicated to culture, digital and the creative economy.