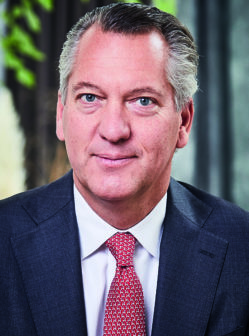 Marco Hekman is CBRE's managing director Continental Europe. He has been with CBRE for more than 25 years and is also chairman of the board of the global property advisor's Netherlands business.
Marco knows the investment market inside out and enjoys studying analyses and solutions for the portfolio strategy of his customers. He knows how the international capital flows are developing and advises investors on how to determine their property strategy on the basis of this.
He is responsible for managing the countries within CBRE in mainland Europe and enjoys coaching them in their further development.
MIPIM Connect – With commuting patterns changing suddenly, how can cities redesign urban transport networks?
Marco Hekman: When looking at public transport statistics globally on average these are still 40% below normal. This does not mean though that we aren't seeing certain cities returning to normality. Paris is one where public traffic is getting close to normality. And it is likely that many large metropolitan cities will follow suit over the next few months. Smaller to medium-sized cities where alternative ways of getting to the office are more widely available will see a slower recovery. This can be explained by commuters moving to the use of car or bicycles where safety can reasonable be guaranteed. Despite this, cities will look into making commuting as easy and flexible as possible. This may be done through the creation of high-speed – car-free – bicycle lanes for example. Multiple cities across the globe are considering this or have moved into this direction.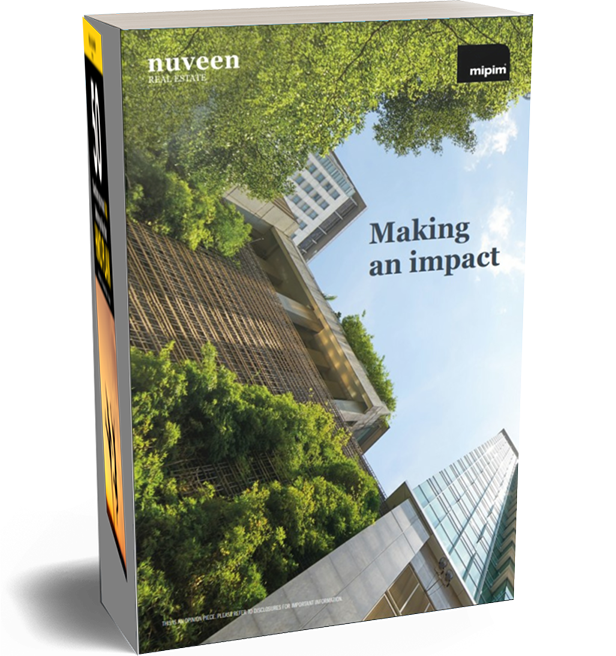 "Making an impact"- White paper
A new report by Nuveen
Discover how real estate can make a difference in society by going beyond the basic principles of ESG
MIPIM Connect – With a global recession looking likely, will this slow the pace of sustainable development?
Marco Hekman: Apart from the short-term 'positive' side-effect Covid-19 is having on emissions, the crisis is reemphasising the need for fast-tracking progress on making a real impact. Investors have realised they can combine creating a better world with achieving better returns. We see this in the number of enquiries we are getting for our sustainability services, a business line growing quickly during these challenging times. These locations will be the winners going forward as occupiers want to be located there.
MIPIM Connect – How will the workplace have to adapt?
Marco Hekman: Trends that were defining the future of work have been accelerated as organizations have had to adjust during the COVID-19 pandemic. Organizations are gathering the learnings from this pandemic period and rethink how work gets done and the role of the office. The solution will not be a one-sizes-fits-all solution but based on their talent needs, company culture, how much collaboration is necessary for business excellence and where work gets done. Pre-vaccine the office will be redesigned to limit the transmission of disease, reinforce hygiene and wellbeing and safeguard employee health and de-densifying the workspace. Returning to the office will be through phased occupation along with specific levels of social distancing. Post-vaccine the office will be hybrid, providing employees with technology-enabled solutions and different locations to work from. The future offices will be more dynamic, higher quality and better-equipped space making the office a greater source of efficiencies. A place for collaboration, innovation and meeting colleagues where people want to go to. At CBRE we help our clients identifying these opportunities, realizing real estate answers that create value beyond property.
MIPIM Awards category focus  – Best Mixed-Use Development
Each week MIPIM Connect will focus on one of the 11 awards categories. This week we focus on the mixed-use category which was launched in 209, reflecting the growing trend for urbanists and developers to incorporate a range of uses on city center sites, making more efficient use of scarce land and providing a more varied and sustainable experience for occupiers and visitors.
The inaugural winner was the Student Hotel Florence Lavagnini in Florence, which marked the Student Hotel group's debut in the Italian market. The €50m regeneration of a 20,000-sq m building dating from the mid-19th century breathes new life into a previously underserved neighbourhood. The 390-room property embodies the Student Hotel's vision for a complete connected community of co-living and co-working students, leisure visitors and long-stay professional guests.
So what's on offer this year? The four shortlisted entries are:
Funan – Singapore
Developer: CapitaLand
Architect: Woods Bagot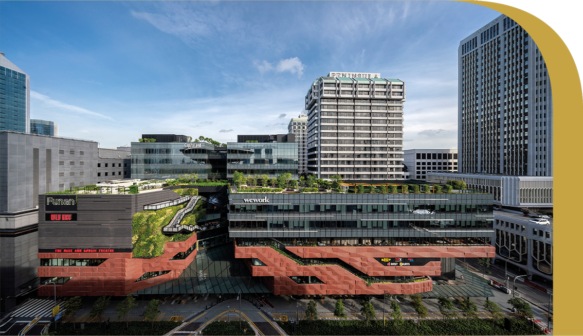 The new Funan is envisioned as a vibrant live-work-play hub that fosters emotional connections with its users through lively social and cultural activities, inviting public places and energetic community vibes. Funan comprises a retail mall serving as a platform to inspire retail innovation; two office blocks that meet the needs of a variety of businesses, including corporations and co-working spaces and The Ascott's lyf brand of co-living serviced residences. With community, connectivity and convenience at its core, Funan caters to the new breed of consumers who favour a collaborative environment and authentic experiences that reflect their passions and tastes.
Ilot Balmoral – Montréal, Canada
Developer: Societe d'habitation et de developpement de Montreal (SHDM)  
Architect: Provencher Roy
Ilot Balmoral is a 13-floor building dedicated to institutional and cultural use, providing exceptional visibility in the very heart of the Quartier des spectacles de Montreal. The building has a very unique architectural signature, one that is resolutely contemporary and eco-friendly. It is characterised by its two distinct volumes, positioned on either side of an oversized atrium, highlighted by a lively red colour. It forms an integral part of an institutional and cultural compound that is home to the core of Montreal's cultural establishments. It will contribute to facilitating cultural synergies and business alliances.
MahaNakhon – Bangkok, Thailand
Developer: PACE Development Co
Architect: Buro Ole Scheeren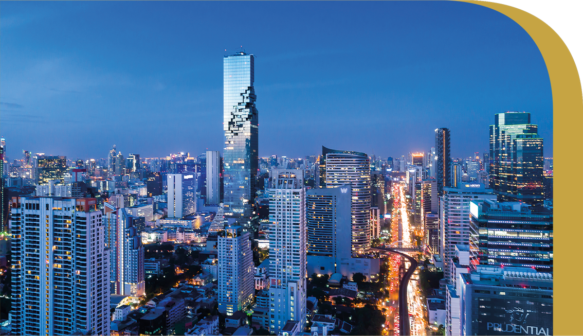 MahaNakhon, which translates as 'great metropolis', has transformed Bangkok's skyline and its striking, pixelated silhouette stands as an emblem of the city's rising status as a global metropolis. The 77-storey complex embodies a radical manifestation of the potential of the skyscraper to invigorate its urban context. Characterised by its sculptural profile and the three-dimensional pixelated ribbon that coils around its full height of 314 metres, MahaNakhon reveals its inner life and projects the image of human activity and inhabitation to the surrounding city.
Monopolis – Lodz, Poland
Developer: Virako
Architect: Rafał Grzelewski, Grupa 5 Architekci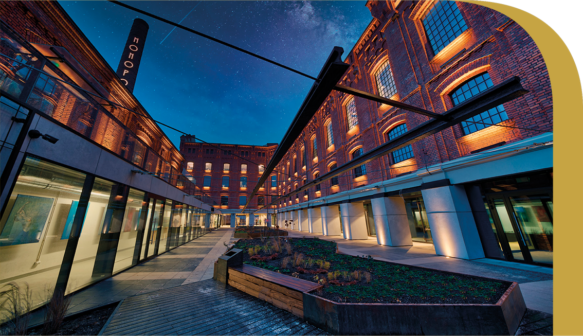 Monopolis is a unique revitalisation project in the heart of Lodz, the third biggest city in Poland. Located in an old vodka factory dating back to 1902, Monopolis is an outstanding project, combining class-A offices with an industrial and modern design; retail and culture with a wide choice of restaurants, cafes and wine bars; a theatre; a kids' club; an art gallery and a museum of vodka. The bold merger of historical and high-tech architecture creates a great space for business and art, and the modern and friendly spaces are perfect for work and everyday activities. Monopolis can be considered as a 'city within a city.