Ban Ki-moon, 8th Secretary General of the UN, opened MIPIM's 30th edition today with an inspiring keynote speech, in which he encouraged real estate leaders to further sustainability and fight climate change.
"Our world is going through pronounced changes resulting in elevated uncertainties & new risks," he said. "Human rights are no longer respected, threatening the rules-based order based on human decency and mutual respect."
As such, he stressed, it is crucial to focus on three key topics: "Resilient & sustainable cities," which he sees as key to our future; climate change, "the most pressing threat standing in this path; and how "the UN's Sustainable Development Goals (SGDs) can help us chart a thriving blueprint for the future."
"It is not enough for cities to be 'smart' if they only cater to affluent professionals, or young people, or those who are able-bodied. Future cities must be underpinned by inclusivity for all," he insisted. "Policy-makers & other key stakeholders like you should use the (UN's) 2030 Agenda & its Sustainable Development Goals; the Paris Climate Agreement; the Sendai Framework for Disaster Risk Reduction; and the New Urban Agenda to anchor future cities with sustainability."
On climate change, Ban Ki-moon told the real estate sector to "take the lead in reducing greenhouse gas emissions in your properties and industry… Ensure that all commercial and residential properties have sustainability certification. Integrate climate-risk considerations into your investment decisions."
Despite these challenges, Ban Ki-moon concluded on an optimistic note. "As long as we keep moving forward in a responsible and sustainable manner while continuing to build dynamic and innovative partnerships, there is simply no limit as to what we can achieve. Our global challenges require robust global solidarity."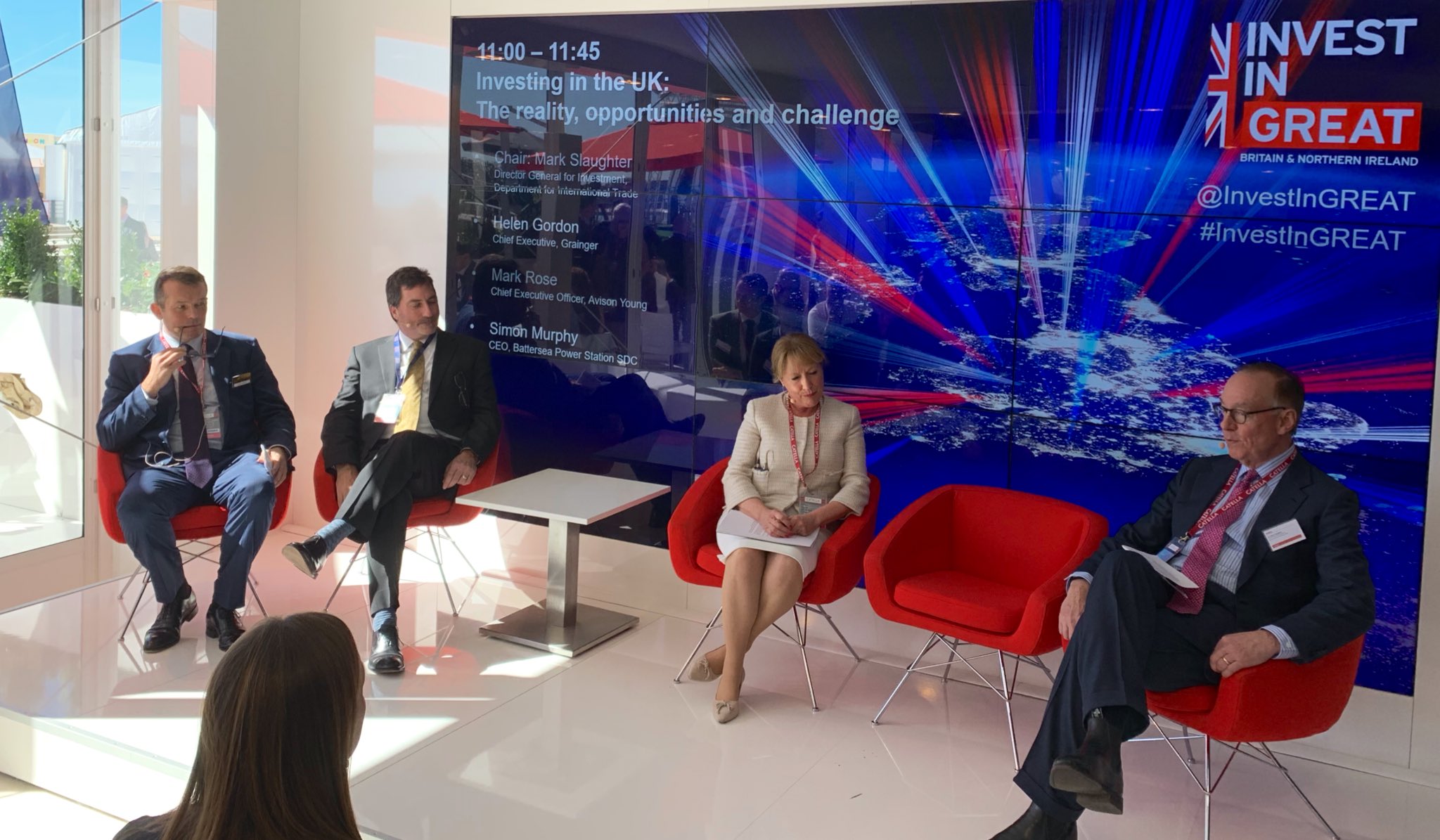 A session called Investing in the UK kicked off proceedings at MIPIM 2019. Despite Bexit, the panel – which featured Mike Slaughter of the Department for International Trade; Helen Gordon of Grainger; Mark Rose of Avison Young and Simon Murphy of Battersea Power Station SDC –  was bullish about Great Britain's attractiveness to investors. "Grainger's been investing for 107 years, and even in these uncertain times, we've seen unprecedented investment in real estate," said Gordon. We (the UK) have this huge wealth of sitting on a small island. It's a constrained market, and that leads to quality."
"The UK is the fifth largest economy in the world. So you have to trade with it," said Rose. "And yet you read every day about the death of one of the greatest places in the world. Because we've put assets on sale for reasons that are entirely political for now."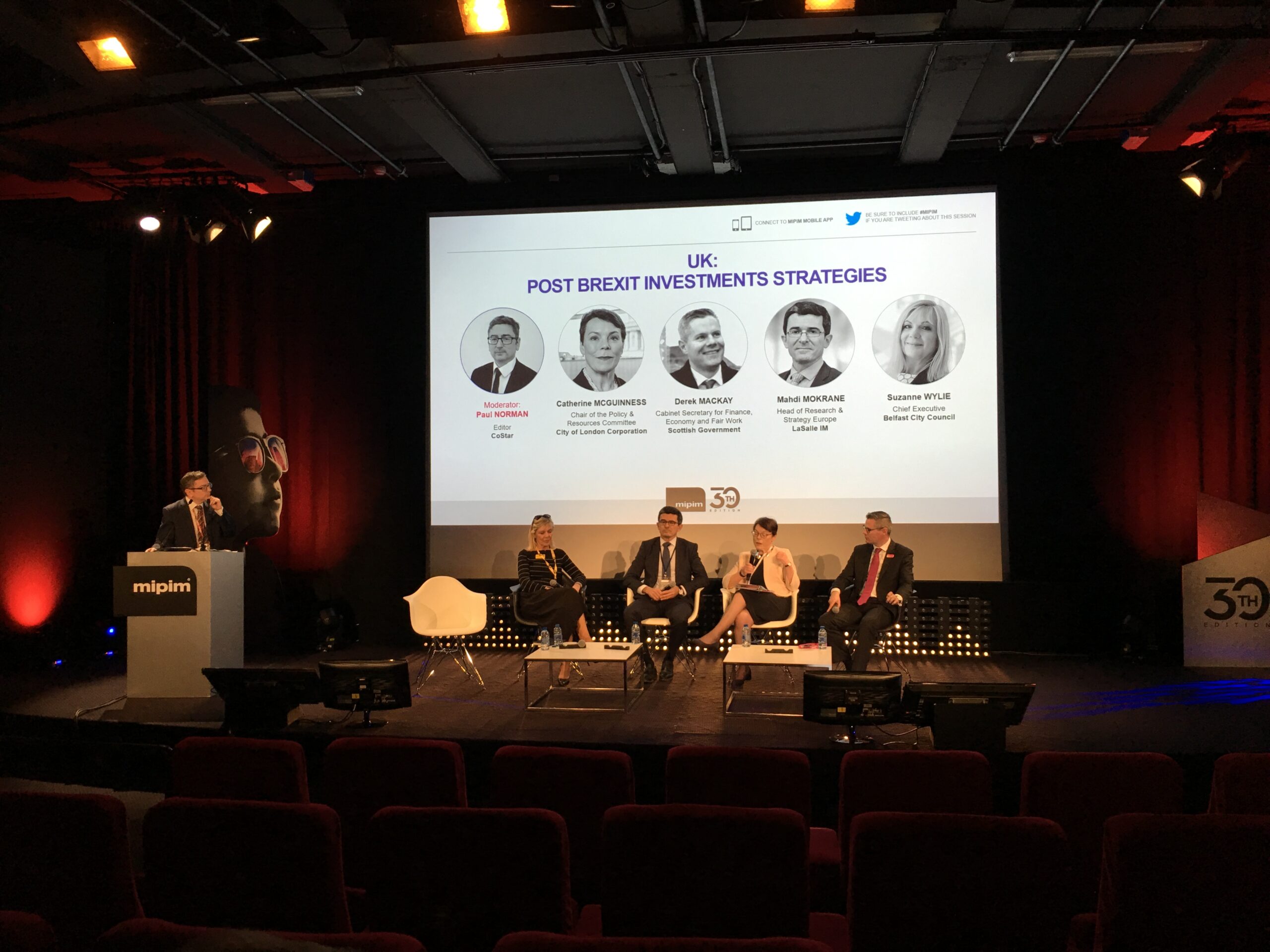 Another panel looked at Post-Brexit Investment Strategies (above).  "Uncertainty is the new normal, but London's fundamentals are strong," said Catherine McGuinness, Policy Chair at City of London Corporation. "Unprecedented numbers of tech companies are coming in and there's tremendous energy in creative sectors. We may see some services leave, but London will remain the financial centre."
"We are a large investor in Europe and have luxury to allocate investment across it", said Mahdi Mokrane, La Salle IM. "We told our clients we don't know what's going to happen with Brexit, but we see resilience in the market in UK and London in particular."
"Brexit means we have to work that little bit harder and understand what we're good at – in Scotland that means education, producing and designing things, being the centre of data and infrastructure, and doing what we can to mitigate the negatives," said Derek Mackay,  Member of the Scottish Parliament for Renfrewshire North & West.
The discussion will be continued this Thursday at the highly anticipated session 'Future Of Real Estate Investment In The UK In The Context Of Brexit'. MIPIM is proud to welcome Alun Cairns MP, UK Government cabinet member and Secretary of State for Wales, to its 2019 programme. He will be joined by Sir Edward Lister, Chairman of Homes England. Join us at 16.00 this Thursday in the Ruby Room.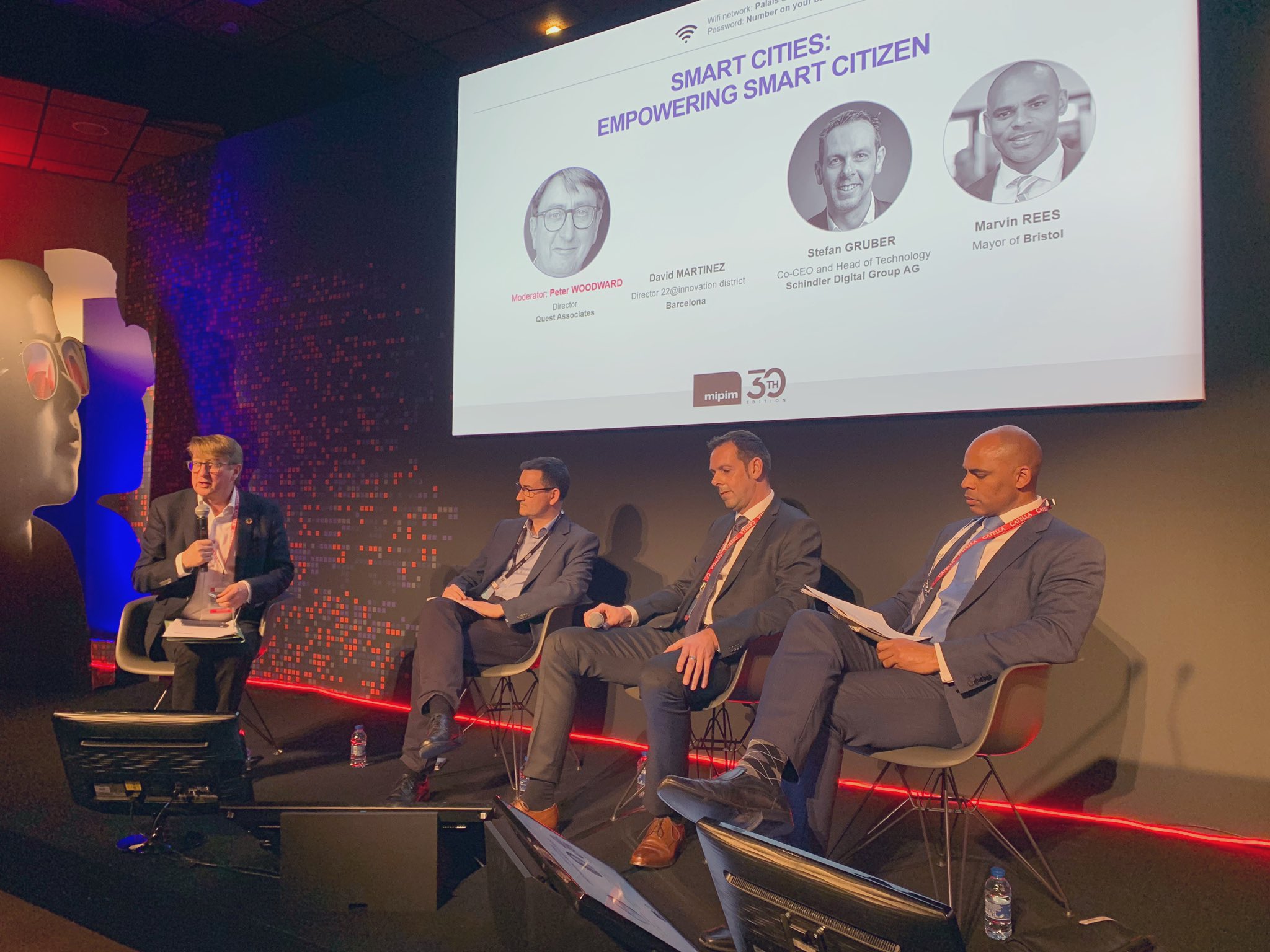 Tech was also in the spotlight today at MIPIM, with a Smart Cities: Empowering Smart Citizens panel uniting Stefan Gruber of Schindler Group; Marvin Rees, Mayor of Bristol; & David Martinez, of Barcelona's 22@innovation district. "A smart city is not a thing, it's an ability," said Martinez. "There's the physical context and then the civitas, the society. Smart cities should be between these two, so use technology to make the city more sustainable. It really is about smart citizens."
"70% of world's population will live in cities in near future," said Gruber. "Pollution, security and mobility are just a few issues they have to face. It's even more important that we improve quality of life for citizens."
"We've got 25% of children in Bristol in poverty," said Rees. "So how do we make sure all the accolades around smart cities are not just Phds entertaining themselves? How are we not compounding poverty and frustrating people, who end up voting for Brexit? There's a a toxicity that's developed in political discourse. So how do you make sure we don't lose the ability to disagree well? I'm a fan (of smart cities), but their opportunity could be turned into a liability if we don't ask the right questions."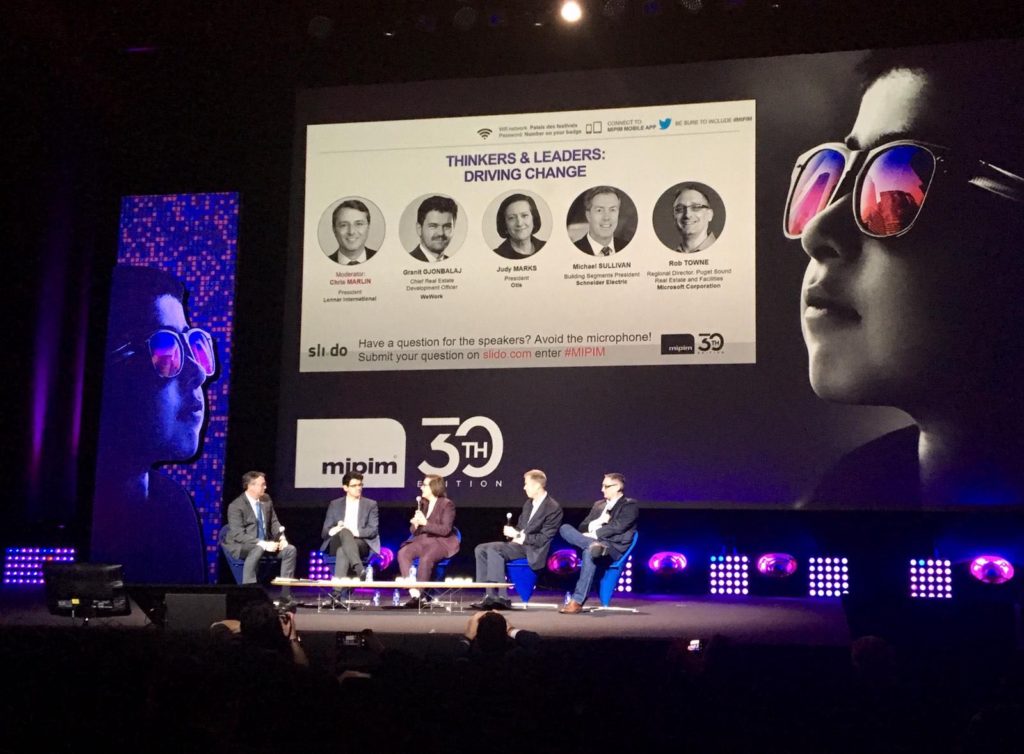 At the "Thinkers and Leaders Driving Change" panel, with Granit Gjonbalaj of WeWork, Judy Marks of Otis, Rob Towne of Microsoft and Chris Marlin of Lennar, Michael Sullivan of Schneider Electric summed up real estate's current digital conundrum quite succinctly: "No one building buildings today was born digitally."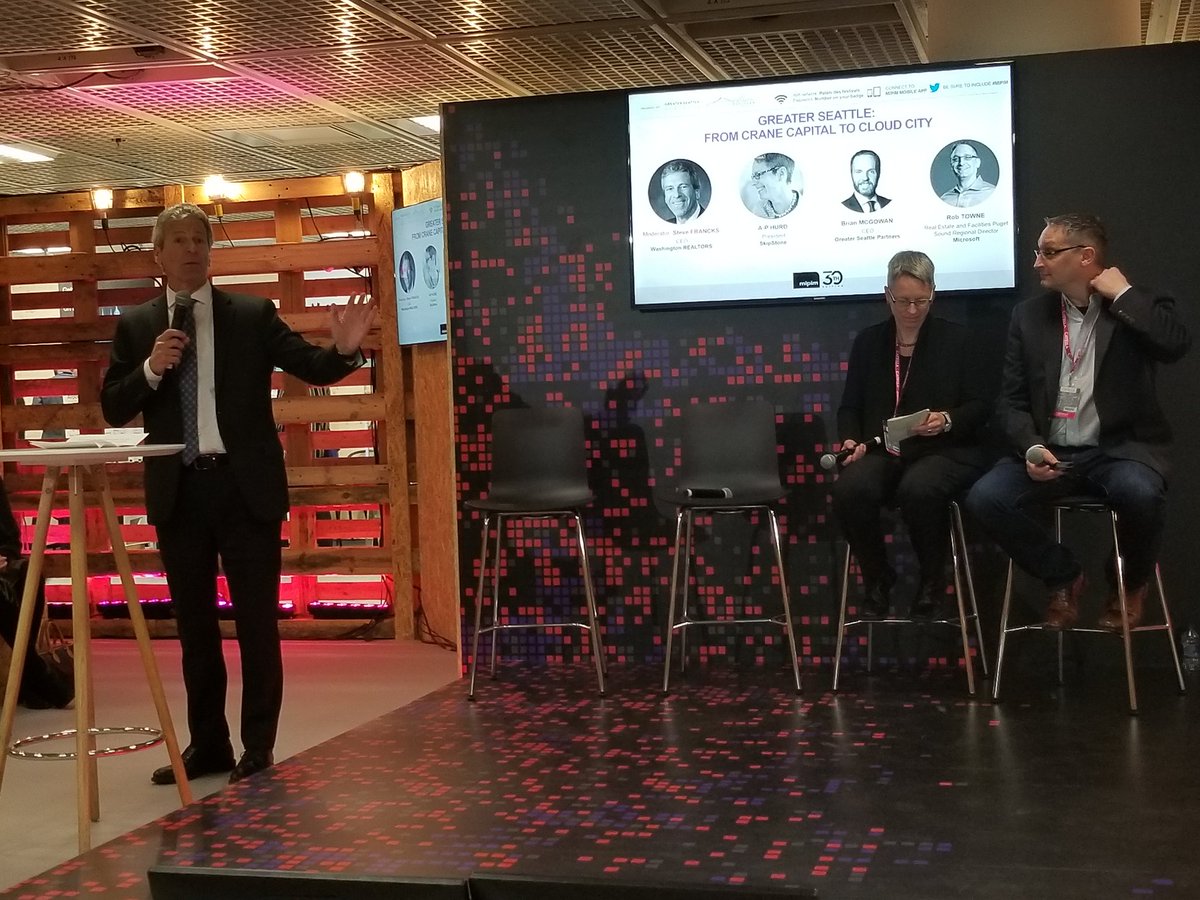 Rob Towne of Microsoft also spoke on a Seattle-focused panel later in the day. "Microsoft built a region and the region built Microsoft," said the company's Real Estate and Facilities Director. Diversity is key to this strength, said A-P Hurd, president of SkipStone: "You get the most value out of conversations between people who are the most different."
"The Seattle region has been the fastest growing region in the United States since 2010, with growth doubling the national average for the past seven years. Seattle was the third most productive economy in the United States," said Brian McGowan, Greater Seattle Partners. Not surprising, then, that it's also the home to Amazon, Boeing, and Costco. "Each of these companies has added to the entrepreneurial cultural in the Seattle region," said Steve Franks, CEO of Washington Realtors.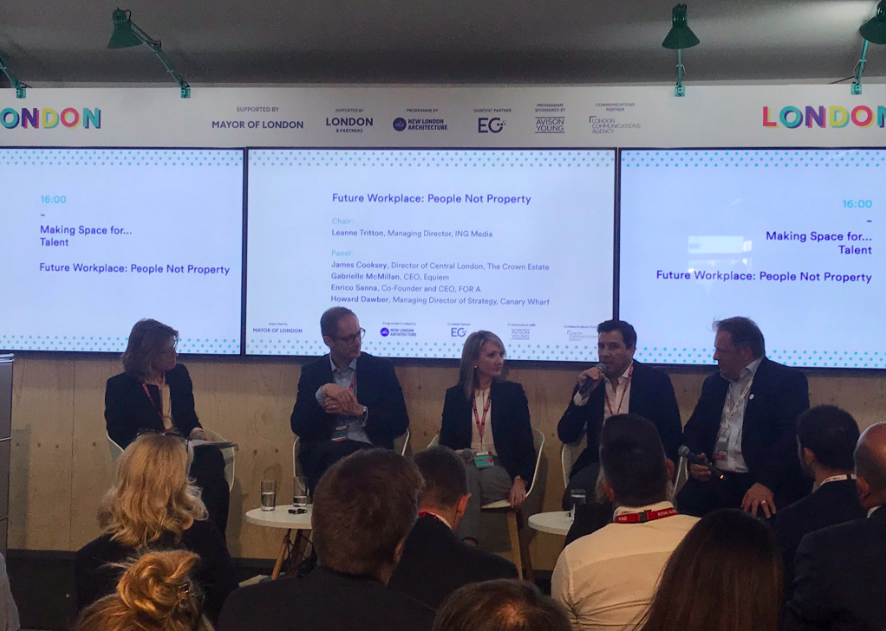 Not bad for not even a complete day of conferences! But we'll save the last word for Fora's Enrico Sanna, on the Future Workplace: People Not Property on the London@MIPIM stand: "It's about bringing the suits and T-shirts together to create the best possible working environment." As the March sun continued to shine on MIPIM delegates tackling proptech and related issues, how more apt could he have been?