"For smart cities to succeed, they'll need to integrate new connective technologies in both existing cities and master-planned communities," says Serene Lim, communications specialist at global advisory firm JLL. "Many of those new technologies are already being applied in real estate in the development known as PropTech."
From software and apps which monitor how buildings are used and anticipate occupier needs, to IoT systems that automate mechanical functions and promote energy efficiency, the evolution of PropTech shows how cities – and their users – can benefit from a high-tech approach.
Creating customer-centric PropTech
"We live in an age of innovation and transformation," says Coen van Oostrom, founder of Amsterdam-based OVG Real Estate. Last January, OVG launched a new company, Edge Technologies, to develop office buildings that incorporate tech-forward features as standard to make them smarter and more sustainable.
By being connected to their occupiers' needs and energy footprint, the buildings developed by Van Oostrom and other pioneers provide invaluable information about their impact on cities.
"The real estate industry is only just starting to understand how much data is generated by buildings, and what a resource that is," says Tobias Huber, global head of business development & projects at industrial and technology giant Siemens.
"All that information – from entering a building and using a lift to all the professional data accumulated by facility managers – is currently sitting in silos." For Huber, the right number crunching is key to improving the human experience, "to solve problems that you could not have solved in the past".
Looking beyond individual buildings, Siemens PropTech is being harnessed at a campus and district level to create distributed energy solutions based on renewable energy, says Huber. "There's huge potential to use PropTech for the management of power in cities, interacting with the grid to bring it into a wider context."
Meanwhile, William Newton, president and EMEA managing director of global internet rating scheme WiredScore, suggests that the economic benefits to cities are clear. "Digital connectivity is the oxygen of business," he says.
According to Newton, while individual landlords are becoming increasingly "switched on" to the utility of WiredScore ratings, the most forward-think municipalities are now addressing the question at the urban planning stage. "The City of London draft city plan mandates digital connectivity certification for new buildings," Newton said, "as it's so fundamental for buildings in the square mile. We expect to see that reproduced elsewhere. Boston in the US is also now addressing matters of digital connectivity in its planning laws."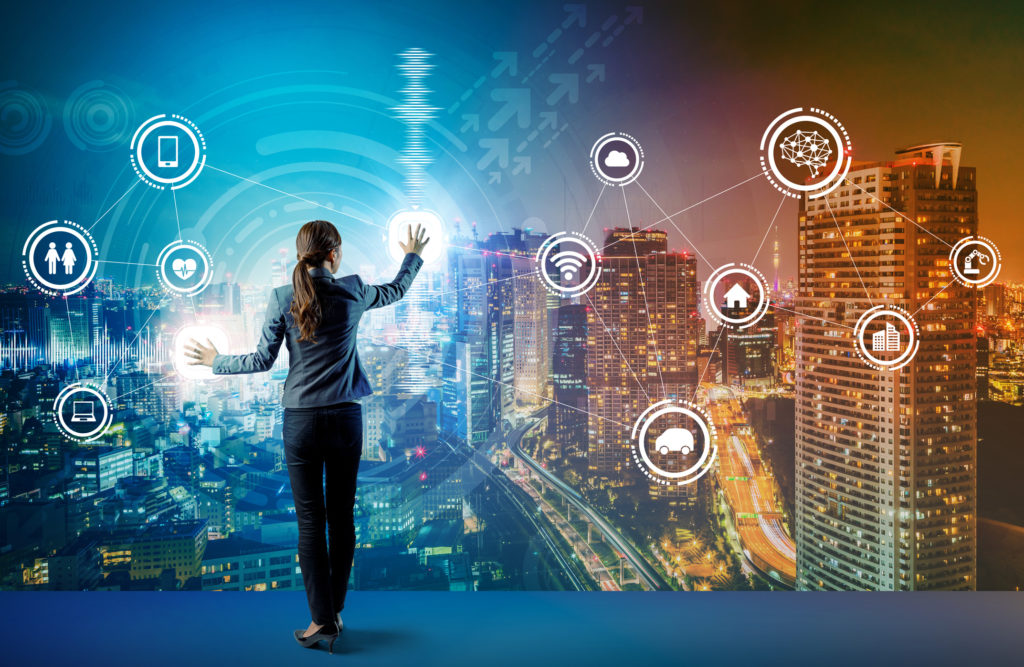 PropTech in the hands of city leaders
Unsurprisingly, at a municipal level, the world's most forward-thinking cities are now asking how PropTech can drive urban development.  Following his election as London mayor in 2016, Sadiq Khan launched the new London Office for Technology & Innovation (LOTI) to pool leading urban tech practices, executed a city data analytics programme, and appointed a chief digital officer.
Singapore's smart nation and digital government office has a $1.75 bn budget over four years to deploy technology that improves the lives of its citizens. By developing two innovation districts, Punggol Digital District and the Jurong Innovation District, it is creating a connected home for more than 500 start-ups.
The 2050 Paris Smart City project was launched by the French capital to crowdsource sustainable future designs for the city's greater urban area, including the use of photovoltaic and thermal shields in residential towers, and reversible hydro-electrical pumps to generate clean energy from collected rainwater. To the south, the Paris-Saclay district aims to become one of the top eight innovation clusters in the world, by forging a hub for Paris Region public research and industrial high-tech R&D. This district integrates new services and cutting-edge technologies for low-impact mobility, energy and resource efficiency, boosted by the construction of the new line 18 of the Grand Paris Express Metro.
Meanwhile, Helsinki's innovation district, Kalasatama, aims to save one hour of its citizens' time every day with smart traffic-related applications. The Finnish capital is also becoming a world leader in public autonomous transport.
Urban mobility and the future
Intelligent transport is likely to be an increasingly pivotal factor in improving user experience across cities, as the ease and cost of crossing urban areas will determine their competitiveness, attractiveness and liveability.
For Jerome Unterreiner, principal at ZGF Architects, eliminating cars from city centres and a shift to autonomous vehicles (AV) will drive a revolution in urban planning, transforming the way even roads are designed.
"AV will greatly impact and positively influence the built environment, especially the street edges, by establishing a more robust and extended relationship of the building to the street," Unterreiner notes. "This is going to be a game changer for real estate."
From urban planning applications to customer-centric approaches and more, the discussion continues at MIPIM PropTech 2019, taking place 1-2 July in Paris.