The real estate market is ripe for disruption as old ways of doing business are replaced by new. From how properties are viewed and marketed to how they are financed, technology is having a major influence on the industry. According to Liz Morrell of the MIPIM News, proptech will continue to dominate the property discussion…
PROPTECH — or property technology — has been a major focus at MIPIM for the past two years and will continue to be so in 2018. "The real estate market is experiencing some massive forces and is rapidly changing," says Bob Courteau, CEO of Altus Group. He adds that the trend towards globalisation means that the competition is now more intense than ever.
Big opportunities exist around making more of data in the commercial real estate (CRE) industry. "Historically, CRE has lagged other industries in big data and analytics spending," Courteau says, citing CRE's investment of around $1.9bn, compared to a $19bn spend by the banking and financial-services sector. "That's a huge gap, suggesting there still remain data silos and unconnected processes tied to the forecasting, benchmarking, budgeting, reporting, scenario analysis and valuation functions," he adds.
Fabian Hellbusch, head of real estate marketing at Union Investment, says the opportunities are huge: "Union Investment is driving forward digitisation across various areas, including automating business processes, digital real estate valuation, virtual reality [VR] and smart analytics. External data sources offer many different options for carrying out sentiment analysis. Properties with heavy footfall, for example, such as shopping centres and hotels, attract a host of comments and ratings from the public, thus creating a picture of the prevailing mood towards individual properties. This data can be collated and analysed."
But while there are plenty of disruptive technologies emerging, real estate is not proving easy to disrupt. "The real estate market, particularly in the commercial sector, has always been a late adopter in terms of taking on new technology," says Shaun Simons, director and co-head of city fringe at Colliers International. "However, in this day and age, it's essential for the sector to modernise and stay relevant," he adds.
Simon's views are supported by The Altus Group CRE Innovation Report, published in November, which suggests that CRE industry leaders are divided about the potential of new technology to drive industry-wide change.
The report surveyed more than 400 CRE executives globally, but found that only a minority of respondents thought that technology had the potential for major disruptive impact. "A high proportion of executives do not fully recognise the potential of some of the new technologies to have game-changing effects on the industry. They don't see the potential or the threat," Courteau says.
He believes that part of the problem is that the CRE industry is still too focused on ROI and not enough on R&D: "The deal on your desk will always be there, but I think it's imperative that firms look ahead five years and accelerate their investment in advanced technologies and applications, many of which have the potential to completely rewrite the rules of the game."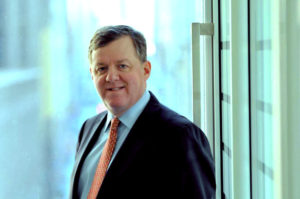 Bob Courteau:
"It's imperative that firms accelerate their investment in advanced technologies and applications, many of which have the potential to completely rewrite the rules of the game"
So what will change? Automation will be key, with more than half of those surveyed by Altus Group indicating that many major CRE processes and workflows could be mostly or completely automated. "With price pressure and yield compression, the need to operate efficiently has also increased," Courteau says. "This means that being able to scrutinise your portfolio to find the best opportunities to maximise value is key. Investment in and adoption of proptech can allow firms to better analyse risk, standardise data, and provide insight and visibility into their portfolio on a global basis, giving them the ability to maximise returns."
Colliers' Simons believes that 2017 has been a turning point for proptech, with many agencies, landlords and developers now accepting that they need to embrace technology and follow the lead of other early adopters, such as banking and e-commerce. "We have seen industries revolutionise with technology-based platforms and the same changes are afoot for the property sector," he says. "Last year saw the launch of a number of commercial property portals allowing tenants to view availability online. We have also seen huge changes in how large landlords manage their estates through technological platforms."
Colliers is one company to have adopted such a portal and enjoyed success from it. "During 2017, our agency has completed a number of deals with leads that came from the portal, which in itself completely ratifies the need for agencies to embrace this offer," Simons says. Technology-based systems for archaic processes such as rates and land-registry information would also be useful, he adds.
The visualisation of buildings and real estate is also changing thanks to a combination of real-time 3D and cloud computing, which Jean-Maxime Gil, co-founder and CEO of REALiz3D, says will be key in the digital transformation of real estate in the coming years. "People will no longer design or buy a building or apartment based on a 2D plan and a couple of 3D images," he says. His technology allows users to effectively walk through a building, as well as allowing for the customisation and fine-turning of the design of a building.
At Matterport, the company's 3D and VR tours provide similar benefits to the sales and leasing process, and as well as responding to the changing needs and demands of the consumer, according to the company's EMEA director, James Morris-Manuel. "Consumers are constantly demanding better and faster access to information and, if businesses can't provide that, then their customers will look elsewhere. That's where and when disruption happens — you only need to look as far as Uber or Airbnb to see the way this can take hold," he says.
The Built-ID platform makes it faster and easier to collaborate on project inspiration and connect with teams behind projects. Next year, the company will be launching new technology including augmented-reality (AR) and image-recognition software. "We are entering a really exciting period in the digital transformation of the property sector, with a lot of tangible examples of companies integrating and using software solutions," says Built-ID founder and CEO Savannah de Savary.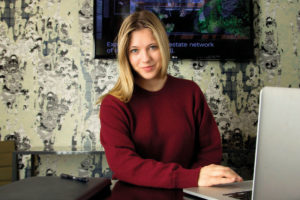 Savannah de Savary: "We are entering a really exciting period in the digital transformation of the property sector, with a lot of tangible examples of companies integrating and using software solutions"
With such change already happening, the industry needs to react quickly. "These technologies are absolutely creating competitive advantage for the operators and investors who embrace them," Courteau says. "To succeed, firms need to embrace start-up technology companies, meet with new innovators in the market, and listen to and better train their internal staff."
And resistance is futile, according to Colliers' Simons: "As an agent in the industry, I know my sector is worried about the change. However, the change is coming, whether we like it or not, so we have to be supporters, or we will fast become hugely irrelevant."
If change is not embraced, others will win, according to Matterport's Morris-Manuel. "If the industry closes ranks and turns its back on tech, then it will find that disruptors will spring up and use the solutions and data available," he cautions.
Ryan Masiello, co-founder and chief revenue officer of asset management platform VTS, believes acceptance of change is improving: "The benefits of proptech are becoming apparent and therefore real, from increases in net effective rents to accelerated leasing cycles to more streamlined communication across teams. As a result, we're seeing a growing openness from the industry's largest players, who have long experienced the pain points caused by broken systems, but who were sceptical of the new generation of players claiming to solve them."
OFF TO THE BEST START
MIPIM 2018 will witness the final round of the MIPIM Startup Competition, organised in partnership with MetaProp NYC. Preliminary rounds have already taken place at the MIPIM Proptech Summit in New York, at the MIPIM Asia Summit in Hong Kong and at MIPIM UK in London. Just nine startups are left in the competition and they will all have the chance to pitch to MIPIM's jury of experts in a bid to be crowned the top proptech startup of the year.  Click here to see all finalists to compete in Cannes this March.
Discover MIPIM PropTech, the premier property and tech event in Europe!