While the first day of MIPIM PropTech Europe invited delegates to join in addressing the role of PropTech in the future of buildings, the second day analysed the bigger picture – the future of the city.
This MIPIM PropTech Europe wrap identifies eight key takeaways from Europe's largest dedicated PropTech event.
     1. MEETING END USER EXPECTATIONS
Keynotes, panellists and delegates discussed how PropTech can help meet the needs of end users across public and private sector ventures – from individual buildings to entire cities.
In a session focusing on CEO strategies for a "human-centred" real estate, Csongor Csukás of BNP Paribas Real Estate suggested that "buildings will become more human in the future. To get there, buildings will become more connected. Not just in a digital sense, but in terms of their environment."
 "There's no such thing as an ideal neighbourhood, they are as unique as peoples' needs," suggested Sophie Rosso of French urban specialists Quartus. "We have been working with MadeInVote to better understand what people need in their neighbourhoods," she explained.
     2. FLEXIBLE SOLUTIONS ON THE RISE
Another key theme of MIPIM PropTech Europe was aligning the short-term demands of users and the fast-changing nature of technology with the long-term strategies of the private and public sectors.
Hannah Prideaux, business development director of District Technologies said that the answer lay in an increasing nimble property industry. "Real estate is one of the slowest industries; one of our clients even said it's 'glacial'," she told a session of young leader perspectives. "Many landlords still don't want to engage with tenants. That is changing quickly."
"It's about reinventing relationships, not tagging on innovation," agreed Jack Sibley of investor Nuveen.
For Tanguy Quero of JLL Spark, the real estate industry must be ready for a more complete transformation to embrace short and long-term goals. "For example, the vision of JLL is to change the business into a tech company which specialises in real estate", Quero said.
     3. JOINING THE TECH RACE
An entertaining session entitled "best practices when it comes to working with start-ups" identified ground-rules for big corporates trying to partner with the world of start-ups.
"It's important to be flexible," said Marie Celie of business district Paris La Defense. "We devised new processes to work with startups; that didn't work (because they're all different); what counts are the relationships you build," Celie said.
The Microsoft keynote from Xavier Perrin confirmed that a tech race was inevitable, while offering guidance on how data can assist the challenge of space management. "The latest tech solutions engineer anonymity," he said, citing solutions which "deidentify and obscure" private identification information (PII) while providing valuable feedback on how space is used.
     4. START-UP 101: SHOWCASING TALENT
Two start-up contests showcased emerging talent in the industry. The two European finalists of the MIPIM Startup Competition 2020 were selected during the event from a shortlist of six. AskPorter (UK), an AI-driven property management platform, and Mayordomo Smart Point (Spain) which coordinates smart locations for purchases and package collection, go through to the grand finale at MIPIM 2020 in Cannes, where they will be joined by winners from this year's New York and Hong Kong events.
The European Commission's first ever PropTech StartUP Europe Awards was also held during the conference, featuring ten finalists from seven countries. First prize went to Sensoneo, a smart waste management concept from Slovakia.
     5. BEST PRACTICE & PARTNERSHIPS FOR SUCCESS
Partnerships were a strong theme running throughout MIPIM PropTech Europe, with Roelof Opperman of venture capital firm Fifth Wall recommending outsourcing specific tasks in the innovation race.
"Flexible workspace is regarded as the future," Opperman noted, citing Hines as a "best practice" example for its pursuit of this business segment. "They found partners of the same first-class quality as them, and recently announced a number of rollouts with the Hines Square brand."
In another session on investment trends, Vinci Immobilier's Diego Harari backed the partnership route. "Our corporate venture strategy is focused on tightening the commercial relationships we want to have with start-ups. Our second objective is monitoring those start-ups that might bring disruption to our value chain," Harari added.
     6. CREATING COMMUNITIES THROUGH PROPTECH
A step beyond finding the right partners, the creation of communities emerged as another important message.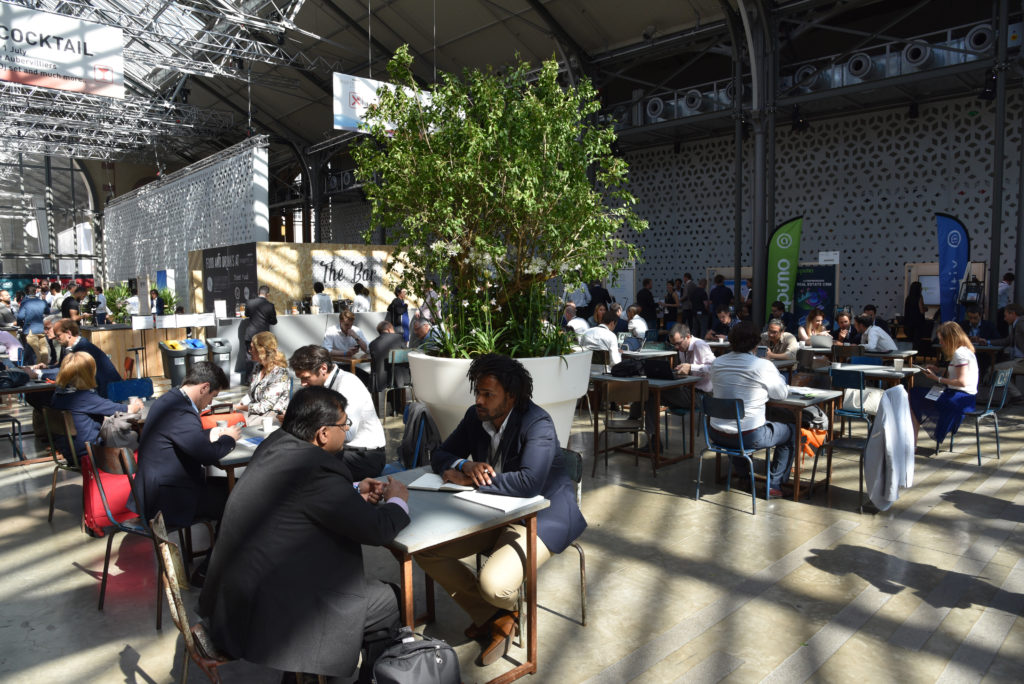 Micahl Olszewski, Deputy Mayor of Warsaw, said: "Modern life can make people feel like they have lost contact with their neighbours. We have reintroduced social centres to fulfill a need for 'marketplaces', plus participatory surveys to find out what they want."
The keynote speech from Josh Artus of business analysts Centric Lab identified the growth of STEM industries in the modern economy, suggesting that workplaces would need to evolve to meet the needs of the creative, scientific community.
A session on co-living charted the rise of one of the biggest community experiments of our time. "Coliving aims to tackle issues of affordability, mobility, loneliness and evolving preferences," explained Claire Flurin of session hosts Co-Liv.
     7. INVESTMENT DYNAMICS
PropTech has cemented its importance in the real estate finance world more rapidly than in other areas of the industry, delegates heard, with blockchain and crowdfunding on the verge of entering the mainstream.
Elsewhere, sessions demonstrated that investor interest in PropTech shows no sign of abating, with venture capital continuing to pour into the sector. Yet EU Commission keynote Rudy Aernoudt, suggested that there was still much to be done.
"The depressing news is that there is 34 times more investment money in the US than in the EU," Aernoudt said, pointing out that only 18 out of 350 unicorns worldwide are European. To tackle equity gaps which make scaling firms more difficult, Aernoudt announced a new EU system, ESCALAR, to help on that front.
     8. SUSTAINABLE GOALS
MIPIM PropTech Europe's broader brief meant that the environment and social challenges were never far from the agenda.
"Business philosopher" Anders Indset challenged the industry to launch a "conscious revolution", or risk technology rendering humanity "homo obsoletus" in his "unexpected keynote".
"The biggest threat to humanity and our climate is that we believe that someone else is going to come along and fix it," Indset said. "What would you do if you weren't afraid?"
Meanwhile, keynote speaker Kai-Uwe Bergmann of Denmark's BIG reminded delegates that PropTech isn't just for new builds. "There's nothing more sustainable than maintaining the heritage around us, and finding ways to integrate technology within those buildings," he said.
For Bergmann, leveraging PropTech for the future requires vision: "You are working on the future, but only in bits and pieces. It's a matter of thinking collectively. We have tremendous amounts of data; how do we collate it into something useful?"