Left to right: RICS' Amanda Clack & Daniel Cook; Metaprop's Aaron Block; The European Commission's Fulvia Raffaelli; Seedcamp's Taylor Wescoatt; and VTS' Nick Romito
A lot is said about the boom in property technology — called 'proptech' in Europe and 'REtech' in the US — but just how big is it? A RCIS-hosted panel (top photo) tackled the question at MIPIM today.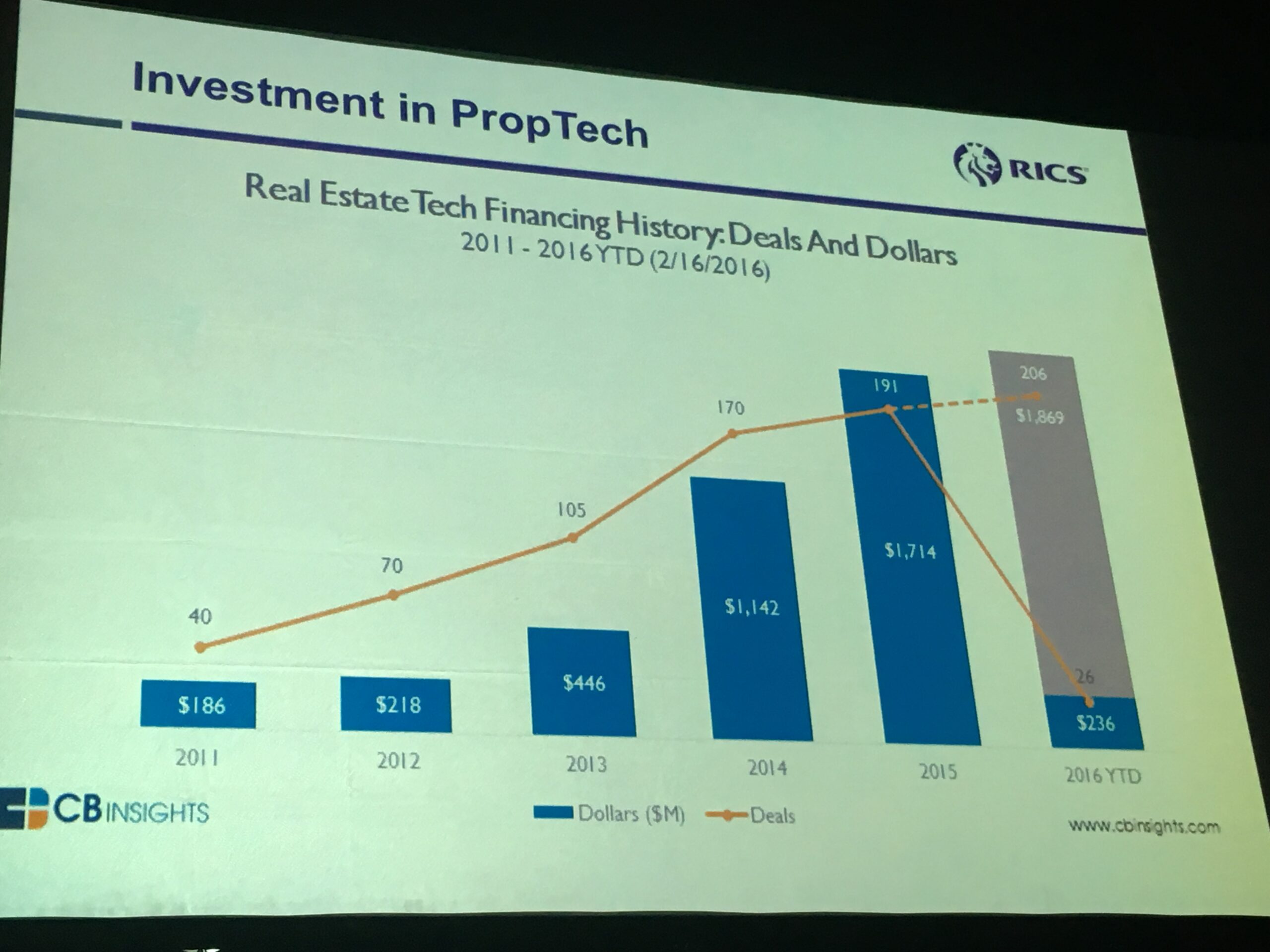 For Aaron Block, of US startup incubator MetaProp, the boom pictured above is "just a drop in the bucket" for now; i.e. it's way smaller than fintech right now, for example. So in other words, it's very early days. But it's growing fast. MetaProp has invested in 60 real estate startups in the past three years, said Block, but will invest in another 25 this year alone.
Seedcamp's Wescoatt concurred, saying there's "amazing growth right now" in proptech. "The massive growth in urban population that's expected over next 30 years," he said, will undoubtedly spur the phenomenon, demanding new technological approaches, "like service-on-demand networks", for example, he said.
"Digital transformation is happening," said Fulvia Raffaelli, The European Commission's head of clean technologies & products. "I've been amazed by the amount of innovation at MIPIM." So what can the EC's role in this trend be? "We need to have a strategy and initiatives for startups, creating conditions for companies to grow in Europe; removing existing obstacles to allow momentum to happen. We support innovation."
So if it's still early days, what obstacles remain? "Pushing the construction sector towards innovation is quite a challenge," admitted Raffaelli; so "we want to push towards more open standards. We also believe in tech as a way to harmonise the market, particularly in the procurement side."
Then on to crystal ball-gazing: the panel were asked how they saw the sector in 15-20 years. Will proptech monopolies crop up? Not necessarily, said Westcoatt: "monopolies get broken quickly in tech. Look at tablets vs PCs!" Block, for his part, outlined a more radical shift: "Real estate companies will become tech companies who happen to work in RE."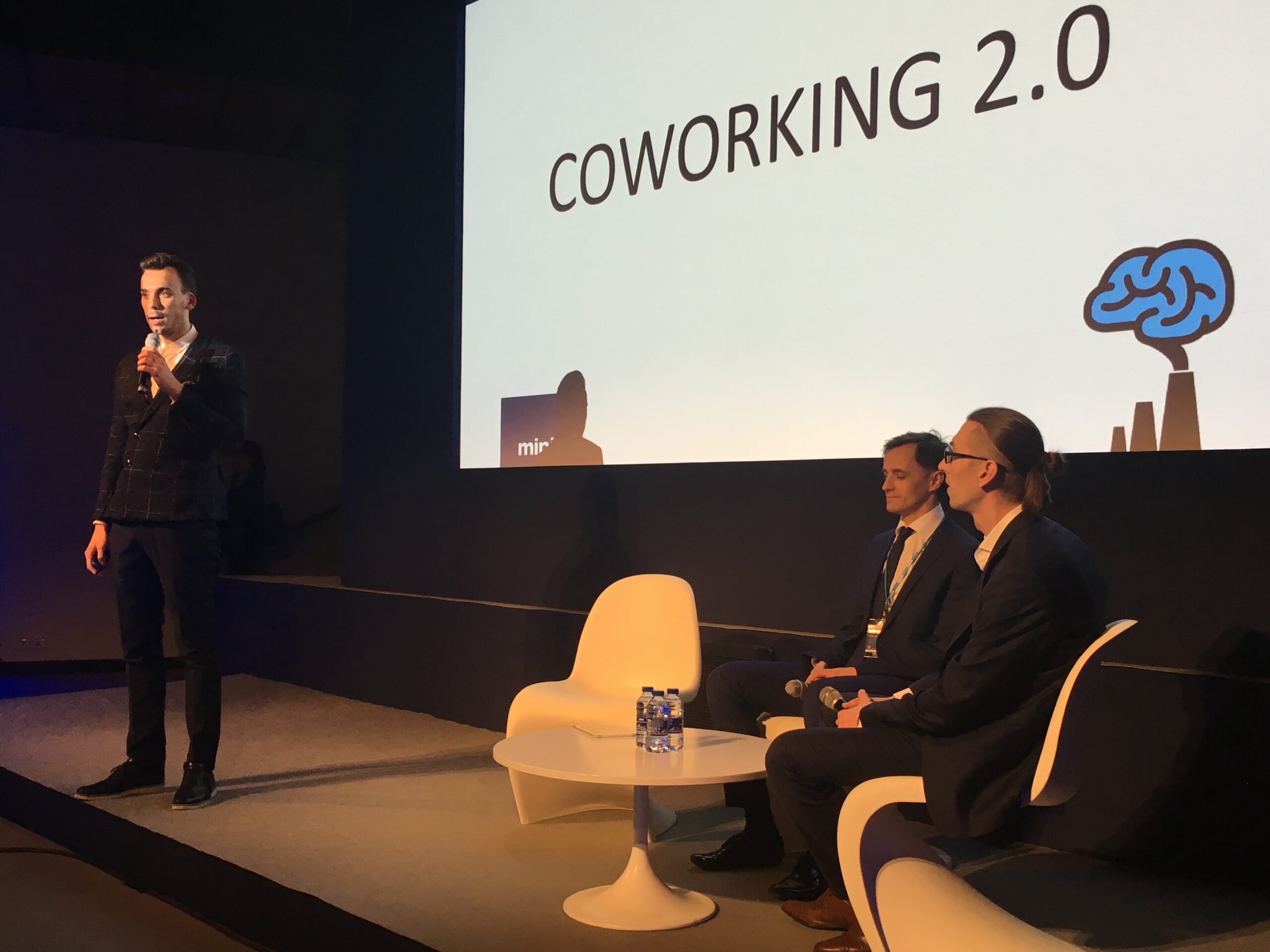 Many of these proptech companies will no doubt work in spaces which have little to do with traditional offices. Such was the topic of another session today. Called "Coworking 2.0", the panel, crowdsourced as part of MIPIM's Open Stage initiative, was hosted by Latvia's Riga Powerhouse's Edgars Ivanovs (left), who made proceedings immediately interactive by asking the audience if they'd experienced coworking themselves. If they haven't yet, they may well do soon:
Huge growth of coworking spaces: will concern over a million people by 2017 #MIPIM #rigapowerhouse pic.twitter.com/syxyT2wIHK

— MIPIMWorld (@MIPIMWorld) March 17, 2016
So why does the model appeal? For panelist Karlis Gedrovics, of Latvia-based agency Inspired, "we want to grow, but we have a problem: how do we manage that? We need a vibrant ecosystem where there's networking going on but where you can work quietly if you need to too." Concerns shared by an increasing number of young companies and independent workers, for whom fellow panelist, Yan Yarmoshuk of Russia's Flaconx "started offering coworking to freelances and designers who wanted to work in our atmosphere. We have office to rent and retail spaces; we have a TV and a radio channel. Coworking spaces are an easy way to start business together. There are now over 70 coworking spaces in Russia," he said.
Essentially, as Ivanovs put it, coworking is above all about "human capital", or investing in the "creative economy". Equally creative, in countless fields, is Brazil, the subject of a tourism-focused panel which notably welcomed Rodrigo Marques, General Investment Coordinator for Brazil's Ministry of Tourism. "Brazil is one of the top tourist destinations, there is big potential for investment in the tourism sector", he said; "foreign direct investment is growing significantly." So why should others invest there? Besides being "the most competitive market for tourism in Latin America… international tourism flow will be positively impacted by World Cup" this year and beyond, said Marques. Panelist Dietrich Heidtmann, of GTIS Partners, agreed: 
Dietrich Heidtmann, GTIS Partners: "This is the best time to invest in Brazil" #MIPIM pic.twitter.com/nWYAOaseSU

— MIPIMWorld (@MIPIMWorld) March 17, 2016
You can also find out more about this booming territory in our interview with Heidtmann, here. Obrigado!