As cities around the world look to technology to make themselves "smarter" and more sustainable, many are watching Songdo. Proclaimed as the answer to the ills of modern-day living in Seoul, the Songdo International Business District, as it's formally known, was built from scratch, on 600 hectares of reclaimed land from the Yellow Sea. The benefit of Songdo's-top down-smart-city approach has meant that developers and planners have had the opportunity to invest in the latest technology that has yet to be established in urban areas. Amongst its many accolades, the district boasts 20 million square feet of Leadership in Energy and Environmental Design certified space – "the highest concentration of LEED-certified projects in the world" according to IBD lead developer Gale International.
Many of the innovations that have been implemented in Songdo have been designed to meet global environmental policy standards and promote sustainable economic development within the district. Along with higher numbers of bicycle paths and walk ways, charging stations have been dotted around the city to promote the use of electric cars as the preferred mode of transport rather than fuel-powered vehicles. Songdo International Business district also utilises a pneumatic waste disposal system which does away with the need for rubbish trucks, taking waste through a vast network of tunnels to processing centres where it's sorted and treated to be more environmentally friendly. With cities consuming more than two-thirds of the world's energy and accounting for more than 70 percent of global CO2 emissions according to EY, the race is on for cities to adopt similar models to Songdo.
However, there are urban divide and marginalisation issues that come with focusing all investment efforts on hard ICT infrastructures. Despite Songdo's meticulous design, less than 20 percent of the commercial space in the district has been occupied. Such is the case in Masdar City in Abu Dhabi which has fallen well short of its target of 50,000 residents within a decade, with a population closer to 1,300 – most of whom are students living in on-campus housing.
Gorana Sheppard, Head of Urban Sustainability at Pilbrow and Partners believes that creating an identity solely around the idea of 'smart' isn't enough to attract residents: "Smart cities are a very large topic. On one hand, we could be talking about smart infrastructure, which often has little to do with the citizen experience, such as gas supply or waste disposal. If you think places like Masdar and Songdo have failed, this failure is more likely to be related to planning – the look, feel and land uses, and creation of jobs, the economy, not the efficiency of smart infrastructure. Labelling something "smart", or even making it smart isn't enough to provide identity for a new city. It's about lifestyle and the broader economy. Whilst these examples were trying to push the "smart lifestyle", making sure there are jobs, to begin with, should be a primary pull. Unfortunately, 'smartness' alone doesn't create reasons to relocate somewhere."

 
Speaking about the pitfalls of an ICT top-down approach in smart-cities, Alice Charles, Cities and Urban Development Lead at the World Economic Forum, believes:
"Citizens need to be engaged at the outset to define the vision for the city and most importantly identify the problems that needs to be solved. While big data can provide part of the baseline, it's no substitute for engaging widely with citizens, as data is often exclusionary. For example, data may not include hard to reach groups like children, the elderly, disabled, migrant groups and even women, so if a city does not use multiple channels to engage them they will not develop an inclusive vision. Only when this approach is taken can cities start to think of the solutions they need to find to solve citizens problems. In providing the solutions, smart city technology can be leveraged as an enabler, which will result in the city delivering infrastructure and services in a more smart and efficient manner. However, if a city starts with selecting smart city technology rather than engaging citizens in defining their problem, they likely will procure a technology the does little to improve the quality of life of citizens. In relation to Songdo it certainly offers the latest smart city innovations and technology, but citizens are not at the centre."
However not all cities are struggling, in 2017 Bristol was recognised as the U.K's leading smart city, with its bottom up approach pushed forward by a joint venture between the University of Bristol and Bristol City Council, Bristol is Open. At the core of the objectives set out by Bristol is Open are 'citizen-centric solutions' aimed at tackling issues such as transport, energy housing, the integration of new technologies with an 'up-skilling' approach. In terms of retrofitting smart cities, Gorana Sheppard acknowledges: "A user-first approach is very important. Governing bodies and local authorities are finding more ways to reach minority or disadvantaged communities with smart technologies, working to bring about more social inclusivity."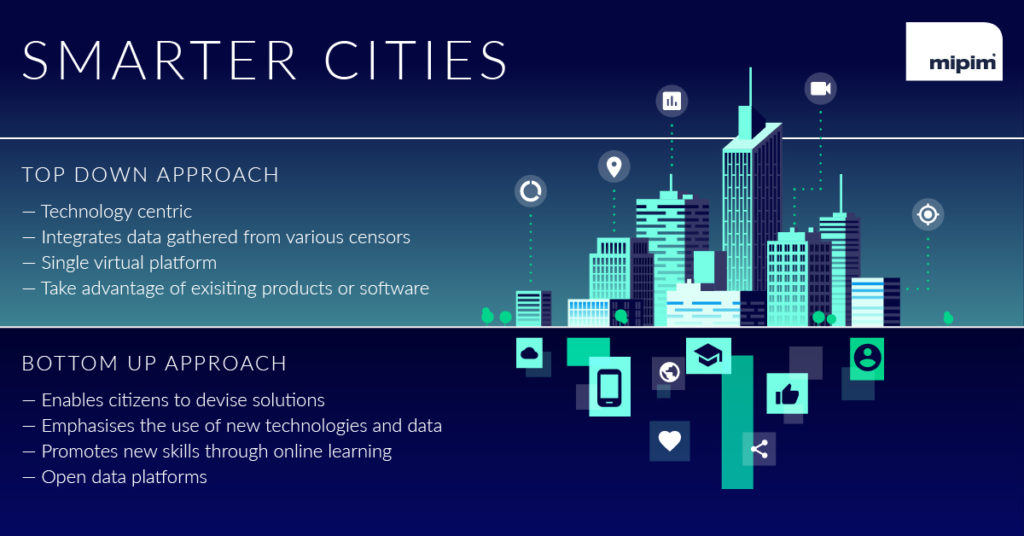 Once smart infrastructures are in place, smart strategies should aim to improve people's and local firms' ability to grasp the potential benefits of these new technological and networking opportunities.  This implies embracing a holistic vision of the urban landscape and involving the whole network of actors in the urban eco-system in the design and implementation of intelligent urban policies. Stakeholders' participation can be enhanced by new technologies but will not automatically stem from it. More comprehensive policies are emerging worldwide, and draw on the use of communication technologies to enable citizens' participation in decision making, facilitate cooperation between actors, and support the local economy (urban action forums, hyper-local websites, community services, digital divide programmes, etc.), but they will take longer to deliver their expected results.