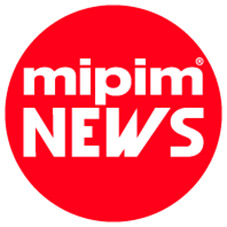 AND THE WINNER IS….
WAVING their glow sticks in the air, the packed audience of the Grand Auditorium at MIPIM yesterday afternoon voted Ross Bailey, CEO of Appear Here, as the biggest digital disruptor.
The vote followed an innovative, new format session for MIPIM — Digital Economy Challenges Real Estate Sector: Disruptors At The Door —which saw eight digital innovators pitch their businesses, with four minutes each on the clock behind them, to a panel of three experts and the audience in the style of the TV format Dragon's Den or Shark Tank in the US.
After each presentation the disruptors then faced probing questions from the experts — Chris Marlin, president of Lennar International; Juliette Morgan C&W global tech group leader and Samuli Siren, managing partner of Redstone Digital — and the audience, as they sought to assess who was likely to have the biggest impact on the industry.
Bailey's online marketplace for renting retail space may not have won the vote of the expert panelists but it certainly won the audience vote as he told how his business was slashing the time taken to do deals. From an industry average of three to six months needed to rent space, he said that last month half of all the company's bookings took 48 hours. "We make it as easy as booking a hotel room," he said. The platform is already used by a range of businesses, both large and small, with around three quarters of users small entrepreneurs.
Bailey only just beat fellow contestant Michael Mandel, CEO of CompStak, who won all three of the expert votes in the final stage of the competition as well as the second-largest audience vote. He is creating transparency in commercial real estate by gathering information that is hard to find, difficult to compile or unavailable. The company's first product is a marketplace for the exchange of lease comps — the complete record of a lease transaction.
Other projects pitched included everything from online leasing tools to virtual reality offerings. The complete line-up also included Jean-Marie Celerier, co-founder and managing director of Tandoori by Spicesoft; Simon Henry, co-founder and co-CEO of Juwai.com; Scott Picken, founder and senior managing partner of Wealth Migrate; Brandon Weber, founder and CEO of Hightower; and Renaud Prouveur CEO of Spallian. The session's master of ceremonies was Peter Woodward, lead facilitator of Quest Associates.
 Watch the conference here:
Images: Image & Co / S. Champeaux