As well as becoming an important asset class in its own right, hospitality is now a beacon of best practice for service levels in the workspace, retail and residential sectors.
The industry, the world's second largest, is growing globally by 3-5% a year; and the same levels of growth are expected over the next 20 to 50 years, as more and more people travel, said Sébastien Bazin, CEO & Chairman of Accor, Europe's largest hotelier, in his keynote address at MIPIM 2019.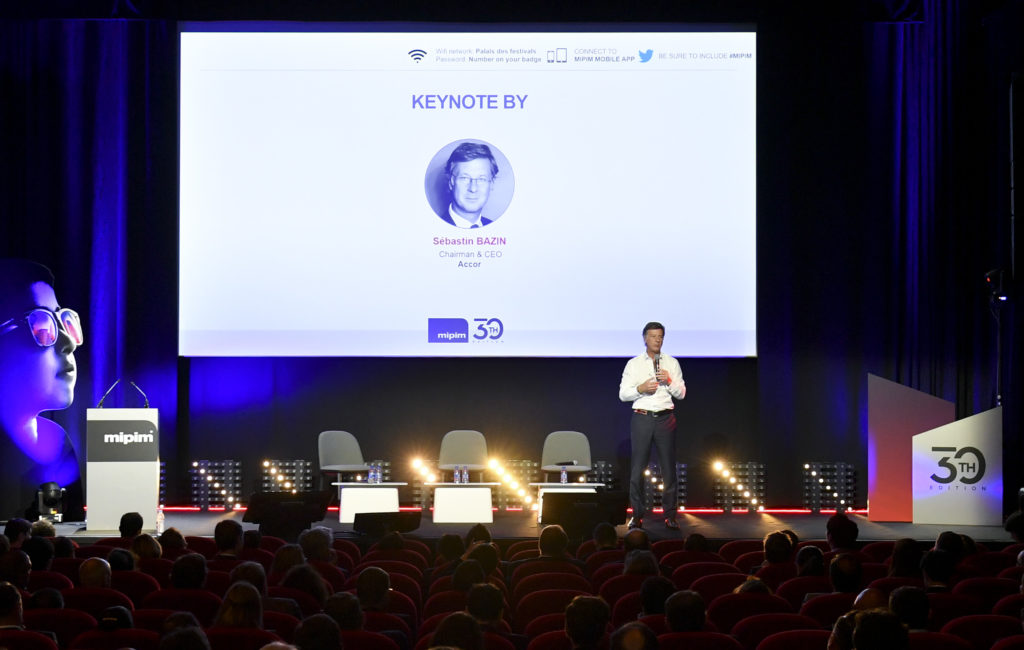 Here, we recap on what Bazin shared with the MIPIM audience, including his ambitious transformation of Accor over the past five years, to position the group as a digital innovator using 'augmented hospitality' to reach new 'data points'.
The four Accor revolutions
Sébastien Bazin joined Accor, Europe's largest hotelier, in 2013, having been on the Board of Directors since 2009. He has taken Accor through four 'revolutions'… with more to come.
Since 2013, the group has become:
Asset light: Accor sold most of its real estate to AccorInvest, the former Accor subsidiary which in 2018 opened up its share capital to long-term investors. Now, Accor is 94% asset light.
Diversified into luxury: The group has grown from 12 to 38 brands, expanding around the world and into upscale luxury, with Sofitel, Raffles, Fairmont and Banyan Tree. Now only 44% of its rooms are in Europe and only 55% are economy/midscale.
A 'people servicer' through digital: "Accor's digital revolution is going to take another 3 to 4 years minimum, but that digital revolution is embedded into our becoming a 'people servicer'," said Bazin.
About the client, the brand and distribution: Accor is making a 180-degree shift to be "client-brand-distribution minded", away from a focus on ownership and product, which has resulted in the "same coherent, consistent product all over the planet".
Accor is in bucket No 2 – the 8 gorillas
The new economy – Bucket No 1: "These players didn't exist 20 years ago and now they are growing at around 50% a year. They take space away from the other two buckets." Although, Bazin added: "They provide me with customers who I don't have access to." For example, he said, US clients not living within easy reach of Accor's two sales offices in the US, on the East and West Coasts. In this bucket: Booking.com, Expedia, TripAdvisor, Airbnb, Ctrip …and many more.
The 8 gorillas – Bucket No 2: This bucket includes five Anglo-Saxon chains – Marriott, Hilton, Hyatt, InterContinental and Wyndham. Two Chinese – Jin Jiang and Huazhu. And one non-Chinese, non-Anglo-American – Accor.  "Bucket No 2, like No 1, is super solid. Except that in bucket No 2 we grow at 8% to 15% a year, which is a third or a fourth of the pace of bucket No 1 [the digital bucket].
Everyone else – Bucket No 3: "My belief is that 5%, maybe 10%, of bucket No 3 closes shop each year. Why? Because they cannot compete with bucket No 1. They don't have the technology, the data, the financial muscle, the brand awareness … and now they are paying 20% commission to bucket No 1."
Taking market share from the 'everyone else'
"Half of our growth in bucket No 2 [the 8 gorillas]comes from No 3 seeking protection from bucket No 2. They come knocking on my door seeking a franchise, thinking about partnerships … So, for the next 15 or 20 years, bucket No 2 is going to be fine because I will inherit greater market share from bucket No 3.
"For the next 15 or 20 years, [Accor] is going to be fine because I will inherit greater market share from bucket No 3."
"Accor is the only group out of the 8 gorillas where probably the growth is the largest. Why? Because in the US, 70% of the market is bucket No 2 and 30% is No 3. Any place else on the planet, it is exactly the reverse."
The importance of data points
"The foundations of Accor are super, super solid. We have all the means. We have almost 300 million clients. We have more than 4,800 hotels. And Accor is No 1 in 60 countries out of the 100 where we are present.
"If you want to compete, you have to increase your data points, your frequency of interaction with your existing guests."
"But why is bucket No 1 so powerful? They have something which is unique – a frequency of interaction with their guests [via social media and search engines]which is huge.
"We see a client on average 2.5 times a year compared with two or three times a week [for an operator]in bucket No 1. To compete, you have to increase your data points – the frequency of your interaction with existing guests."
Buying adjacency
To increase these data points, Accor has been investing in and creating 'adjacent' start-ups. Bazin calls this 'augmented hospitality' – businesses linked to the travel space but not "in coalition with the room".
The 12 'bricks', or companies, already acquired by Accor, and part of the group's vision of 'augmented hospitality', include:
John Paul: the world's largest digital concierge company, operating in 55 countries, with over 50,000 partners and over a million requests responded to each year.
onefinestay: exclusive holiday accommodation, with city and villa collections around the world operated by their 'homeowner community'.
WOJO: Accor bought a 50% stake in 2017 in WOJO, a Bouygues Immobilier-launched coworking operator (previously Nextdoor). WOJO plans to open 1,200 coworking spaces in Accor hotels by 2022, with three concepts: WOJO Spots, WOJO Corners and WOJO Sites.
ALL – bringing you food, entertainment, sport
All Accor's 12 'bricks', or start-ups/companies, in augmented hospitality will be part of ALL, Accor Live Limitless, Accor's new lifestyle loyalty programme, which also brings in the Group's booking engine, and is due to go live by the end of 2019.
When Accor asked its customers what they wanted from a hotel or travel company, they said: "Something to remember, something personalised, something to talk about back home."  What were the top three experiences sought? Food, entertainment and sport.
So, ALL has signed partnership agreements with, among others:
Taste Festivals: the organiser of renowned food festivals around the world.
AEG Presents: a world-leader in live entertainment.
Paris Saint-Germain: Accor becomes the principal partner and official jersey sponsor Paris Saint-Germain FC starting in the 2019/20 season. This opens the communication channels to the millions of fans of Paris Saint-Germain, with a following of nearly 70 million just on social media, opening up new 'data points'.

On being asked about smart rooms …
"I'm a great believer that you're going to see more and more people who want to disconnect. What matters most is not the room anymore; the room technology is going to permit you to do whatever you want to do, but it's irrelevant.
"What matters most is something you cannot do technically – meet the customer."
"What's relevant is the experience when you travel to a destination," said Bazin. "It's the service, the people welcoming you with a smile; it's about finding out about the special exhibition, going to the hotel restaurant to find that the local people go there because it's so fun."
Bazin concludes: "What matters most is something you cannot do technically … Bucket No 1 is tech savvy but they never ever meet the customer."
TOP PHOTO: Raffles Maldives Meradhoo Resort – Ile de Meradhoo
Copyright: Gerrit Meier