MIPIM's second day saw some of the world's most innovative real estate startups celebrated on the Grand Auditorium stage, for the final round of the MIPIM Startup Competition. The six finalists, gathered from semi-finals in Paris, Hong Kong and New York, were District, a  platform not just for coworking, but for all types of shared living spaces; Neoma, which has developed Gaia, an AI designed for helping hotel staff predict guests' needs; onTarget, whose automated building site service can detect accidents, or automatically recommending to hire more workers should progress slow; Sensorberg, which uses a sensor-based system for digitising buildings, for example for unlocking doors; Spaceti, which uses data via sensors to analyse and improve office utilisation rates; and Tatami, a modular buiding system.
After a short deliberation, the jury – consisting of
Concrete VC
's Angelica Donati;
LIQUID Real Estate Innovation
's Dan Hughes;
JLL Spark
's Andrea Jang;
Workwell
's Marie Schneegans and Joern Stobbe of  (competition sponsor)
Union Investment
–
chose Spaceti as the 2019 competition's winner
.
Aakash Ravi
 (far left in the above photo) accepted the prize from Stobbe and MC Aaronn Block, of MetaProp NYC. Congratulations to all our finalists! And check out
the whole ceremony in livetweets right here
🙂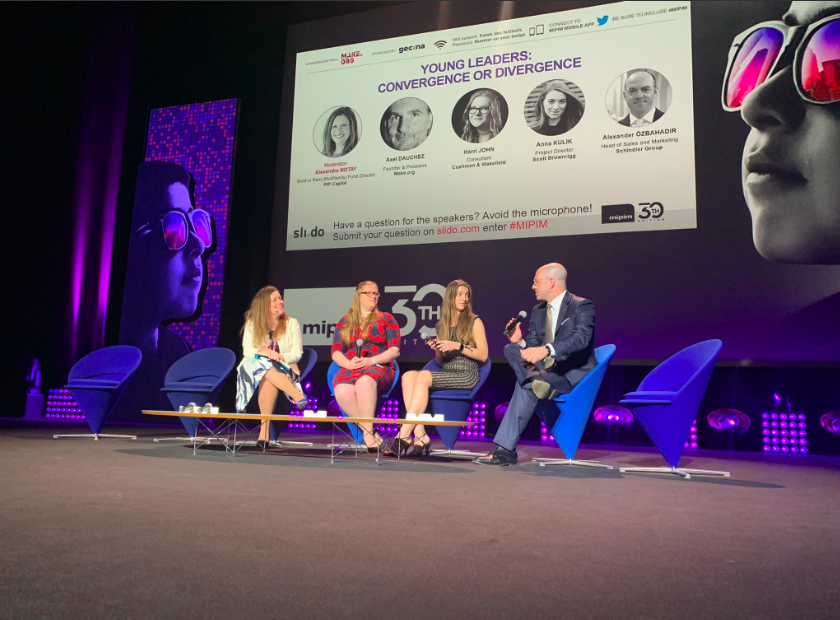 Young Leaders are the spearheads of the new urban lifestyles that the real estate industry wants to promote. Building the city of tomorrow brings about questions about sustainability, what the impact of the new technologies will be on city design, environmental change, divergence, digital, and the value of networks. Hence this crucial new track at MIPIM 2019.
Sabine Desnault from of Gecina opened the summit: "Divergence can come from the way we function within the system. What is a fair economic model? By 2050, 70% of the worlds population will be urban. We have to adapt and stay agile. The challenge is to link our know how: as the solution will ultimately be in our coordination. We can no longer ignore climate change and environmental change in our business strategies. To succeed in transformation we must do two things: think differently by listening to needs, and work differently by integrating many new competencies."
This was followed by a panel discussion with some innovative  discussion surrounding cities: "At Schindler, when we imagine the city of tomorrow, we often think about collaboration. In fact, we like to call it 'collaboraction' ; we believe this is the key component of ‬innovation within cities" said Alexander Ozbahadir.
One example of collaboratction could be retrofitting, which is ‪"about architects speaking with developers and how much value tech can bring them," said Anna Kulik of Scott Brown Rigg.
"‪The workforce wants to be in control of their environment, and we now have gen-Z entering the workforce", said Harri John of Cushman and Wakefield. "These people have grown up with tech and they have control. The difference between home and work is blurring, so smart devices will go a long way to supporting talent retention."
Then on to Axel Dauchez of Make‬.org, partners of the Young Leaders Summit: "‪When you talk about cities, I think people are not engaged because it is too large and abstract. The solution is about finding the right inclusive solution: co-created with people for people. I believe in a society that is not fragmented, we have to accept community at a much higher level."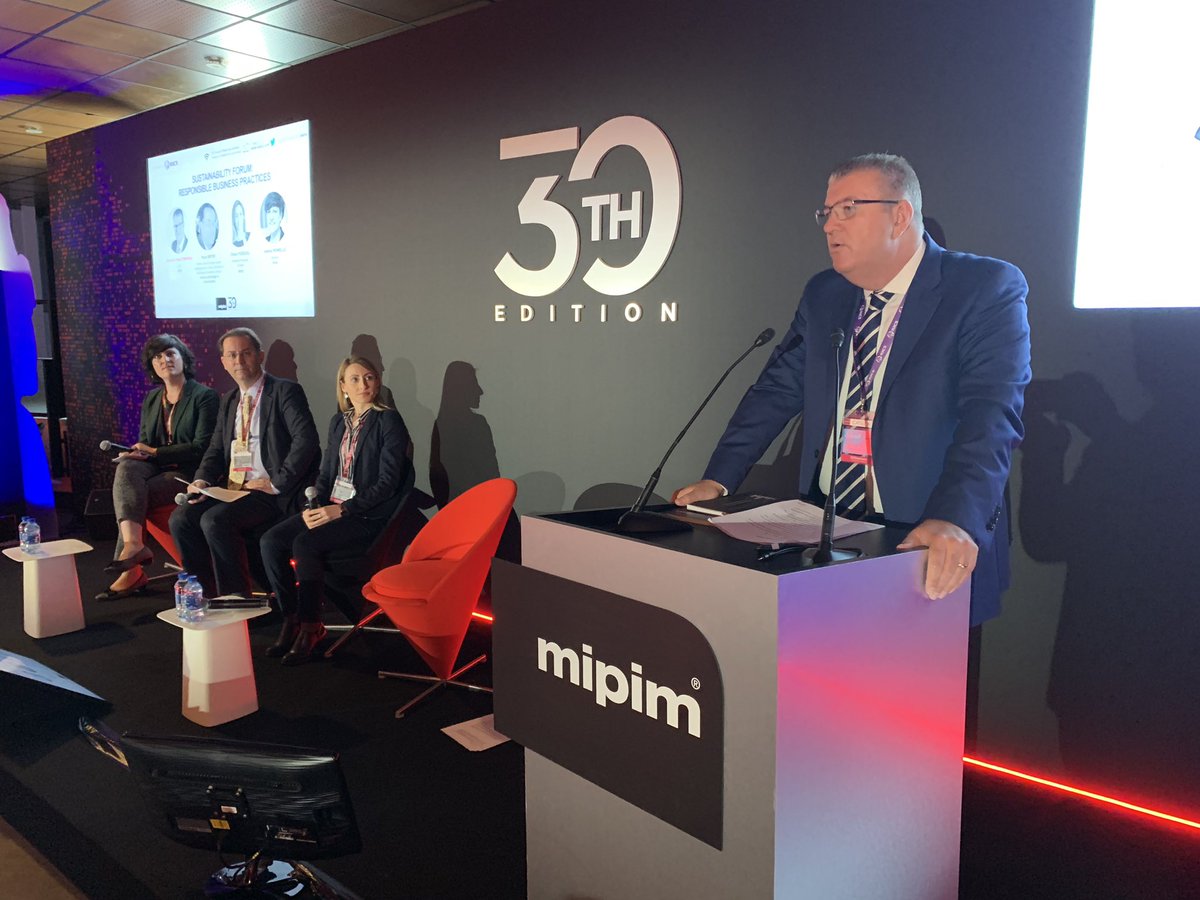 Sustainability was another big focus at MIPIM today. Kicking off the Sustainability Forum with a Responsible business practices panel was RICS' Chief Executive Sean Tompkins (right), who presented Chiara Pozzuoli of RWDI Consulting, Regis Meyer, advisor to the French Minstry of Ecological Transition, and Joanna Rowelle of Arup.
"Responsibility in business involves acknowledging environmental considerations in the long term," said Pozzuoli, identifying 3 pillars: 1. Mitigation & green buildings, ensuring we're minimising impact 2. Adaptation and residency 3. People: ensuring end users' comfort.
Rowelle, for her part, looks at the social aspect of sustainability: "there's a strong link between built environment and people and place, so job creation, how people are impacted, and sustainable outcomes for buildings we're developing," she said.
As for the circular economy, Meyer said the French government was looking into whether "existing buildings can become a material bank for future buildings", and added that there were also 3 pillars in this domain. Namely: 1. Constructor responsibility, as a lot of material is not reused 2. Waste analysis before demolition 3. Technical rules to recognise potential of reused materials.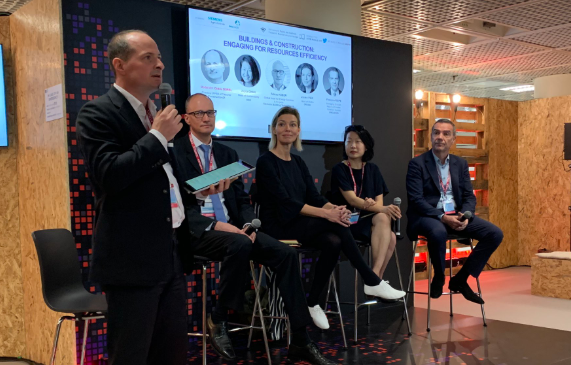 It was followed by a proptech-focused panel with a similar theme: how can buildings be concieved and managed for better resource efficiency? IFPEB's Cedric Borel (left) moderated a panel featuring Siemens Building Technologies' Tobias Huber, GRESB's Josien Piek, HOK's Joyce Chan and Prologis' François Rispe.
"You can reduce overall (energy) consumption by 10-15% just by looking at a building's data, and optimising things like space usage", said Huber, whose systems monitor 80,000 buildings worldwide. This data also now powers investment decisions, explained Piek: "Institutional investors are trained to look 20-25 years into the future; they want to make sure they're part of the solution. The data from buildings goes straight into our database, so they can allocate investments responsibly."
"There are more than 600 green rating systems worldwide, so we have to ask what is the right one for each building," said architect Chan. "People often don't use a building for its initial purpose. But if you get it right, you can save 30% on energy costs for a whole building's life cycle." That said, she added, "a lot of our clients are scared of technology, i.e. over-sharing data." To which Huber replied: ""if the benefit is good enough for you, you'll be willing to share the data. It's the same with buildings as with Google."
Another Sustainability Forum panel discussed performance for value, with panelists Marcel De Boer &  Chris Brooke of RICS, Peter Terrell of Terrell Group, and Chayma Oueslati of Cushman & Wakefield,  who said "in the future, sustainability measures will be inevitably more recognised in real estate markets."
"The main driver for sustainability is government leading the industry to have a green agenda through legislation", said Terrell. "After that it will be the end user (that demands it)."
"Currently, short-term economic thinking is making a focus on long term sustainability funding more difficult… but this will change," said an optimistic Marcel De Boer, of RICS.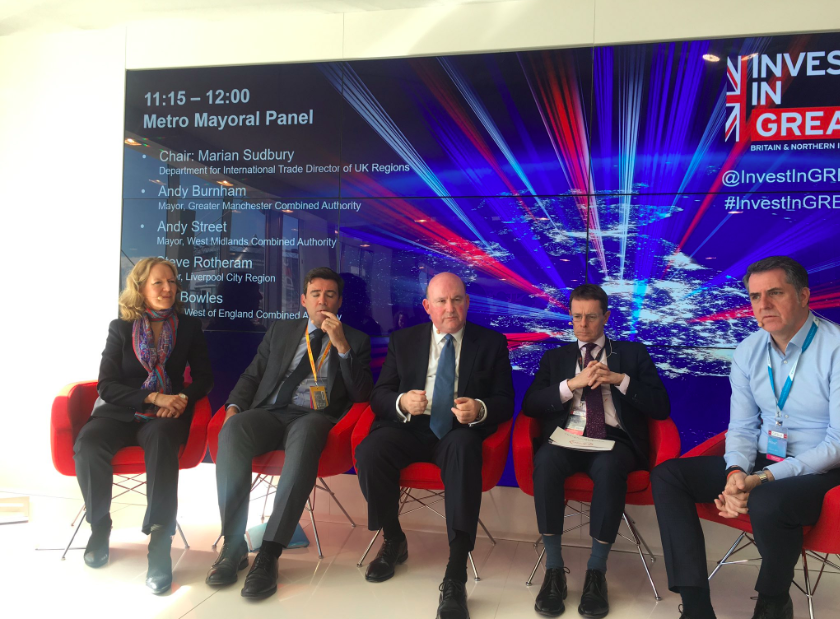 There were passionate presentations by the UK Metro Mayors in the UK Pavilion today with Andy Burnham, Mayor of Greater Manchester Combined Authority calling for central government to "Free up these great English cities. The future is city to city – in the UK and around the world. We know where we want to go as city regions. We want to be a place that is an industrial leader again, we are setting our carbon reduction targets. If we are leading on green issues, we will benefit our city and citizens."
"We are the UK's biggest centre of tech business outside London – graphene city, health city, tech city – that's where we want to go. Free the English cities up. There is a lot of optimism around. There are more cranes on the Manchester skyline that any comparable city and not just in the UK," he continued.
Steve Rotheram, Liverpool City Region contributed, "We need a vision of what we want a city region to be in the future. That's something all the mayors need to deliver. I want investors to stop building boxes and help us to build place. Having a design champion is really important in our city region."
Tim Bowles, West of England Combined Authority added: "As a nation we need more homes. Infrastructure goes beyond just transport. It has to be the way government builds green energy. And government has to devolve that money to let the regions do it. Infrastructure is vital to unlocking sites. We are looking at the way in which we masterplan developments to make sure we get central government support."
Andy Street, West Midlands Combined Authority, talked about the importance of collaboration over a city plan, "The genuineness of the local authorities to collaborate is key. We have a good story – we have come together to get that central government support to start land remediation."
Championing regional investment for the whole panel, Andy Street concluded: "The better investment opportunities are outside of London now and that is the message I want to get out."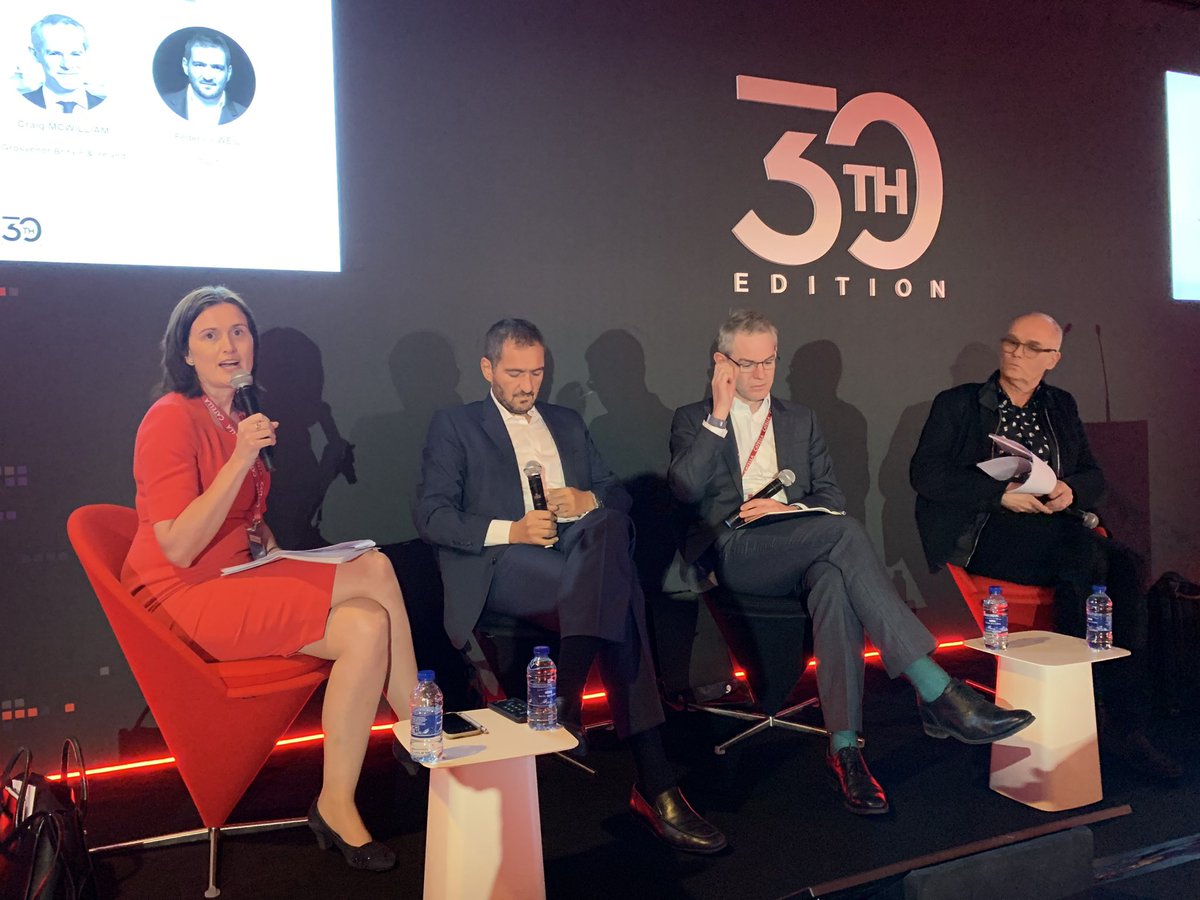 Cities and metropolitan areas were also on the agenda at the Urbanism for Good Governance panel. The WEF's Alice Charles (left) moderated the session, with Federic Weil of TGLT, Craig McWilliam from Grosvenor, and Jean Mas of 2/3/4/architecture.
"Our 2 main problems today – climate change & inequality – don't recognise city limits," began Weil, who is based in Argentina. "50% of Latam cities have governance issues. Buenos Aires (16m) has no metropolitan construct. Paradoxically, Caracas is the most advanced metro construct in LatAm. Whereas municipalities have legitimacy – eg football teams – metro areas don't. We need to give them that legitimacy: proper government officials, responsibilities… it's a new discipline but it needs to be resolved, or cities' growing problems won't be solved."
"Anne Hidalgo is only officially Mayor of the 2.7m people within Paris' périphérique ringroad,", said Mas, "whereas Greater Paris is 12m people. That governance needs to be rethought; we're already breaking down those barriers."
"The UK government doesn't want to be seen to finance certain projects in London, due to perceived unfairness," said McWilliam. "Small and very vocal groups have a huge influence in this highly political planning process. In the UK, the national government regards London's power as a threat to its own. There's such an active conversation about lost opportunities of cities outside London, vs London itself overheating."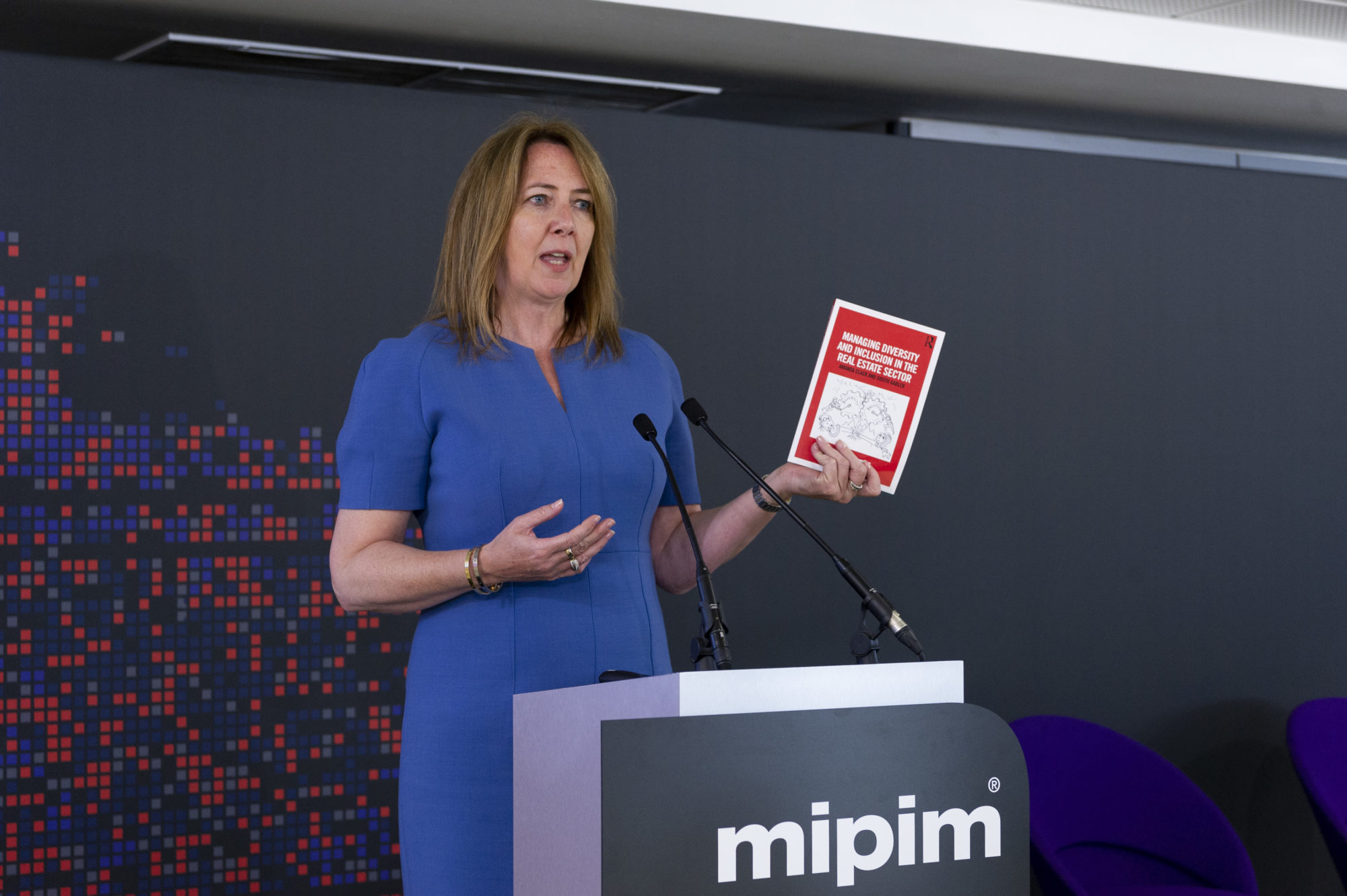 This year's Lennar-sponsored Women's Cocktail was fantastic as always, with Amanda Clack  from CBRE (above) opening with some advice about diversity and inclusion "We've got lots of facts ad figures about how diversity and inclusion can improve business. If we all do something different, it's about how we set the dial of individual organisations and pertain to their needs."
Chantal Clavier, Head of Real Estate in Europe and Africa at Heidrick and Struggles, followed with some advice for companies looking to include women into their senior tier management: "You need to move from balance leadership being a nice-to-have to it being strategic! The CEOs of companies need to become a change agents. Teams need to build alignment and be accountable organisations need to work with their talent, finding different ways to engage people. Finally, the cultural piece needs to spread across sectors," she insisted.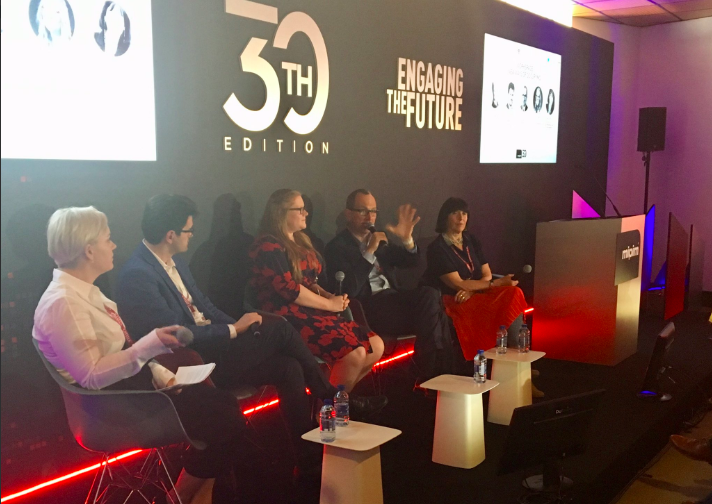 The Real Estate industry has just discovered that 'people', and we're now hearing a lot about people centric designs. The Workspace: New Ways of Occupying panel brought together Chris Grigg of UK property giant British Land, Ziona Strelitz, founding director of ZZA Responsive User Design, Harri John of Cushman and Wakefield, and Granit Gjonbalj of WeWork.
"It's very exciting that we've reached this stage where the industry is realising that people matter in the workplace." Ziona Strelitz, founding director of ZZA Responsive User Design.
"Millennials have the ability to control our home environments. This needs to extend to the working environment. We need to have control and choice." Harri John from Cushman and Wakefield.
"To ignore technology and data is to be left in the past. The designers at WeWork today are reacting to actual data which has been captured in our buildings all over the world." Granit Gjonbalaj from WeWork.
"All everybody has talked about until now is location, location, location, but now we are seeing the trend change to be about how people feel at work and if people feel at home." Chris Grigg from British Land.
This post was co-written by ING Media's Nathalie Ashford and team