As delegates gather for the Opening Cocktail, with a glass in hand and business cards at the ready, here are some of the highlights of the first day at MIPIM UK 2019.
Opening Keynote from Esther McVey, Housing Minister 
"I would like MIPIM UK Summit to become the Davos of Real Estate, leading the charge to zero carbon, working out solutions to the housing crisis and providing careers for a diverse workforce." announced Liz Peace, Chair of the Old Oak Common Development Corporation and chairperson of the main stage at MIPIM UK Summit 2019. 
This set the tone for a remarkable first day at the event, which was closely followed by the opening keynote by Esther McVey – Minister of State – Housing, Communities & Local Government, who made some important pledges in her speech, including amendments to the planning system to unlock housing supply. 
"Our £5.5 billion infrastructure fund is targeted at creating homes where they're most needed. £9bn is available through the affordable homes program and long term funding for housing associations."
"For too long demand has outstripped supply. We need to be building all types of homes; council, social and build to rent. We need to build 300,000 per year by mid-2020's for all stages of every persons' life. But there is no silver bullet to solve the housing crisis."
"We will shortly announce a range of changes to accelerate the planning process. Also here today I want to set an ambitious target for the becomes the world leader in modular building within the next ten years," said Esther McVey.
"Modern methods of construction (MMC) give more certainty during construction and are less inconvenient and noisy for local residents. We are creating a centre in the North of England to train the next generation of school leavers in MMC. We want to remove the barriers to creating low-carbon, low-cost housing. The revolution in housing is happening already in Japan, Sweden and Germany. Japan built 942,000 homes last year. Sweden built 45% of homes off-site. I want to see the UK do this and more, creating beautiful homes with sustainable materials – faster, greener delivery with beauty and quality as standard," she continued. 
Beyond real estate: the big picture

The next session of the day explored the latest macroeconomic developments, with experts on economics, global trade, demographic change, and technology and innovation moderated by Lisette Van Doorn, Chief Executive Europe, Urban Land Institute.
Ben Rogers, Director, Centre for London highlighted that "One of the biggest global challenges is equality." Lara Marrero, Strategy Director, Global Retail Practice Leader, Gensler responded with a call for designers to lead the way in creating the best cities and places of tomorrow. "We need to look at the cities we're designing and look at the people in those environments. We have to activate places so that people want to go back to these places. We're shaping the future of cities and people need to come first."
"2019 is not the first time we've heard that retail is dying. Look at what we've done in the past 20 years in the retail space. Retail is not dying – bad retail is dying. There is a surge of online brands coming into a physical place, why are they doing that? You can get transactions online, but you can't get loyalty. We talk about where we work and where we live and where we play, but that whole structure has gone," she added. 
Bringing the conversation round to how technology is changing the world, Zoltan Szelyes, Head Global Real Estate Research, Credit Suisse Asset Management commented, "The structural trends that we're seeing in the global real estate market are all about technology – who will have the dominance of technology? Europe has a big chance to prove itself in tech, if it gets past internal politics."
The inevitable subject of Brexit was raised by John Slade, Executive Chairman, Evans Randall Investors "London is being held ahead by things like fintech & proptech, but the City is desperate for good news. Brexit is causing indigestion in the market, we need to solve it to retain our position in the world. If we don't solve Brexit in the next few months we risk setting ourselves back in the European market by years. It's a very real opportunity but it's also a threat."
Digital transformation of the built environment: how is tech changing the human experience of buildings and cities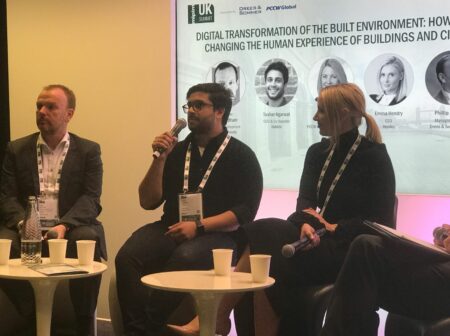 The next session gathered real estate and technology decision makers to discuss the growing influence of proptech and what new key technologies and innovations are being used to transform real estate assets. Paula Benoit, CEO, PCCW Global Networks (UK) highlighted "one of the biggest challenges for developing tech in the built environment is collaboration. There are a huge amount of innovators out there, but they're doing it in isolation. There is no one organisation bringing this together."
Emma Hendry, CEO, Hendry concurred, "At the moment the property sector isn't fully integrated. But having the data to back up what technology says, drives us towards utilising technology to allow individuals to make decisions. And what we'll see as we have more multi-generational spaces is what the real technology and data trends are. The most successful parts of smart cities are usually a response to a problem. What we're seeing right now is a need facilitating innovation in technology." 
Tushar Agarwal, CEO & Co-founder, Hubble identified another challenge, "What we're seeing happen is that a lot of traditional British space-usages are converting. What you want to experience in a space is changing much more rapidly than it was 10-15 years ago. We're seeing a lot of integration in the real estate industry."
Speaking about the particular problems in transforming old cities into smart cities, Phillip Ratcliffe, Managing Director, Drees & Sommer commented, "One of the biggest challenges for us is how do we get this new stock into an old environment. London is an old city, we had to go through a transition period for the digital age, which newer cities haven't had to face." 
Commercial property investment trends from the Cass Commercial Real Estate Lending Survey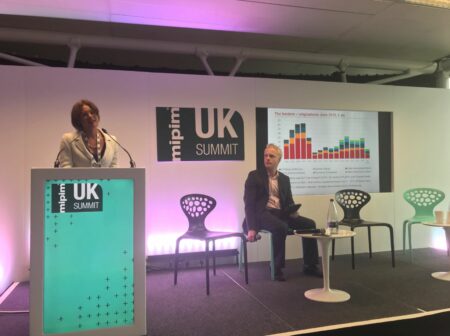 This session explored what to expect going forward for UK lending in the real estate industry. Who is lending money, what sort of rates and what type of development are they financing? It also looked at which UK sectors and regions are witnessing the biggest growth now and which are likely to in the future. Dr Nicole Lux, Project Manager – Senior Research Fellow, Cass Business School explained the findings from the Cass Commercial Real Estate Lending Survey and then was interviewed by Tim Burke, Deputy Editor, EG on the topic. 
Dr Nicole Lux: "German banks have held off from investing in UK real estate because of Brexit uncertainties. Non-banking lenders have been an important source for financing property. They have focused mainly on residential." 
"The general feedback from lenders to the UK retail market have been that they are remaining conservative about their lending. Lenders are delaying valuations because they say there aren't any valuations to compare retail assets. This is a warning signal to us. However, when the results surfaced, lending has been high on the whole."
"I think we have developed a new normal for what lending looks like in the UK – for me it's a diversified market, with things such as new online platforms. We're moving towards what the US market looks like and Europe is still far behind this."
Real estate diversity challenges, developments and opportunities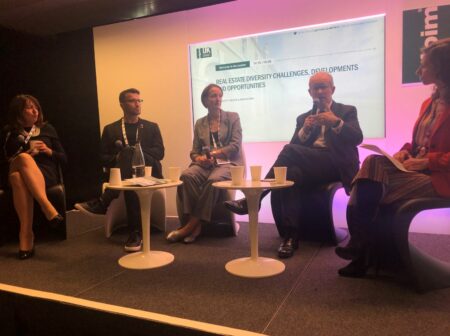 This session was dedicated to discussing how real estate diversity in relation to gender, the disabled and the LGBT community might be improved. It asked; what needs to be done to make the sector better reflect the broader society? And how do we commercialise diversity to ensure business advantage as well?
Our discussion was led by Chantal Clavier, Head of Real Estate, Europe & Africa, CEO & Board practice member, Heidrick & Struggles, who opened the event with some powerful statistics;  "It's proven that diverse workforce measurements improve decision making… Across sectors only 29% of board positions are held by women". Chantal also stated that "the biggest problem seems to be figuring out unconscious bias that hinders progress… Our sector is changing but how much and how fast is another matter". 
For Emma Winning, General Counsel (Governance and Legal) at Argent LLP, "diversity is about diversity of thought… If we have people from diverse backgrounds then you get that diversity of thought and inclusion". She also highlighted "we are a developer in a diverse global city and if we're not diverse ourselves then we can't be the best developer/placemaker we can be."
Vivienne King, Chair, Real Estate Balance spoke of her own work stating "based in Soho we, by nature, have a very unique & diverse workforce but the same can't be said for the real estate industry at large which is why we set up Real Estate Balance… to tackle the lack of women in senior real estate positions". She explained, "we help build confidence for women who are rising up to senior level – we provide practical tools, ideas, examples and initiatives for other companies to use…There are no competitive barriers for wanting to improve diversity in real estate."
Brexit resilience: Examining the strengths of higher education, creativity and innovation in the UK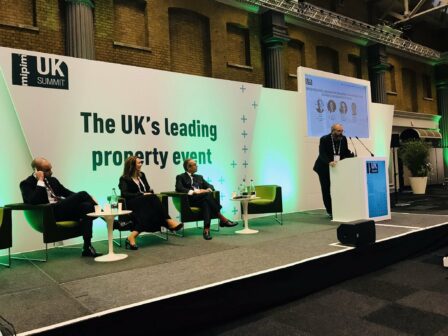 The UK is in a position of uncertainty: no-one can predict what will happen with Brexit. All this uncertainty is having an impact on the UK real estate sector. This session explored the latest developments, asked what it all means for the industry, and assessed what strengths the UK has that will enable it to weather the storm of uncertainty towards a prosperous future. 
Chaired by Mark Davy, Founder/Managing Director at Futurecity, this discussion crucially addressed the inevitable period of adjustment that will follow the UK's European Union exit. Dan Hanson, Senior UK Economist at Bloomberg stated; "economies take time to reorient themselves towards different markets… There's going to be a short term transition period whether we get a deal or not." 
Erik Sondén, Senior Advisor at DTZ Investors said "what we will really see when we have more certainty is whether companies will actually move… A global city like London has little to fear… People like to be in London. London is a very strong international investment market… Investors are currently holding off until there is more certainty."
Amanda Clack, Head of Strategic Advisory at CBRE Limited also provided a valuable contribution to the discussion advising; "We need to look to Scotland and the Scottish Cities Alliance to facilitate positive collaboration and drive the change that our cities need."
Skills and development for the next generation: a young leaders showcase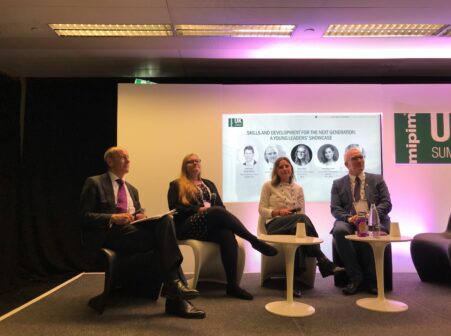 Led by Mark Hilton, Executive Director, Policy and London First, this discussion explored the topic of talent and skills development for the next generation in real estate. Speaking first on the barriers faced by young people in accessing professions within the property and construction sectors, Jules Pipe, Deputy Mayor Planning, Regeneration and Skills for the Greater London Authority said "Construction and the built environment sector is one example of where we need to help young people traverse from the academic to the vocational."
"Reskilling London is a priority for the built environment and the London Mayor has had to bring forward policies specifically for our sector such as the Construction Academy." 
"We set up Public Practice to help people who have skills from the private sector that can be given back to the public… So far we have placed 86 people bringing a range of additional talents to the public sector."
Another theme of the discussion focused on the reputation of the property and surveying professions as career choices for young people; "We need to promote what's available in the property industry earlier on, and schools and universities need to make options clear for the next generations," said Rosanna Lawn, Acquisitions and Development Manager for YOO Living. 
"We manage to inspire people to consider a career they've never heard of, but we also need to inform the parents and families… We've got a job to do in terms of how we sell this industry to the next generation." Barry Cullen, Diversity and Inclusion Director, RICS 
"What we try to do is encourage young professionals to meet young professionals and be empowered by the connections they are making." Rosanna Lawn.
Finally, this panel focused on diversity and the need to rise to the challenge of creating a diverse and inclusive workforce for the future. Whilst there is much to be done "encouragingly, the emerging talent in surveying is more diverse" said Barry Cullen. He also added; "diversity is not only the right thing to do, it also enables firms to fill skills gaps… Going into schools and positioning the profession as being more diverse is essential."  
International Insight: What does the future hold for global investment in UK real estate?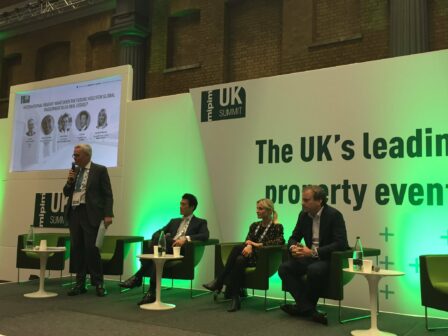 In another session a panel of investors looked at the bigger picture of international investment and the implications for the UK. "We believe in the UK – London and the regions," stated Joanne McNamara of Oxford Properties Group, discussing investment strategies such as project 'Door'. 
"We took a counter approach. If we develop and deliver into a market when everyone is pulling back, we should be able to fill it up. When others run one way, we run the other way," said Jay Kwan of global real estate investment, operating and development company, QuadReal Property Group, on investment behaviours and opportunities for developing and delivering in the UK. 
"What's happening in retail, the equal and opposite is happening in industrial… Brexit has been giving new opportunities and we want to be more creative in the way we examine these opportunities," added Joanne McNamara of Oxford Properties Group.
"When it comes to retail there are three ways to distinguish in their investment strategy: shopping centres, high street and retail on large mixed use projects. Will we be investing in shopping centres? No; High Street? Yes.; Retail in large mixed use projects (such as leisure)? Yes," said Karim Habra, Ivanhoé Cambridge. 
Regarding office and residential property investment, Karim Habra believes that when looking at investment, you need to take note of scale. For example, in the UK & France the strategy is the same. However, this it would not be the same for Germany or other countries across Europe. "The market is big enough for us to find the right opportunities…  It's a question of focus, we start to make mistakes when we start to do things we don't understand. We prefer to focus on what we know and what we know is the UK and France."
"We won't be buying (normal) office portfolios that you sit on and enjoy the profits of, this is dead," said Karim Habra on traditional office spaces versus new flex-office space trends in the UK & Paris. "The reality is that now we are far more focused than we ever were on being able to provide flexible spaces than ever before. It's been a turn around for the office landlord," concluded Joanne McNamara.
Reputation of the property industry – How do we promote the real estate industry better?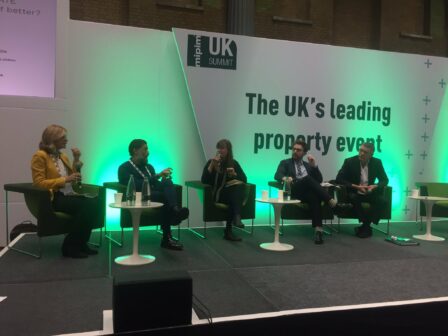 Leanne Tritton, Managing Director of ING led the discussion surrounding the reputation of real estate and explored how the built environment can promote itself better, with William Murray, Director and Founding Partner of Wordsearch Place, Moray McLennan, Global CEO of M&C Saatchi, Liam Kelly Reporter at the Sunday Times and Christine Murray, Editor-in-Chief of The Developer. 
Leanne Tritton: "What are the current issues within the industry and what are we facing? Are they fixable? While there is an existing bad reputation, it's important to recognise that there are a lot of good things happening too" 
Liam Kelly: "Some of our readers feel they are being ignored by developers – there is a real lack of customer service & developers need to be thinking beyond the initial 5 year period of a project"
Moray McLennan: "Three difficult but vital questions to address the reputation of the industry; Do you want to do something? Who's the client? What's the consensus?"