Can sport, entertainment or even education be considered as new asset classes? A panel gathering a world-famous football club, Game of Thrones' main shooting location and a Dubai-based investor answered a resounding "yes" today at MIPIM.
After an introduction by City of Amsterdam's Lek Brans, Jordi Moix of FC Barcelona (right in top photo) explained how the land around the mythical football club's stadium has been developed, at least in part, to help a city overwhelmed by tourism. "Barcelona has 8.9 million visitors," said Moix; "we're afraid we're dying of success. We have more tourists than locals." So the FC Barcelona's retail zones and stadia take people away from the usual tourist spots), with 2 million people visiting the club's empty stadium, then heading into one of the world's largest Nike stores. The next step, said Moix, is to refurbish FC Barcelona stadium with an open design and 105k capacity… if the neighbours approve, which they didn't in 2000. "We learned from that," promised Moix.
Next up was Suzanne Wylie, of Belfast City Council, who explained how her city's focus on entertainment and innovation has transformed the Northern Irish Capital:
"@GameOfThrones alone is putting hundreds of millions into our economy", re Belfast's S Wylie. Impressive showreel! 👏🏻 @belfastmipim #MIPIM pic.twitter.com/gOvooYIuzS

— MIPIMWorld (@MIPIMWorld) March 16, 2017
"We've produced a number of top films and TV shows around the world, including all eight series of Game of Thrones," said Wylie. "We're strong in animation too. Lots of award winning series have been made in Belfast; and the professor who leads animation at our university worked on Avatar and Happy Feet. That's why the film industry is looking at Belfast with such interest. New studios are being set up as we speak."
What are the benefits for citizens? "Belfast has now been opened up to rest of the world," affirmed Wylie. "Tourism has grown 6%, and 11 new hotels constructed, so they're creating new jobs. We also have an acting school, and lots of locals are extras on these productions. Plus these productions are using local skills, for example basket weaving, for props in Game of Thrones."
For Investor Sylvain Vieujot, of Equitava Real Estate, "there is a master plan for Dubai to create a new community, so it's important to have things like sports and schools to attract buyers. Dubai is 95% expatriates. They want to find something special," said Vieujot. "With schools, our expected return on investment is north of 20%. These are more long term projects, with 30 year leases."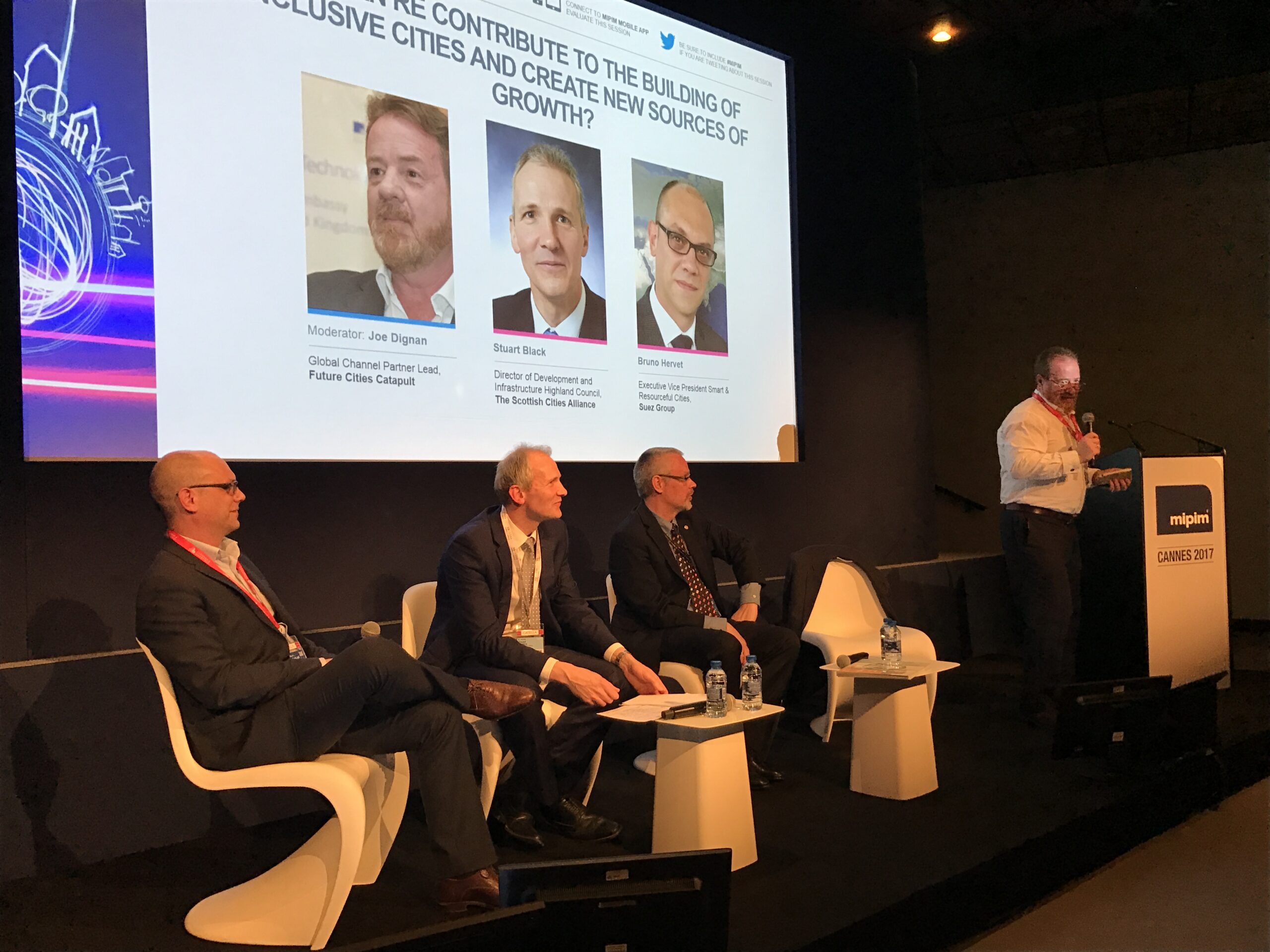 Next was a panel focusing on how smart cities can include and benefit everyone. For Joe Dignan,  of Future Cities Catapult, it's possible to use big data to "create actionable insights, and thereby developing benchmarks of what it means to be a smart city."
With that in mind, insisted Bill Insley, of FIABCI USA, "The first thing we have to do is change our mindsets. Urbanisation is a good thing." And, he insisted, inclusivity is key. "If an ambulance driver can't afford to live in your city, that's a bad thing. You have to make your city accessible to the people who make it work." He also encouraged town planners to be human-centric: "how about we build our cities for people, and not for cars?"
Next, Stuart Black, of the Highland Council & Scottish Cities Alliance, outlined his vision of "inclusive growth": companies who win contracts across the Alliance's seven cities have to take on a certain number of local builders, surveyors and architects, to ensure the community benefits from these projects, and that smaller companies are involved in them. Inclusivity is "at the heart of Scottish government policy," he insisted.
Then Bruno Hervet, of Suez Group, said his company has three key angles for inclusive cities:
1. Geographical inclusion, e.g. In Casablanca, a city growing by 200k people per year, Suez created a 100-person team just to deal with those people
2. Social inclusion, namely equal access to the same services for all
3. Employment: "How can you make sure that these hundreds of families making a living out of a landfill don't lose their income?" when the landfill is removed, asked Hervet.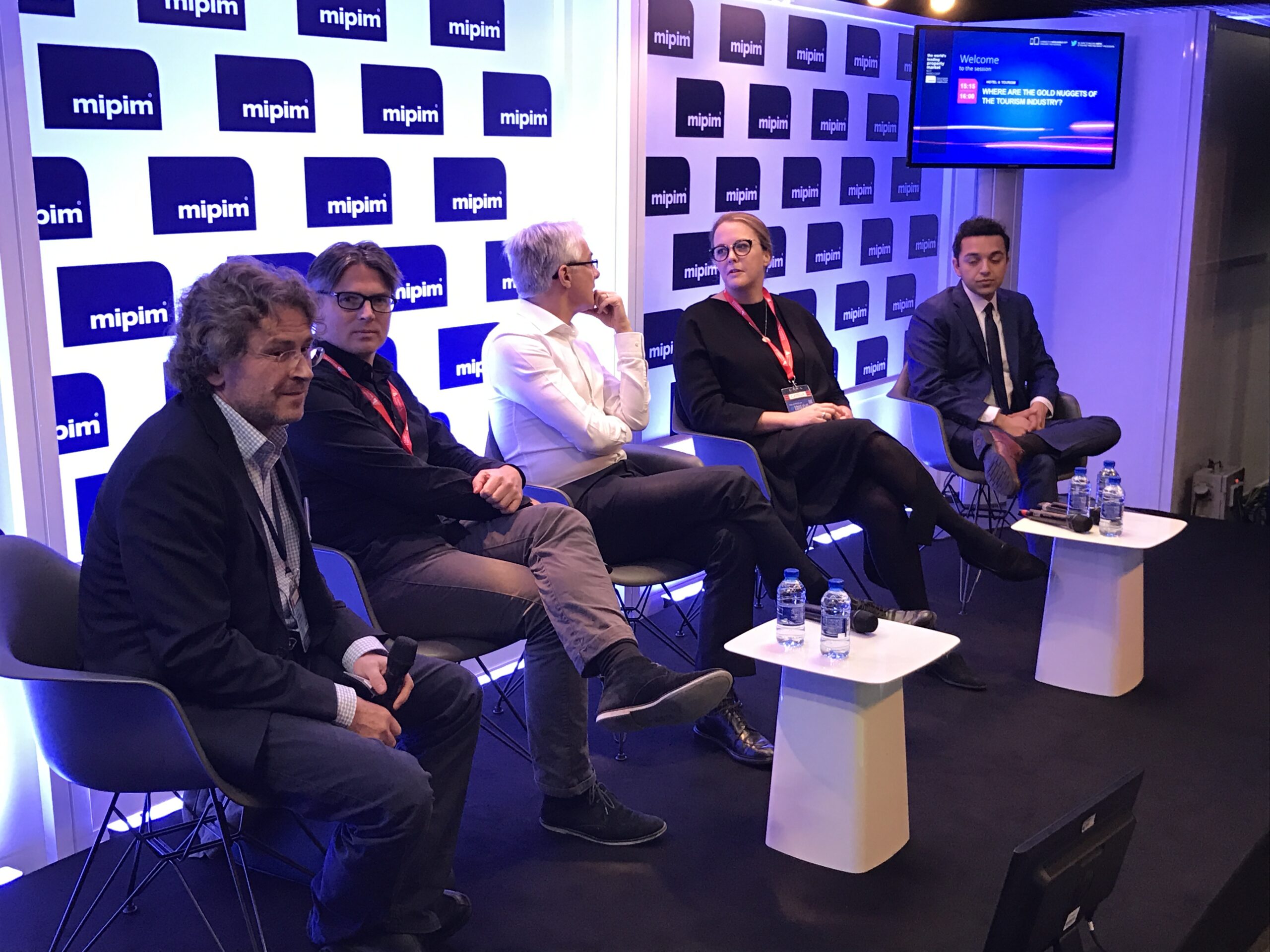 Last but not least, an expert panel examined What are the Gold Nuggets of the Tourism Industry? Discussion focused on how AccorHotels has reacted to disruption by the likes of Airbnb by disrupting itself: investing in 'upmarket Airbnb' Oasis (whose founder Katharine Pottinger was also on the panel), in lifestyle brands like France's Mama Shelter; and in luxury brands like Raffles.
"We were a little bit boring," AccorHotels' Christian Giraud admitted to moderator Michael Widmann, of PKF hotelexperts. "Now, whenever anyone has a new idea, they come to us. We can't do everything alone, so we'd rather work with someone who's come up with a good idea. We let them have a lot of autonomy, then give them the support of a big group."
Jo and Joe, AccorHotels' newest project, explained Giraud, is an "open house" concept born out of the company's innovation lab. "You can book beds, not rooms," he said; "but keep comfort and safety of a hotel." Created to target the 20% of international tourists who are now millennials, it also benefits from a strong social media presence, thanks to the €250m AccorHotels is spending on digitalisation right now. Giraud notably expects 50% of reservations for Jo & Joe venues to be made via its dedicated app.
Charles-Édouard Girard, of GuestToGuest, and Rohan Thakkar, of Yotel, also spoke on the panel.