How can connectivity drive real estate value? This was the question Dr Parag Khanna (top photo), Director of Hybrid Reality and world-renowned economist, addressed for MIPIM 2017's opening keynote today.
"We're in the midst of an accelerating global connectivity revolution", began Khanna. "There is so much pessimism about global trade" despite recent political upheaval, he said; "yet it's expanding. And the global picture is much more favourable towards connectivity than we tend to think." He proceeded to correlate growth with connectivity, saying that each shift in bandwidth — e.g. From 3G to 4G — "corresponds with an increase in GDP and consumption power."
"But we can't get there without investing in infrastructure," said Khanna. "Yet we're underinvesting every year. When you invest in a city, you are creating connectivity for people."
So where should investment go? Where populations are the most concentrated, said Khanna:
"This is the only map you need, that of your corporate strategy" for next decades: the mega cities you need to be in – @paragkhanna #MIPIM pic.twitter.com/cp0p9f1EYS

— MIPIMWorld (@MIPIMWorld) March 14, 2017
Yet there are only a few true global cities, affirmed Khana: San Francisco, Los Angeles, New York, London, Dubai (the newest city of this list), Shanghai, Hong Kong and Singapore. Why? Because they have invested in technology, he said.
Khanna then left the audience with a few final thoughts:
– All of these global cities have high percentages of foreign-born residents, which tends to disprove recent moves to strengthen immigration controls
– The US remains the world's biggest investor in global real estate
– The EU and Asia are already trading 3 trillion dollars a year, said Khanna; "and that's without trade agreements! So I'm convinced this is one of the biggest geopolitical stories of the next few years."
– Sustainability is also key, insisted Khanna, with an encouraging graph showing how emissions have been falling over time (below).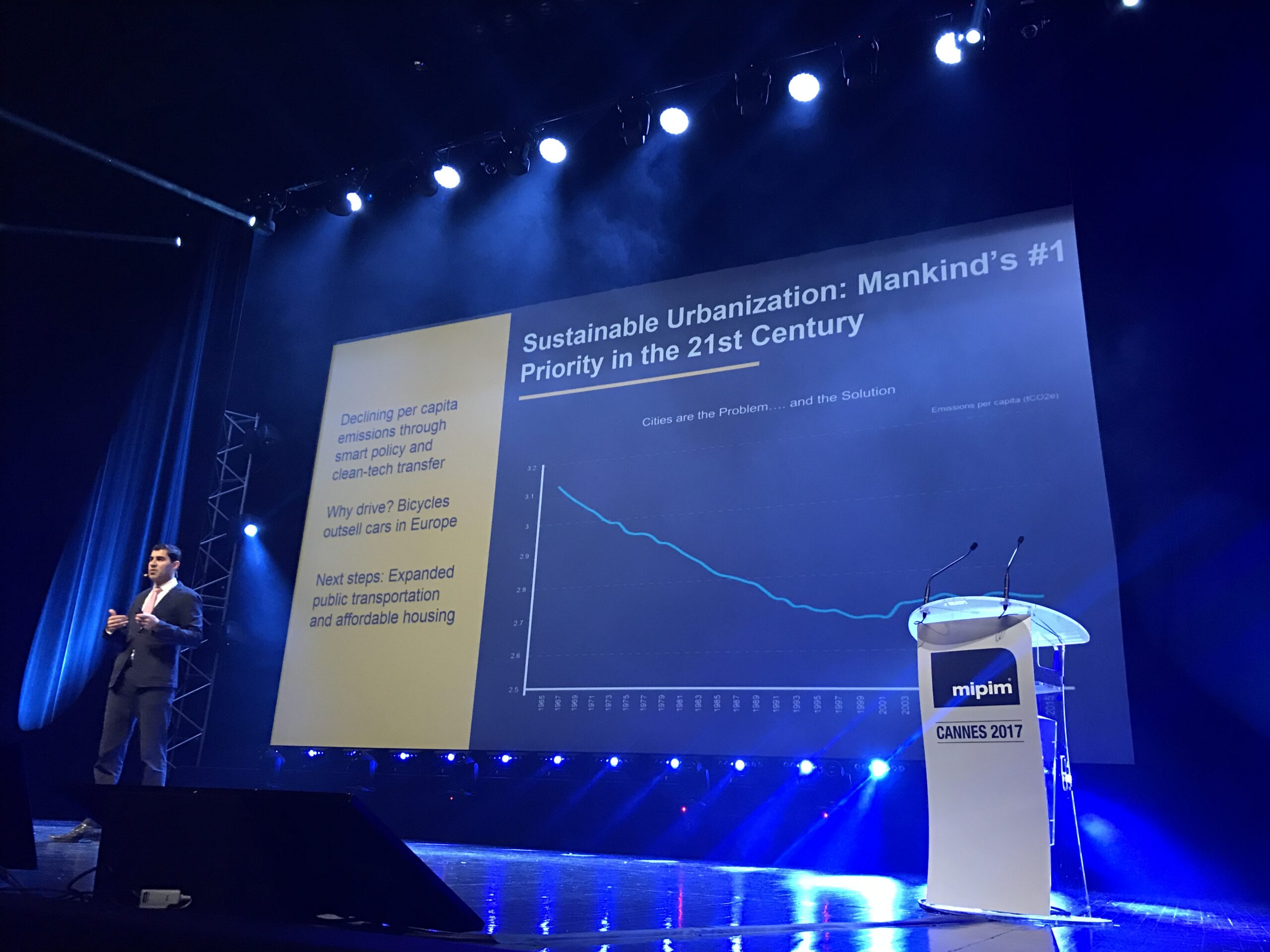 Many of Khanna's points were also covered in a US-focused panel, moderated by Chris Marlin of Lennar International, called "Ousting the establishment: what is the impact on the Real Estate industry?"
Dr Laurence Yun, of the National Association of Realtors, observed like Khanna that the need to invest in infrastructure was about the only point Hillary Clinton and Donald Trump agreed upon. It remains to be seen, however, what the US president plans next in this domain.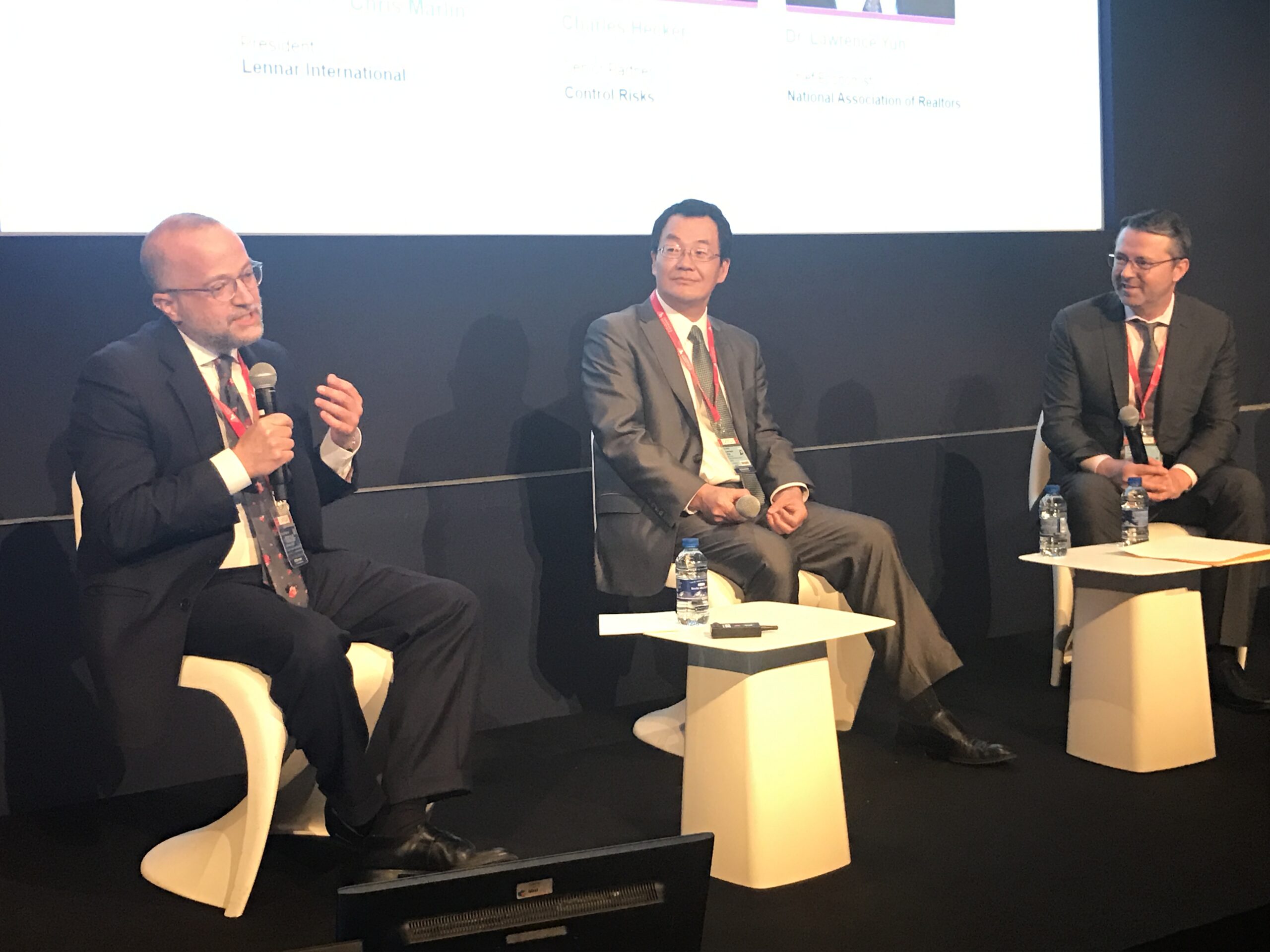 Yun remains cautiously optimistic about his country's outlook, admitting that "foreign countries looked to US with even more dismay than Clinton voters" after Trump's election. "What, however, is the impact on our industry? There's no recession in sight. So at least for the next 12-18 months, my forecast is still for 2% GDP growth. So overall, there is no fear. From an international perspective, the investment that I make (in the US) will grow."
"We don't usually talk about geopolitics at RE conferences!" said an equally cautiously optimistic Hecker. "But that moment has arrived, and has been delivered to us by this populist wave that has swept the globe. We think that globalisation is taking time out. We're at a pause, but not throwing the car into reverse."
The topics of immigration and foreign investment remain the biggest grey area. "The foreign dimension is very important for US real estate," insisted Yun. "Recent immigrants make about 3% of US real estate sales, plus another 3% from foreign investors." So, depending on Trump's next moves, "6% of the market could be wiped out."
Looking further to the future, MIPIM's Innovation Forum, newly housed within the Palais, provided plenty of reasons for optimism. Be it from a Parrot-manufactured drone demonstrating how its tech can survey buildings…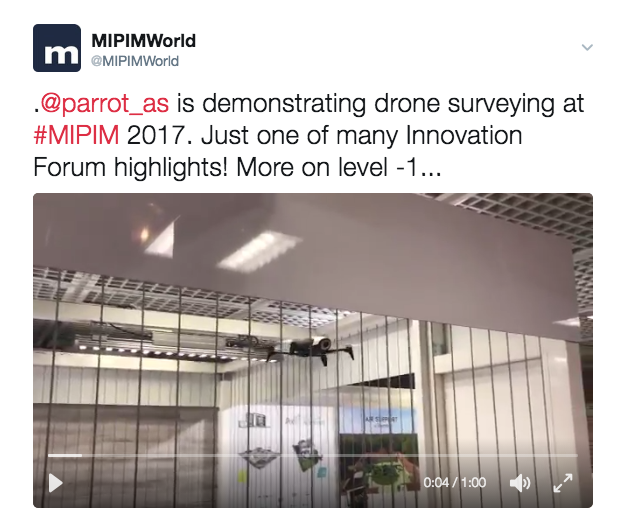 …to an insightful panel called "How to shift from big data to smart data", which gathered Richard Gerritsen of Yardi Systems, Finalcad's Emeric Henry and VenturaNext's Richard Watts to discuss how data can help real estate, with moderator Geoff Kasselman (left), of Newmark Grubb Knight Frank.
"Data is not just crunching numbers," insisted Henry off the bat, before providing three concrete examples of how it can be used in real estate:
1. Text analysis such as that used by Google, to work out if words are synonyms and word vectors, so an artificial intelligence can understand HVAC is close to AC and plumbing; a functionality useful for automatic classification
2. Using facial recognition-type technology to identify technical real estate objects, e.g. exit signs
3. Context recognition via deep neural networks (the ones that can beat human players at chess) that can detect, from a simple image, if we're talking about carpentry or plumbing.
As is often the case in such discussions, the panel agreed it's not the data you've got, but what you do with it. "In the past two years, we've collected as much data as the whole of the rest of human history," said Watts. "That data can't be kept in silos; it needs to communicate," he said, so that "symmetric data flows up and down to the internet."
Watts then provided another concrete illustration of the power of data: DHL's 55,000 trucks make 16 million deliveries daily: a kilometre-cutting algorithm saved them $2.5bn by optimising – and reducing – all of those routes. Say no more!
The topic of smart global cities then returned later in the afternoon at the eighth Mayors' Think Tank, which gathered 80 mayors and political leaders at the Carlton to discuss urban optimisation. Digital art expert Abdel Bounane, of consultancy Bright, was notably on hand to inspire a gathering which will be followed throughout all MIPIM events until this time next year, with findings to be presented at MIPIM 2018, explained MIPIM director Ronan Vaspart. Even more reasons to be optimistic about the future!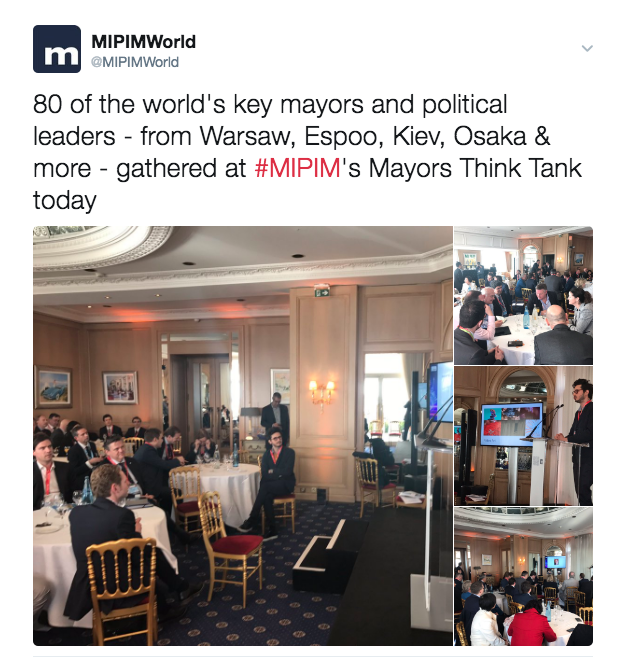 Not forgetting the second edition of the MIPIM Womens' Networking Cocktail, which gathered the industry's foremost female executives to address issues such as why "men tend to hire people in their own image", as PGIM Real Estate's Elisabeth Teo-Pennell put it. Time for change!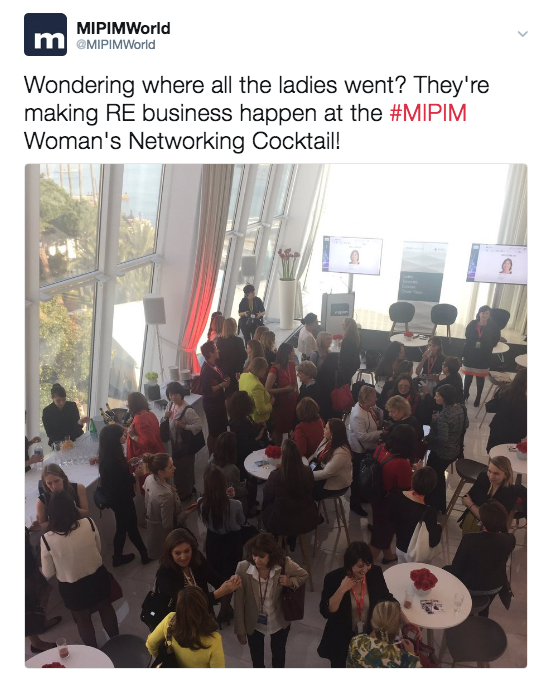 Follow MIPIM 2017 live: http://www.mipim.com