Technology, lifestyle, workspace, human interaction… In a world where so much is changing, how do global cities keep up and stay relevant to continue to attract investment? What can we expect from the ultimate cities of the future and which cities are already leading the way?
At the panel "How close are we to creating the ultimate future city?", moderated by Emily Wright, Features and Global Editor, Estates Gazette, the leading real estate experts tried to respond to these questions.
"We are far from creating a future city", declared David Ellis, Director – Head of London Studio, Benoy. For him, London with its great infrastructure and transport could be an example of great city, but even London is not perfect. He gave an example of Singapore, a modern, "fabulously connected and well-organised" city.
What makes the city a city? Its cultural heritage, social connections, urban infrastructure and, of course, safety, stated the speakers. According to David, all great cities are safe, socially sustainable, and affordable, with developed infrastructure, well-connected transport system and with mixed-use spaces for leisure, work and socialising. "A city of the future needs to be affordable for the first time buyers", he stated.
David Ellis, Director of London Studio: How to create the great place to live for everyone? #MIPIM pic.twitter.com/vWqBdVxzDD

— MIPIMWorld (@MIPIMWorld) March 15, 2016
According to Jackie Newstead, Partner – Global Head of Real Estate, Hogan Lovells, the city of the future should be not only for young people, but for all generations. When we think of a city of the future, we always mention technology. "Intelligent buildings are amazing when the system works", declared Newstead. Which is why security is a crucial issue for a city of the future, because you can't just create an intelligent building, but you need to think about how to protect it from disasters, hackers and other threats. Another important point, mentioned by Newstead, is flexibility in urban planning, development and expansion. How to find the best balance between "built-to-own" and "built-to-rent"? Some generations, especially the youngest ones, don't want to own homes. It depends not only on their revenue, but on their culture as well. "For example, in Germany 45 to 50 percent of the population rent and not buy homes", she declared.
Jackie Newstead, Hogan Lovells: "In Germany 45 to 50 % of the population rent and not buy". #MIPIM pic.twitter.com/n0i70Nt1M4

— MIPIMWorld (@MIPIMWorld) March 15, 2016
"We are not in the right way yet to respond to what people want", said Juliette Morgan, Tech Global Lead, Cushman & Wakefield. People want more "shared spaces" able to bring them together. "Young generations do not want to buy", she added. "We need to adapt to this change".
Another interesting panel of MIPIM's first day was "MIPIM City Investment Forum: Northern Powerhouses", co-organised by Leeds, Liverpool, Manchester, Newcastle, Sheffield and moderated by Prof. Greg Clark, Global Advisors on Cities, Greg Clark Ltd.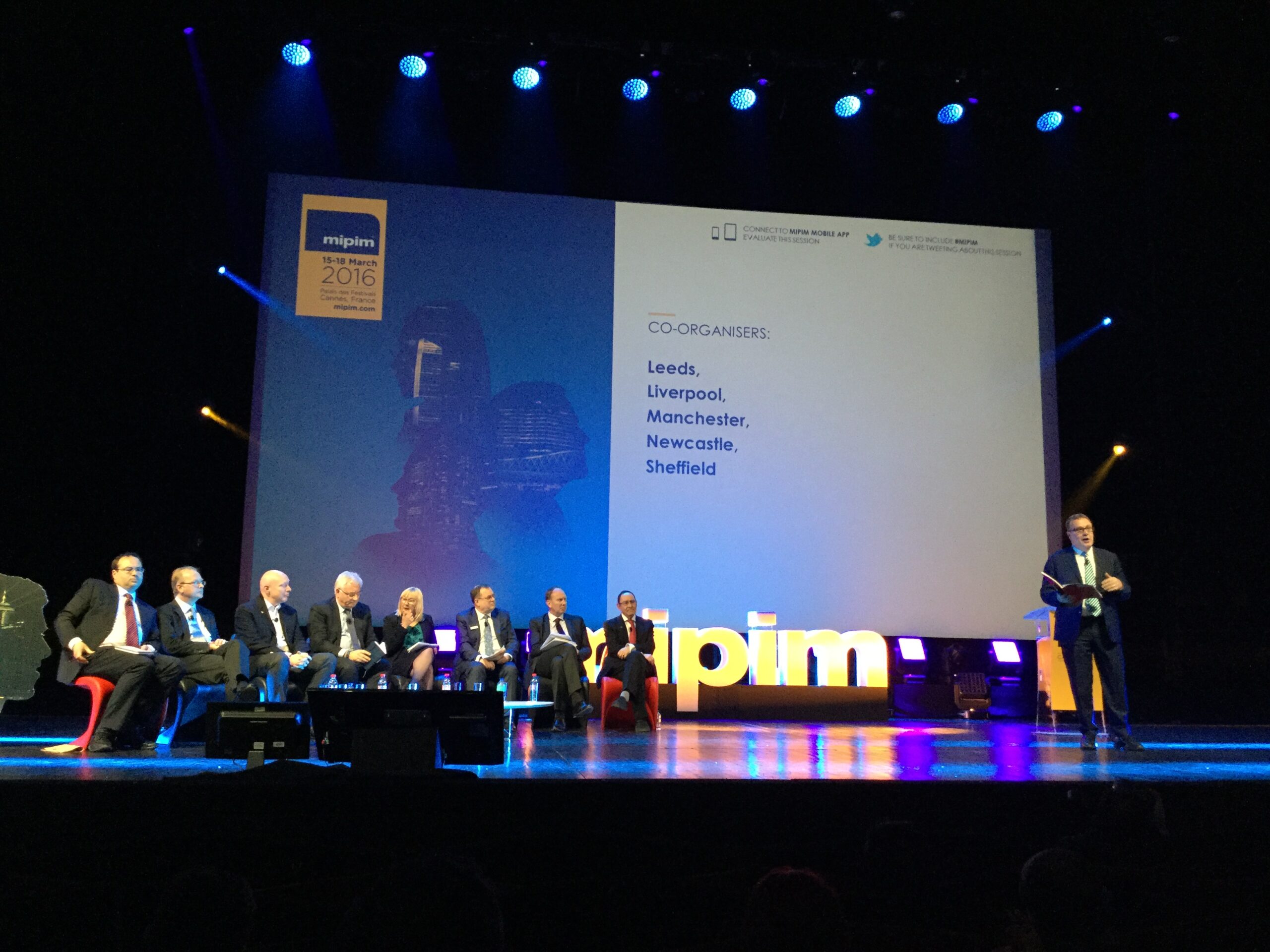 With the ambitious goal of forming an economic counterweight to London, the UK government's Northern Powerhouse initiative has the potential to form one of the most groundbreaking focal shifts in British political history. Having formed a lynchpin in Chinese President Xi Jinping's recent state visit to the UK, the Northern Powerhouse has now been cemented on the national agenda, bolstering public and private sector interest in the future investment potential of the north of England.
Mark Rawstron & UK's city leaders discuss #NorthernPowerhouse @MIPIMWorld #MIPIM @GVANorth – https://t.co/fDJMyW5q5A pic.twitter.com/HueyxsrT4I

— Bilfinger GVA (@GVAViews) March 15, 2016
Focusing on the cities of Liverpool, Manchester, Leeds, Sheffield and Newcastle, the Northern Powerhouse will create a combined 'super-city' of 10 million people, unlocking the region's extraordinary economic potential.
In his keynote, Sir Howard Bernstein, Chief Executive, Manchester City Council, gave an overview on how regional growth is accompanying London in its success. For him, "Nothern Powerhouses' strategy needs to be embedded in national decision-making".
Sir Howard Bernstein, Manchester City Council: The Northern powerhouses are becoming the assets of growth in the UK pic.twitter.com/kmAI6uo4zq

— MIPIMWorld (@MIPIMWorld) March 15, 2016
Andrew Bounds, North of England correspondent, Financial Times, thinks that "cross-city collaboration" has become an important trend in the UK. "Rivalry competition between the UK regions is still there, but now it's more against the world, not against each other", he said.
At the panel "Emerging trends in real estate: a global outlook for 2016", co-organised by Urban Land Institute, Lisette van Doorn, Chief Executive Europe, Urban Land Institute presented the global edition of Emerging Trends in Real Estate, which focused on investment and development trends and capital flows around the globe. The report examines some of the megatrends highlighted in the three long-standing regional Emerging Trends reports, covering North America, Europe and Asia Pacific and this year we are devoting a chapter to the interplay between capital flows, urbanisation and disruption in the occupier market. Find out more about this panel in the article "MIPIM Day 1: Emerging trends in real estate".
Lisette van Doorn: 87% believe that global capital flows will continue to influence their investment strategy #MIPIM pic.twitter.com/31n44vWH28

— MIPIMWorld (@MIPIMWorld) March 15, 2016