The theme for the 31st edition of MIPIM is "Driving Urban Change." The COVID-19 pandemic has forced us to rethink the way we live. It is transforming our industries and how we do business. It is intensifying social and environmental crises in our communities. As the world prepares to build back stronger and better, the whole real estate industry has to drive this change together to deliver liveability, sustainability, resilience and affordability. 
Cities for Citizens: The big debate 
How can we create sustainable cities for citizens today?  
This afternoon, Christopher Choa, Founder of Outcomist chaired the first Cities for Citizens debate of MIPIM 2022, joined by an expert panel which included Kim Herforth Nielsen, Founder and Creative Director of 3XN/GXN Architects; Gregory Doucet, Mayor of Lyon; Pascal Smet, Secretary of State of the Brussels-Capital Region; Guillemette Colombe, head of consultations at Make.org and Begoña VIllacís Sanchéz, deputy mayor of Madrid.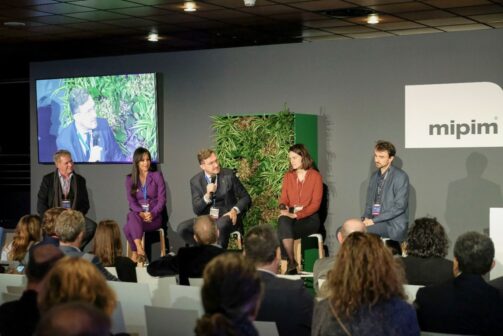 Kim Herforth Nielsen, 3XN/GXN began the discussion by emphasising the importance of nature in cities: "People are moving to cities more and more. By 2050 most people will be living in cities- outside of nature. This is why we must bring nature into cities." 
Begoña Villacís Sanchéz echoed this point, as she said: "We are living in the century of cities… local authorities have never been more important – we hear the problems first, we see the problems first." The deputy mayor also spoke about Madrid's plans to surround the city with a forest of trees native to Madrid, and how she plans for residents of Madrid to have a personal connection to this forest.  
Pascal Smet of Brussels Capital Region made a passionate point on making people happy, saying; "People were against it [making car-free zones]but we've improved air quality, quality of life and city life… we made people dream and we listened to the people who weren't speaking."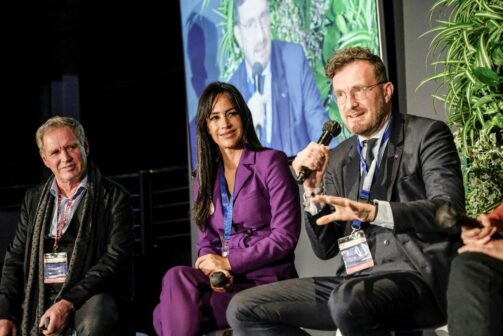 Participation was a key element of this afternoon's discussion, with Guillemette Colombe arguing that "If you include citizens in plans you make better decisions – they will be more practical and better adopted." She also shared some best practice, which included: 
Break down barriers for participation and consultation – make it easier for those you don't always hear to contribute

Be impact driven and highly transparent
The Mayor of Lyon, Gregory Doucet, ended the session by providing insights into the first participatory budget scheme launched yesterday in Lyon. The participatory budget will allow citizens to propose any plans for the benefit of their locality – green spaces, parks, car parks… Crucially, Doucet emphasized that: 
 Building cities for citizens requires building cities with citizens – The Mayor of Lyon, Gregory Doucet
François Hollande: Opening Keynote 
We were honoured to welcome former French President François Hollande to deliver the opening address of this year's event.  
Introducing the former French President, Ronan Vaspart, MIPIM's Managing Director, highlighted four key things shaping discussions at this important 31st edition of MIPIM, "Driving Urban Change". These were:  
Sustainability

Mobility

Affordability

Resilience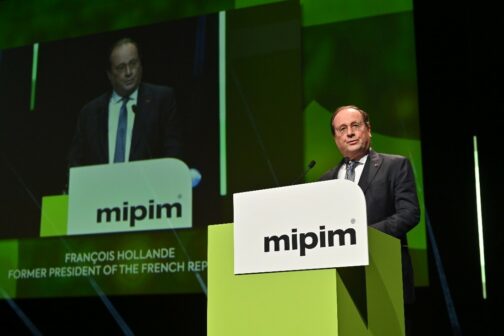 Touching on a key issue, Hollande said: "We must build more housing, densify the city and for this we must remove apprehensions about building permits." 
Président of Arcadis France, Nicolas Ledoux discussed the road to decarbonisation with Hollande and highlighted that the next crises will relate to climate change. It is public actors who have a responsibility to avoid or at least reduce them.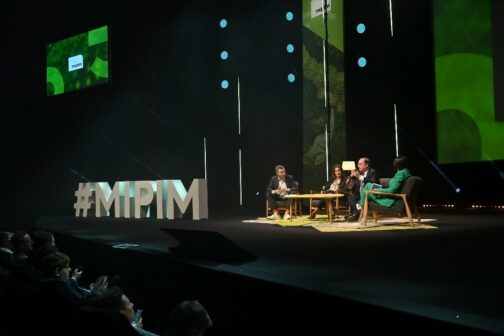 The office uprising: Innovating to bounce back
For part one of "The Office Uprising", Larissa Lapschies, Managing Director of Immobilienjunioren chaired this informative debate with an expert panel that included Tim Oldman, Founder & CEO of Leesman, Beverley Kilbride, Head of Transactions & Asset Management Europe at LaSalle Investment Management and Bradley Baker, Chief Executive at CO—RE. 
Berverly Killbride started the debate highlighting the fact that "there are a lot of changes going on and it's about defining how that impacts the industry." 
Tim Oldman emphasised that "for the first time ever, we need to listen to the employees. They are the most expensive assets and therefore the most valuable." 
Bradley Baker insisted on the ESG agenda as an integral part of what defines the value of buildings: 
 If your pitch does not mention ESG in the first 2 minutes, you have lost the deal – Bradley Baker, Chief Executive at CO—RE
In the office of the future, the wellbeing and needs of employees are at the top of the agenda. Gyms, bars and these sorts of features were around before the pandemic but as we move away from working from home, these things solve problems in our working environment and provide the urge to get back to the office.