Broadgate Estates CYCLE TO MIPIM 2015 has today announced that it is getting ready for a very special Grand Depart in ten days' time as the 10th edition of the property industry's toughest charity cycle challenge prepares to get underway.
The Broadgate Estates CYCLE TO MIPIM charity challenge is a 1452km cycling endurance event from London to Cannes, in the south of France. A baton, representing the riders' commitment to the charities involved, will be carried continuously for the entire distance and delivered to the MIPIM property fair in Cannes.
After completion of the epic ride, the cyclists – all professionals working in development, architecture or planning – change their lycra for business suits and take part in the MIPIM property fair.
The idea of the event is not just about raising money for worthy causes, but also to bring people out of their comfort zone and help break down the barriers between different industry professionals. This allows for productive and friendly networking in new environments.
Since their first outing in 2006, with 17 riders, the event has raised nearly £2million in grants for their supported charities. In 2014 they exceeded all targets, raising more than £250,000 to help charities continue their work.
New this year – Our very own Peter Desoissons from the UK Reed MIDEM office will be participating in the Cycle to MIPIM 2015!
Follow us at @MIPIMWorld on Twitter to stay tuned as we post regular updates on their journey to Cannes!
Check out the TOP 10 tips for Cycle to MIPIM here!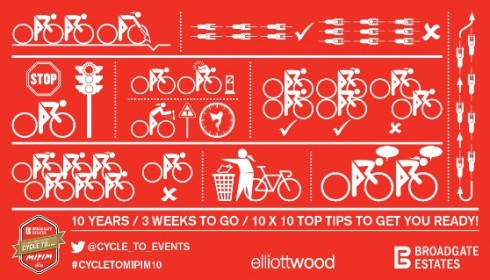 You might also be interested in the articles:
TOP 10 things not to miss at MIPIM 2015